Sue Johnston Is an Ultrarunning Pioneer
Sue Johnston has been setting FKTs for decades and inspired a generation of ultrarunners along the way. If you've never heard her name before, that's by design.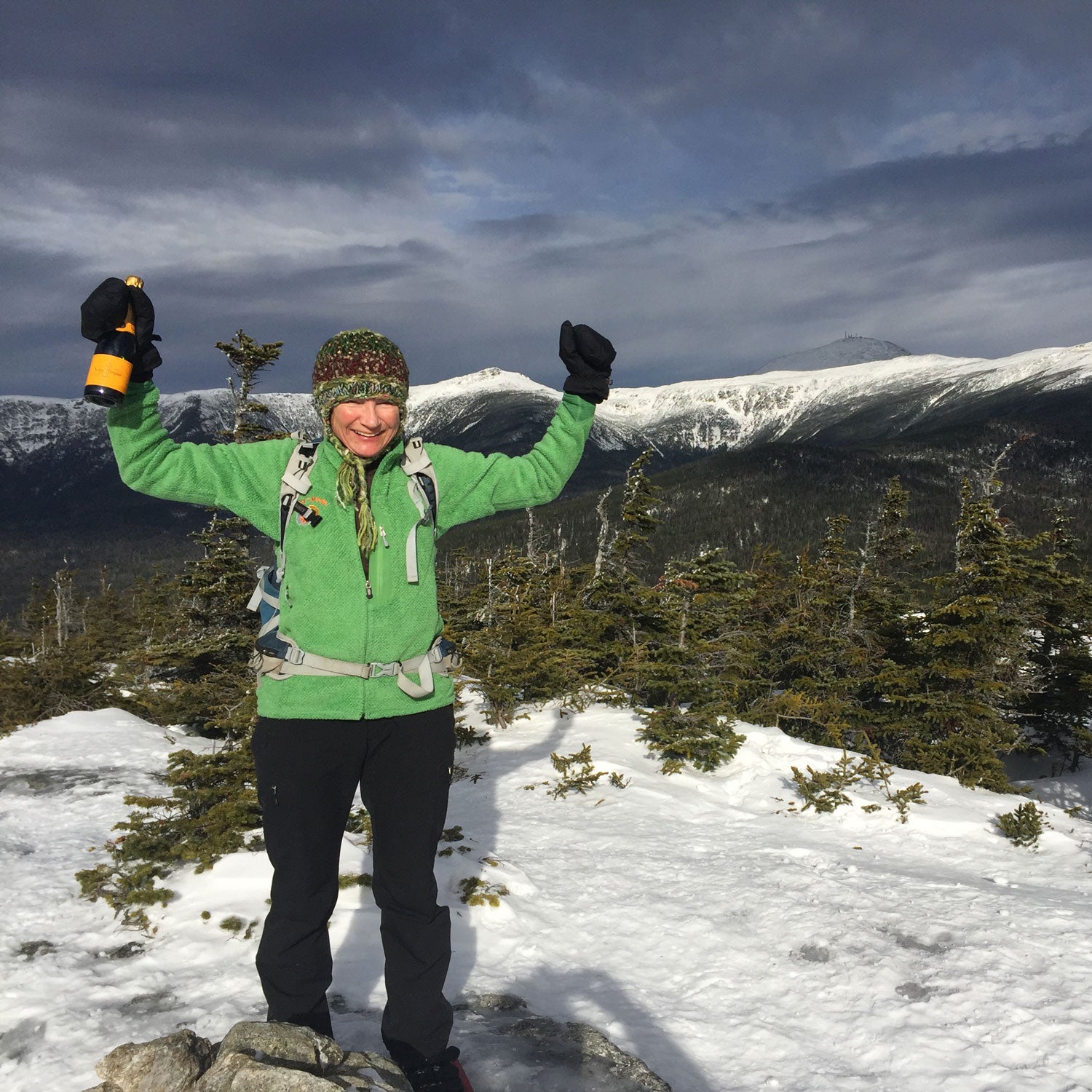 Heading out the door? Read this article on the new Outside+ app available now on iOS devices for members! Download the app.
When Sue Johnston reached the peak of Mount Isolation on December 26, 2016, she opened a bottle of champagne and quietly celebrated with her husband. There was no entourage or photographers. Johnston, an ultrarunner and mountain climber from Vermont, hiked all 48 peaks above 4,000 feet in New Hampshire's White Mountains every month for a year. Again, that's 48 peaks. Every month. For a year. 
The challenge, called the White Mountain Grid, would be a lifetime achievement for most hikers to complete once and usually takes years of diligent effort. 
"I think she is a pioneering athlete on the women's side for doing this kind of adventure running," says Peter Bakwin, founder of FastestKnownTime.com, a site dedicated to documenting mountain and trail running speed records.
Beyond the grid challenge, Johnston put up some staggering numbers that year. She hiked or ran more than 3,100 miles (about 8.5 miles a day), summited 599 peaks, and climbed more than 1 million vertical feet during all types of inclement New England weather.
At 52 years old, Johnston has a few decades of FKTs and ultra victories under her belt, including the JFK 50, the Hardrock 100-Mile Endurance Run (two wins), and the Massanutten Mountain Trails 100 (five wins). But while she has been one of the country's preeminent ultrarunners and fastpackers, Johnston shies away from the limelight. She doesn't have an Instagram or Twitter account, and she doesn't log her runs in Strava or bloviate on the internet. So, if you've never heard her name before, that's by design.
For decades, Johnston has excelled under the radar, unknown to many except by those who have revered what she's done for the sport, especially among women. "I didn't have that many women to look up to," says professional ultrarunner Krissy Moehl, who's set multiple FKTs and has won the Hardrock 100-miler. "Sue was constantly going out and doing inspirational things. She's a different kind of motivator, a silent leader."
"She's like a silent force, but she inspires me just by quietly going and doing these really cool epic adventures."
Johnston began as a hiker, completing sections of Vermont's Long Trail in 1989 and 1990. Though she saw running as more of a chore, it seemed like an easy way to get in shape. This led Johnston to train for her first marathon, which she completed in April 1992.
That same year, while hiking in the White Mountains, Johnston met a man who had thru-hiked the Appalachian Trail and ran long distances. He called himself an ultrarunner, a term she had never heard before. He told Johnston about the United States' first organized 50-mile footrace, the JFK 50, in Washington County, Maryland. "I showed up in 1992 thinking I'd run half of it, and I ended up doing the whole thing—and loving it."
In 1994, Johnston completed the Appalachian Trail. At the time, few women hiked alone, and even fewer tackled the entire 2,190 miles of the AT by themselves. "It's still the most epiphanic thing I've ever done," Johnston says.
After that, she built even more momentum, knocking off 50- and 100-milers across the country. In 2007, Johnston set a record on California's iconic John Muir Trail by completing the 210 miles in three days and 20 hours, faster than any woman or man. Her women's record stood until September 2017, when Darcy Piceu bested her time. "The JMT is one of the most sought-after records," Bakwin says. "So the fact that Johnston's time stood for more than ten years against some excellent contenders is a testament to her accomplishment."
Piceu's record on the JMT won her the 2017 FKT of the Year Award from Ultrarunning magazine. As Piceu tells it, it was Johnston who actually pushed her to try for the record. "She told me, 'I'm sure you can do it faster,'" Piceu says. "She's like a silent force, but she inspires me just by quietly going and doing these really cool epic adventures."
One of Johnston's other great accomplishments—and a record that still stands—is her brutal effort at the Barkley Marathons. The race is considered one of the toughest ultras in the world, existing on the fringe of a fringe sport. For this reason, it has gotten a recent bump in notoriety by the popular documentary The Barkley Marathons: The Race That Eats Its Young. Athletes have 60 hours to complete a 20-mile loop, five times, with no aid stations or course markings. Since the race's inception in 1986, only 15 runners—all male—out of more than 1,000 have finished.
To this day, Johnston holds the distinction of being the woman to survive Barkley the longest, with a record she set in 2001, when she ran three and a half laps before running out of time. "She just has such a calm demeanor," says race director Gary Cantrell, who hand-selects each year's entrants. "That's why she had the best chance. Nothing fazed her."
Johnston can't say exactly why she's been so successful in endurance events, except that she's been lucky to have very few injuries. "My only injury is getting old and slow," she jokes.
Although Johnston hasn't racked up pro deals and hasn't been widely lauded in the media, she has left an indelible mark on the sport of ultrarunning in a way that harkens back to the sports humble, fringe roots. And as she made clear with her White Mountain Grid FKT, at 52 years old, Johnston doesn't appear to be slowing down, though she was cheerfully vague about what, exactly, she has planned for her next adventure. "My goals are personal," she says.
Trending on Outside Online