The Best New Family Camping Tents
As your family grows, so will your family's tent needs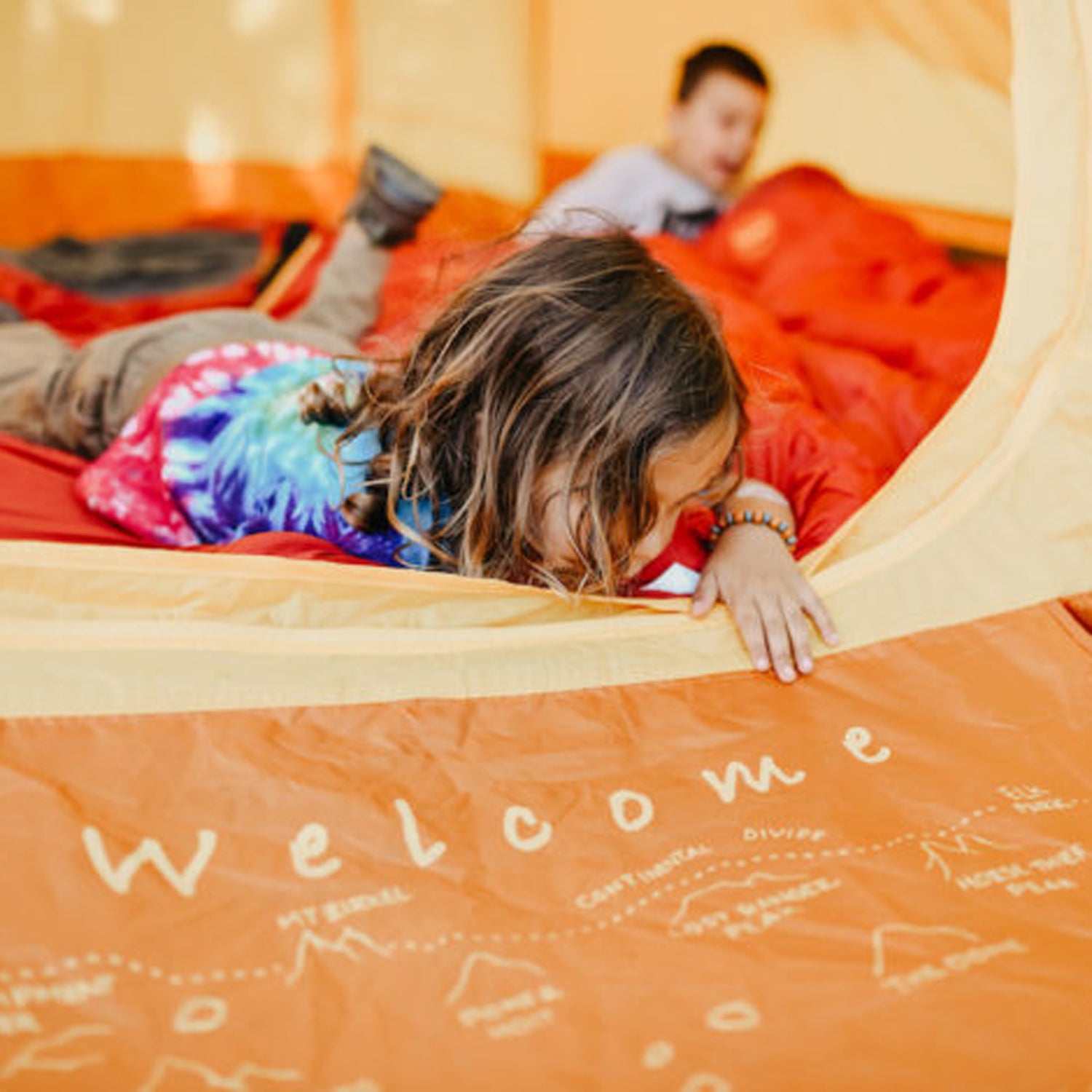 Arika Bauer / Zion Adventure Pho(Photo)
Heading out the door? Read this article on the new Outside+ app available now on iOS devices for members! Download the app.
Life before Mason was a lot simpler when it came to camping. My go-to for years was a two-person backpacking-style tent from Sierra Designs. Then came the baby. It's funny how a little person can take up so much room.
Life after Mason meant graduating to a four-person Alps tent, which we loved hard for the past few years. But our little family of three seems to have outgrown that one, especially when we're camping in the rain or need a little sheltered play space to tuck Mason, now age 5, into during the afternoon. My significant other, Mark, insisted we didn't need a bigger tent. When my sister and her twins showed up to camp with us, toting what looked like a circus big-top tent, I have to admit I was a bit jealous.
Then we had an opportunity to try out a Big Agnes Big House Deluxe four-person tent. Mark groaned and whined the first time we pulled it out of the bag. But we had it popped up within five minutes, and when Mark walked in and could fully stand up, he was sold. While I am very aware that bigger tents come with a bigger price tag, I've found that if you spend the money and pick the right one, you'll have a tent that can be with your family for many years.
Over the past year, we've been trying different "family style" camping tents. We feel that these three, plus a runner-up tent at a lower price point, are worth every penny.
Big Agnes Big House Deluxe ($400)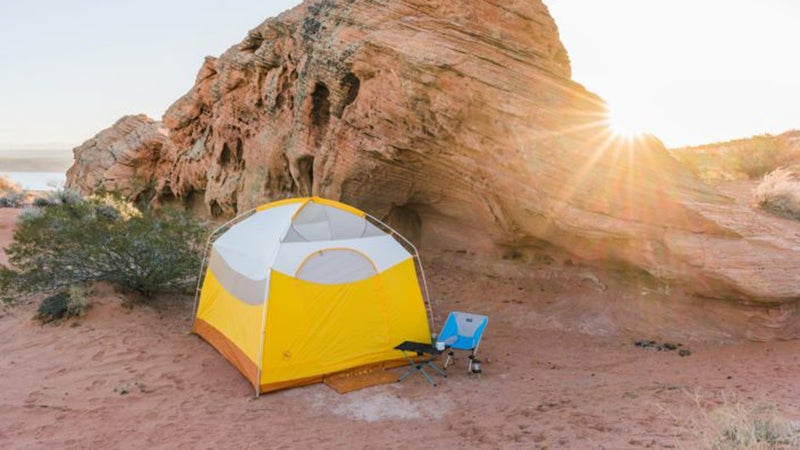 If you're looking for the easiest setup of all time for a large tent, the Big Agnes Big House Deluxe might be it. Lay the tent flat, then cross the two hefty poles and feed them through a sleeve on top. Pop it up and snap the plastic hooks in place to secure the tent. The poles are color-coded, and there's nothing complicated about the setup, but as with most large tents, you'll want two hands on deck.
This tent has plenty of headroom, at 6.5 feet. The doors aren't mesh, but the mesh top keeps things breezy inside and is excellent for stargazing in a dry environment. Mesh pockets running along the top, just below the roof, are great for storing keys and other things you want to keep up and away from a baby or toddler crawling around on the floor. You can also slide in a headlamp to use as overhead lighting.
There is a ton of space for families of up to four. You might feel a bit cramped with six residents or a packable crib; a separate vestibule option ($140) offers additional storage.
The downside to the Big House Deluxe is the rain fly. We put it on during a windstorm in Zion National Park and found it to be confusing—it's hard to tell which side is the front or back. The small tension pole that holds the front of the rain fly out from the tent was really tight and hard to get in place. We've avoided using it ever since, which leaves us with a floppy fly, but we don't mind since we've mostly been camping in good weather.
Repacking the tent is easy: Just roll it up and slide it into the pouch, which has one pocket for the fly and another for the tent, both of which sandwich together and buckle. The 13-pound 11-ounce tent is lightweight for its size, and it even has a welcome mat at the front door—a reminder of just how family friendly this company is.
Nemo Wagontop 4-Person ($400)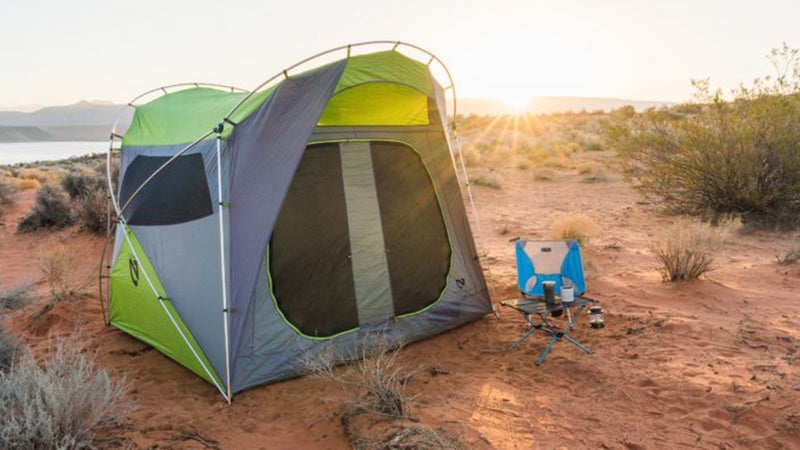 If you want a family camping tent that will likely last until your toddler goes to college, the Nemo Wagontop is it.
We were surprised at how easily this tent sets up—once we figured it out the first time (the directions didn't spell things out clearly enough). Give yourself time, patience, and an adult helper the first time you set it up.
The spider-like poles are a little daunting, but now I see why the designers made the tent this way: It's rock-solid. The Wagontop feels like you could practically survive a tornado in it—and my son torquing on the poles and leaning deeply into the tent walls for "fun" is similar to severe weather.
The headroom is awesome, at 6.6 feet, and the base flares out a bit and feels bigger than many six-person tents. Add the garage ($200) and you have tons of extra space for muddy boots and wet jackets. Two doors (only in the front) mean you don't have to lean over your child or partner to zip out of the tent. The single-wall door setup also means no pesky rain fly flapping in the wind. Instead, window flaps and a front-door piece that you snap on after setup offer extra rain protection.
If we have any complaints about the Nemo Wagontop beyond the tricky first-time setup, it might be the weight (27 pounds) and the hassle of zipping it into its duffel bag. You don't have to be precise, but you do need to take time to pack it correctly or it may not fit in the bag. Once it's zipped in, however, the Wagontop is super compact.
Therm-a-Rest Tranquility 6 ($600)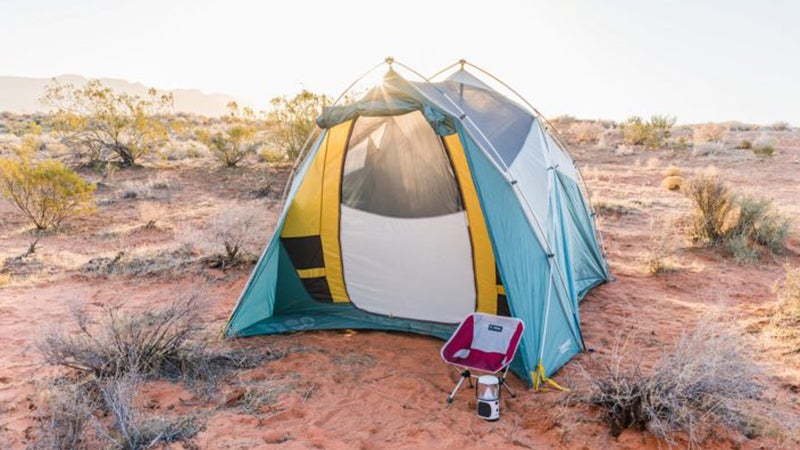 Five people on your camping trips? The Therm-a-rest Tranquility 6 is the tent for you. Weighing in at 18 pounds, this family cabin offers ample space, plus privacy dividers that keep the kids in their own zone. It packs well into a backpack, so a preteen or teen could easily carry the tent during a family backpacking trip.
The Tranquility seems like one of the few behemoth tents that one person could set up, making it a rare family option for the single parent. Hard plastic loops on the poles securely hook tent clips and the rain fly onto the top of the tent, making it easy to raise.
The tent is long—it definitely feels like a six-person tent—so having a front and back door is key. It's not as tall as the others, with 6.3 feet of headroom, but it's still plenty tall for most families. You can buy accessories to increase storage space and extra poles that'll turn the rain-fly entrance into a stand-up awning for rain protection and easier entry.
Boot and flip-flop prints at the entrance indicate the best spot to leave your shoes before entering the tent, which is a good reminder for little kids. We also loved the ample storage and the divider that allows for kid and adult zones. This can be easily zipped open and tucked away or closed. The poles, add-on floor mat, and rain fly can act as a sun shelter without the tent if you want to use it for a day outing.
This tent's rooftop mesh earns it an A-plus for stargazing. If the rain comes in, the fly is relatively easy to slide on in a hurry (watch Therm-a-Rest's excellent how-to video). We didn't experience any windstorms in this tent, but we have read and heard that it can withstand heavy gusts. Based on the design and how sturdy it felt during setup, we would guess the Tranquility 6 would do well in heavier weather.
We were pleasantly surprised at how well this tent packed down—everything has a designated place within the pack. If the price tag scares you, consider bumping down to the four-person version if possible; that one also felt incredibly roomy and has the same stand-up height.
Coleman Carlsbad 4-Person Dark Room with Screen Room ($200)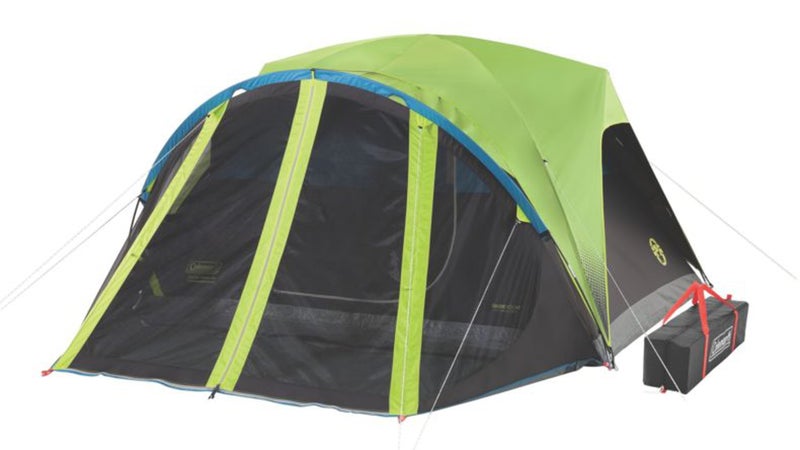 The Coleman Carlsbad offers a great price point with the bonus of being a dark-out tent—ideal for midday napping toddlers. Downside: It's hot. The Carlsbad doesn't breathe, even with the fly removed, so don't plan on using this in hot seasons and regions. Also be aware that the cords inside the tent poles are somewhat weak and tend to snap easily.
Lead Photo: Arika Bauer / Zion Adventure Pho
Trending on Outside Online