In Stride
5 Reasons to Watch the Chicago Marathon
Sunday's race will be a treat for running fans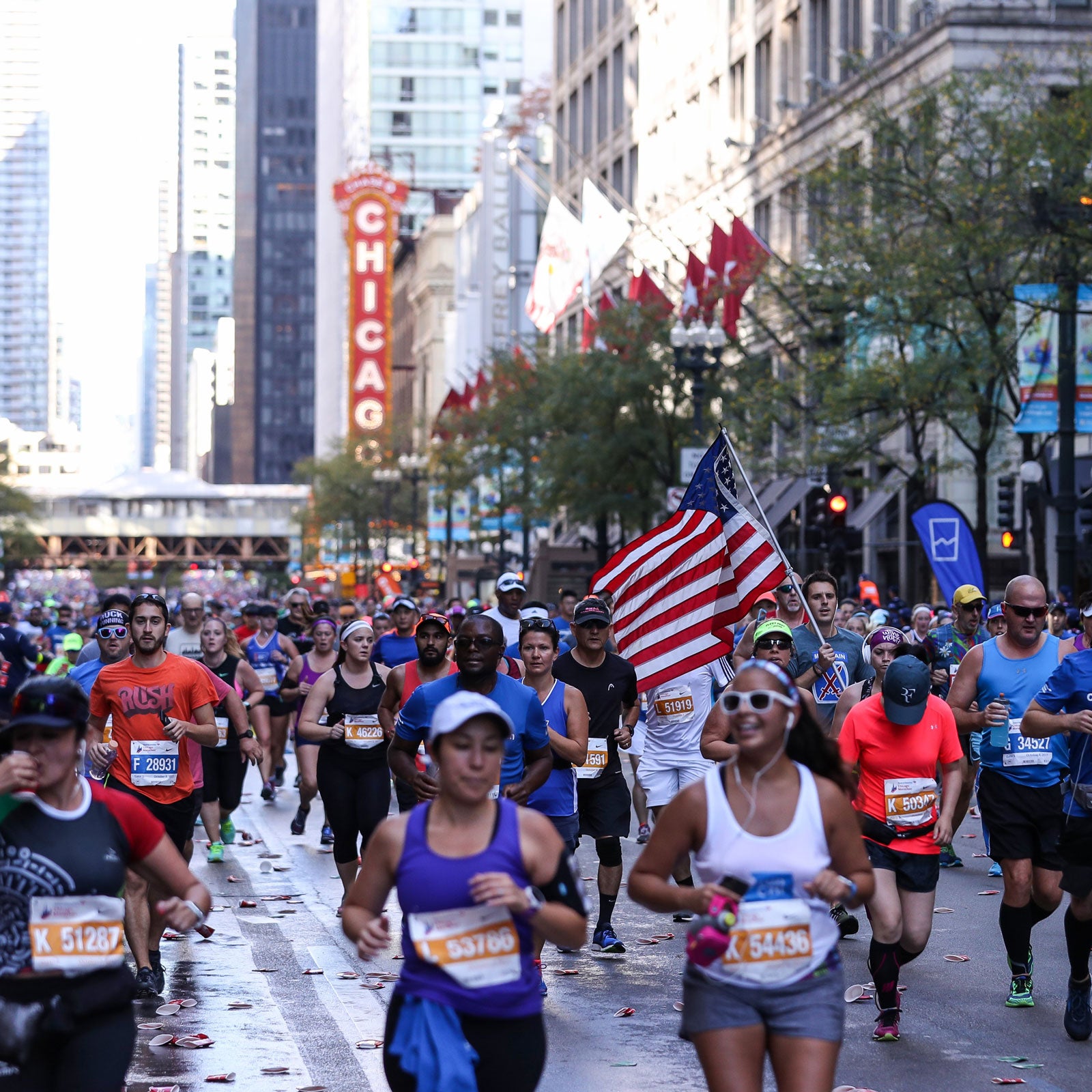 Anadolu/Getty(Photo)
Heading out the door? Read this article on the new Outside+ app available now on iOS devices for members! Download the app.
Others will disagree, but I've always considered the Chicago Marathon to be the neglected middle child in the Marathon Major family. The race usually falls on the first Sunday in October, which places it between Berlin's annual world record attempt and the celebrity-heavy spectacle of the world's largest marathon in New York City. Despite its stacked fields and fast, PR-friendly course, Chicago doesn't always get the attention it deserves. Here's why this year's race, happening on Sunday, is a must-watch event. 
1. Galen Rupp vs. Mo Farah 
Barring a last-minute scratch from either athlete, the headliner going into this weekend is the looming showdown between Mo Farah and Chicago's defending champ Galen Rupp. The two men were teammates as members of the Oregon Project from 2011 until last year, when Farah left coach Alberto Salazar's training group and relocated back to England. As training partners, Farah and Rupp went 1-2 in the 10,000-meters in the 2012 Olympics and amassed a slew of impressive performances on the track. However, it would be a misnomer to call them "rivals." Farah, whose four Olympic gold medals put him in the running for track's GOAT title, has a lifetime 21-1 record in head-to-head matchups against Rupp. (And the only time Rupp finished ahead of Farah was in an indoor mile in 2012, where Farah took a fall on the first lap.) 
Fortunately for the American, the marathon represents Rupp's best shot to take down his former teammate. The length of the race could neutralize the devastating kick that was the Farah's greatest asset as a track racer, and with three marathon wins and an Olympic bronze to his name, Rupp has already proven his aptitude over 26.2 miles. Farah, meanwhile, though 35 and three years older than Rupp, is relatively new to the distance. Chicago will be only his third marathon after two London finishes that were very good, but underwhelming compared to his impossibly successful track career (8th in 2014 and 3rd in 2018).
Rupp has yet to prove that he can beat Farah, while Farah has yet to prove that he can win a marathon. One of those two things could change on Sunday.
2. Gwen Jorgensen's "Real" Debut
Unfortunately for fans of U.S. women's running, two big names have dropped out of Chicago in the last few days: Jordan Hasay and Amy Hastings Cragg are no longer on the race's elite field lists. With Hasay and Cragg out, the spotlight now falls on Gwen Jorgensen, the reigning Olympic gold medalist in the triathlon, who only last year announced that she'd be shifting her focus to the marathon. 
Technically, Chicago won't be Jorgensen's debut. A few months after her Olympic triumph in Rio, Jorgensen ran the New York City Marathon on a lark and finished in 2:41:01. But this Sunday's race will be the first marathon for which Jorgensen has put in a proper, focused training cycle and will provide a more accurate idea of what she is capable of. Not that Jorgensen has any doubts about her potential: her stated ambition is to match her triathlon gold with an Olympic marathon win in 2020. Considering how difficult it is going to be just to make the U.S. Olympic team, this is a lofty goal, to say the least.
3. The Pacers Are Back
For many years, the Chicago Marathon enlisted pacers to increase the likelihood of fast finishing times. In 1999, rabbits even helped Khalid Khannouchi set a then world record of 2:05:42 in Chicago. That was the last time the men's mark was set on U.S. soil. 
For the past three editions of the Chicago Marathon, race director Carey Pinkowski has forgone the use of pacers in the hope of creating a more exciting "chemistry of competition" and prioritizing tactical running over fast times.  
The experiment has now ended. This year's Chicago Marathon will once again pay a handful of elite-level athletes to inject tempo from the gun. While certain purists might be disheartened about this, the presence of pacers does significantly increase the chances that we might see Rupp break the American record on Sunday. (The current American record of 2:05:38 is also held by Khannouchi, who was born in Morocco, but became a U.S. citizen in 2000. When he set it in London in 2002, Khannouchi's current American record was also a world record at the time. Confused yet?) In May, Rupp won the Prague Marathon in a massive personal best of 2:06:07. Considering that the field in Prague was rather thin compared to what Rupp will be facing in Chicago, it seems likely that Khannouchi's American record could be in jeopardy. (Of course, one could argue that after Eliud Kipchoge "broke the marathon" last month by destroying the world record and running 2:01:38, the comparably modest U.S. record has suddenly become a lot less interesting, but that's a discussion for another day.) 
4. Joanie's Going for the Record
Speaking of records, Joan Benoit Samuelson will be among the crowd favorites at this year's Chicago Marathon. Samuelson, who won the inaugural women's Olympic Marathon in Los Angeles in 1984, is 61 years old and has her sights on the 60-64 age group world record of 3:01:30. Since televised marathon broadcasts are typically abysmal, it's unlikely that Samuelson will be given more than a cameo appearance on NBC Sports, but there will be no shortage of love from fans along the course. After all, Chicago is where she set her American record (2:21:21) in 1985. 
5. The International Field Is Stellar
Our American bias shouldn't obscure the fact that the Chicago Marathon is once again awash in international talent. Make no mistake: in every Marathon Major, it's still an upset if an American runner ends up winning. Sunday's race is no exception; three women (Florence Kiplagat, Birhane Dibaba, and Roza Dereje) have sub-2:20 marathon PRs. So far, Deena Kastor is the only American woman to have done the same. Similarly, on the men's side, there are four runners (Mosinet Geremew, Birhanu Legese, Dickson Chumba, and Abel Kirui) who have PRs that are faster than the U.S. record. And that list doesn't even include the favorite to win: Kenyan Geoffrey Kirui, who left Galen Rupp in the dust to take the 2017 Boston Marathon. 
In a sense, the recent rise of American women's distance running and Rupp's impressive showing in the marathon may be skewing our perspective on where the U.S. ultimately stands in the international distance running hierarchy. Nonetheless, the Boston (Des Linden), New York (Shalane Flanagan), and Chicago Marathons (Galen Rupp) all currently have American runners as a defending champs. So let's enjoy it while it lasts.
Lead Photo: Anadolu/Getty
Trending on Outside Online