Tough Love
You're Still an Outdoorsman When You're in a Wheelchair
It's going to be hard sometimes, but it's not going to be the end of your adventures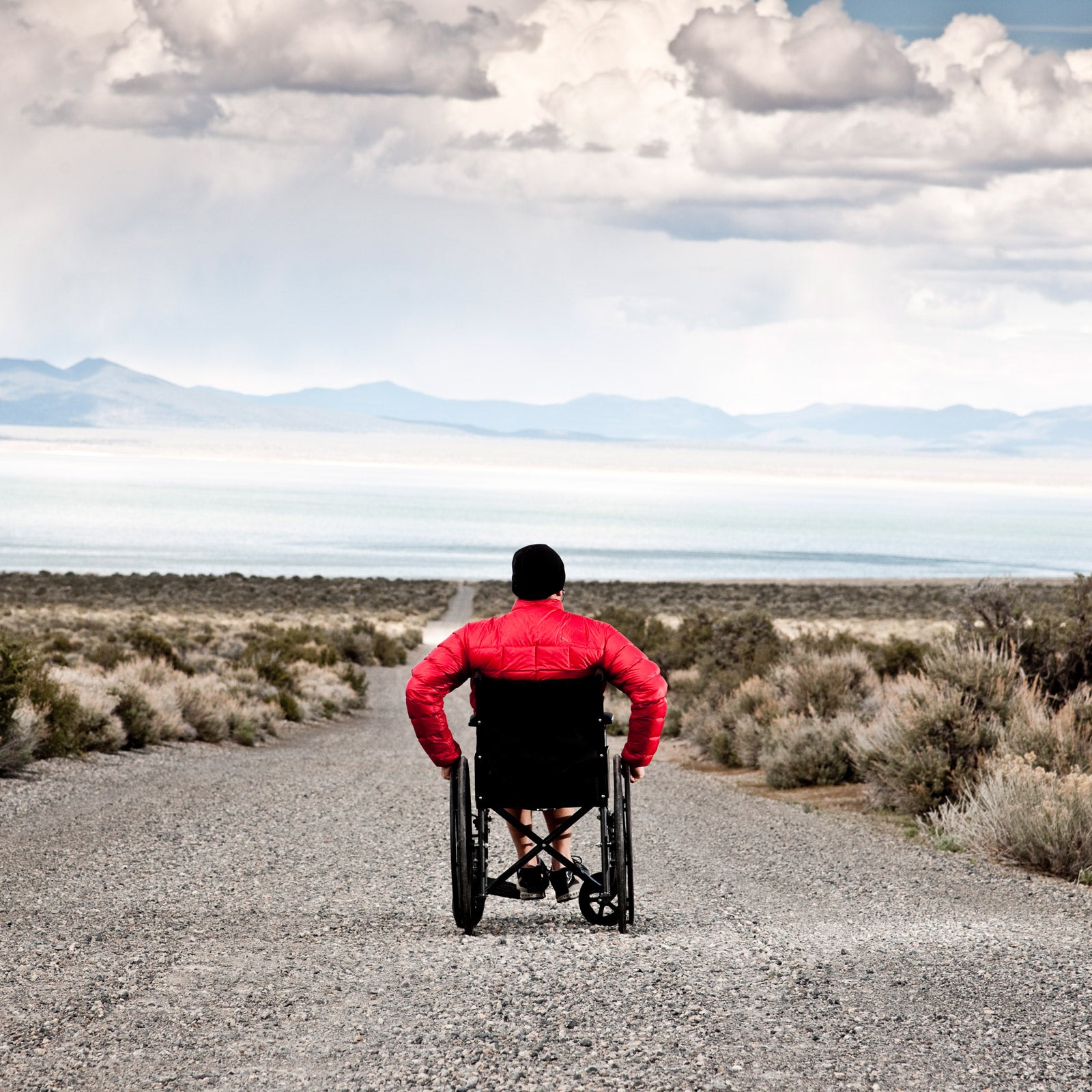 vernonwiley/iStock(Photo)
Heading out the door? Read this article on the new Outside+ app available now on iOS devices for members! Download the app.
Welcome to Tough Love. Every other week, we're answering your questions about dating, breakups, and everything in between. Our advice giver is Blair Braverman, dogsled racer and author of Welcome to the Goddamn Ice Cube. Have a question of your own? Write to us at toughlove@outsidemag.com.
---
I am a 26-year-old man, and last summer I dove off a tree stump into a river, hit the bottom, and broke my back. After surgery, three weeks of intensive care, and lots of therapy, I have some function in my legs, but it seems like I will use a wheelchair for the rest of my life. My girlfriend of two years has been by my side the whole time. We are also very lucky to be financially secure, with support from my family. All this year, I felt like my job was to concentrate on the next step with physical therapy, and that helped me focus on the future. But my life is starting to be routine again, and I have to figure out what that even means anymore. I have always considered my identity to be an outdoorsman. I was an Eagle Scout and majored in environmental education. But now when I go outside—there is a wheelchair-accessible trail in my town—I feel like I don't belong there and that people feel sorry for me instead of seeing the skills and experiences I have. How do I stop feeling trapped inside?
To answer this question, I reached out to outdoorsy disabled folks I admire, and one woman's advice was so thoughtful and wise that I wanted to let her share it here herself. Julia Haynie is a health care administrator for a clinic in Fairbanks, Alaska, and has used a wheelchair since her mid-thirties due to limited mobility from a congenital, degenerative spinal condition. She grew up in Oregon but has embraced life up north for the last five years.
The one thing I'll add to Julia's advice, below, is that it sounds like you've always been a leader and an educator, and now those skills are more valuable than ever. The outdoor industry needs leaders in adaptive recreation, as well as role models and spokespeople who understand the outdoors and the experience of disability. You might find yourself leading nature trips for a local wheelchair meetup or consulting with a ski resort about how it can become more accessible. Organizations like Challenged Athletes offer grants for accessibility in sports like surfing, skiing, and rock climbing, while the Kelly Brush Foundation's Active Fund provides outdoor equipment (like mono-skis and off-road hand cycles) for people with spinal-cord injuries. It's up to you how involved you want to be in the field of accessibility and the outdoors, but you may find a community there that recognizes both your physical challenges and your outdoor experience.
Here's Julia.
---
I want to tell you the truth that I wish someone had told me when I was lying in a hospital bed, or first awkwardly wheeling into the rehab facility: there are going to be times that suck! I know you know this, but you're not alone. Your body is going to hurt, you are going to feel useless, and it's going to seem like it will never get better. If you're like me, you might think that admitting that despair is a sign of failure. You might think that if you stay strong, if you pretend things aren't gut-wrenchingly fucked up, you eventually will be strong enough to not feel the pain. But just as physical pain can teach you how to care for your body, depression, anger, frustration, anxiety, and fear are all signs that you should share those feelings. Often the best way to get rid of emotions that weigh you down is to talk about them with another person.
When I don't have another human nearby, I often sit down and write myself a letter, pouring out all the things that seem impossible to change. Then I do something to turn my worried brain off for 20 to 30 minutes: take a shower, watch the price of Bitcoin fluctuate on the computer, or read the latest issue of Outside. The point is to give your mind a break. When I'm ready, I come back, read what I wrote, and sit with the thoughts that led me to feeling hopeless. Sometimes it takes a few minutes; sometimes it takes hours. Then I bring the paper outside and burn it. I'm not free from the problem, but I can make the choice to keep moving forward. On one of my darkest note-burning nights, I spent almost half an hour in minus-20-degree temperatures watching the smoke curl up from the paper and toward the purple and green aurora dancing overhead.
Don't wait for things to be "back to normal" before you reach out to current friends—start building new friendships, and connect with your community. People may be holding back because they don't know how and if you've changed, not because they don't want to be around you. Invite people over for something that's reasonable for both of you to do, even if it's just cleaning your bathroom and doing load of laundry, and ask them to bring dinner so you don't have to organize the food. With good friends, sharing each other's company means more than what you do together.
Find people who do difficult things, who are interesting and down to earth and fun, and give yourself permission to live a little vicariously through them. There are so many people doing great things—some who have apparent disabilities and some who are, or seem to the outsider, able-bodied. Reach out to your heroes and let them know that they inspire you. Ask if there's a way you can help them. You might get to do things you never imagined were in the realm of possibility, just by taking a risk with a person or an organization you admire.
There are a lot of people you can teach and learn from, but you may not have noticed them before. We live in a society that segregates based on perceived abilities and skills. You may not know that the coach of the shooting team is wheelchair-bound, and you may not have noticed the woman who uses a wheelchair and works for your optometrist. Because most people using wheelchairs are quite a bit older than you, it may seem like there isn't anyone your age, but there are. Some people have needed a chair their whole lives, others have congenital problems that snuck up on them, and still others have suffered a catastrophic event that made a wheelchair necessary. Each person in a wheelchair has an alternative scenario in which they didn't survive to need that wheelchair. It helps to find gratitude for the chance to make this new life work.
Your life is never going to be the same, but it doesn't change who you are at your core. After my injury, all my years of athletics and loving the outdoors didn't disappear. I'm not going solo-backpacking ever again, but that doesn't mean I have to give up on finding things that connect to my soul in similar ways. I have similar feelings of awe when I take my dog out at night under an auroral light show, or record stories from Native elders as they talk about raising families in the Arctic. I'm not exactly glad to be disabled, but I'm not disappointed with the life that has come from it either.
Lead Photo: vernonwiley/iStock