The Best Sleeping Pads
From plush to ultralight, there's something here for everyone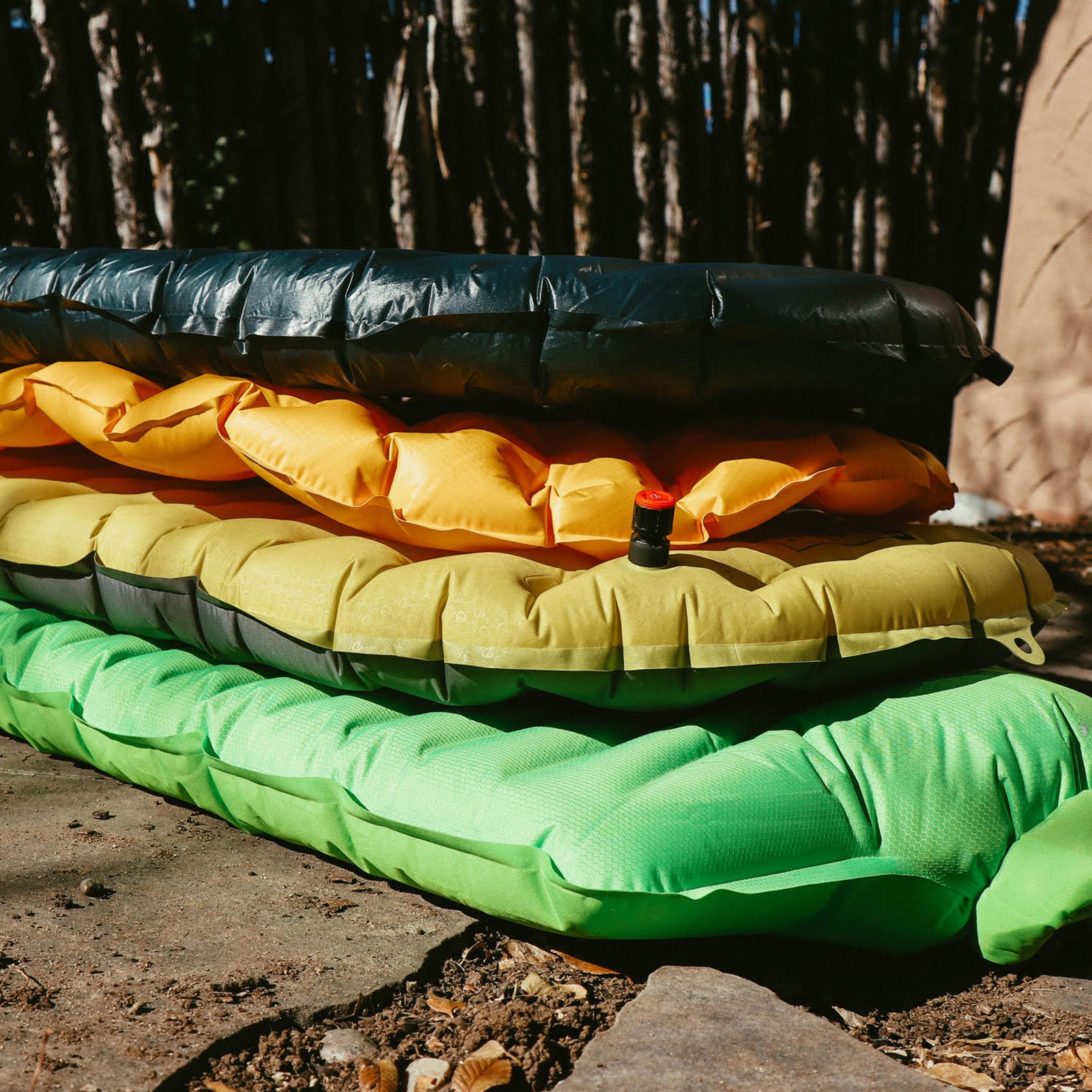 Ben Fox(Photo)
Heading out the door? Read this article on the new Outside+ app available now on iOS devices for members! Download the app.
When it comes to many backpacking gear categories, most of the options are pretty good. That's not always true with sleeping pads. They can be sneakily complicated. Your sleeping pad needs to be tough and thick enough to insulate you from the cold, uneven ground, yet light enough to carry and pack for at least a few miles. Weaknesses in any of these areas will just about ruin your day. I believe you should give your sleeping pad as much consideration as a sleeping bag or tent. Maybe more. Bottom line: Want a good night sleep? Pick the right sleeping pad.
I've been camping for 25 years, including five years spent working as an outdoor guide. For the past decade, I've tested and reviewed sleeping pads for Outside.
Over the past several years, my favorite backpacking sleeping pad has been Therm-a-Rest's NeoAir XTherm Max SV. It quickly inflates and deflates and blows up thick and stable. It doesn't make a lot of noise when I roll over at night. It's big enough to feel palatial while car camping, yet it packs down small and light for backpacking. Here are some of my other favorite backcountry-friendly sleeping pads.
Our Favorite Backpacking Pad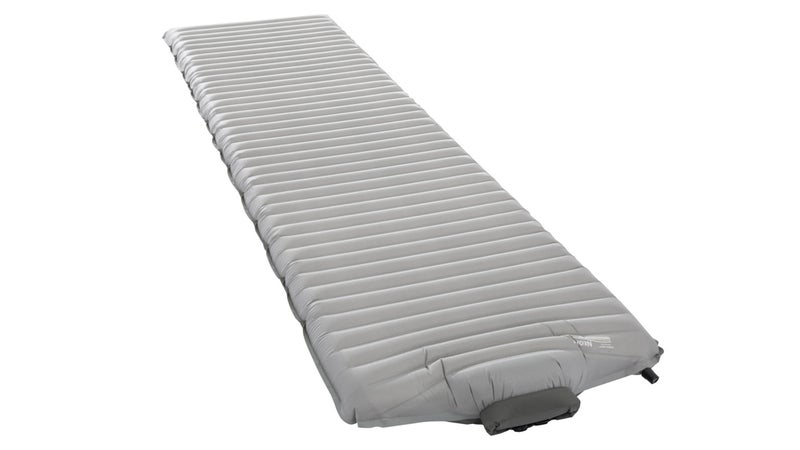 Therm-a-Rest NeoAir XTherm Max ($200)
This pad has been my favorite for years. First, some stats. The NeoAir XTherm Max weighs 1.1 pounds and packs down to a little bigger than a one-liter water bottle. Those are good figures on their own, but they're even more impressive when matched with the inflated thickness of 2.5 inches and slightly wider than normal footprint—that's the "max" in its name—which are genuinely plush dimensions for a backcountry pad. Heat-reflective materials and internal insulation give it an R-value of 5.7, making the NeoAir one of the warmest air mats available and worthy of year-round use.
It takes a bit of huffing and puffing to inflate, but it's worth the effort, trust me. Fully inflated, the pad's horizontal baffles felt stable and allowed me to sleep comfortably on rough ground, including in a field of pointy rocks on a forced alpine bivvy. Normally, when I know I'm not venturing into the backcountry to camp, I bring the biggest pad I have available, since weight and packability aren't concerns. But increasingly I've been sleeping on the NeoAir in car camping situations as well.
The regular length version is about $200. Not cheap for a sleeping pad. That price starts to make more sense when you consider that the NeoAir XTherm Max is made in the United States and takes care of all your camping needs.
---
Best All-Around Pad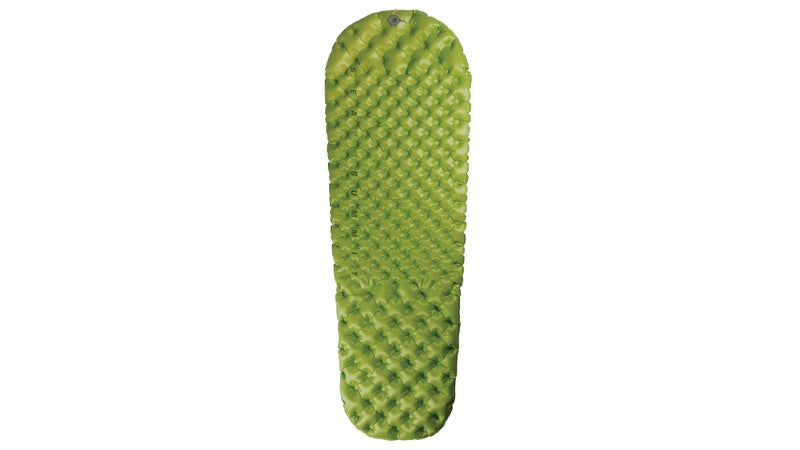 Sea to Summit Comfort Light Insulated Mat ($180)
This pad gave the Therm-a-Rest a run for its money. It uses varying internal air-pocket structures in different places for optimal weight distribution: a double layer of smaller cells in the torso and a single layer of bigger cells everywhere else. The smaller cells are meant to be more comfortable, and the bigger ones are designed to be lighter and more packable. That results in a network of 331 individual air cells. In practice, it feels like a more supported, stabler sleeping platform.
Those extra cells come with a slight weight penalty: At 2.5 inches thick and with an R-value of 4, the Comfort Light weighs 1.4 pounds—0.2 pounds heavier than the NeoAir XTherm Max SV. (That's for a regular-length version; like many manufacturers, Sea to Summit also sells short and tall options.) That's not a big difference, and the mat packs even smaller than the NeoAir. While reasonably warm, however, this pad is better suited to three-season use.
Sleeping pad makers are always negotiating between comfort on one hand and weight and bulk on the other, and I think Sea to Summit did well. It beats out the new Mountain Equipment down mat, which I reviewed in Outside's 2018 Summer Buyer's Guide, in every category. At $170, I would recommend this one if the NeoAir is beyond your budget or if you prioritize a smaller packed size over other features. For backpackers, the Sea to Summit Comfort Light Insulated Mat is a strong silver medalist.
---
Best for Ultralight Camping
Klymit V Ultralight SL ($100)
The Klymit V Ultralight SL weighs less than 12 ounces and rolls up to the size of a pint glass. Inflated, the rectangular pad is 2.5 inches thick and 20 inches wide—about average dimensions for an air pad despite its below-average weight. At $100, its cost is in line with other lightweight pads.
This is a tricky category. There are lighter and more compact options on the market, and people buying ultralight backpacking gear tend to be laser-focused on weight. But I worry about durability in pads lighter than this one. In fact, I still worry about the Klymit's 20-denier nylon when I camp with it. That's notably thinner than what's found on the other pads reviewed here, and anyone who buys this pad should plan to be careful around sharp rocks or branches. (Plus, it's rated to only R-1.3, so it's best reserved for summer camping.)
But it sure is comfortable. I found that the V-shaped baffles and separate pods of air along the sides acted like a cradle that kept me centered and supported, so I never found myself half off the pad in the middle of the night.
---
Best Closed-Cell Foam Pad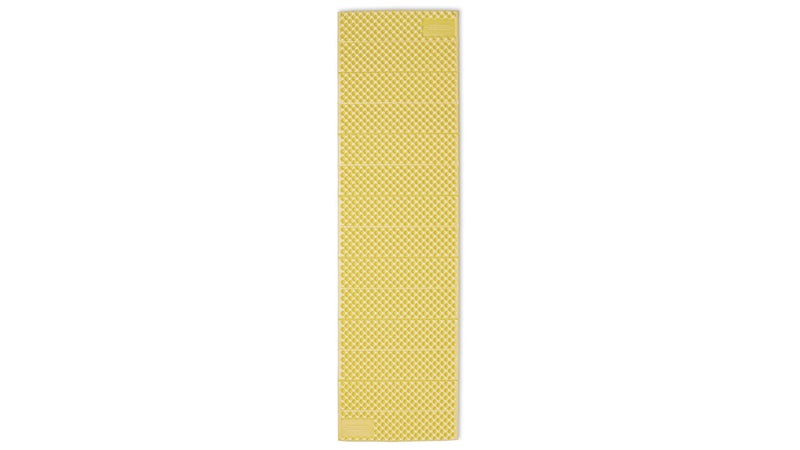 Therm-a-Rest Z Lite SOL ($45)
Therm-a-Rest's classic noninflatable foam pad retains a cult following among many backpackers, particularly the thru-hiker crowd. Why? It's light and durable, and no Z Lite user has ever had their night ruined by a leaking pad. Of course, at only 0.75 inches thick, it's neither wildly comfortable nor compact. But if you've never slept on a foam-only pad, you might be surprised at how well the cupped, dual-density (softer on top, firmer on the bottom) foam cushions you.
There are other reasons to like the Z Lite SOL: It doubles as a seat better than inflatable pads because you don't have to inflate it, and you can clip it to the outside of you pack, where it's accessible. (I usually clip it under the top lid of my pack. It's the first thing I unclip at lunch, to protect my butt from rocks or wet ground.) You could never do that with a fragile, lightweight air mat. Winter campers invariably carry a foam pad like the Z Lite SOL to double up insulation underneath their air pads.
At 14 ounces, the Z Lite is lighter than many fancier mats, and you can't beat the $45 price tag. On flat ground, it's comfortable enough to let you sleep well, especially if you prefer a firm mattress at home, though less so on uneven or rocky ground. Still, on trips when I bring a more robust pad, I usually miss the Z Lite's utility around camp. There are good reasons this mat continues to sell more than 20 years after its debut.
---
Best Value Inflatable Pad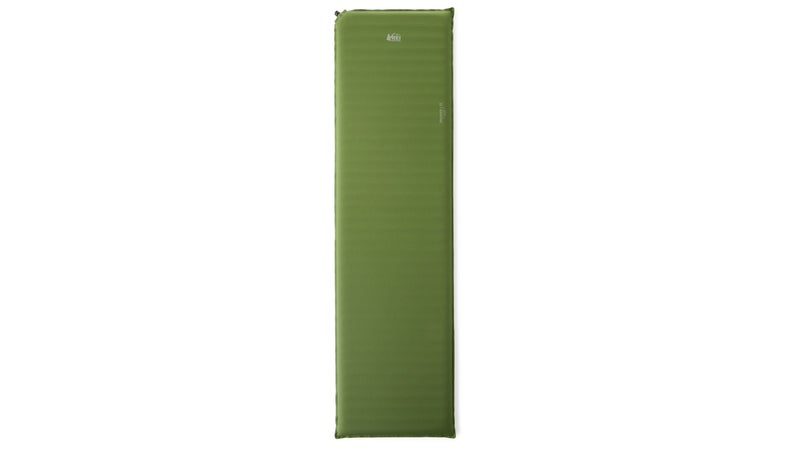 REI Co-op Trekker Self-Inflating Sleeping Pad ($70)
Most of the time, I think air pads are superior to self-inflating mats, because they're lighter and more packable. But if you want something more than foam and don't want to spend $100 for air, I'd suggest the REI Co-op Trekker Self-Inflating Sleeping Pad.
Deflated, the Trekker measures 5×21 inches, which is probably too big to fit in your pack, and it weighs more than 2.5 pounds. But it comes with a sack and compression straps to keep it safe while tied to your pack. At camp, unscrew the single valve, lay the mat flat, and in a few minutes it will inflate most of the way on its own. Once topped up, it's 1.75 inches thick and 20 inches wide and has an excellent R-value of 5.6. It's more stable than any air mat and absorbs under-tent obstacles much better than a foam-only pad like the Z Lite SOL. During long-term testing, I've found this category of pad to be very durable. Plus, $70 is affordable. It's a solid value if weight and bulk aren't big factors.
---
Best for Comfort Camping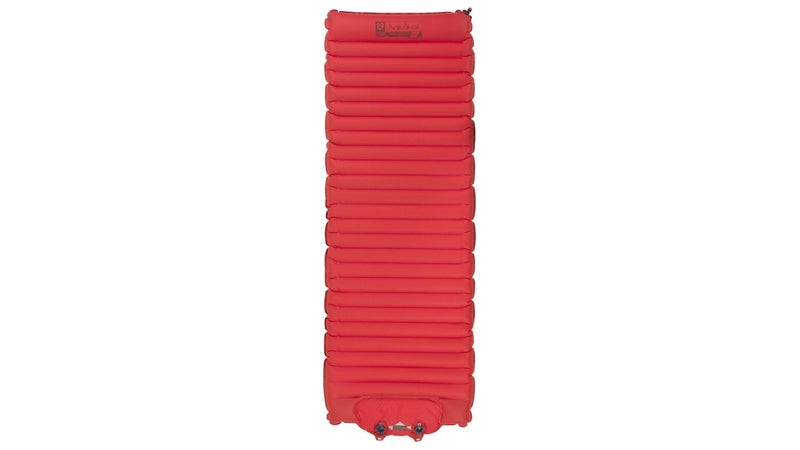 Nemo Cosmo Air ($180)
At 25 inches wide and 3.5 inches thick, the Nemo Cosmo Air creates about the most comfortable bed you could imagine tossing into a pack. One tester told me he liked it so much that he chose it over his couch when watching TV at home. My mother now refuses to camp with me unless I bring the Cosmo Air for her. (Note: This pad is getting hard to find online but is still available through third-party retailers, often discounted from its $180 price.)
The catch—you saw this coming—is weight and bulk. The Cosmo Air in the long-wide configuration weighs about two pounds and doesn't pack down small enough to fit in a backpack, so you'll need to strap it to the outside.
But there really is a lot to love. Nemo included a built-in foot pump, and I was able to fill this pad in about the same time it took me to blow up the Klymit pad. The 75-denier polyester is tough, and horizontal baffles plus a baffle at the head do a good job of keeping air in place. There's enough synthetic insulation here to make this pad worthy of three-season use. I don't take the Cosmo Air on any trip where I need to cover more than a couple miles to my campsite, but when I do get to bring it, I'm always happy it's there.
---
How We Pick the Best Pads
Every year, manufacturers send me their new sleeping pads to check out. I send each pad to a team of testers—sea kayak guides, climbers, ski bums, weekend warriors, and active families—and I spend four to five weeks sleeping outdoors in all sorts of environments and on all kinds of trips. The idea is to use the pads in as many situations and by as many different people as possible.
For this test, I tested dozens of sleeping pads, including every model reviewed here. Before taking the pads out into the wild, I timed inflation and deflation, set up pads on different surfaces, and checked ease of packing.
Buying Advice
Sleeping pads come in three main styles—air, self-inflating, and foam—and an array of shapes, constructions, and thicknesses, which means there are a lot of decision points when purchasing one. Here's a breakdown.
Style
Air pads, like the Therm-a-Rest NeoAir XTherm Max SV, are light and packable and tend to be quite comfortable. They're also expensive, sometimes lack insulation, pop easily, and take forever to inflate. Still, they're the obvious choice if you value comfort, weight, and packability. The best air pads on the market are well insulated.
Closed-cell foam pads, like the Therm-A-Rest Z Lite SOL, are single pieces of foldable dense foam full of tiny air pockets. They're nearly indestructible, lightweight, and inexpensive. But any outdoor gear that's cheap and light inevitably comes with downsides—in this case, comfort and packability.
Self-inflating sleeping pads, like the REI Co-op Trekker, use elements of both foam and air pads. They're generally tougher than air pads, insulate well, and are more comfortable than foam-only options. They're also heavy and hardly pack down.
Insulation and R-Value
R-value, a measure of a pad's ability to resist heat flow, is arguably more important than pad thickness. (Higher numbers are better.) Insulated air pads typically include down or synthetic fibers, while self-inflating and foam pads use closed-cell foam. Most pad manufacturers will list an R-value, but some may just suggest a temperature range. When camping in summer, R-3 or less is usually fine; cold sleepers and three-season campers should look for values between R-3 and R-5. Winter camping requires R-5 or higher. Don't worry about overheating—unlike a sleeping bag, your sleeping pad won't ever be too warm.
Thickness
Mats range in thickness from less than an inch to more than four inches. Anything over two inches feels luxurious. Most of the time, the thicker a pad, the more comfortable it will be. That's especially true on bumpy, rocky, and uneven ground. Three inches of air pad cush can make a two-inch pine cone disappear.
Internal Structure
No matter the thickness, an air mat with no internal structure will feel bouncy or squishy, like a waterbed. When you lean on an elbow, you'll likely hit the ground. Look for baffles or dividers that create individual pockets to reduce air movement and improve stability.
Shape
The classic pad shape is a rectangle, but many companies cut weight by tapering at the head and feet. Streamlined pads work fine unless you're a restless sleeper and need the extra square inches. I tend to prefer the tried-and-true rectangle.
Width and Length
A standard pad is 20 inches wide and 72 inches long, though many pads come in longer and wider versions. Some lightweight backpackers opt for three-quarter-length pads, trading insulation and padding at the feet to save weight and bulk.
Weight and Packability
Air pads are the clear winners here, with some now weighing less than a pound and folding into the shape and size of a medium water bottle. Foam mats and self-inflating pads remain bulky enough that they usually need to be carried on the outside of your pack.
Materials
Materials matter for two reasons: durability and noise. The lightest materials are often noisy enough to disrupt your sleep (or worse, that of your tent mates). Sometimes they're also slippery, making it hard to stay on top of a mattress. This is mostly a problem with air mats, less with self-inflating pads, and almost never with foam. When shopping for an air pad not mentioned here, try to test it in person, checking for sound and a slippery feeling.
Higher-denier fabrics will be more durable and less likely to leak. Twenty denier is my cutoff. Features like the Therm-A-Rest SpeedValve use a huge opening to speed up inflation and deflation. It's a pricey add-on, but one I really like. Some pads may come with pumps that are built into a stuffsack or as an additional feature—that can be a nice bonus.
Some pads use raised baffles along the edge, like bumper rails, to help prevent slipping off the sides and a bigger baffle at the head to create a built-in pillow. All these features are great but add cost, weight, and often bulk.
Price
Top-end lightweight air pads cost upwards of $250 (good-quality pads start around $100). Spending less usually means taking a hit on durability and internal structure. On the other hand, foam pads might set you back $30 or $40, and self-inflating mats a minimum of $80. Across the board, prices start rising when you look for packability, quality materials, structure, and features.
Lead Photo: Ben Fox