How to Protect Food from Bears
Food is heavy. Don't carry it for miles while backpacking just to let something else eat it.
Andrew Skurka(Photo)
Heading out the door? Read this article on the new Outside+ app available now on iOS devices for members! Download the app.
You've set up camp for the night and cooked dinner. Now what should be done to protect the Snickers, salami, peanut-noodle dinners, and the other calories that will sustain you for the remainder of your backpacking trip?
Protect It from What?
Most backpackers seem to protect their food overnight because they're worried about bears. In places like the High Sierra, that concern is entirely warranted.
But proper food storage is important in other locations, too, even if the bear population is low or nonexistent and even if there are few or no reports of bears obtaining human food.
Why? Because of mini bears—the mice, rats, squirrels, rabbits, marmots, pikas, raccoons, porcupines, gray jays, and other small animals that reside in popular front-country and backcountry campsites. Mini bears may not run off with your entire food bag or give you nightmares, but they definitely can ruin a few chocolate bars, sometimes after first chewing a hole in your shelter, backpack pockets, and food bag.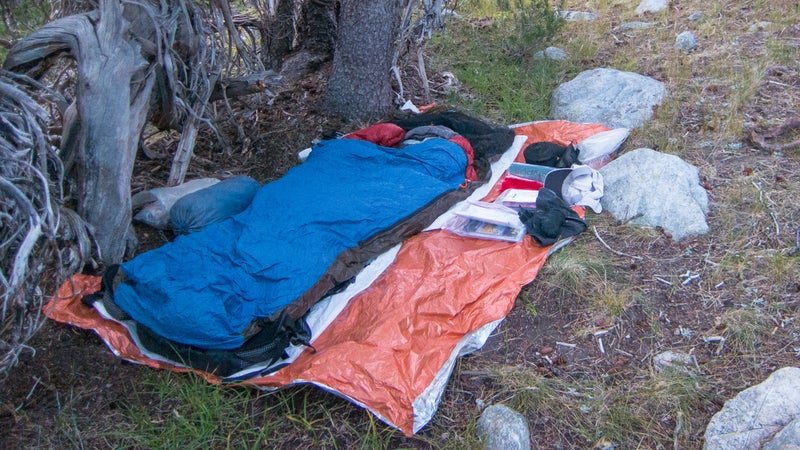 Protect What?
Anything that is supposed to go in you or on you should be properly stored overnight. That obviously includes food but also lip balm, sunscreen, toothpaste, etc. The thinking here is that wildlife may not discern between cherry-flavored lipstick and a bag of Craisins.
I don't protect my stove and pot, which I clean thoroughly after dinner. While they may have some residual food smell, most of my other gear does, too, and this isn't the threshold for what should or should not be protected overnight.
How to Protect Your Food Overnight
I rely on and recommend five things and techniques to protect food overnight in the backcountry, all of which are elaborated on later in this post:
Permanent infrastructure
Hard-sided canisters
Soft-sided sacks
Rodent hangs
Sleeping with it
The exact method I use is determined or informed by local regulations, personal familiarity, local guidebooks, online forums, trip reports, and informal conversations with rangers.
Video: Overnight Food Protection
I'm no longer with Sierra Designs, but this video nicely summarizes my recommended methods.
In-Depth: Food-Storage Pros and Cons and Best Practices
1. Permanent infrastructure
High-use areas and campsites may have permanent food-protection infrastructure. For example, Sequoia and Kings Canyon National Parks have installed large bear boxes in 55 backcountry locations. Elsewhere I have seen cable, pole, and cross-beam systems.
If this type of infrastructure is available, I use it. It's effective, convenient, free, and weightless—and it was probably installed for good reason.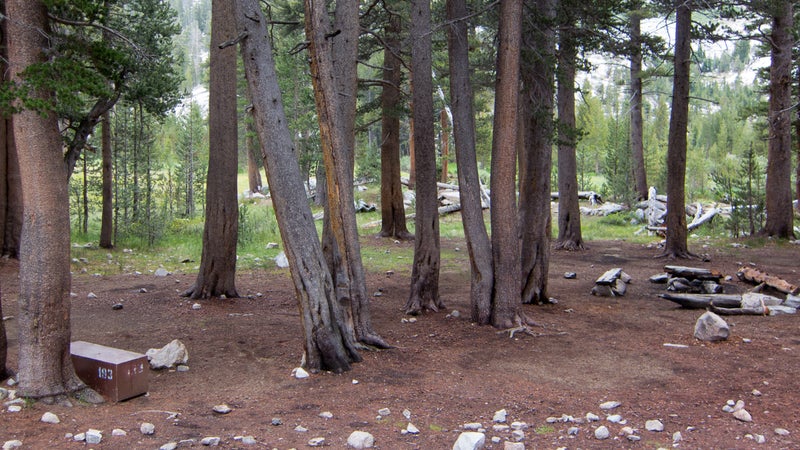 2. Hard-sided canisters
An increasing number of land agencies require that backpackers carry hard-sided bear-resistant canisters; you'll find this the case in the Adirondack High Peaks and in national parks including Canyonlands, Olympic, Rocky Mountain, Sequoia and Kings, Yosemite, and more.
When canisters are required, I carry one. I use the BearVault BV450 ($69) or BV500 ($79), because they offer the best volume-to-weight ratio and because I'm too frugal to spend more than $300 on a carbon-fiber Bearikade.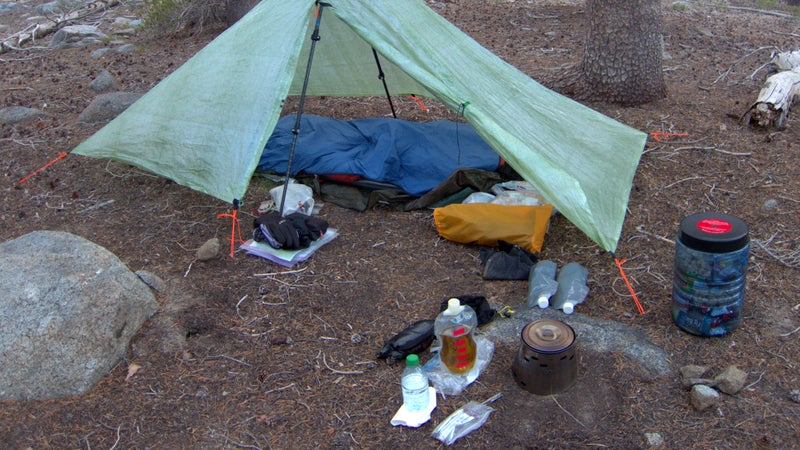 3. Soft-sided animal-resistant sacks
Hard-sided canisters are effective (well, mostly—they're not idiot proof) and they keep me compliant with local regulations, but of course I don't like to carry them—they're heavy and don't pack well.
I would rather carry a soft-sided animal-resistant food sack, which is ideal for an area where bears and/or mini bears are a potential problem and hard-sided canisters are not required.
You might think of these products as inexpensive and lightweight insurance. Two companies serve this niche: Armored Outdoor, which makes the Ratsack, and Ursack, which has rodent- and bear-resistant sacks.
The Ursack Minor ($65, 5 oz), for mini bears only.
The Ursack Major ($80, 8 oz), which has been certified by the Interagency Grizzly Bear Committee. and is suitable for bears only.
The Ursack AllMitey ($125, 13 oz), which both rodent- and bear-resistant.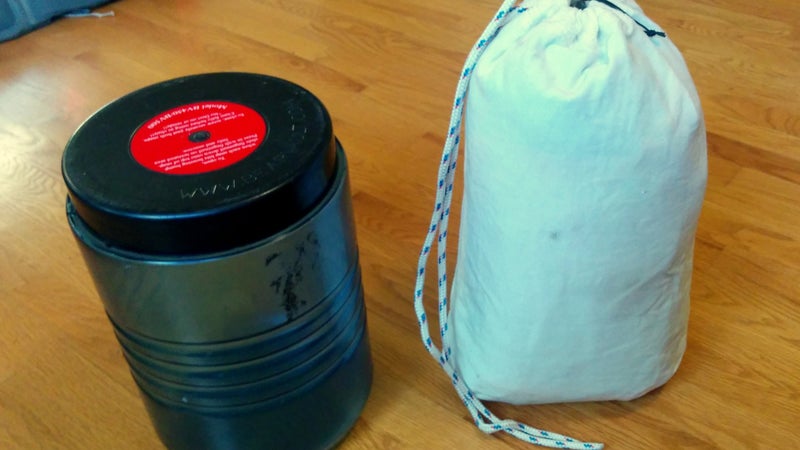 4. Rodent hangs
As a substitute for a Ratsack or an Ursack Minor, food can successfully be protected from rodents by hanging it. Keep it a few feet off the ground, a few feet from the trunk, and below the limb of whatever tree you're hanging it from.
This is not a bear hang. An adult should be able to hang it and take it down without throwing a rope or standing on someone's shoulders, and it can be set up a few feet from your shelter. To suspend it, use the drawstring on the food sack—or better yet, add a length of heavy-duty fishing line, which rodents can't climb.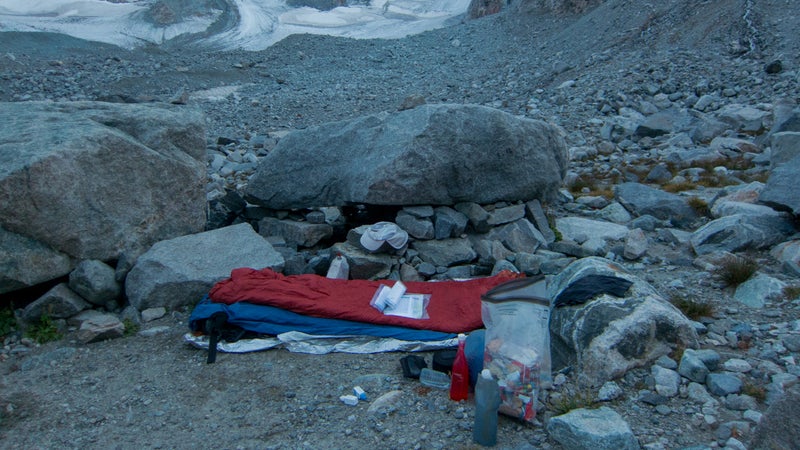 5. Sleeping with it
If I'm not required to store my food in a hard-sided canister, and if I'm not concerned about bears or mini bears, I will sleep on my food. I think I can get away with this because of where I backpack and camp—in big wilderness areas and at low- or no-use campsites. Don't try this at a Yosemite Valley campground, a designated backcountry site in Rocky Mountain National Park, or an established camp on the Appalachian Trail.
A food sack makes a decent pillow, though I prefer a pneumatic model like the Sierra Designs Animas pillow ($25, 2 oz). As a back sleeper, I prefer to put it under my knees, because it helps reduce pressure on my back.
To store my food, I use 12-by-20-inch Loksak Opsak bags (from $10). These bags are odor proof, at least when new—within a few days, I bet the exterior smells like food. I still like them, though: they're tough and see-through.
Discouraged: Bear Hangs
You may have noticed that the classic bear hang does not make my list of recommended protection techniques. I discourage bear hangs of any variety, including the counterbalance and PCT method. I may elaborate on this in a future post, but in general I find them to be:
Time-consuming, frustrating, and dangerous.
Infeasible where trees are spindly, short, or nonexistent.
Largely ineffective against a determined bear.
I think a bear hang is an old-school technique that is taught by some programs as if it's still 1970. If you're really serious about protecting your food from bears, use one of the first three methods I described in this post.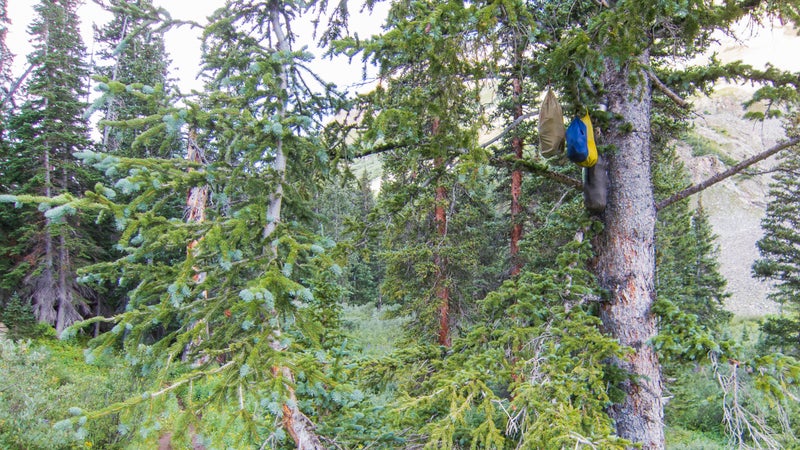 Lead Photo: Andrew Skurka
Trending on Outside Online