Your Favorite Dirtbags Are Motivational Speakers
There's a burgeoning industry of hawking mountain-conquering platitudes for cash. Lots of it.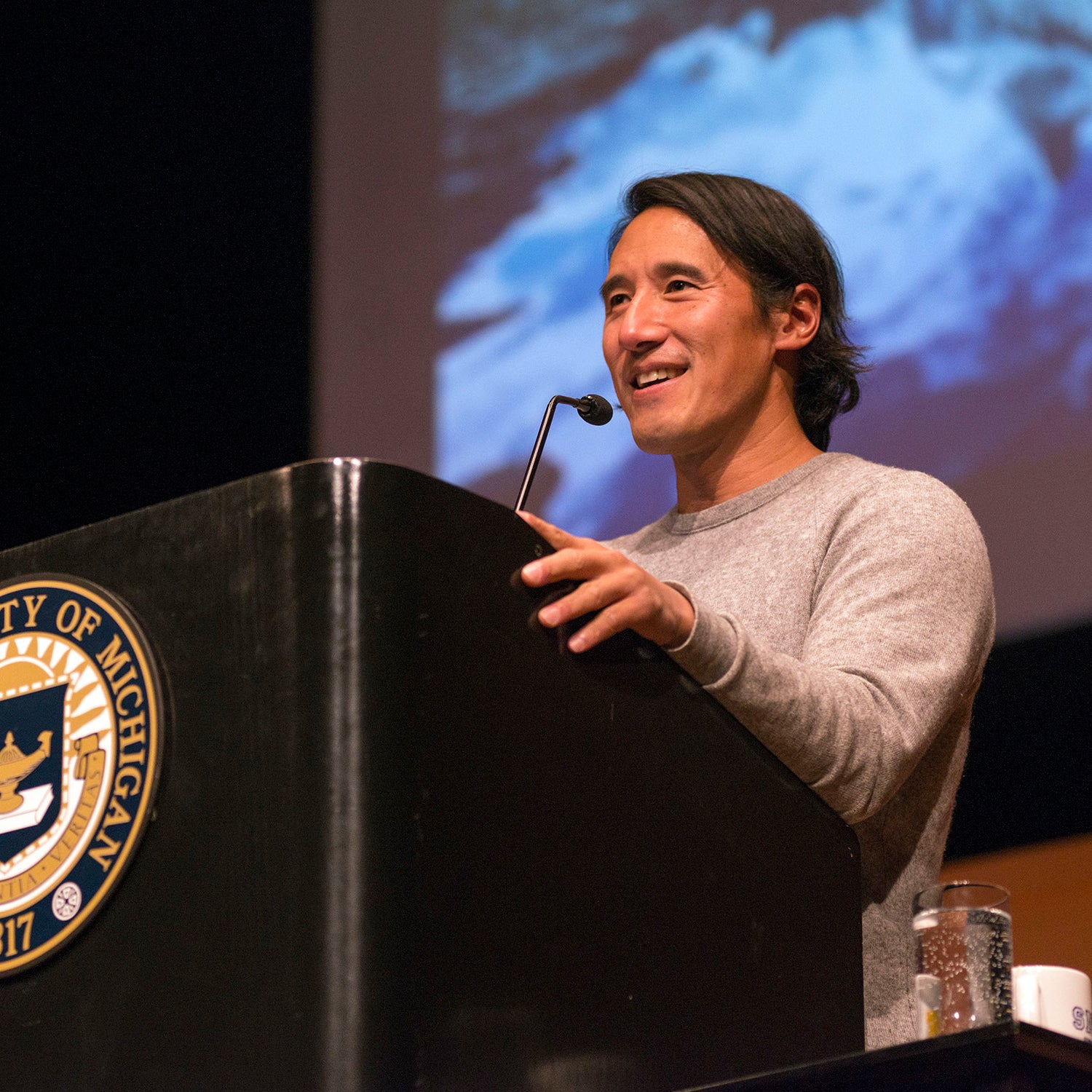 Heading out the door? Read this article on the new Outside+ app available now on iOS devices for members! Download the app.
"The joke is, 'Hey, I've climbed Everest, now I'm a motivational speaker,'" Conrad Anker told me after I observed that there's been a noticeable uptick in climbers—many of them former dirtbags and non-Everest types—delivering positivity platitudes and business bromides to Fortune 100 companies. Anker, a 56-year-old alpinist of some renown who recently retired from his three-decade reign as captain of the North Face athlete team, concurred. Compared to mugging for their sponsors' ads or clicking through a PowerPoint deck at a local climbing gym, a big-time speaking gig is great work if you can get it. Today, thanks to the mainstreaming of extreme sports, a relatively known athlete can fetch upward of $10,000 an hour.
Adventure types have always braved the dais to satisfy their sponsors, raise funds pre-adventure, and pay debts post-trip—or simply relate their stories to fellow pilgrims, gratis. While the spiel has morphed along with cultural norms, the metamessages of motivation themselves have changed little. They consist mainly of man's mastery over nature, man's mastery over self, and man's mastery over mechanical objects.
Straightaway you can see how these expedition accounts and the metaphors therein might prove useful to the corporate crowd. In fact, captains of industry routinely deploy the catchphrases of ascent—"to the summit," "climb higher," "reach the peak," etc.—and pen books along those lines with titles like Shackleton's Way: Leadership Lessons from the Great Antarctic Explorer or Conquering the Seven Summits of Sales and Upward Bound: 9 Original Accounts of How Business Leaders Reached Their Summits, the latter with chapters contributed mostly by mountaineers and one by Royal Robbins: "Success Through Failure in the School of Hard Rocks." And then there's the Everest genre, consisting of lessons learned on the naked slopes of that much-flogged mountain, including a Harvard Business School case study deconstructing the 1996 tragedy.
All of which is to say that even now, in a venue near you, an extreme athlete struts and frets below a proscenium arch, wearing one of those wispy headset affairs, filling with story the murky lacuna between aspiration and realization.
In truth, adventure types compose a nanoparticle of the estimated 53,000 public speakers in this country, but they're surprisingly ubiquitous. Basically, you've got the hardcores and the entertainers. The hardcores, whose names you probably know, are hired for who they are (or were) and what they've done (or did). (In short, everyone's in the game, but the athletes getting real work include Tommy Caldwell, Jimmy Chin, Alex Honnold, and Ed Viesturs.) The entertainers, who you've never heard of, are hired for their ability to absolutely kill onstage. Generally speaking, the entertainers don't win Piolet d'Or awards, and the hardcores don't kill. (By "kill," I mean the ability to both own a stage and deliver exquisitely timed maxims diaphragmatically to thunderous applause.) Many of the entertainers, and increasingly the hardcores, are represented by the country's top speakers bureaus, like Keppler and WSB.
The most successful of the entertainers by far is 52-year-old Alison Levine. While her adventure bona fides are not exactly visionary—she's climbed the Seven Summits and skied to both poles—they're plenty good enough if you can slay onstage, which Levine does (in a manner remarkably reminiscent of the Marvelous Mrs. Maisel). "I just like to tell people, don't worry about being the best and the fastest and the strongest," she tells me. "Just be the most relentless." And that she is. Levine averages over 100 gigs a year. She earns $32,000 per appearance, out of which she pays travel expenses and a 30 percent agency fee to Keppler. Levine says she has been Keppler's most requested speaker eight years running. By her math, she has delivered the same stand-up routine over 800 times to mainly business audiences. She says, "I want them to walk out of the room and say, There's nowhere else I would have rather been than listening to Alison Levine." Apparently, they do.
Of the hardcores, there's the surging Alex Honnold, 33, who, post Free Solo, is the most famous climber in the world since Hillary and Norgay stood atop Mount Everest. Actually, he's far more famous, since the latter two were bereft of Instagram accounts. Honnold has been talk-show fodder since 2011, the year 60 Minutes featured him soloing around in Yosemite Valley. With a foil to introduce him and ply him with questions, Honnold, who by now has given thousands of interviews, does just fine. No, better than that—Honnold, who evinces part cyborg and part naïf, kills in interviews. Last spring, however, he found himself alone on a stage at TEDx Vancouver explaining how he prepared for the El Capitan Freerider ascent. He looked positively C-3POish as he attempted to coordinate his much celebrated arms and hands to emphasize various talking points. All told, he looked far more gripped onstage than he did on the rock. Still, Jonathan Retseck, Honnold's agent and the cofounder of RXR Sports, an agency that caters to adventure athletes, told me that speaking ops are piling up for Honnold. Retseck expects the climber will soon command up to $50,000 per appearance.
All of which is to say that even now, in a venue near you, an extreme athlete struts and frets below a proscenium arch, wearing one of those wispy headset affairs, filling with story the murky lacuna between aspiration and realization.
Most adventure athletes of sufficient notoriety (and some with none) advertise speaking services on their websites alongside documentary shorts, a steady stream of social-media ejecta, and hot links to their memoirs. Public speaking? It's not viewed so much as a nice to have but a need to have to thrive in today's adventure ecosystem. Five-figure public-speaking fees are signifiers of the professionalization of adventure sports.
The hardcores are entitled to make a living—and a good one. Still, it discomfits when extreme athletes become cogs in the machine. Blame it all on the malign confluence of Manifest Destiny, the metastasis of social media, positive psychology, and the rah-rah sales culture of hypercompetitive capitalism, with its fixation on shareholder wealth. Rather than collude with their sponsors and corporate America, I think, why not pull a Banksy on them?
Hilaree Nelson did that recently, sort of. In January 2018, the extreme skier and climber found herself sharing a dais with a panel of top-drawer scientists and sustainability specialists, which included Al Gore, who flanked her on the right. The occasion: the World Economic Forum's annual meeting in Davos, Switzerland, whose attendees consist of the richest and most powerful men on the globe (women comprised only 21 percent of all attendees). The panel was discussing climate change. Nelson told me that she felt out of her depth. But she didn't hold back.
"If there is hope to be correlated with the Trump administration," she said, "—and this is hopefully not naive on my part—but it is the amount of people in the United States who have found a voice and who are working locally and through their states, through school education… I mean, it is phenomenal…through big businesses, everyone is taking it upon themselves to make it happen…. I can't even believe I'm saying this—but I think that's a good thing to come from the Trump administration."
She smiled, stared down at her hands, which she'd been steepling and lacing together throughout the talk, and looked at the panel moderator.
"But I'm saying it. I just did."