The World's Least Likely Outdoor Dad
How a father-son trip to Yosemite conquered my fear of hiking, bears, and falling off chairlifts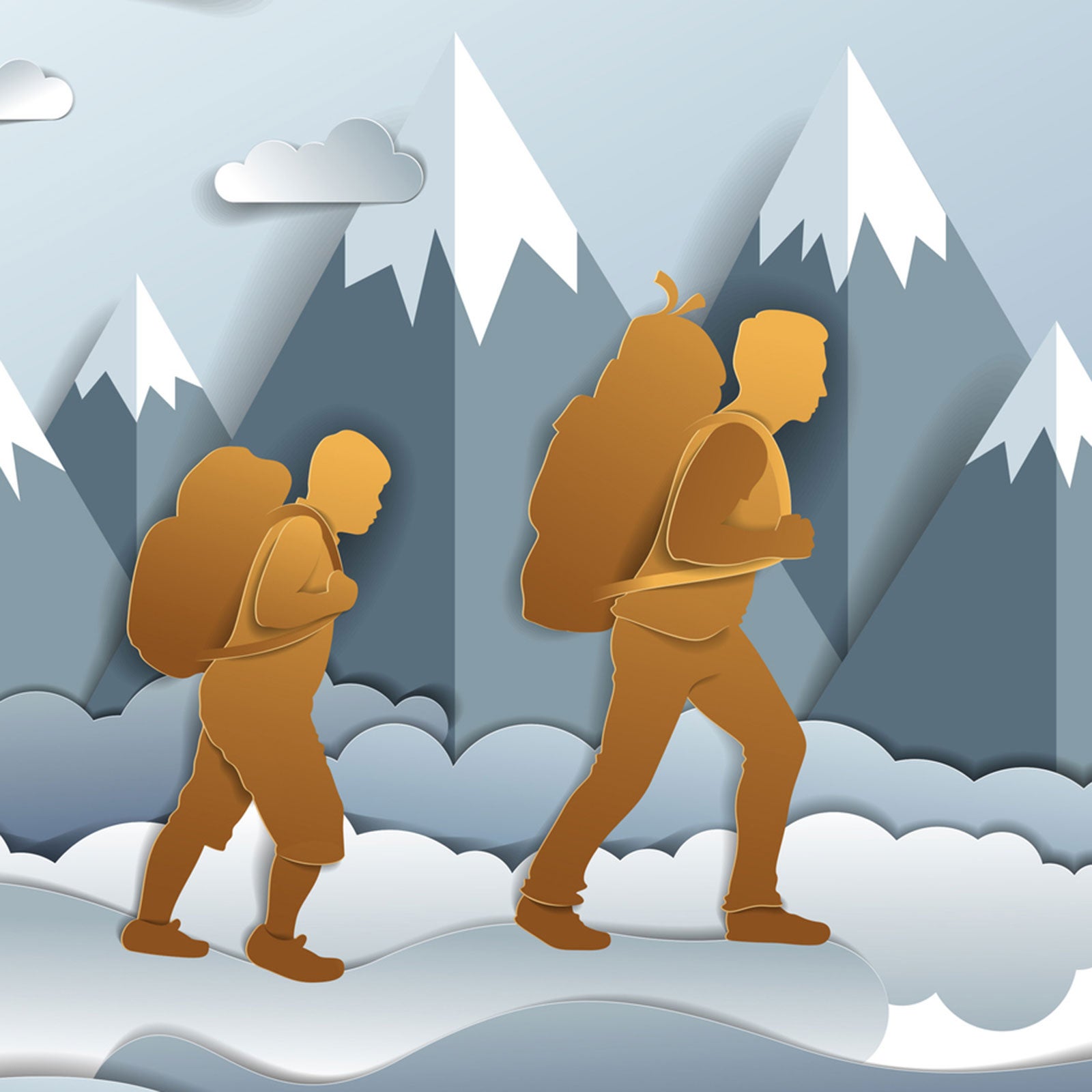 Sylverarts/iStock(Photo)
Heading out the door? Read this article on the new Outside+ app available now on iOS devices for members! Download the app.
I'm not Mr. Nature. More of an indoorsman, if you will. I grew up in Toronto, a snowball's throw from downtown, then moved to New York, where I dated women who'd take in my blinding urban pallor and say things like, "You gotta get out of the city." And I've been perfectly happy in the traffic of Los Angeles—bingeing NPR in my air-conditioned SUV for the last ten years.
I don't camp, hike, or go anywhere I can't plug in my electric toothbrush.
It was my wife, Ilene, who booked a family getaway to Yosemite National Park. She tried to convince me we'd be staying in nice places: the historic Majestic (formerly Ahwanee) Hotel and a new hipster outpost called Rush Creek Lodge. She assured me that she and our two boys could do all the outdoorsy stuff while I lounged in the lobby, sipping hot chocolate.
I was (reluctantly) sold.
Then tragedy struck. My 14-year-old son, Diego, came down with a 103-degree fever. No way he was going anywhere. And no way his mother was leaving him. But that wasn't the tragedy. It was too late to cancel. Now I'd have to go alone. Well, with our 12-year-old, Kingsley, who was super-excited to go.
I had no choice.
So I loaded our bags into the Highlander and caffeinated myself just short of a heart attack for the five-and-a-half-hour drive I'd now be doing unassisted from our home. As I settled in behind the wheel, I turned to Kingsley and said with all the sincerity I could muster, "This is gonna be a great trip!"
I wasn't being completely phony. Kingsley is a great traveling companion. We don't fight. We have inside jokes. We're both on the frugal side. "Maybe we should skip dessert," he'll say. "This dinner might get a wee bit pricey."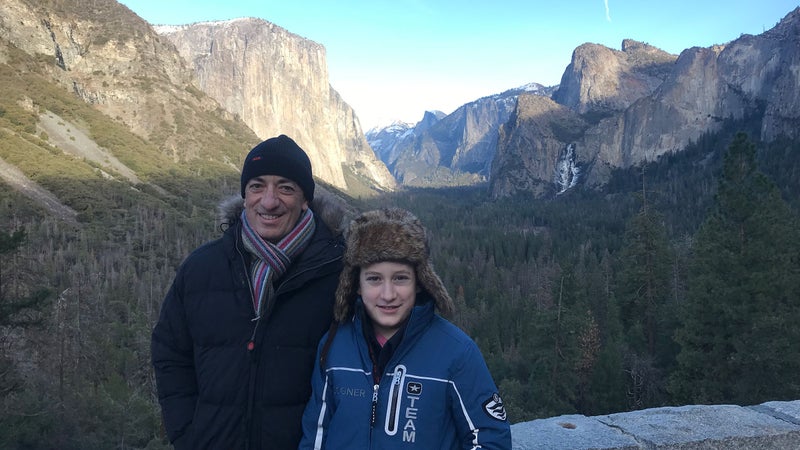 I wasn't worried about spending the next five days with him. I was worried about disappointing him. He'd be exploring one of the country's most famous natural monuments with a guy whose idea of roughing it is bad Wi-Fi and public toilets.
To prepare for our voyage into the elements, I did what any self-respecting nerd would do—downloaded an app. Gypsy Guide offers audio tours of scenic drives around the world. We entered the park, and after a lengthy geological preamble covering the past few hundred million years, it alerted us to our first Yosemite moment.
As we entered the famous mile-long Wawona Tunnel, it advised us to slow down as we came out the other side and pull into the turnout to take in the view. We did and beheld a breathtaking vista I'd only seen as wallpaper on my MacBook's operating system: a vast pine-floored gorge with the undeniable alabaster face of El Capitan on one side and the piercing Half Dome on the other. People climb those things? I was getting vertigo just posing for a selfie in the parking lot.
We got to the Majestic Hotel, and I immediately felt more in my comfort zone. First, thanks to the complimentary afternoon tea and cookies. Second, because when I started to walk around, I realized, it's the lobby in The Shining! Stanley Kubrick meticulously recreated it on sound stages in London. But no self-respecting fanboy could look at the hotel's red elevator doors without seeing an ocean of blood pouring out of them.
Built in 1927, the Majestic was conceived and built on a scale befitting Yosemite: Cathedral ceilings. Fireplaces so big you can literally sit inside them on a built-in bench and warm yourself while a pianist plays Beethoven on a Steinway grand. The place is as much a landmark as its surroundings. It's worth seeing, even if your budget—like mine—balks at staying there.
I have a West Coast kid who craves East Coast weather. His mom pitched Yosemite as a "winter wonderland." But Yosemite Valley was mostly snow-free. So the next morning, we took a shuttle up to Badger Pass, the park's ski area. The hotel concierge warned that it could be 10 or 20 degrees colder there, so we bundled up in hats, scarves, and parkas, then shedded most of our layers as soon as we got out of the bus. Despite the snow, the sun made it way warmer than the park's shaded valley floor.
My son would be exploring one of the country's most famous natural monuments with a guy whose idea of roughing it is bad Wi-Fi and public toilets.
It's taken me years to establish myself as the one person in our family who doesn't ski. So I pushed for cross-country, and for $90, we got skis and a lesson from a young instructor who demonstrated the basics, took us into the woods, then left us to explore on our own. Kingsley immediately snapped off his skis, dropped his poles, and made a snow angel. This was what he was here for!
We got back to the hotel too late for tea and cookies, so made do with a light supper in the Majestic's bar. Pork sliders three ways for Kingsley and, for me, a charcuterie platter whose only really worthwhile element was the pâté. Years ago, in the heat of an argument, Ilene called me an "effete weirdo." Ever since, I've enjoyed playing the part to the hilt. Sipping my cocktail, I prepared some ripostes for when we got back to L.A. 
Ilene: "So how'd you like Yosemite?"
Me: "Nice views. Substandard pâté."
The next morning, Kingsley was eager to get back to Badger Pass, determined this time to get in some downhill action. What was I gonna do? Look like a wuss in front of my 12-year-old son? Even effete weirdos have some modicum of pride.
So we went to pay for our lift tickets and the guy said, "I'm gonna comp these, 'cause it's gonna be an hour, maybe more, for the rentals." He wasn't exaggerating. The line was massive. We waited. And waited. An hour turned into an hour and a half. By the time we got our skis, we'd lost two hours of slope time. Which I feigned outrage over—as if skiing less wasn't my goal—and they comped our rentals, too.
The runs aren't huge (thank God), but the views are stunning. And it was free. To my credit, I only fell twice. Off the chairlift.
Luckily, Kingsley's not the type to get embarrassed. Even by his spaz dad.
After two days of alpine sports, we designated our last full day to lower-altitude sightseeing. For our day of nature communing, we weren't after anything too strenuous. Like I said, I'm not the guy who gets up at 4 A.M. for a 12-hour trek up Half Dome. Neither is Kingsley. A nice half-miler to Bridalveil Falls was more our speed.
We parked in the designated stop on the Loop Trail—all stops are numbered on the park shuttle service—and followed an icy riverbed up to the fall. Bridalveil isn't Yosemite's biggest waterfall, but it's one of the prettiest. From there, we wanted a closer view of El Capitan and so walked along a path next to an open field, gazing up at its awesomeness.
In homage to Free Solo, we free peed behind a tree.
Our next hike—more of a brisk walk—was to Lower Falls, where, crossing a bridge, we stopped to gape at the large black mammal reposing on a log in the riverbed. I believe it's called a bear. Let me rephrase that:
"HELP!!! A BEAR!!!"
Our cross-country instructor had assured us that black bears don't attack humans. And if one should happen to come barreling at you, it's a "bluff charge." Stand your ground, and it'll stop a few feet away, all 300 to 500 pounds of it.
I was starting to feel more and more like John Muir, who, I realized from looking at a photo in the lobby of our hotel, was the original lumbersexual.
See, this is why I don't like nature. The chance, however slim, that it might kill you.
In the face of the small mob that had formed to point their phones at the bear, this mild-mannered Yogi turned and moseyed off up the river. We forged ahead, wondering if we'd have to stand up to a bluff charge. But no. Our mettle remained untested.
Spring is supposedly the best time for the falls in Yosemite, when water gushes forth as if from a thousand hoses. But they looked pretty good now, in the middle of winter. Like backdrops for a bottled-water ad. Which, I realize as I write this, is apparently how I judge scenery.
The base of Lower Falls is guarded by a heap of boulders jumbled on top of one another. Kingsley felt a sudden urge to scramble over them. Again I followed, rather than wuss out. We got as close as we dared and cupped the rushing water into our mouths. It was clear and pure and better than any bottled water.
I was starting to feel more and more like John Muir, who, I realized from looking at a photo in the lobby of our hotel, was the original lumbersexual.
The water, the bear, wiping out in the snow. Mother Nature was not quite yet my friend, but she was no longer my enemy.
We needed somewhere to rest and reflect on our experiences of the last 36 hours, so we walked to the nearby Yosemite Valley Lodge to check out one of the park's newest and most popular attractions: Starbucks.
A grande latte never tasted so good.
Lead Photo: Sylverarts/iStock