Patagonia's Fleetwith Romper Is the MVP of Summer
The best item of clothing I've ever owned is quintessential crossover wear for the active woman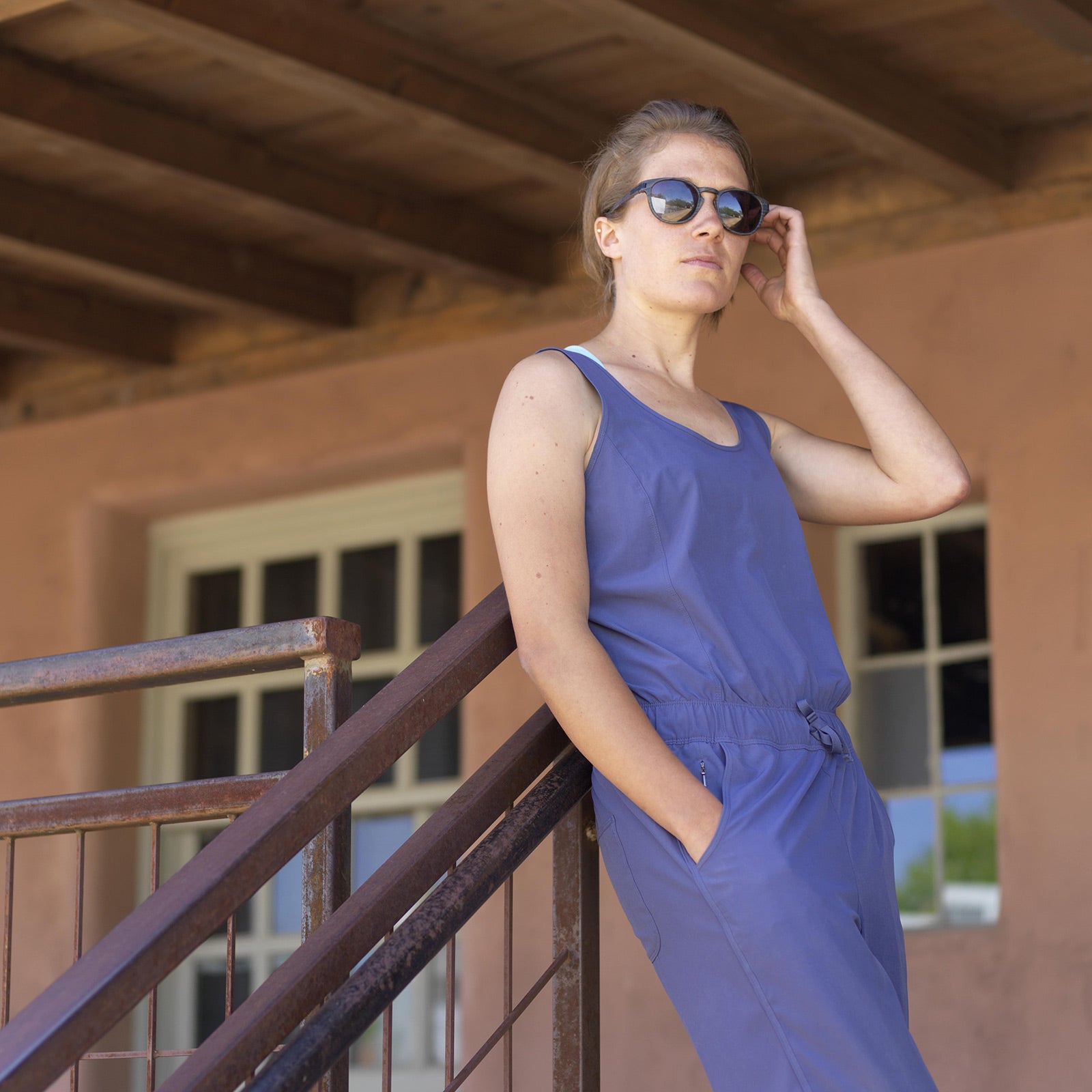 Kevin Zansler(Photo)
Heading out the door? Read this article on the new Outside+ app available now on iOS devices for members! Download the app.
The Fleetwith romper ($119) did not immediately convert me to a believer. I was skeptical of it: a baggy, shapeless, blueish-gray strip of fabric hanging in my closet. I judged it as maybe a little dowdy. A little too weird.
This went on for weeks until one day, when I was nearly out of clean work clothes, I tried the thing on. And I fell in love. Over the course of the past year, I've worn this one-piece for work, gardening, pub crawling, traveling, and hiking. It's perfectly comfortable and well suited to all those activities.   
Big credit goes to the fabric, which is the same stretchy recycled polyester-spandex blend that Patagonia uses in some of its running shorts. The material makes for a jumpsuit that's incredibly light and airy, with performance chops. I feel like I could happily jog in this thing (let's be real, I'm not really running), but I haven't actually done this, because the legit runners in the Outside office would judge me hard. What impressed me the most? The Fleetwith doesn't come off as particularly sporty; the fabric has a muted, almost linen type of look and feel.
Then there's the cut. The pants are loose without being boxy, and the top above the lightly cinched waist is trim but certainly not tight. It creates an athletic silhouette that doesn't restrict movement. The Fleetwith also breathes very well (thanks to straps that crisscross in back) and looks polished enough to wear to the office—at least to our Santa Fe–based headquarters. Lots of companies make that claim about their stuff, but few actually deliver.
The details are spot-on, too. I especially like the big pockets in the front and back (thank you, Patagonia!), including a zippered one big enough to hold an oversize iPhone.
Patagonia sent me my first Fleetwith for free as a test sample. I just bought a second one—not because of any durability issues with the original, but because I like black and this product happens to be in stock for the first time in what seems like a year. I plan to bring both rompers on my two-week trip to Spain and Morocco this summer; that should take care of almost my whole wardrobe, no stowaway bag needed.
Should you buy one? If you're an active woman who likes to travel and be comfortable at her desk, definitely. Heck, you should probably get two.
Lead Photo: Kevin Zansler