Indefinitely Wild
Cheap Camping Gear Sucks
A moderately unhinged but entirely reasonable rant about how we define the value of outdoor gear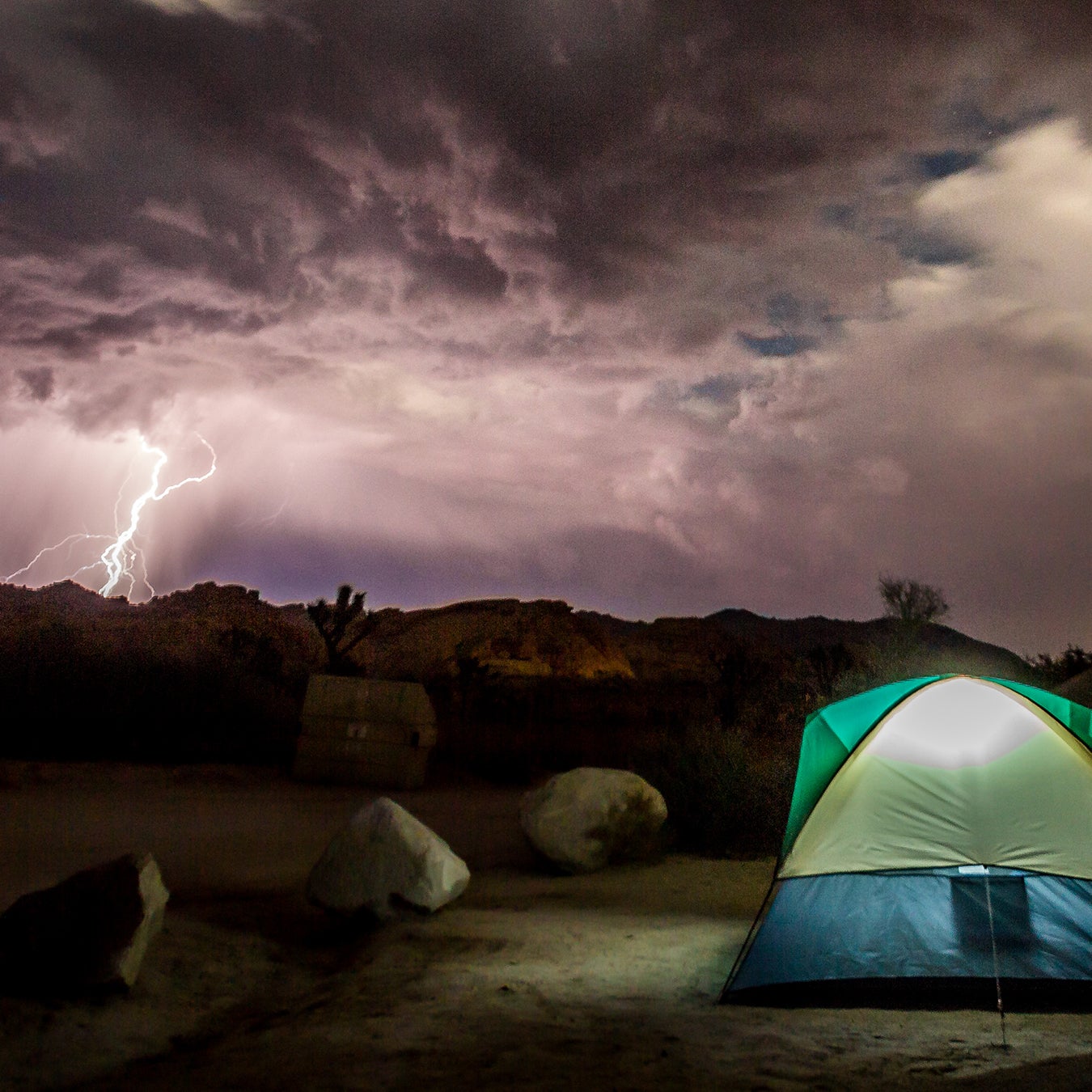 Heading out the door? Read this article on the new Outside+ app available now on iOS devices for members! Download the app.
Five years ago, I paid $390 for the most expensive sleeping pad ever made: the Exped MegaMat Duo 10. That was a lot of money for me, and it was such a difficult purchase to make that I kept the tab to REI's website open for a good week before actually pulling the trigger. But man, looking back on it now, it was some of the best money I've ever spent. 
That $390 bought me the most comfortable nights of sleep I've experienced, indoors or out. And also an awful lot of the best sex I've ever had. Something about encasing a pressurized air chamber within memory foam, under a totally flat surface, with four-inch-thick vertical sidewalls just delivers an optimal level of support, cushion, and bounce. And, with a positively ridiculous 9.5 R-value, it also delivers comfortable warmth on even the coldest nights.
I spent two weeks sleeping on it in Seattle, in the yard of a friend who doesn't have a guest bedroom. On my fourth date with my now fiancée, we spent three days on it in a yurt over New Year's Eve. On the way to Death Valley, California, three years ago, some firewood got loose in the bed of a truck and ripped a large tear on the pad's base—something I was able to fix in 15 minutes thanks to the excellent repair kit included in the price. Last Thanksgiving, we put it on a bed frame in one of the guest bedrooms in our new house, because we hadn't gotten around to buying a real mattress yet. We still haven't, because the Exped actually works better. I've probably gotten 200 nights of use out of this thing. Five years later, that $390 feels like extraordinarily good value. 
The MegaMat Duo has been the subject of at least half a dozen articles I've written. Having tested every single sleeping pad currently on sale, I can report that it remains the one which offers the most comfort. In my professional opinion, if you plan to sleep outdoors regularly, it is worth the price. 
Of course, that's a problem. Because $390 is a lot of money, and not everyone wants to max out their credit card just to spend a night in the woods. I know that, not only because I, too, am on a budget, but also because every time we publish an article mentioning the pad, people complain about its price on social media. And it's not just the Exped. A review of a $40 flashlight that makes over 1,000 lumens and fits on your key chain? Many readers jump right in to tell me that's too much, that you can buy a flashlight at a gas station for just $5! An article about wearing a Speedo as performance underwear? Good God man, those are $25! 
For that reason, we've been trying to be better about featuring stuff on the affordable end of the spectrum. We don't want readers to come away from our magazine thinking that the only way they can enjoy time outdoors is by dropping a grand or more on a car-camping setup or fancy carbon mountain bike. Our goal is to give readers as many choices as possible, and if your budget only allows for superinexpensive gear, then go for it; you're the decider of how much you can spend at any given time, and our job is to simply guide you through that decision process.  
All that said, I genuinely believe there is a thing as gear that's too affordable. 
Take my colleague Emily Reed's recent review of a $140 camping setup she bought at Walmart. Her take was basically to remark that it worked, and she was technically able to spend a couple nights outside in it. Are cheapskate trolls vindicated? Well, let's compare the $8 air mattress she tested to my $390 Exped to find out. 
Emily remarked that, despite using a 30-degree sleeping bag, she slept cold in temperatures that didn't reach nearly that low. Not only is that because sleeping-bag temperature ratings are self-reported by brands, thereby opening the category up to, well, lies, but that even with a best-case, accurately reported temperature rating, that number is calculated when paired with a 4.0 R-value pad. 
R-value is a measure of how well insulation resists the conductive flow of heat; simply put, a higher number offers more insulation. Because your bodyweight compresses the insulation inside a sleeping bag, it's the sleeping pad that actually prevents the cold ground from sucking up your body heat. How much insulation does that $8 sleeping pad offer? Zero. It will actively work to undermine any sleeping bag you pair it with, guaranteeing that you sleep cold in any temperature below, say, 50 degrees. 
Then there's the question of comfort. We all know, since we've all slept on crappy air mattresses like these, that they lack any effective internal support structure, so they sag in the middle, no matter how much you inflate them. Which means they might keep you off the ground, but they do not adequately support your spine. The problem is worse for two-person models, where the sagging causes sleepers to roll into one another, squishing them together. And they're so squidgy that attempting to have sex on one is invariably disappointing for everyone involved. 
As we all also know from painful experience, crappy air mattresses do not last long. You're lucky to get a week or two out of one, even if you're using it as a guest bed on a carpeted floor. Inflate and deflate them, fold and unfold them a couple times, and the seams split and valves fail. And every one I've ever stored away has grown mold, no matter how dry the closet. They're so fragile that they can basically be considered disposable.
Now, $8 isn't bad for two moderately uncomfortable nights outdoors in mild weather, but we have to consider the environmental cost of disposable, petroleum-based goods like these. To facilitate just those two nights, a hole had to be drilled in the earth at great expense, oil had to be pumped out, transported, and refined. Rubber had to be produced at one factory in China, transported to another where it was bonded into a disappointing mattress, then that had to be packaged and shipped to America. After those couple nights of use, this crappy air mattress will have to be transported to a landfill, where it will lay for around 50 years before decomposing.
Producing the MegaMat Duo absolutely comes at an environmental cost, as do all other consumer goods. I'm aware of no way in which to compare its carbon footprint with that of the crappy Walmart mattress, so let's just assume that each is equally damaging to the environment, both in production and disposal. Assuming you get about two nights of use out of the crappy mattress, and comparing that number to the approximately 200 nights I've already gotten from the Exped (both with my own use and that of friends and house guests), we arrive at a very uncomfortable comparison. It'd take 100 of the shitty Walmart mattresses to equal the use I've gotten from the MegaMat. If we keep assuming roughly equivalent environmental costs, that's damning. If we're just talking financial costs, the Walmart crap would have cost me twice as much. And again, that'd be twice as much for an uncomfortable mattress I couldn't use in cold temperatures or have sex on versus the most comfortable pad in the world, which is still going strong five years after I bought it. 
Then, of course, there's the question of where my $390 went. Exped is a small Swiss brand, where the employees appear to enjoy their jobs. The pad was manufactured in Asia. But it was sold to me at REI, where the employees all earn living wages and get health care and where customers own the business. The exact opposite of Walmart, basically. 
And these mattresses are just one example. Most other items of cheap, crappy gear are also even cheaper and even crappier when you start analyzing them in depth. Which is my job as a journalist and what I try to inform you of when I write about gear. Expensive rainjackets breathe better than cheap ones. Nice tents weigh an awful lot less than ones you'll find at Walmart, while lasting years longer and providing much more weather protection. A good knife will come with a good warranty, because the manufacturer knows you're not going to be sending it back any time soon. If none of that matters to you, great, but it remains my job to objectively evaluate an item's merits regardless of price, then look at that price when recommending something versus its competition. I work in media, so this is not making me or my colleagues rich; price tags are not a judgment against your value system, budget, or degree of student debt. 
I understand that you may need to spend those two nights on an $8 air mattress you bought from Walmart, but we should not be engaged in the business of glorifying price over value. It is our job to inform you that a better experience is possible. 
It is my hope that, rather than scare you off with sticker shock, the articles I write about expensive gear can help educate you about the various merits that are possible within a category, tell you about new technical innovations, and give you the knowledge you need to make an informed decision when it comes to researching and ultimately deciding on a purchase at a price that works for you.
If nothing else, hopefully they at least give you an idea what to look for during sale season.