In Stride
What Kara Goucher Learned from the Leadville Marathon
The elite marathoner wants you to know that trail runners deserve our respect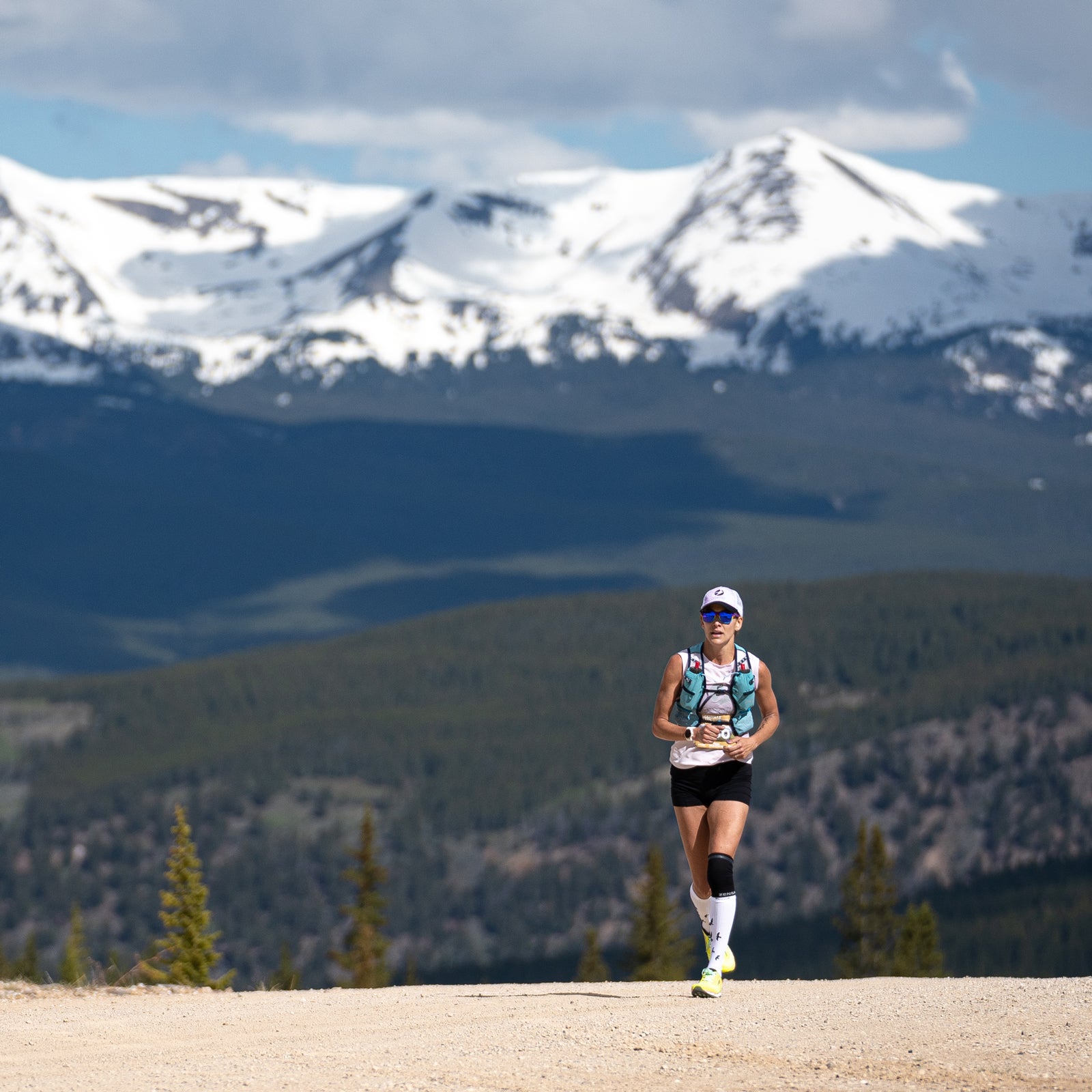 Matt Trappe(Photo)
Heading out the door? Read this article on the new Outside+ app available now on iOS devices for members! Download the app.
As you may be aware, Outside has recently made a lot of new friends in the trail running community, thanks to an article that suggested that the demographic should be more proactive about volunteer work. At the risk of squandering the surplus of goodwill, last weekend's Leadville Trail Marathon brought to mind a contentious question: What would happen if more elite road runners transitioned to trail racing? Or, as we asked in an article from 2015: Are the stars of the ultra scene only successful because the best distance runners tend to stick to the roads?
The answer appears to be "no," at least if last weekend's race is anything to go by. In her trail debut, two-time Olympian Kara Goucher finished in fifth place—respectable, but not the dominating performance road running elitists might have anticipated from a woman who once ran a 66-minute half-marathon. (Of course, at 40, Goucher may no longer have the raw speed of her youth, but trail races often reward more experienced runners. In 2015, Magda Boulet, another former Olympian in the marathon, won the Western States 100 Endurance Run when she was 41.)    
"Without a doubt, the hardest thing I've ever done in my life," Goucher wrote on Twitter after surviving a race in which altitude sickness caused her to vomit multiple times and where, the next day, her knee would look like it was harboring alien life. (This year, the Leadville Marathon course reached an altitude of 11,710 feet.) 
Since Goucher is arguably the most accomplished road athlete to take on the trails, we wanted to hear a little more about her foray into a new kind of running.   
OUTSIDE: What was your first trail racing experience like?
GOUCHER: Honestly, I was an idiot. I'm 40 years old, but I raced like I was 10. I knew that the first six miles were uphill and that an overall average of somewhere between nine and ten-minute mile pace typically gets you on the podium at that race. I wanted to come through the 10K mark somewhere between 62 and 65 minutes . . . and I came through at 51 minutes. I was too competitive for my own good. I remember thinking these women are running really fast, but I just wanted to keep an eye on them, so that maybe at the 18-mile mark I could run them down. That was not going to happen, even if I hadn't gone out too hard. They were just way better than me. But I did feel like it could have been a very different experience, if I hadn't been such an idiot in the beginning. I dug this huge hole, and when we started the really big climb, I remember thinking that this is the most pain I had ever been in in my life—more than giving birth—and then I looked down at my Garmin and it said 11.6 miles. I was like, oh my god. I don't know if I'm going to make it. 
2015 CCC-champion Zach Miller once described the difference between road racing and trail racing as driving an automatic versus driving a stick shift. Now that you've gotten your feet wet in the trail world, how would you compare the two?
I think they are totally different sports. I remember, at the eight-mile mark, there were a few men in front of me walking, and I was like suckers, as I ran by them. And they all destroyed me by the end of the race. I couldn't take advantage of any of the downhills because I was just totally shot. So, I think it's a steep learning curve. It's hard to come from the roads where you get on that edge and just ride it out—where you train for this certain pace that you can handle for two-and-a-half hours. That's a hard mindset to break when that's what you've done your whole life. It's a mindset that I'm learning isn't going to work on the trail scene. You have to respect the terrain and the course. 
On that note, do you think it's easy for road racing types to underestimate just how much extreme conditions contribute to the challenge of certain trail races? You live in Boulder, so it's not as if you're totally unaccustomed to altitude. 
Absolutely. I have been terrified of this the whole time. I wanted to challenge myself in a way that I couldn't fathom, but even with all of my innocence and my respect for everyone around me, I massively underestimated it. Over the last few days, I've tried to think back of the most pain I'd ever been in in a race. The other races that come to mind are the first half marathon I ever ran where I really didn't know what I was doing, and where the last three miles were just so hard. I ran 66:57, but I was sick for a good six hours afterwards. I think of New York in 2008, where I'd never felt that sort of fatigue before. But this was so much harder. I can't even put it into words. It was such a dark place. I just wanted to curl up on the side of the road and have someone knock me out, so I could magically wake up back in my bed. Horrific.  
The last time we published an article comparing elite-level road runners to trail runners, many readers responded that it was a matter of apples and oranges—that the two disciplines were so radically different that it's pointless to try and compare them. Would you agree?
Ask me in a year. I do think there could be a successful crossover. Desi [Linden] is a person that comes to mind. She is a very patient racer and she is always so dialed into running her own race and not what's going on around her. So I think that she could make a pretty successful transition because she wouldn't be an idiot like I was—trying to run with people whom I shouldn't have been running with. But I do think, perhaps it has been underestimated how hard this sport is. But maybe a trail runner wouldn't be able to redline on that edge and hold 5:30 pace forever. But I would want the road scene to know that these are legitimate athletes. Maybe they can't run quite as quick on the roads—or maybe they can, I don't know—but what they are doing is incredible. 
In terms of the training you did for Leadville, how was that similar to training for a standard marathon? How was it different?
I decided to let go of any pace-based runs. I was really just doing a lot of mile-long hill repeats. Twelve mile stretches of one mile hard uphill and an easy mile down, or vice versa. And I just did a lot of trail running. Because, when I run, I don't ever look at my feet. I'm always looking ahead. And, now, all of a sudden, there are rocks all over, even though Leadville, in general, is a pretty forgiving course, footing-wise.
For the best of the best, there still seems to be more of a financial incentive to focus on road and track racing. (The premier events of the ultra scene, like UTMB and Western States for instance, offer little or no prize money.) Do you think that is going to change now that ultra running is getting more publicity?
I super new to it, but one of the things I was so impressed by over the weekend was the community. I would not have finished without the people around me that day. So many people stopped and walked with me, or ran a half-mile with me and then moved on. It's a totally different feel. There's opportunity there for sure to put more money into the community. I will say that it felt less important how fast you were and more important to finish. So maybe that's part of the reason why the prize money isn't as big. I mean, the people who were up front were flying—and people were excited for them. But people were just as excited for the person who just barely made the cutoff. It's hard, coming from a track background, to think that it actually doesn't matter how fast you run. But I do think that's more of the general feel. It's more of a collective effort and collective celebration.
There are those who fear that the community element is being threatened by the continued professionalization of the sport, which might also incite doping. On the flipside, some fans have wondered if trail running could even become an Olympic sport. How do you feel about this debate?
I think that there's probably already people doping in ultrarunning. I think it's unrealistic to think that because there's not much prize money people aren't going to cheat the system. People cheat the system for much smaller things than some credible race. So, I don't think that making it an Olympic sport would necessarily increase doping. I think making it an Olympic sport would be awesome. I was for cross-country in the Olympics and now, having seen this little part of running life, I think it could be a really cool event. I think it's just one of those things that, until you experience some of that pain and suffering—and by the way, I only ran a marathon, not an ultra—you can't imagine what these athletes are doing. I think it would be amazing if they could perform on a bigger stage. But I wouldn't worry about increasing doping so much, as much as getting out-of-competition testing implemented now.
Do you think you'll run another trail race in the near future?
If you had asked me that on Saturday, I would have said no way. But with each day that's gone by, I've gotten more and more interested. So I've started researching more trail marathons and even 50-milers. So, I'll be back out there again for sure. 
Lead Photo: Matt Trappe
Trending on Outside Online