How Shelton Johnson Became a Yosemite Legend
The longtime ranger has spent decades sharing stories of Buffalo Soldiers and advocating for diversity in the national parks. But his journey started on the edge of a cliff in Germany.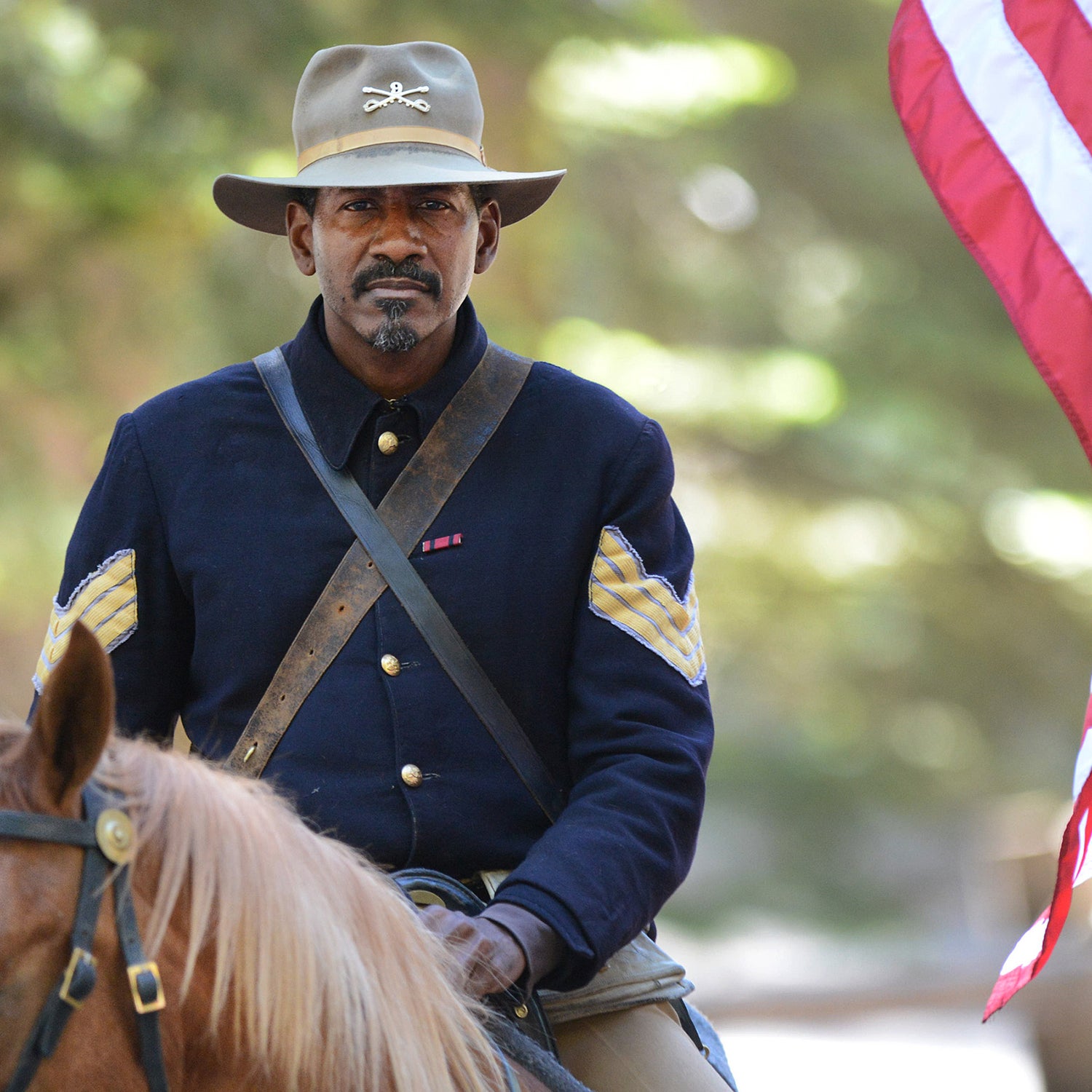 Craig Kohlruss/The Fresno Bee/AP(Photo)
Heading out the door? Read this article on the new Outside+ app available now on iOS devices for members! Download the app.
Shelton Johnson's life has been characterized by three awakenings—moments when the places where you live and sleep and eat play second fiddle to what the soul is singing. Without his third awakening, he wouldn't be who he is now, at age 60: an award-winning, high-profile ranger in Yosemite who's spoken about diversity in the national parks with Barack Obama, gotten Oprah to come camping next to California's Merced River, and become one of the most visible activists for getting more people of color into the outdoors. But without the first awakening, he wouldn't have gotten to the second, then to the third. So we have to start at the beginning.
---
The German town of Berchtesgaden sits in the Bavarian Alps, 2,297 feet above sea level. In 1963, at the outcrop of a 2,000-foot drop, here stood five-year-old Johnson on a family trip, holding his father's left hand in his right, and his mother's right in his left. Clouds floated below his feet, and their shadows were mottled maps of the sky in the valley below. All around him were snow-covered peaks, with banners of wind unfurling from their mountains, like a rug being snapped and shaken out. Johnson gripped his parents' hands tighter, for fear he'd be scooped up and spit into the abyss, a brown boy vanishing into all that white.  
On that day, the wind didn't just blow around Johnson but through him, to a part of himself he previously didn't know was there. He calls it a "baptism of spirit": in that instant, he felt like his molecules were taken out, swirled with the air, and rearranged so that he'd forever be aligned with these environments and yearn for them. "I had no idea at the time it was going to be the most significant moment in my childhood," Johnson says.
The experience stayed with him when he returned from that vacation to the German village of Contwig, where his family lived for a year and a half while his father was in the Air Force. He would remember it after his family moved to London, in 1964; and when, in 1967, his father's job brought them back to inner-city Detroit, where he would spend the remainder of his adolescence. 
---
When Johnson, at age 25, arrived in Liberia to teach seventh-grade English in the Peace Corps in 1982, the country was in a period of transition following the 1980 overthrow of president William Tolbert. Johnson's post was the village of Kakata, where he worked at the Booker Washington Institute, the country's first agricultural and vocational school. At the time, the institute was smaller than it is now, with a few dormitory-style rooms and one main dining area. But what moved Johnson were the forests surrounding the village, green no matter which direction you threw a stone.   
Though Johnson is currently eligible to retire, he says he's not quite ready. There are still communities he wants to reach and people he wants to speak with.
All around Johnson were birds for which he had no name, singing songs he'd never heard. There were spiders the size of a hand with outstretched fingers, which made him feel like he was in a big-bug science-fiction movie from the 1950s. Never before or since has Johnson ever experienced a place like it, a place where you could run your hand over a surface—a leaf slick with rain, a branch bruised by time—and leave with something that wasn't there before. A living organism or two, sure, but more importantly, a feeling. Like something good is hitching a ride and you just don't mind. "It was hot, humid, equatorial, and everything was alive," he says of that period. 
Johnson left Liberia months after he'd arrived, stricken by amoebic dysentery and malaria. But he still thinks of red Kakata sunsets and of this second immersion into wilderness. His second awakening.
---
Johnson first saw the splendor of the U.S. national parks as a child in Detroit, thumbing through issues of National Geographic at home, flipping from Yellowstone to Yosemite to the Grand Canyon and back again. Later, in his twenties, he'd click through slides of these parks on a View-Master, transported to places he could see but still had yet to visit.
One day in 1984, as a graduate student in poetry at the University of Michigan, Johnson took a break from writing and reading and thinking about Langston Hughes, John Keats, and Percy Bysshe Shelley and applied for a job that would change the arc of his life. What he signed up for—to be a dishwasher at Yellowstone's Old Faithful Inn—was more grime than glamour. But it would bring him to the wide-open wilderness of the U.S., which he hadn't yet experienced. When he first stepped off the bus in the park, there was that scene again: mountains covered in snow, and wind blowing off gusts and dusts. There was that feeling again, like when a chord is struck on an instrument and you feel the reverberations in your chest, blood, and bones. 
Johnson calls this his third awakening. In that moment, he realized that Detroit, to some degree, had never been his home. It was where his family was, but the wilderness—when it's quiet enough to hear the clouds drift by—was where he belonged. And since getting off the bus in Yellowstone, he's never truly gotten back on again. He went back to Michigan to pack his things, yes, but he returned to the mountains and the wind, and he's been there, figuratively, ever since. 
---
Initially, Johnson didn't think he was qualified to be a park ranger. He could do it, of course, but with a background in classical music, poetry, and literature, he puzzled over how to apply his formal training to everyday tasks. What would he say? "If I catch you speeding again, I'm going to read you one of Shakespeare's sonnets—maybe one he got rid of," he likes to joke. But George Robinson, chief of interpretation at Yellowstone from 1982 to 1992, when Johnson was there, recognized that people's first entry point to parks was often via the written word or photos or paintings. So why not hire a poet? 
And so, in 1987, Johnson began his life as a ranger, first at Yellowstone, then at Grand Teton, then at parks in the Washington, D.C., area, and then at Great Basin National Park. For the past 25 years, he's worked at Yosemite, opening and closing the visitor center, leading nature walks, talking about the ecology of black bears, and helping people get closer to the heart of the place however they can. In March, he started focusing his efforts, full-time, on outreach to culturally diverse communities.
Years ago, Johnson was deep in the Yosemite archives when he discovered a faded black-and-white photograph from 1899 that showed five black U.S. Army infantry soldiers. He continued to research military and historical records, building his knowledge about these Buffalo Soldiers, African American troops who were also the original stewards of national parks like Yosemite and Sequoia at the turn of the 20th century, long before there were rangers in these spaces. In addition to evicting poachers and extinguishing forest fires, the Buffalo Soldiers were responsible for building the first road into Sequoia's Giant Forest and constructing the first trail to the top of Mount Whitney, also in Sequoia National Park. "African Americans have a role here and have a history here," he says.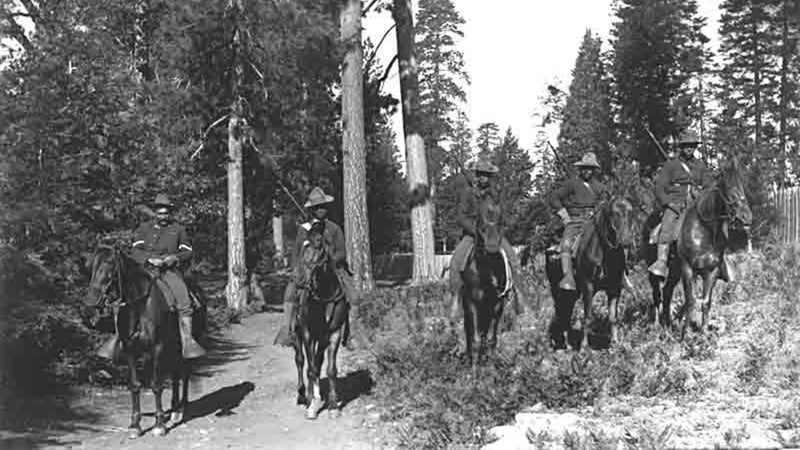 In Johnson's mind, there's no greater story in the national parks than that of the Buffalo Soldiers. This history became a fulcrum of his work in moving the deadweight of misperception, the idea that African Americans have no claim or connection to the national parks. It inspired him to write his 2011 novel Gloryland, which tells the story of a sharecropper's son who becomes a Buffalo Soldier in the 1900s. In 2012, Johnson started a weekly narrative podcast called A Buffalo Soldier Speaks, told from the perspective of Sergeant Elizy Boman, who served in Yosemite from 1903 to 1904. (The podcast is currently on hiatus.) Johnson, in character as Boman, still sometimes appears in Yosemite. 
Behind these calls for engagement is a hope that people of color will seek out natural spaces and continue to be inspired by them to create. Where are the African American landscape photographers? Johnson wonders. Why don't more African American poets and novelists set their stories in environments like this? "The history is there. But the modern-day equivalent of the extension of those stories and contributions is not here," Johnson says. "And that really troubles me."
Like John Muir before him, Johnson sees himself as carrying a torch—one that lets African Americans see that he's there and celebrating the place, because he thinks these spaces are where disassociation from wildness can be remedied. He feels a responsibility, because only some 6 percent of all National Park Service employees are black, and because studies show that people of color visit the national parks much less frequently than white people. By staying put and speaking, leading, and welcoming, maybe he can help. 
"Shelton is 100 percent accurate when he says that representation matters," says Teresa Baker, who worked with Johnson to retrace the Buffalo Soldier Trail and founded the Facebook group African American Nature and Parks Experience in 2013. "Understanding that there's someone there in the visitor center that looks like them or speaks their language, that will be a huge help in pushing visitation when it comes to communities of color in our parks."
---
Decades after his dishwasher gig that summer in Yellowstone, Johnson is one of the park service's most popular rangers, made more recognizable largely thanks to his turn in filmmaker Ken Burns's six-episode 2009 series on PBS, The National Parks: America's Best Idea. Johnson appeared in every part of the 12-hour program, discussing everything from being greeted by bison upon his arrival in Yellowstone and the democracy of national parks. 
According to Kara Stella, Yosemite's deaf-services coordinator, who has worked with Johnson for more than 20 years and is currently his office mate: "Very often, his shift [in the field] will end but it will be quite a while before he ends up back in the office. And I'm pretty sure, when that happens, that he has been caught by someone who is starstruck and wants to take a photo, or a visitor that asks him a question. But he is so present to the visitor that's there." Ben Cunningham-Summerfield, another Yosemite ranger, says: "Shelton takes great joy in sharing that history and his experience with those who care to listen."
Though Johnson is currently eligible to retire, he says he's not quite ready. There are still communities he wants to reach and people he wants to speak with. But when it does happen, it will be a loss on a grand scale, say Johnson's friends, coworkers, and peers, not only because he's such a talent and person of good heart but also because no one else is doing the work he's doing.
"He's keeping alive a narrative that had widely been forgotten and untold for almost a century. To my knowledge, there's no one being groomed to take his place. If he goes away, that could stop. And that would be tragic," says journalist James Edward Mills, whose 2014 documentary An American Ascent was narrated by Johnson. "Shelton is a national treasure." 
For now, though he sometimes dreams of trips to France, Italy, and Spain, Johnson is happy where he is, in a place he first discovered decades ago and knew he belonged decades before that. "My home is where the mountains are, and that's why I'm here," he says. "What fires the imagination of my spirit are places like this."
Lead Photo: Craig Kohlruss/The Fresno Bee/AP