Another 'Into the Wild' Pilgrimage Has Ended in Death
A 24-year-old woman drowned while attempting to reach the abandoned bus made famous by Christopher McCandless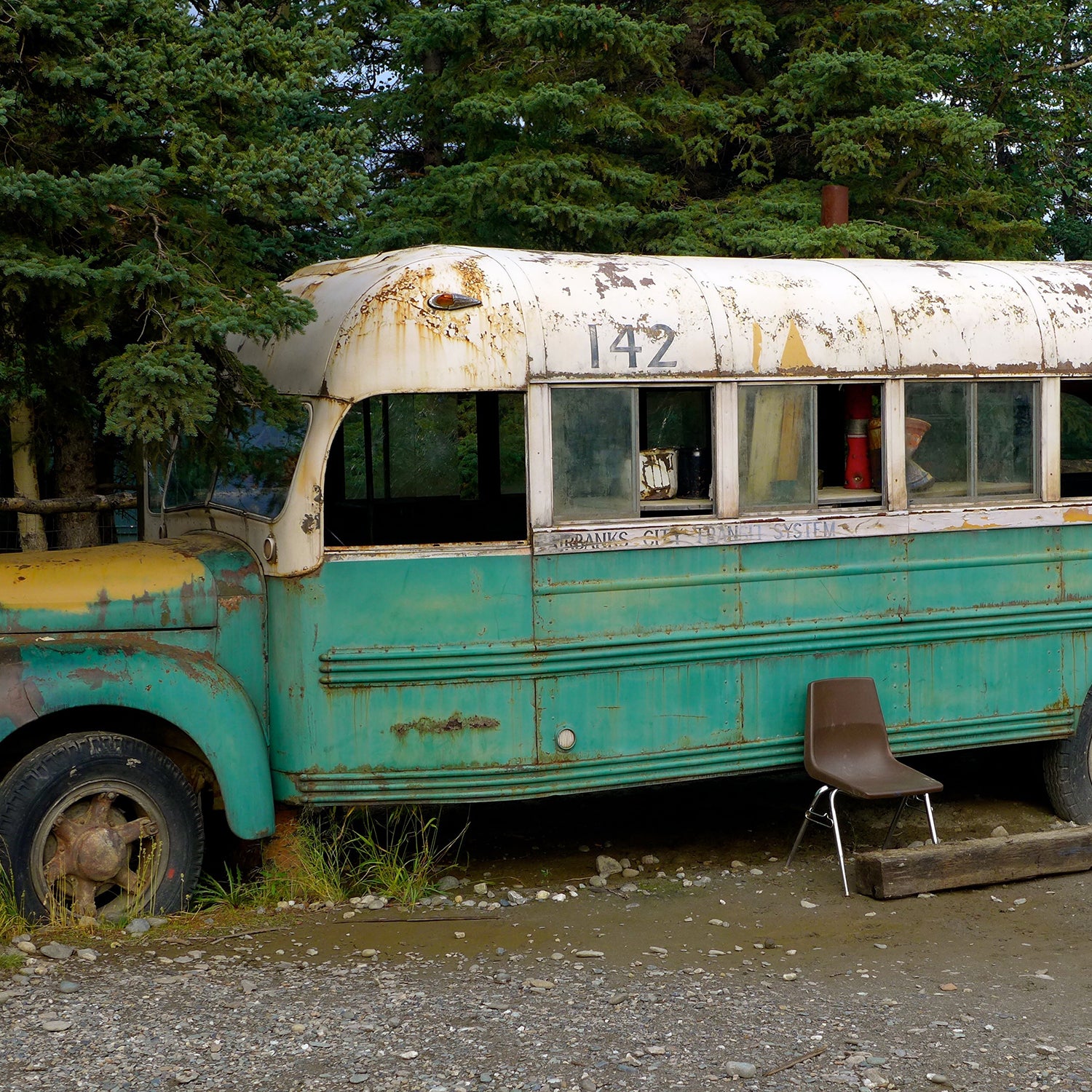 Heading out the door? Read this article on the new Outside+ app available now on iOS devices for members! Download the app.
A 24-year-old Belarusian woman died while attempting to reach the abandoned bus made famous by Christopher McCandless and Into the Wild.
Veranika Nikanava and her husband, 24-year-old Piotr Markielau, were crossing Alaska's Teklanika River, just outside Denali National Park, when Nikanava lost her footing and was swept away. Markielau made it to shore and was able to retrieve his wife's body downstream. He contacted the Alaska State Troopers just before midnight on July 25, and was retrieved by a police officer and volunteer firefighters on ATVs. According to Ken Marsh, a spokesman for the troopers, the couple had been married for less than a month.
The river is the primary obstacle in the popular but dangerous hike to the bus. It's fast and cold, and can run waist-high or worse in high water. Sometimes there's a rope strung across it, intended to help hikers. But that doesn't guarantee safety: Nikanava reportedly lost her grip on the rope when she fell. In 2010, another young hiker, Claire Ackermann of Switzerland, drowned in the Teklanika under similar circumstances.
The bus sits 20 miles down the Stampede Trail, and roughly ten miles past the river crossing. A longtime shelter for hunters passing by in the fall, in the summer of 1992 it was home to Chris McCandless for several months. McCandless had been roaming and adventuring across North America for a couple of years before he wound up on the outskirts of Denali, where he hoped to survive off the land. He crossed the river and found his way to the bus in April, with winter still holding on. Later that summer, hungry and hoping to retreat, he found his way back blocked by the river at high water. He died in the bus in late August, and was found by moose hunters in September.
His story was first told in a classic Outside feature by Jon Krakauer, "Death of an Innocent." Krakauer published a book-length version, Into the Wild, in 1996, and soon after that, a trickle of pilgrims, inspired by McCandless' idealism and commitment to living life on his own terms, began making their way to the bus. The trickle increased after the film adaptation of Into the Wild was released in 2007, and by the time I found my way to the Stampede Trail in 2013 to write a story on the "McCandless pilgrims" phenomenon, locals estimated that a couple hundred hikers were seeking the "Magic Bus" each year.
On that trip, the chief of the local fire department told me he'd already rescued a dozen pilgrims during that summer season alone. When I hiked to the river to see it for myself, I watched three hikers get swept downstream by the current. (They survived with minor injuries.) I heard rumors that locals planned to blow up the abandoned hulk in order to solve the problem; a few years later, a local newspaper columnist wrote that he'd always figured "two cans of gas and a match" offered a similar solution.
This second death will likely renew the conversation about whether or not to remove or destroy the bus. But it's just as likely, given the remote location and the costs involved, that nothing will change this time, either. Twenty-seven years after McCandless' death, his story continues to capture the imaginations of young people—many of them, now, not even born yet when he died. It's hard to squelch that kind of emotion.
In a statement, the Alaska State Troopers urged travelers to "come prepared" for Alaska's wilderness, and its "challenging weather, water, and geographical conditions." That's good advice. My own advice? Find another hike, another trail—there are plenty of them. There are better ways to honor an adventurer you admired than by following a dangerously well-worn path.
Trending on Outside Online