Indefinitely Wild
The Ultimate Overland Solar-Power Setup
Simple, reliable, and affordable: the age of practical solar power for your adventuremobile has arrived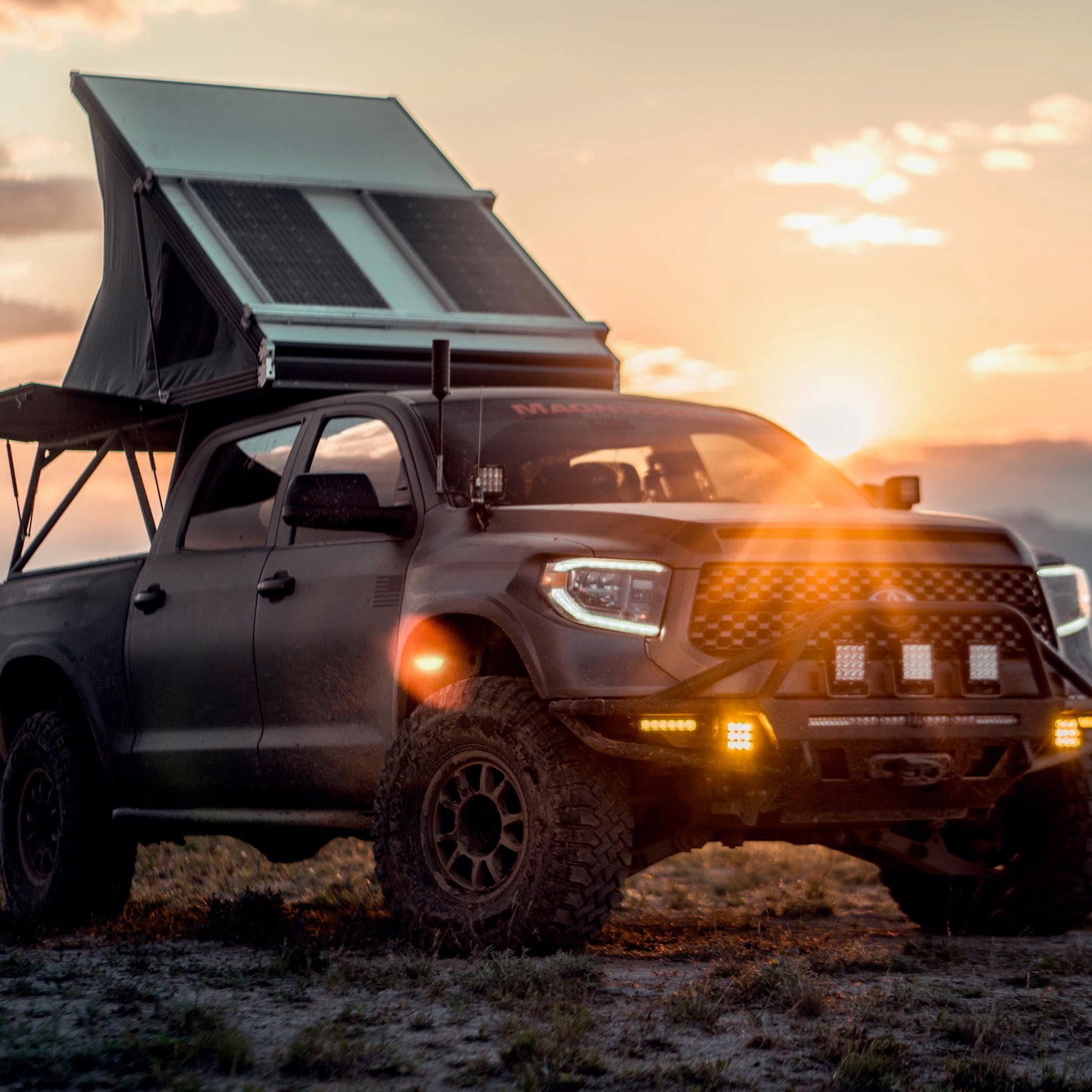 Heading out the door? Read this article on the new Outside+ app available now on iOS devices for members! Download the app.
Are you intimidated by the cost and complexity of installing solar power on your truck, van, or camper? I know I was, but with a little help from my friends at Go Fast Campers, I think I've figured out a solution that's surprisingly cheap, extremely effective, and easy to install. 
Why Solar? 
Your vehicle provides power while it's running. Most new vehicles give you both 12-volt DC and 110-volt AC outlets, which means you can easily recharge your gadgets or run accessories, like off-road lights, an air compressor, and even a fridge, without any hassle beyond bolting those things to your rig. But all that changes once you switch your vehicle off. 
In the past, the solution to power when your car was off was a dual-battery setup, in which a vehicle's electrical functions were split into a complicated mess that was both expensive and a hassle to install. Plus, modifying the extremely complex electrical systems of modern vehicles invariably creates additional points of potential failure. By decreasing the reliability and serviceability of your rig, such setups actually compromised a vehicle's ability to facilitate adventure. 
In recent years, innovations like LED lighting, lithium-ion batteries, and battery monitors incorporated into refrigerators have also reduced the loads placed on your vehicle's battery during engine-off operation, and they've increased the potential capacity of that battery, further reducing the need for one of those dual-battery situations. 
But one important use case for engine-off power remains: long-term operation of a fridge-freezer, a luxury that's become increasingly important for my vehicle-based camping trips. Not only does it allow me to take nice food off-grid for longer periods but also bring along the raw meat that I feed my three large dogs daily and keep anything I catch during my hunting and fishing trips as fresh as possible. I installed this solar-power setup specifically to enable a very large fridge-freezer to keep ice frozen indefinitely.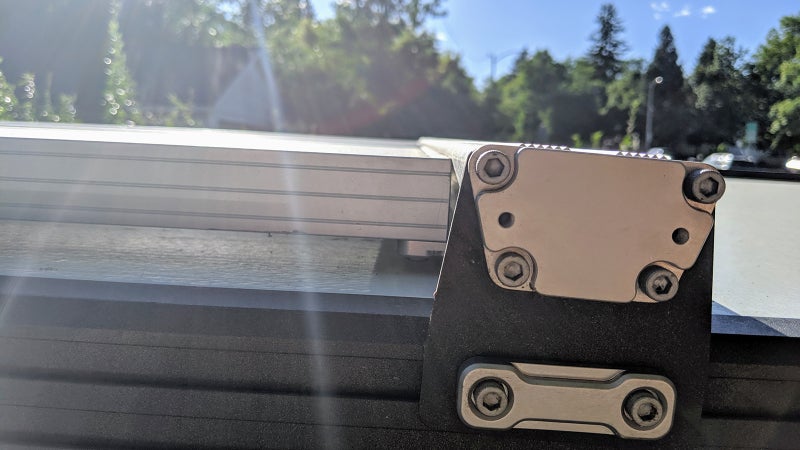 Which Vehicles Will This Work On? 
Technically, anything. But you're going to need to be able to mount a solar panel or two to the roof in a semipermanent fashion and drill a hole in said roof so you can pass cables through it. For that reason, something like a pickup-bed topper, camper, or trailer is probably a better candidate than a Subaru.
I've mounted my solar system to the Go Fast Camper in the back of my 2019 Ford Ranger. Being able to install this setup so easily, without compromising my bed's load space or the carrying capacity of the camper's roof, is one of the reasons I think a Go Fast Camper mounted in the bed of a midsize pickup creates the ultimate practical adventuremobile.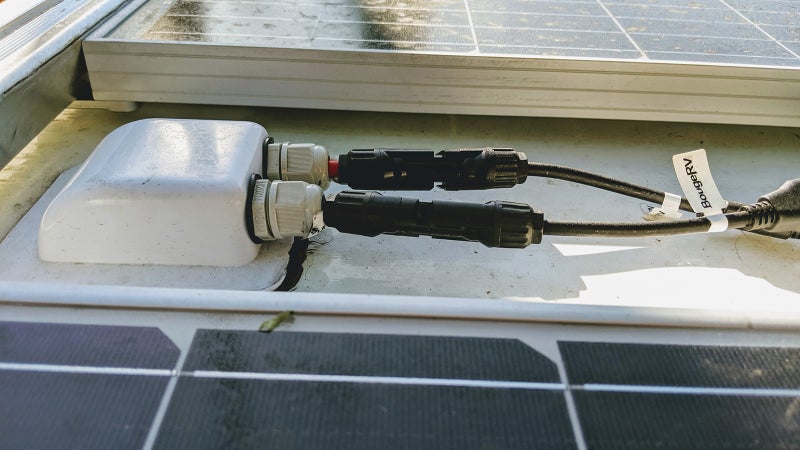 The Parts You'll Need
Because my goal is to keep both 35-liter compartments on my fridge-freezer continuously frozen at zero degrees, I went with two 100-watt solar panels. If you're just trying to bring ice cream and cold beer on a camping trip, or using a smaller fridge, you'll find that just one of those panels is adequate for your needs. 
I'm using cheap Renogy panels from Amazon. At just $113 apiece, they're extremely affordable, while a predrilled aluminum frame makes them lightweight and easy to mount. Renogy claims they're designed to last through decades of outdoor use, but even if that doesn't end up being the case, and even if their actual output is closer to 75 watts, that's still great value. 
You'll need to connect those panels to your power cable, and this pair of Y-branch parallel adaptors will get the job done, while offering IP67-level waterproofness, all for a grand total of $8. 
Those adaptors connect the power cable to this BougeRV10AWG extension cable, to carry power down to your bed. It's also IP67-rated, offers way more power than the panels are capable of producing, and costs $30 for 20 feet. That's longer than you'll need, which allows you to route the cable out of the way, along your vehicle's interior contours.
Drill a hole in your roof to pass those cables through, and cap that hole with a waterproof housing. This little $18 cover provides waterproof housings for two cables and mounts with 3M sticky pads that I backed up with a continuous bead of silicone. 
Finally, you'll want to attach a DC connector, so you can plug those cables into whatever power-management device you chose to run. This one's $12. 
You'll also need some way in which to mount the panels to your roof (I used Go Fast Campers' new Beef Rack crossbars) and a few odds and ends from the hardware store, like straps and bolts. Everyone's solution here will differ, but it won't be hard to figure out. 
What Do You Do with That Power? 
Of course, creating a flow of power into your truck bed is only half the solution. You'll also want to capture, retain, and distribute that power. Traditionally, that's required a charge controller, batteries, and an inverter to transform DC to AC power. All three components have not only been expensive, but they also haven't played nicely with each other, leading to limitations with both reliability and practicality. 
Fortunately, Dometic has solved those issues with its new PLB40 portable battery ($850). The PLB40 integrates a charge controller with a battery specifically tailored to the unique power needs of portable fridge-freezers, and it supports flow-through charging, meaning it can recharge itself while also providing power to devices. In short, all I need to do to permanently run my Dometic CFX75DZW is plug the solar panels into battery, then connect that to the fridge. It's that simple.
Dometic chose to omit a power inverter from the PLB40 to save size and weight, but it can still run a separate inverter (like the kind you'd plug into your car's cigarette lighter) if you need to power AC gadgets like a laptop. It also built the PLB40's battery cells from lithium-ion phosphate rather than the typical lithium-ion chemistry, to better enable them to handle the significant power needs of a fridge-freezer. Where a big unit like my 70-liter fridge will quickly trigger low-voltage warnings and turn itself off if I try to run it on a lithium-ion battery, the PLB40 will continue to power that fridge down to an indicated 0 percent charge, even while protecting itself from extreme temperatures, low voltage, and other harmful conditions. 
Real-World Testing
Just like coolers, fridge-freezers have to work hardest when they're empty. So I hooked all this up in the back of my Ranger and set both empty compartments of the CFX75DZW to 0 degrees. Then I proceeded to use my truck normally around town for a solid week in August. I made no effort to park in direct sunlight; I just kept parking overnight in my driveway, which is shaded for half the day, and running my usual errands. The battery would typically charge to over 90 percent capacity while running that freezer in its hardest-possible-duty cycle, then discharge to around 10 percent overnight—not a huge margin for error, but it worked. Whether the freezer is loaded up with ice or I'm parked all day in an empty sagebrush expanse, all this should have no trouble running continuously throughout multi-day hunting trips, allowing me to return to the truck with both fresh meat and still frozen ice. 
More often this simply means that I never have to worry about connecting the fridge to my vehicle's power supply. I haven't had to splice into any of the truck's electric cables, I don't have to worry about waking up in the morning to a dead vehicle battery, and I'll always have a cold beer ready at the end of a hard day. Plus, the fridge and battery disconnect and can be removed easily, so I'm free to use my truck bed as a truck bed whenever I need to—no hard-mounted battery compartment gets in the way. I've obtained a significant added luxury without sacrificing any of my stock truck's reliability, and at a cost that would have been unbelievable just a handful of years ago. 
Next week I'm taking my setup elk hunting. I'll be away from the truck and in the backcountry for seven days. I plan to pack the fridge-freezer full of ice the night before I leave, and if I'm able to get back to the truck with several hundred pounds of fresh meat, I'll be able to load everything into my gigantic 220-liter Yeti, complete with rock-solid ice for the daylong drive home. 
In March, my fiancée and I are driving down to southern Baja to get married, camping along the way there and back for our honeymoon. We'll be able to enjoy plenty of fresh food and cold drinks and feed our dogs raw meat the whole way, all without compromising the reliability of our truck as we pass through some seriously remote areas. 
Is such a ridiculous amount of off-grid refrigeration a luxury? Absolutely. Does it add to our ability to enjoy the outdoors? Ask us that when we're roasting a fresh elk backstrap over a fire, while watching a sunset from our very own private beach in Mexico.