In Stride
How Masters Women Dominated the New York City Marathon
Roberta Groner and Sinead Diver reflect on what it means to be "young in running years"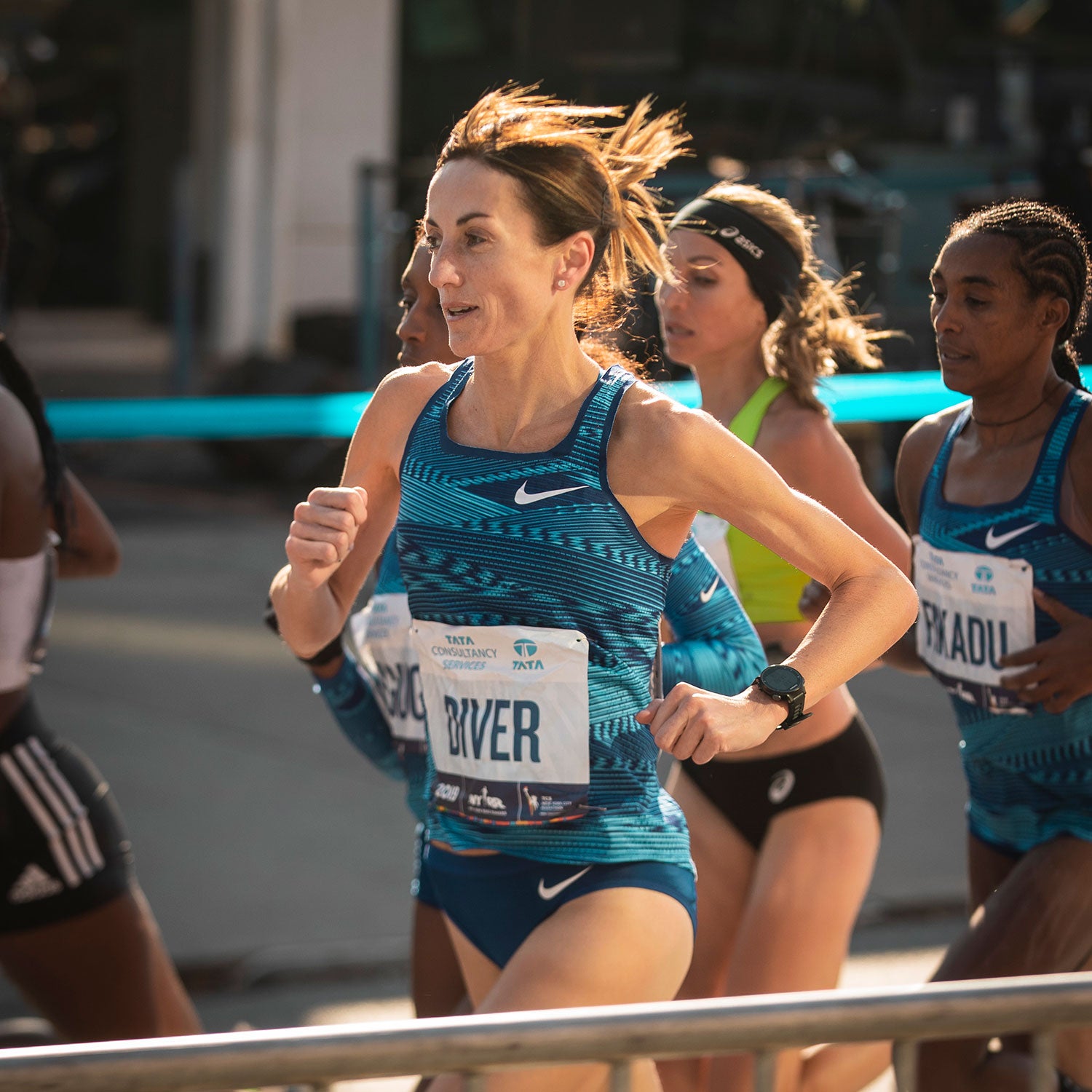 Heading out the door? Read this article on the new Outside+ app available now on iOS devices for members! Download the app.
In Sunday's New York City Marathon, four women over 40 finished in the top 15: Nancy Kiprop of Kenya (4th), Australia's Sinead Diver (5th) and Americans Roberta Groner (13th) and Kate Landau (15th). (For comparison, top American honors went to Des Linden, who finished 6th.) With the exception of Kiprop (who has won the last three Vienna City Marathons), none of these women are professional athletes. Diver is a software developer in Melbourne. Groner works as a nurse in New Jersey. Landau is a physician's assistant based in Florida. Kiprop has seven children (five of whom are adopted) and has opened a small school in Iten, which she funds with her earnings from races. 
Since New York usually isn't a particularly deep marathon, one could argue that, while impressive, it isn't a massive shocker to see so many quadragenarians finishing so high in the results. But all four of the women mentioned above also ran their personal best in the marathon earlier this year. In other words, these runners haven't just maintained fitness into their fifth decade, but are currently performing at their athletic peak. It's unusual enough when a good club-level runner has this kind of breakthrough. For runners competing at the top level, it is astounding. 
Diver's case is perhaps the most remarkable, as she only took up running in 2010, at 33. (That's the same age that Ryan Hall, the only American to ever run a sub-2:05 marathon, decided to retire and dedicate his life to the pursuit of getting swole.) She progressively improved her times, and, this year, set an over-40 world record in the 10,000-meters, running 31:25.49 at the IAAF World Championships in Doha. At the London Marathon this past April, a race which was touted as having the strongest women's field of any marathon ever, Diver led by about 14 seconds at the halfway mark. She would eventually be reeled in, but ended up running a personal best of 2:24:11 and finishing seventh.
Please let that sink in for a minute. A woman who had never done any serious running before she turned 33 recently finished seventh in the most competitive marathon in history. Then again, Diver wouldn't want us to make too much of a big deal about it. As far as she is concerned, her age is the least interesting thing about her running career. 
"Any other, younger athlete, we never talk about their age. It's never the 26-year-old or the 32-year-old. But the prefix before my name is always the '42-year-old' Sinead," she says. "I think it takes away from my times and my performances. I don't see my age being a hindrance or a crutch and I don't want other people to see that as well."
Given that she doesn't regard herself as a Masters runner, it's understandable that Diver gets annoyed when her age gets foregrounded in any discussion of her achievements. (She's on vacation this week, so hopefully she won't read this article.) In Doha, after learning that she had just set an over-40 world record, her response was "Who cares?" That might come off as wee bit curmudgeonly, until you realize that, despite running a personal best, she had missed the Olympic qualifying standard by half a second. She says that she was "devastated" by the result, even though the 10,000 isn't her main event. The Masters world record was the last thing on her mind. 
"I don't think my performances are any better because I'm 42. I've only been running since I was 33, so I'm very young in running years," Diver says.
Indeed, being "young in running years" is perhaps the most logical explanation for why Diver and co. are excelling at this point in their lives. Both Groner and Landau ran competitively in college, but then took a decade off from the sport, only to ease back in on their own terms. And while Kiprop has had a longer professional career, an injury forced her to take a few years off in her early 20s, a time when most pro runners are subjecting their bodies (and minds) to intense levels of attrition.  
"I think there's a common theme with most of us women who are in our 40s and running at a high level that there was some break or starting later in life. We don't have that mileage and pounding on the legs," Groner says.
Groner, who ran her first marathon (Chicago) in 2011, raced New York last weekend, despite also competing in the marathon in sweltering conditions in the World Champs on September 27. In a race where only 40 out of 68 athletes finished, she came in sixth. Racing two Marathon Majors within a few weeks of each other is extremely uncommon at the pro level. Lelisa Desisa, who won the men's marathon in Doha, also tried to run in New York a month later and dropped out after a few miles. (In fairness, the men's marathon at World Champs took place a week later than the women's race.)  
"Honestly, she was doing something that was a little unprecedented," says Steve Magness, Groner's coach. "To bounce back from a marathon like Doha, where it was pretty brutal conditions, and five weeks later to run another marathon on a tough course like New York City—it's pretty amazing and a testament to Roberta's tenacity and resilience." 
Magness added that the unique trajectory of Groner's career was yet another reminder that we shouldn't get too hung up on the conventional idea that progress is always linear, or that athletic decline happens around a particular age. 
For her part, Groner seems less opposed to occasionally accepting her status as a Masters runner. Depending on how she fares in February's Olympic Trials, she says her plans for next year will likely include running a fall marathon and going after the American record for her age group. 
But Groner is also adamant that for women competing in the pro field at a major marathon like New York, any age discrepancy becomes irrelevant once the gun (or cannon) goes off. 
"Obviously, the marathon is really hot right now for American women," Groner says. "For me, if I see somebody who is successful, it's like, wow, I think I could be there, too. So why not just go for it and see if I can compete with these women, no matter what their age is."
Trending on Outside Online