Indefinitely Wild
Now Is the Best Time Ever to Adopt a Dog
You need a dog, a dog needs you. What more do you need to know?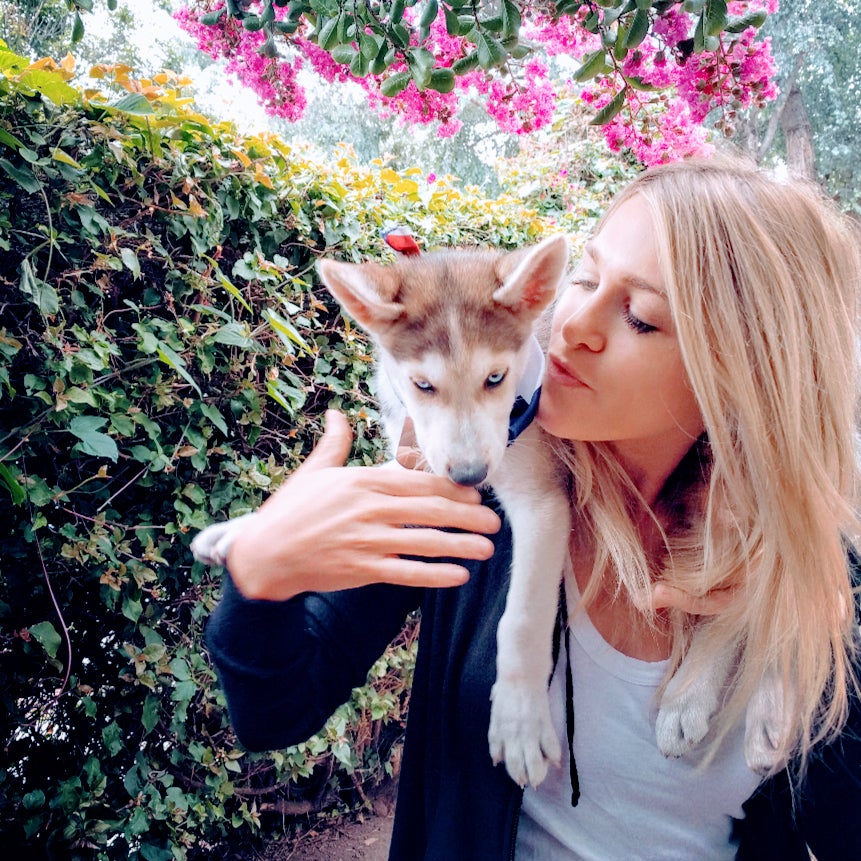 Heading out the door? Read this article on the new Outside+ app available now on iOS devices for members! Download the app.
Want to know the absolute most important factor in raising a good dog? Time. Know what we all have a lot of right now? Time. Now is the best time ever to adopt a dog. 
When friends gave me Wiley—the oldest of my three dogs—I was recovering from a bunch of injuries obtained in a motorcycle crash. Outrageous medical bills had left me so broke that I couldn't afford to leave the house. And, even when I was able to go somewhere, that was a struggle because I was only slowly recovering the ability to walk. Does hanging around your house suddenly sound like most of your immediate future? Wiley was most of the reason I was able to get through a challenging period in my life. He filled my days with activity, purpose, and unconditional love. All of us can probably use more of those things right now. 
And dogs need us too. According to the American Society for the Prevention of Cruelty to Animals, 3.3 million dogs enter animals shelters in this country every year. Even in normal times, that puts an enormous strain on the workers, volunteers, and donors who care for them. The current crisis is already straining the ability of shelters to care for all those animals. 
Dogs evolved to be a symbiotic species—an animal that lives in companionship with us. They need that companionship to feel fulfilled, and they're programmed to fit into our lives. Dogs understand human speech and body language, and are equipped with the ability to communicate with us through their vocalizations, expressions, and with body parts like their tails and ears. Adopting a dog involves a lot of time, sure, but the effort involved improves your quality of life. Whether you know it or not, you have the ability to be a good dog owner. That's not a compliment, it's the simple result of the nature of the dogs themselves.
Time spent with a dog never feels empty. If you bring a new puppy home, you won't ever feel like you have any time at all because you're going to be spending all of it training, socializing, and playing with it. When you're not, you'll be cleaning up pee and poop. Bringing an older dog home involves less commitment, but fills your time with companionship. In both cases, you'll also be forced to adopt a routine. Your dog will need to go outside and be fed in regular intervals. They're an actual reason to get up in the morning and to go outside your house. 
This is probably a good time to note that "you can still walk your dog," stated California Governor Gavin Newsom on Thursday, when he announced that state's coronavirus mitigation plan. Just follow proper social distancing protocols. 
And dogs add purpose elsewhere too. Sitting on your couch? That's cuddle time. Bowie, our husky-German shepherd mix, is curled up next to me as we speak. You won't have time to feel lonely.
What price does all this love, purpose, and companionship cost? Adopting a dog does involve some upfront expenses. New puppies need shots, plus spaying and neutering. Older dogs require similar, if different, services. Shelters are able to obtain that stuff cheaper than you could as an individual, then pass those savings along to you in the form adoption fees that typically only add up to a few hundred bucks. You'll need some basic equipment like a harness, leash, cleaning spray, and a flea, tick, and heart worm preventive. And, of course you'll need to feed your dog. Right now, with three large dogs eating a homemade raw food diet, all of our regular costs come in under $400 a month. Back when I was broke and raising Wiley, I managed it all for under $100 a month. If you're worried about vet fees, adopt a young, genetically robust mutt rather than buying a purebred with built-in health problems. None of our rescues have ever been to the vet for anything but routine shots and, once, to repair some damage Wiley got from a pit bull. Knowing what I know now, I could have avoided the costs attached to that one; dog first aid is very similar to what you perform on humans. 
So how do you go about getting a dog? Petfinder.com is a national registry of rescue animals available for adoption. You can use it to filter for different breeds, ages, and sex. But the filter I'd use right now is distance. Your local shelter or rescue organization is probably your best bet, since no one's supposed to be traveling. Even if they don't have the exact type of dog you've always wanted, they will have dogs, and that's all that matters. 
And that leads me to one final call to action, this one for those shelters and rescue organizations: it's time to drop some of the extreme criteria for selecting adopters. While placing animals only in homes that have someone around all day, have an appropriately-sized yard, or meet some certain socioeconomic profile may be important tools for ensuring the success of adoptions during normal times, this is not a normal time. Your dogs need people. People need your dogs. Let them be together.