What You Need to Know About Bike Lights
There are those that help you see and those that help you be seen. Here's the difference—and how to buy the ones you need.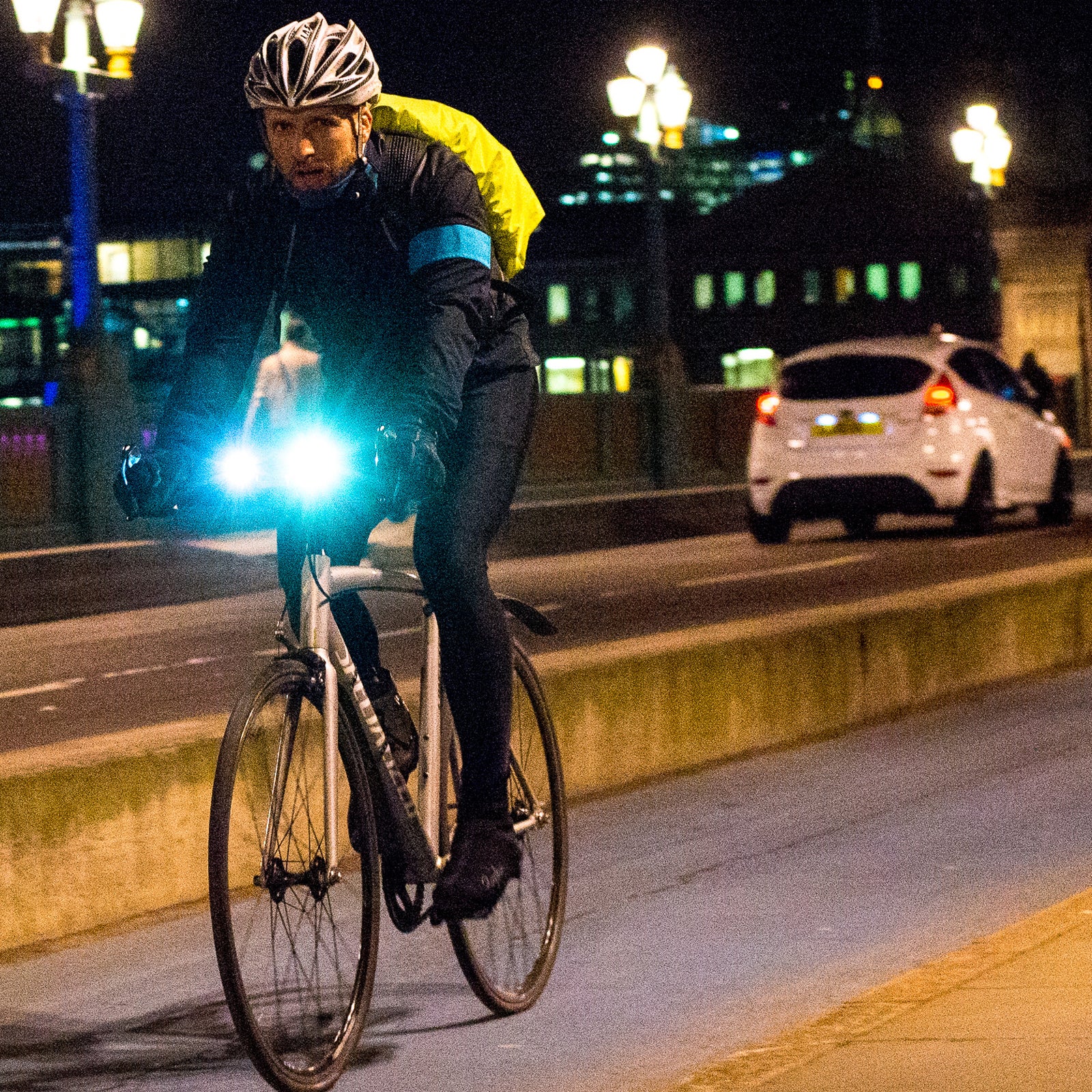 Andrew Errington/Getty(Photo)
Heading out the door? Read this article on the new Outside+ app available now on iOS devices for members! Download the app.
According to the National Highway Traffic Safety Administration, more bicycle fatalities occur between 6 P.M. and 9 P.M. than at any other time—nearly 40 percent. You can probably guess why. 
While no amount of safety gear can protect you from a distracted or drunk driver, being visible on the road at night can help you avoid being struck by attentive drivers. One of the most effective ways to ensure this? Bike lights. They're not just for night riding, either: though not legally required, daytime running lights can also help to catch a motorist's eye in broad daylight (more on that later). 
Bicycle lights are broken into two categories: lights to see and lights to be seen. "Be-seen lights are just bright enough so nearby motorists or pedestrians can see you," says Andrew Ibanez, a sales representative at the bike-lights company Cygolite. "To-see lights are much brighter, illuminating the road or trail ahead." There's obviously some crossover between the two.
Solid Versus Flashing Lights
Most lights have several settings, ranging from solid to flashing to pulsing, often at various speeds. A solid white light is hands down a cyclist's best option for seeing the road ahead at night. It's also excellent for making you visible to other road users, while not distracting others and delivering constant information about your location. "Continuous lighting sources are less jarring than blinking lights," says Ryan Young, youth-programs coordinator at the Cascade Bicycle Club. 
On the other hand, research shows that solid light isn't as good at capturing our attention, making it a less optimal setting for a taillight or a be-seen headlight. According to Heather Nenov, an ophthalmologist from Stein Optometric Center, light entering the eye at a consistent brightness activates photoreceptors at the back of the eye. However, when light enters the eye in flashes, it activates those photoreceptors repeatedly and can activate more of them. "Think car-brake lights," she says. "It's the contrast that catches our attention more than if they were just on continuously." 
A 2018 study on emergency lighting conducted by Pennsylvania's Cumberland Valley Volunteer Firemen's Association also concluded that faster flash rates draw more attention than slower flash rates. But there is a limit: a study at the Color Usage Research Lab on how the brain processes flashing light showed that our eyes respond best to lights that flash between four and eight hertz (cycles per second).
The Optimal Setup
At Night
You should always run a minimum of two lights on your bike while riding at night—a front-facing light to illuminate the road ahead and a rear-facing taillight so drivers behind can see you. Your front light should be white, bright enough for you to see any upcoming obstacles, and set to the solid-beam option. Most good nighttime front lights range from 250 to 2,000 lumens (in comparison, a car headlight is usually 700 to 1,200 lumens). "For a light that is designed to see, many riders are comfortable mountain-biking at about 700 lumens, but 1,000 lumens is what I really start recommending as the minimum," says Alex Applegate, the marketing manager at Bontrager, a maker of cycling apparel and accessories like lights. "If you are commuting on the open road and using the light to see, I would use the same recommendation. In a city setting with more ambient light, you can get by with less."
Your rear light should be red and ideally pulsing, and it only needs to be bright enough for other cars to see you. Your rear light only needs to be 50 to 100 lumens—much less powerful than your front light. Remember: it doesn't need to help you see, just be seen.
It's also not just about lumens. "Lumens are a measure of total light output," says Applegate. "The higher the number, the more total light is emitted. But it's not as easy as more lumens equals more visibility—optics and focus play a huge part in where the light goes and how far you can see it or be seen while using it. Think about a regular lightbulb: it's pretty bright up close, but from a distance, not very visible. To be visible from a meaningful distance, especially during the day, the focus and optics of a light are just as important as lumens."
Not all models offer a pulsing option, so make sure you do your research before you buy. The Bontrager Flare RT, TraceR MK1 Daybright, and all Light and Motion lights include a pulsing option. If your light doesn't have a pulsing option, a flashing or strobing light is better than a solid beam, especially at night, according to this study from Trek/Bontrager, which sells daytime running lights. 
During the Day
Daytime running lights are not legally required, but research sponsored by Trek/Bontrager found that the accident rate for cyclists with constant permanent running lights is 19 percent lower than for cyclists without lights. During sunny hours, getting a driver's attention requires a more powerful light source or flashing pattern. Daytime running lights, like the Bontrager Flare RT, have a different, more concentrated beam pattern for higher visibility in bright light. But if you don't have a dedicated daytime light, switch both your front-facing and rear-facing lights to the brightest setting available, and turn them to pulsing or flashing mode. According to the same research compiled by Trek, "using a flashing tail light [during the day] can make you up to 2.4 times more noticeable than a rider using no lights at all (and up to 1.4 times more noticeable than a rider using a light in steady mode)." Some lights, such as the Vya Pro from Light and Motion or the Varia Smart Light from Garmin, automatically detect changes in ambient light and adjust intensity and flash rate accordingly.
Light Positioning
No matter what mode your light is in, it's useless if it isn't placed where drivers can see it. While mounting lights on highly visible body parts—like your head (via your helmet)—is all well and good, Cascade Bicycle Club's Ryan says you should only do this for your headlight if you already have a light also mounted on your handlebars. "If your only front-facing light is on your helmet, you can always see where you are looking," he says. "But if you turn your head, the traffic opposite your direction of travel will no longer see your light [or potentially you]." If you attach your taillight to your seatpost or seatstays, be sure it's not being obstructed by a saddlebag or your tire. As with any new piece of gear, get familiar with your lights before taking them out on the road.
Lead Photo: Andrew Errington/Getty