Now Is Not the Time to Post Your Adventure Photos
Post something anti-racist instead. Better yet, do something anti-racist instead.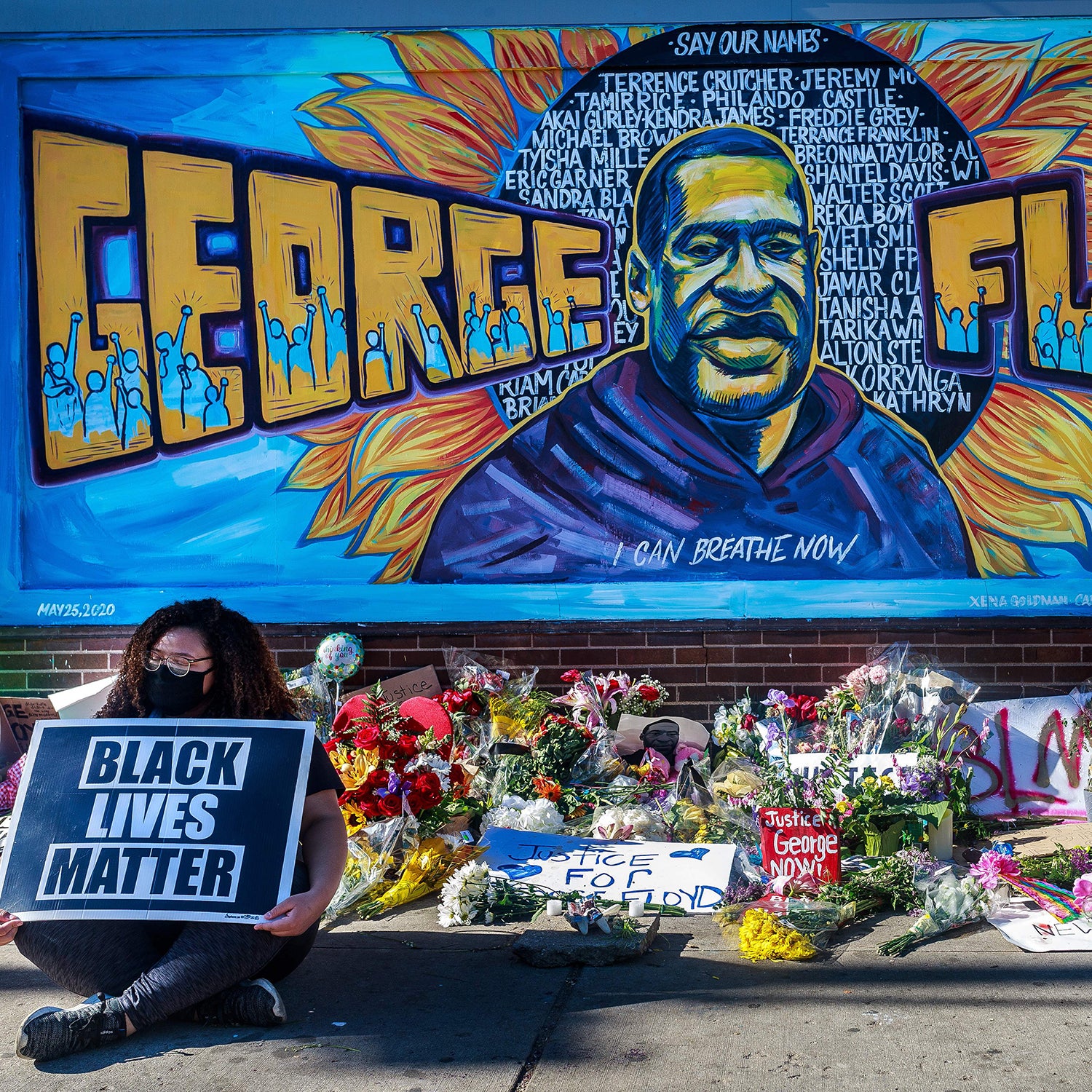 Kerem Yucel/AFP via Getty(Photo)
Heading out the door? Read this article on the new Outside+ app available now on iOS devices for members! Download the app.
I went for a mountain bike ride on Saturday morning. My friends and I had been looking forward to riding these trails all week, so I should have been excited. But my heart was heavy. Earlier in the week, I'd woken up to news about George Floyd being suffocated to death by police officer Derek Chauvin—yet another black person killed brutally on video, with little hope for repercussion. The night before, I'd read that protests over the killing had turned into riots in Minneapolis and other cities, and that President Trump had appeared to endorse the shooting of protesters on Twitter.
The ride was fun. My friends conquered technical features they were scared of, we cheered for each other, and for a few hours, we escaped the news cycle. But when I came home and started browsing my social media feeds, it became clear that the situation at the protests had deteriorated and was developing faster than news outlets could cover it. Jumping back and forth between Twitter, Instagram, and news sites, I watched a video of a seven-year-old girl in Seattle crying after being pepper-sprayed by a police officer.  I watched an NYPD SUV drive into a crowd of protesters. I read stories of reporters being arrested and shot at by police with pepper bullets and tear gas at close range. I saw post after post by black activists and athletes, and non-black allies, expressing heartbreak and rage about the loss of black lives.
But interspersed among these posts were other posts. Posts from friends and acquaintances and influencers, doing things they loved. Rock climbing, mountain biking, hiking, hanging out by a campfire. Most of these people were not black. It was jarring, to see the juxtaposition of the anguish against that of the joy. It felt like I was attending a funeral, while across the street from the cemetery a large group of people played a rambunctious game of Ultimate Frisbee at a park.
It felt like I was attending a funeral, while across the street from the cemetery a large group of people played a rambunctious game of Ultimate Frisbee at a park.
Look, I get it: a lot of people have had a difficult year. Many of us are just starting to emerge from our local coronavirus lockdowns. Many lost loved ones to the virus (though the African American community suffers higher death and hospitalization rates by COVID-19). People lost jobs, or were hit hard by life in other ways. Many of us are probably also upset by the news about the murders of George Floyd, Ahmaud Arbery, Breonna Taylor, and too many other black Americans; the story of Amy Cooper, a white woman, attempting to weaponize police against black birdwatcher Christian Cooper when he asked her to leash her dog; about the unlikelihood of obtaining true justice for any of these acts of violence. For all of us, the outdoors are an escape from heavy feelings. The mountains, the desert, the ocean, are immovable, awe-inspiring natural wonders that put our own problems into perspective.
But this moment is historic. If there has ever been a time for the outdoors community to resist the urge to escape into nature and to instead lean in and stand up against racism in this country, it's now. 
But what's the harm, one might ask, in posting a fun or beautiful photo of my weekend adventure? Isn't it also important to spread positivity amid so much sad news? What difference does a social media post make anyway?
A lot, actually. Whether we like it or not, social media plays an important role in creating our culture. Culture then drives behavior. Look how quickly, for example, it became normalized for us to wear masks in the outdoors—posting a photo of yourself in April recreating without some sort of face covering wasn't a good look. The velocity with which the George Floyd protests reached a fever pitch at the national level is a testament itself to the very real impact of social media—while sharing the violent video is highly controversial for good reason, it's undoubtedly what sparked widespread outrage. Through what we choose to post and choose not to post, we send powerful signals to one another about where we stand on issues, and on which issues matter at all.  
When we scroll through our Instagram feed and see a stream of images from non-black people going about their lives right now as if nothing is happening, it has the effect of normalizing violence against black people, whether we intend it to or not. These posts send a message to black people and other people of color in the outdoors community who are hurting deeply: I'm not hurting with you. I can choose when to be affected by this and when to shut it off. That's why, to many people of color, that pretty photo of you smiling on top of the mountain isn't uplifting right now, it's upsetting. Those who have experienced racism can tell you that it's not just the original racist act that traumatizes, but the tacit acceptance—or appearance of acceptance—from white people who witnessed it, too. Over the weekend, I saw posts from black outdoors athletes calling out the pain of this silence from non-black peers. "I've felt alone," wrote one black influencer. Another pointed out the hypocrisy of a community that touts diversity and inclusivity on social media, but suddenly seemed to have become relatively quiet on the topic of violence against black people. 
I'm not saying you can't go out and find some therapeutic escape through a run, ride, surf, or hike. If you've already posted your photo, I'm not here to shame you or judge you.  I'm saying that now is not the time to fill the Internet with more images of ourselves playing outdoors. That epic sunrise shot can wait a few days or a week. Consider joining #blackouttuesday today on Instagram, though some activists are critical of the movement to post black squares in solidarity with the protests—if you do post, consider adding a proactive anti-racist message or action item, and don't use the hashtag #blacklivesmatter, in order to avoid overrunning the useful information in that feed. Let's take a moment on the platforms where we spend so much of our free time, to show some respect and solidarity for the people who can't simply escape from this painful reality through a photo or an adventure right now.
Whether we like it or not, social media plays an important role in creating our culture. Culture then drives behavior.
Better, post something anti-racist instead—whether that's a suggestion for a book to read, a place to donate, or a repost from a black activist. You can also join the #AmplifyMelanatedVoices challenge, started by activists Alishia McCullough and Jessica Wilson, which asks people to mute white activists and repost BIPOC activists from June 1 to June 7. Instead of contributing to a culture where racial tension is normalized, contribute to a culture where we normalize empathy for others.
But perhaps most importantly, do something anti-racist instead. If posting about race or politics on social media isn't your M.O., holding back your typical photos and taking action offline can be an equally powerful way to support anti-racism too. Because ultimately, posting or not posting on social media is the bare minimum. All of us need to take real, tangible action. (Here is a very comprehensive list of resources for how to start. Grace Anderson also has specific suggestions for those who work in the outdoor industry. I'd add to these recommendations: follow black activists, attend or support protests, and for God's sakes, vote. Don't just vote in general elections, vote in your local elections too, where the officials who make decisions on police funding, police leadership, and criminal prosecution are elected.) 
One of the hallmark traits of the outdoors community is our relentless pursuit of joy. Most of the time this is a wonderful spirit, and it's our collective superpower as individuals: to find adventure in every day, to see beauty all around us. This optimistic quality is what makes many of us so resilient against adversity.
But true resilience is the ability to acknowledge both beauty and injustice, and the strength and character to help and support others who are hurting when we are hurting less. Racism and violence against black people in America is much bigger than an outdoors issue, but that doesn't absolve non-black people in the outdoors community from the responsibility of acknowledging it, and fighting it. The very least we can do is put a pause on our constant promotion of "stoke" for a moment, to signal that these times are not business as usual. We can stop contributing to the noise that doesn't add to this conversation, to allow those who have been silenced for too long to be heard. We can use our platforms to amplify black voices. To say #BlackLivesMatter.
The outdoors community, being mostly white, has had the privilege of being able to avoid openly discussing social issues for a long time. The work of fighting racism in the world and within ourselves is deeply uncomfortable, but if there's one other universal characteristic of people who love the outdoors, it's that we voluntarily wade into discomfort with enthusiasm and resolve. It's time for us to channel that energy into something far more important. 
Lead Photo: Kerem Yucel/AFP via Getty