Why Ski Patrollers Are Picketing at Two Vail Resorts
Union members at Stevens Pass and Park City Mountain Resort want better wages and working conditions but say their parent company has dragged its feet in negotiations. If they still can't get to the bargaining table, could a strike shut down the two ski areas?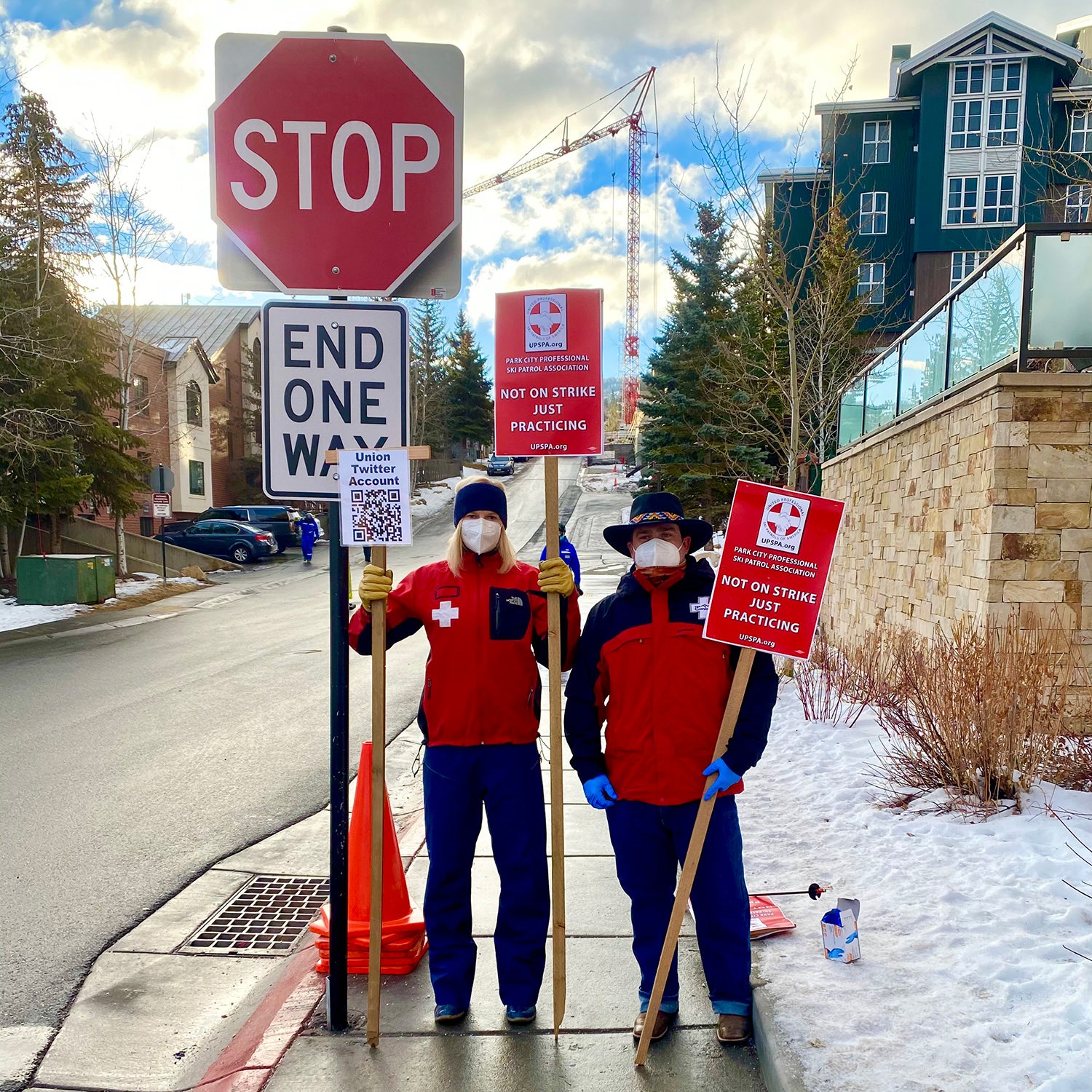 Melinda Behum(Photo)
Heading out the door? Read this article on the new Outside+ app available now on iOS devices for members! Download the app.
"NOT ON STRIKE JUST PRACTICING," read the bold white letters on the red picket signs, some hoisted up with ski poles.
On Saturday, a dozen off-duty ski patrollers from Stevens Pass ski resort stood outside city hall in downtown Leavenworth, Washington, the Bavarian-themed tourist town 40 minutes from the mountain. They waved these posters while passing out "I SUPPORT SKI PATROL" stickers and informational palm cards that read: "We need your help to pressure Vail Resorts to negotiate a contract with us and provide training, fair wages, a safe and healthy workplace, and respect for what we do."
Eight hundred miles away, eight of Utah's Park City Mountain ski patrollers gathered on Lowell Avenue, by one of the resort's main entrances, also handing out cards. "Our contract expired on November 14th," their cards read. "We need adequate sick time, hazard duty / pandemic pay, guest and worker health safety, and respect for professional ski patrollers. Help us send a message to Vail Resorts!" 
Patrollers say the pickets are the culmination of failed attempts at collective bargaining negotiations with Vail Resorts, Inc., the shared owner of both Stevens Pass and Park City Mountain. As the signs said, the informational picket wasn't an official work-stoppage strike, since the participating patrollers were on their days off. But they also implied an ominous question: Will the patrollers eventually go on strike, effectively shutting down business at both resorts?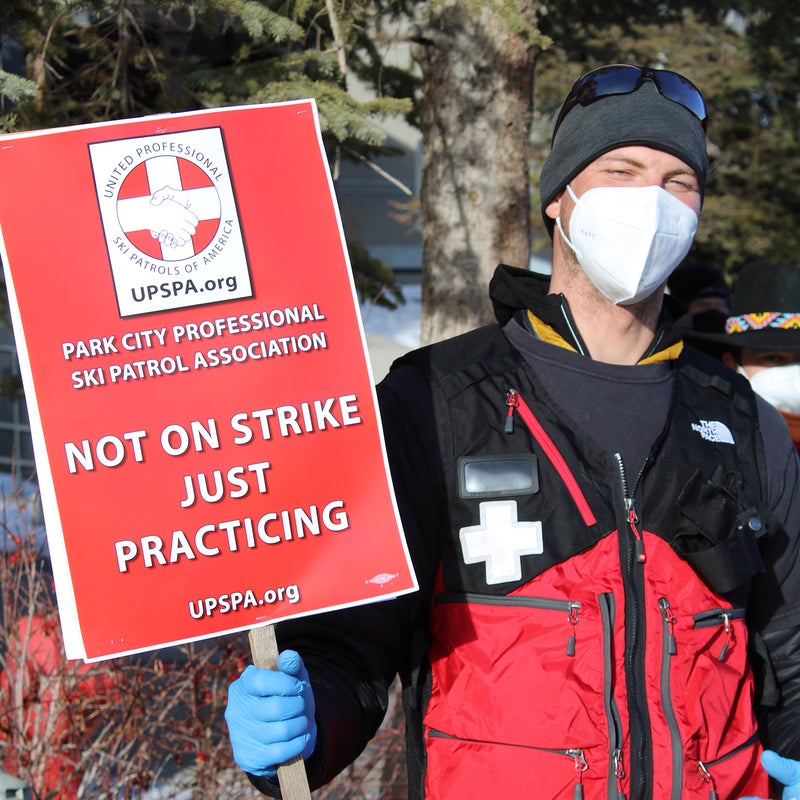 Unionized ski patrols aren't new—patrollers at Colorado's Crested Butte Mountain and Aspen Skiing Company's four resorts (Aspen Mountain, Snowmass, Aspen Highlands, and Buttermilk) have been unionized since 1978 and 1986, respectively. Patrollers at Utah's Canyons Resort unionized in 2000, though the union was disbanded when the mountain was purchased by Vail Resorts in 2014. But a flurry of new unionizations have recently occurred, tracking with the industry's rapid conglomeration over the past two decades and the growing portfolios of Vail and its largest competitor, Alterra Mountain Company. The two companies now own 45 resorts in the U.S. alone. Since 2015, four other ski patrols have unionized: two owned by Vail Resorts (Park City and Stevens Pass), one owned by Alterra (Steamboat, in Colorado), and one that's independently owned (Telluride, also in Colorado). Additionally, New Mexico's independently owned Taos Ski Valley attempted to unionize in 2015. All of the recently formed unions are members of the United Professional Ski Patrols of America Local 7781, a chapter of the national Communications Workers of America District 7 labor union. To date, none of the patrol unions have ever gone on strike. 
Park City's union first reached out to Vail to negotiate an extension of its previous employment contract in January 2020. Asks include provisions for wage increases, disability insurance for seasonal workers, waterproof uniforms, and regular sick leave, which currently doesn't kick in until after an employee has worked 1,500 hours. The corporation said it wouldn't be available to negotiate until June, and patrollers weren't able to secure a video conference with representatives from the company until August, says Joe Naunchik, president of the union. In November, frustrated by the slow progress, the union opted to let its contract expire, aiming to put more pressure on both parties to negotiate. (With their contract expired, the patrollers and Vail are no longer bound by its no-strike, no-lockout clause, which prevented either side from leveraging a forced work stoppage as a bargaining tactic.) 
Vail Resorts sent Outside a statement regarding the negotiations with Park City. "The union has asked for a retroactive wage increase in the middle of one of the most challenging financial situations the entire travel sector has ever faced and when no other employee across our entire company has received an inflationary increase," Vail says. "They have also asked for a wholesale change to how we provide benefits to seasonal employees—an approach that has been in place at the resort, and across our industry, for decades. We are confident that we offer our patrollers, and all of our employees, wages and benefits that are very competitive. That said, we will always remain open to listening to our employees' concerns. But the issues raised by the union are very complex and do not lend themselves to quick resolution." The statement also pointed to a bargaining meeting scheduled for January 20, which both Vail and the union attended.  
Meanwhile, the Stevens Pass patrollers who voted to unionize in 2019 have been waiting 21 months to finalize their first contract with Vail, says union president Brianna Hartzell. The pandemic stalled negotiations for five months in the spring of 2020, but Stevens Pass patrollers say discussions were crawling before that. The union is requesting a better compensation structure that it says will incentivize experienced patrollers to stay with the company. Under the current structure, a 23-year veteran patroller can make just a dollar an hour more than a rookie patroller earning Washington's minimum wage, say union members. Accumulating certain skills and responsibilities can increase a patroller's hourly wage by just a few cents. "We've lost really experienced patrollers because of this stuff," says Katie Warren, vice president of the Stevens Pass union and a seventh-year patroller.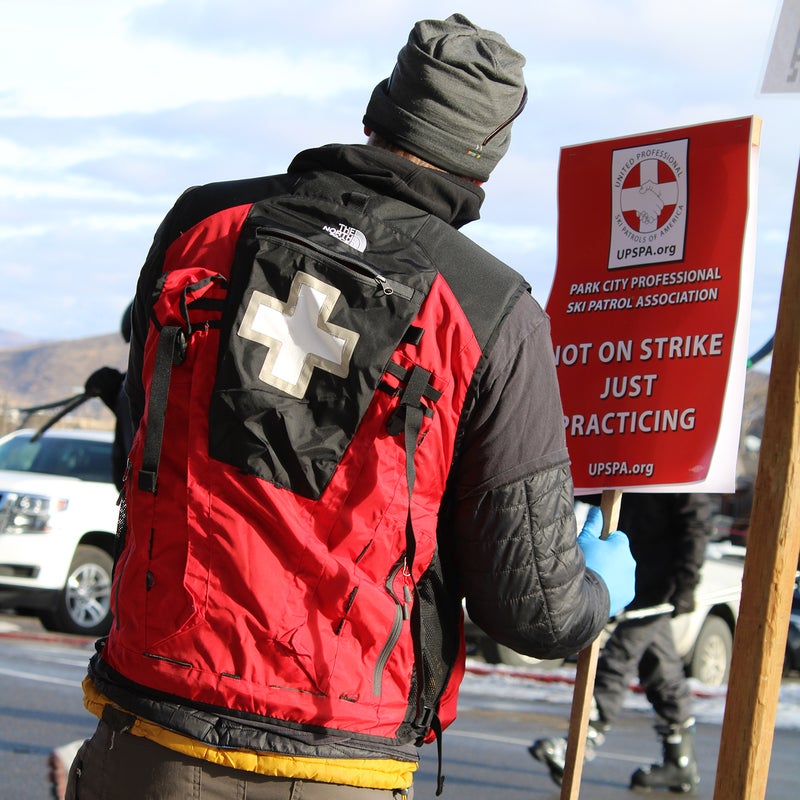 Another request, Hartzell says, is adequate training, including professional avalanche training, weather-forecasting courses, and more emergency medical training. It takes several seasons to build expertise in these areas in a patrol team, says Hartzell, who suffered a severe wrist injury on the job and has been unable to work this season. 
"If you want someone who can splint a femur in the dark during a blood-moon eclipse while training a rookie on a 50-degree slope and backboarding the guest into a toboggan to be belayed and skied out, you're going to need someone with more than two years of experience," she says, referring to an actual event that occurred at the resort that reflects the need for the company to retain its best patrollers. Of the 48 patrollers at Stevens Pass, 23 are in their first or second year, say union members. 
Without a contract in place, Vail has no legal obligation to resolve employment discussions within any timeframe. In 2019, the company engaged LRI, a consulting firm that claims "we literally wrote the book in countering union organizing campaigns," to dissuade Stevens Pass patrollers from unionizing. In the past 14 months, the Stevens Pass union has filed three unfair labor-practice charges with the National Labor Relations Board against Vail. (Two were later withdrawn in the union's interest of moving forward with discussions.) In its most recent filing, from December 2020, the union says Vail failed to show up for scheduled Zoom meetings on August 18 and December 18.
In regards to negotiations with Stevens Pass, Vail said, "Since Stevens Pass Ski Patrol voted to unionize in 2019, we have been active participants in collective bargaining in good faith, with our next scheduled bargaining date on Tuesday, January 26. Unfortunately, we have received very little and inconsistent engagement on their side of the negotiations." Vail disputed the union's claims that it doesn't provide sufficient training programs, and claimed that the union never confirmed the meetings on August 18 and December 18. 
Vail has recently responded to some of the Park City patrollers' demands, agreeing to expand emergency sick-leave coverage beyond the 80-hour maximum for patrollers working during the COVID-19 pandemic. The company also provided patrollers with N-95 masks at the beginning of the season, although Naunchik says he and some others did not receive enough in their size and didn't get more until January. Vail has also complied with Utah's House Bill 3007, which mandates workers' compensation to first responders during certain situations, extending coverage to Park City ski patrollers during the pandemic. 
The patrollers at both resorts say the unions are asking for a good-faith response from Vail—for the company to come to the table willing to compromise and work toward progress in a timely fashion. Not even Naunchik, who hails from a long lineage of union coal miners, aluminum millers, teachers, and machinists in western Pennsylvania, wants a work-stoppage strike to happen. But if negotiations continue to stall, he won't rule it out. "We want Vail to treat ski patrol as professionals," he says, "and not as a seasonal, expendable workforce to be exploited."
Corrections:
(10/01/2023) A previous version of this story stated that Vail Resorts originally cited the pandemic in delaying negotiations with the Park City union. This has been corrected to reflect the fact that Vail informed the patrollers in February 2020, before the pandemic shut down the resort, that the corporation wouldn't be available to negotiate until June. The previous version of the story also mischaracterized the distribution of N-95 masks to Park City patrollers. The current version of the story has been updated to reflect that Vail did provide N-95 masks to patrollers at the start of the season, but some patrollers received only a small allocation. Outside regrets the errors.
Lead Photo: Melinda Behum
Trending on Outside Online