The Complete Guide to Air Fryers
Most trendy kitchen appliances are a waste of space. The air fryer is an exception.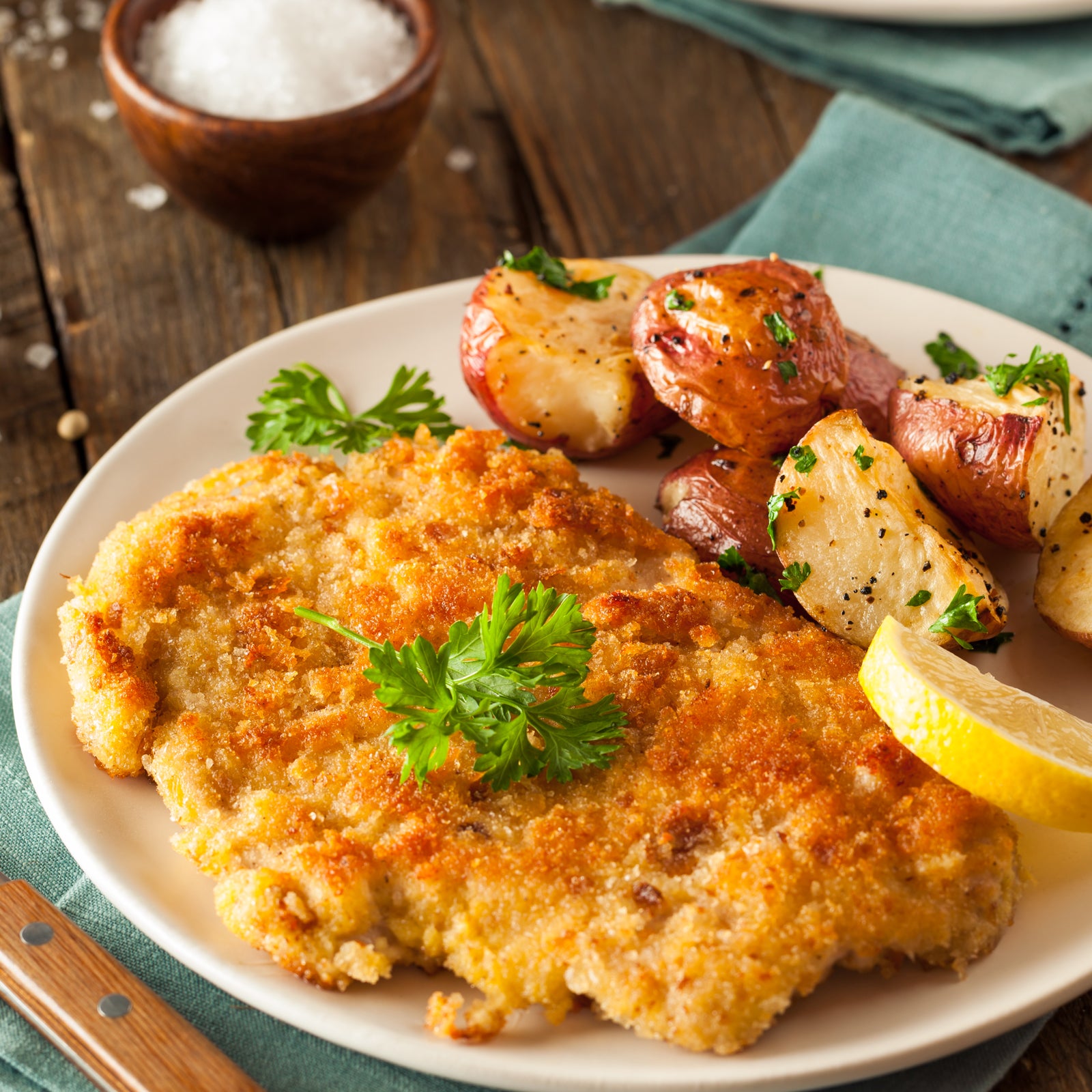 Heading out the door? Read this article on the new Outside+ app available now on iOS devices for members! Download the app.
There's so much hype around air fryers that it's natural to be skeptical. When Wendy Jo Peterson, a San Diego–based culinary dietitian and cookbook author, was asked to contribute to an Air Fryer Cookbook for Dummies, her first thought was: Do I really need one of those in my kitchen? In the end, Peterson agreed to coauthor the book alongside fellow dietitian Elizabeth Shaw. Now, after testing countless recipes in the most popular air fryers, she thinks home cooks would benefit from having one.
If you've been on the fence about air fryers, it's probably because you think one of two things: they're only good for crisping frozen French fries and chicken nuggets, or they're nothing more than trendy convection ovens. The former is straight-up wrong. The latter concern is true in a sense, as air fryers do rely on convection to "fry" food, but they cook things more quickly than a traditional convection oven because they're small and take less time to heat up.
Do you absolutely need an air fryer? Of course not. But if you have $100 and some extra counter space, there's plenty to be gained from having one. Here's a little more about how air fryers work, why they're great, and which ones the experts recommend—plus a few recipes to get you started.
It's Not Frying, It's Convection
"Frying is a cooking method that transfers heat to food using a source of fat," explains Kris Sollid, a dietitian and the director of nutrition communications at the International Food Information Council. Pan-fried food is often cooked in a thin layer of oil, and deep-fried food is fully submerged in it. Air-fried food? It isn't actually fried at all.
"Air fryers are essentially small convection ovens," Sollid says. Unlike frying, which uses oil or butter for heat transfer, convection uses a fan to quickly circulate hot air. Air fryers don't get any hotter than regular ovens (most max out at 400 degrees Fahrenheit), but the rapidly moving air helps wick away moisture, allowing browning and crisping to happen faster and at a lower temperature than it would in a normal oven. Convection ovens do the same thing, but not as efficiently. Air fryers take less time because they're smaller and their fans spin faster. Essentially, air-fryer technology builds off that of the convection oven but was considered novel enough when air fryers were released in Europe in 2010 to warrant a patent. You can also buy a small convection oven, like this countertop convection toaster oven, which offers the same economy of size and will give you similar results.
Probably the greatest thing about small-scale convection baking is the ability to cook food that's still frozen. "I'll make breakfast burritos, freeze them, and then in the morning my husband puts the frozen burrito right into the air fryer," Peterson says. The air fryer wicks moisture from the food as it defrosts and cooks, so you end up with a crispy chimichanga-like burrito, not a soggy wrap. It works for frozen meat or vegetables, too.
You Don't Need Much Oil
Dietary fat is a good thing—it supports cell growth, protects your organs, keeps you warm, aids in nutrient absorption, gives you energy, and is essential for hormone production. But as with most nutrients, experts advise against regularly eating too much of it at once.
When you deep-fry food, a lot of that oil gets absorbed. Exactly how much ends up in your food is hard to quantify; it depends on what you're cooking, at what temperature, and for how long. Foods with a higher moisture content, like doughnut batter, absorb more oil when fried than foods with less moisture, like potatoes. Higher deep-frying temperatures—say, 400 degrees instead of 325—usually equate to less oil absorption, because there's more steam pushing to get out and blocking the oil from absorbing into the food.
This isn't to say that you should totally avoid deep-fried foods all the time. French fries and doughnuts are delicious, and part of what makes them that way is the oil coating your mouth and enhancing the flavor. But if you're after the crispy texture of fried food, air-frying can do the trick.
The bottom line, though, is that air-fried food absorbs less oil. A 2017 study published in the European Journal of Lipid Science and Technology found that air-fried potatoes had, on average, 70 percent less oil than deep-fried potatoes. Of course, air-fried food still contains some fat. That crispy texture comes from heat combined with the fat already present in or on the food, so you do need to add oil to foods that aren't already fatty, like veggies. You can spritz or brush oil right onto your food, or you can pour it into the air fryer (so that it sits on the bottom, below the shelf with the food) and it'll circulate. "In most cases, one or two teaspoons is enough," Peterson says.
Who Needs an Oven?
Perhaps the most obvious benefit of the air fryer, which can also be a drawback, is its size. It's considerably smaller than an oven, making it a more energy-efficient way to cook small batches of food. The more space you're heating, the more energy (gas or electricity, depending on how your kitchen is hooked up) you're consuming. With an air fryer, there's no need to heat the whole oven—or the whole kitchen as a result—for a few servings of roasted vegetables or a sheet of chicken wings.
If you're living in a tiny space where an oven isn't an option, the air fryer could really come in handy. "We have a camper van, and we're on solar," Peterson says. "If we're in a spot where there are hookups, we use the air fryer a lot." But there are some downsides. You'll probably have to cook your food in batches if you're feeding more than two or three people. Big cuts of meat are off the table. And while it's possible to bake in the air fryer, you'll end up with a deep-brown crust that isn't ideal for many muffins, cakes, or breads.
A Few Great Options
There's no best air fryer. Peterson and Shaw have different favorites. "You have to find the one that's best suited for you," Peterson says.
Cosori 5.8-Quart Electric Hot Oven ($120)
Peterson's air fryer of choice is this model from Cosori, which I also tested and loved. "I like the shape, the aesthetic, and the fact that the presets were very consistent," Peterson says. There are presets for various meat, fish, baked goods, and vegetables, and all of them do a good job of properly cooking the foods they're supposed to. That said, a good recipe should give you specific cooking times and temperatures so you won't have to rely on the presets.
This air fryer also efficiently crisps food on all sides, since there's plenty of room underneath and above the basket for air to circulate.
---
Aria 5-Quart Ceramic ($100)
Shaw prefers this Aria air fryer. It has a sleek design and creates good airflow to crisp food all over, much like the Cosori model. It also comes in three sizes (three, five, and seven quarts), so you can choose whichever is best for your household.
The Aria has a ceramic interior, which means it doesn't use Teflon or other nonstick coatings. Although these coatings are largely considered safe, there is concern that as they break down over time and at high temperatures, they can leach trace amounts of toxic polymers into food. If you're concerned about this, ceramic-coated appliances like the Aria make great alternatives.
---
Instant 6-Quart Vortex ($100)
In researching this article, I looked into which air fryers were best reviewed by other experts, and this model by the makers of the Instant Pot got consistently high marks. I've used it to cook sweet potato fries, falafel, and chicken wings from scratch, and to heat and crisp frozen chicken nuggets. I love how easy it is to program, how quickly it works, and the fact that it reminds me to turn my food midway through cooking.
---
Two Recipes to Get You Started
Both are reprinted with permission from Shaw and Peterson's Air Fryer Cookbook For Dummies.
Breakfast Chimichangas
Prep time: 10 minutes
Cook time: 8 minutes
Ingredients
Four 8-inch flour tortillas
1/2 cup canned refried beans
1 cup scrambled eggs (about 2 eggs)
1/2 cup grated cheddar or Monterey Jack cheese
1 tablespoon vegetable oil
1 cup salsa
Directions
Lay the flour tortillas out flat on a cutting board. In the center of each tortilla, spread two tablespoons refried beans. Next, add one-fourth cup eggs and two tablespoons cheese to each tortilla.
To fold the tortillas, begin on the left side and fold to the center. Then fold the right side into the center. Next, fold the bottom and top down and roll over to completely seal the chimichanga. Using a pastry brush or an oil mister, brush the tops of the tortilla packages with oil.
Preheat the air fryer to 400 degrees Fahrenheit. Place the chimichangas into the air-fryer basket seam side down, and air-fry for four minutes. Using tongs, turn over the chimichangas and cook for an additional two to three minutes or until light golden brown.
Serve with guacamole, salsa, and sour cream for a hearty breakfast. You can also vary it by swapping out beans with breakfast potatoes or rice. Serves four.
Pork Schnitzel
Prep time: 15 minutes
Cook time: 14 minutes
Ingredients
4 boneless pork chops, pounded to 1/4-inch thickness
1 teaspoon salt, divided
1 teaspoon black pepper, divided
1/2 cup all-purpose flour
2 eggs
1 cup breadcrumbs
1/4 teaspoon paprika
Cooking spray
1 lemon, cut into wedges
Directions
Season both sides of the pork chops with a half teaspoon of the salt and a half teaspoon of the pepper.
Place the flour on a plate, whisk the eggs in a large bowl, and place the breadcrumbs in another large bowl. Season the flour with the paprika and the breadcrumbs with the remaining salt and pepper.
To bread the pork, place a pork chop in the flour, then into the whisked eggs, and then into the breadcrumbs. Place the breaded pork onto a plate, and finish breading the remaining pork chops.
Preheat the air fryer to 390 degrees Fahrenheit. Place the pork chops into the air fryer, keeping them from overlapping and working in batches as needed. Spray the pork chops with cooking spray and cook for eight minutes; flip the pork and cook for another four to six minutes or until cooked to an internal temperature of 145 degrees.
Serve with lemon wedges. For a complete German meal, add spaetzle and a tossed salad. Serves four.
Lead Photo: bhofack2/iStock