Can you suggest a great African safari?
My wife and I have finally decided to take the trip of a lifetime and splurge on an African safari. What options should we explore if budget isn't an issue? Eric M. Omaha, NE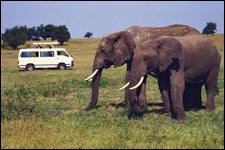 Heading out the door? Read this article on the new Outside+ app available now on iOS devices for members! Download the app.
Venturing on a safari is an experience most will never have, and I'm glad you've decided to go all out for this kind of trip. While an African safari lets you get up close to giraffes and jaguars in the wild, (and many safari outfits also promise the elusive "big five:" lions, elephants, rhinos, leopards, and buffalo), you'll also likely bring home with you a deeper understanding of the natural world in its most primitive form. Book your safari with the right group and this might just be the first of many trips of a lifetime.
Masai Mara National Reserve, Kenya
FRONT ROW SEAT: Kenya's Masai Mara National Reserve
Voted one of National Geographic Adventure's Best Adventure Companies in 2008, Kensington Tours (888.903.2001) offers a wide variety of African safaris-so many, in fact, that you'll probably have a hard time making a decision. But we'll do our best to make a suggestion. Since budget isn't an issue, let's assume you're setting off into the African bush for at least a couple weeks. Kensington's 12-Day Signature Safari covers five different locations throughout Africa, including Masai Mara, Serengeti, Ngorongoro, and Zanzibar. During the day a personal guide will take you in a 4×4 to check out the area's wildlife up close. Pay extra to ride a hot air balloon over animal herds below. At night, you'll kick back in luxury lodges and hotels. Explore Masai Mara National Reserve on days two through four, drive to the Serengeti on day five, spend days seven and eight in Ngorongoro, and fly to the beaches of Zanzibar on day nine for a three-day stay at Ocean Paradise Resort on the Indian Ocean. Highlights of this particular safari include a visit to Ngorongoro Crater in Tanzania, the world's largest volcanic caldera. At 2,000 feet deep, the floor is 102 square miles wide, and populated by 25,000 species, including wildebeests, lions, and zebras, as well as the endangered black rhino. Besides Kensington's personal tours, they'll also design a tour around visits to gorillas in Uganda, or spend an extra day snorkeling in Zanzibar. The 12-day safari starts at $5,308 per person during the shoulder (i.e. rainy) season from May and June, but play it safe for a couple hundred bucks more and travel during summer and winter months for better weather.
Want to give back while having fun? Sign up for a volunteer vacation. Earthwatch Institute (800.776.0188) gives you an opportunity to experience Africa's extraordinary natural beauty as well as work with environmental researchers to monitor populations of endangered animals, help establish conservation strategies, or interview members of the Samburu people in Kenya about medicinal plants. With giraffes, African wild dogs, lions, cheetahs, hyenas, leopards, oryx, and gerenuks thriving on the surrounding landscape, you'll have no shortage of opportunities to see Africa's abundant wildlife. Earthwatch is the world's largest environmental volunteer organization with over 90,000 volunteers participating since its inception in 1971. In the next ten years, they hope to add $100 million in funding to scientific research and give 50,000 volunteers the opportunity to participate in field research and hasten environmental awareness. So if you're looking to get beyond the 4×4 tourist track, this might be the adventure. The organization runs trips to all parts of Africa, but expeditions to Kenya's Samburu region last between seven and 13 days and are priced from $2,046 to $3,846.
But for a truly standout experience in this great continent's wild plains, Mark Thornton Safaris (+27.84.833.5479) is the way to go. Get out of the 4×4 and walk alongside Africa's wildlife. Accredited by the Field Guides Association of South Africa, Mark Thornton and his guides will lead you on foot for as little as three days or as long as 14. Each day you'll embark on a bush trekking adventure and arrive at your personal camp in the afternoon. Each safari is designed to your specifications, including lodging, areas of exploration, and the number of days you're on foot. Spend five days in elephant country sleeping in treetops above elephant and buffalo watering holes, or choose ten days in southern Tanzania hiking through less-traveled woodland, watching elephants and hippos wandering the riverbanks. Choose between simple or luxurious, but rest assured camps are always set up in advance, lodging just one group at a time, and you'll always have a spectacular view, a walk-in tent, your own bed, a hot shower, and freshly prepared meals. Try the luxe option with the same great food but roomier tents and toilets to boot. With a cap of 100 clients per year, make sure to plan ahead and book your safari early. Prices average around $6,000 per person but depend on length, type of adventure, and level of luxury.
–Amy A. Clark