18 Ideal Destinations for Couples Who Can't Agree on Whether to Chill or Adventure on Vacation
Opposites may attract, but they don't always see eye to eye when it comes to traveling together. Our travel columnist has tips on how to meet in the middle—and where to go that will make you both happy.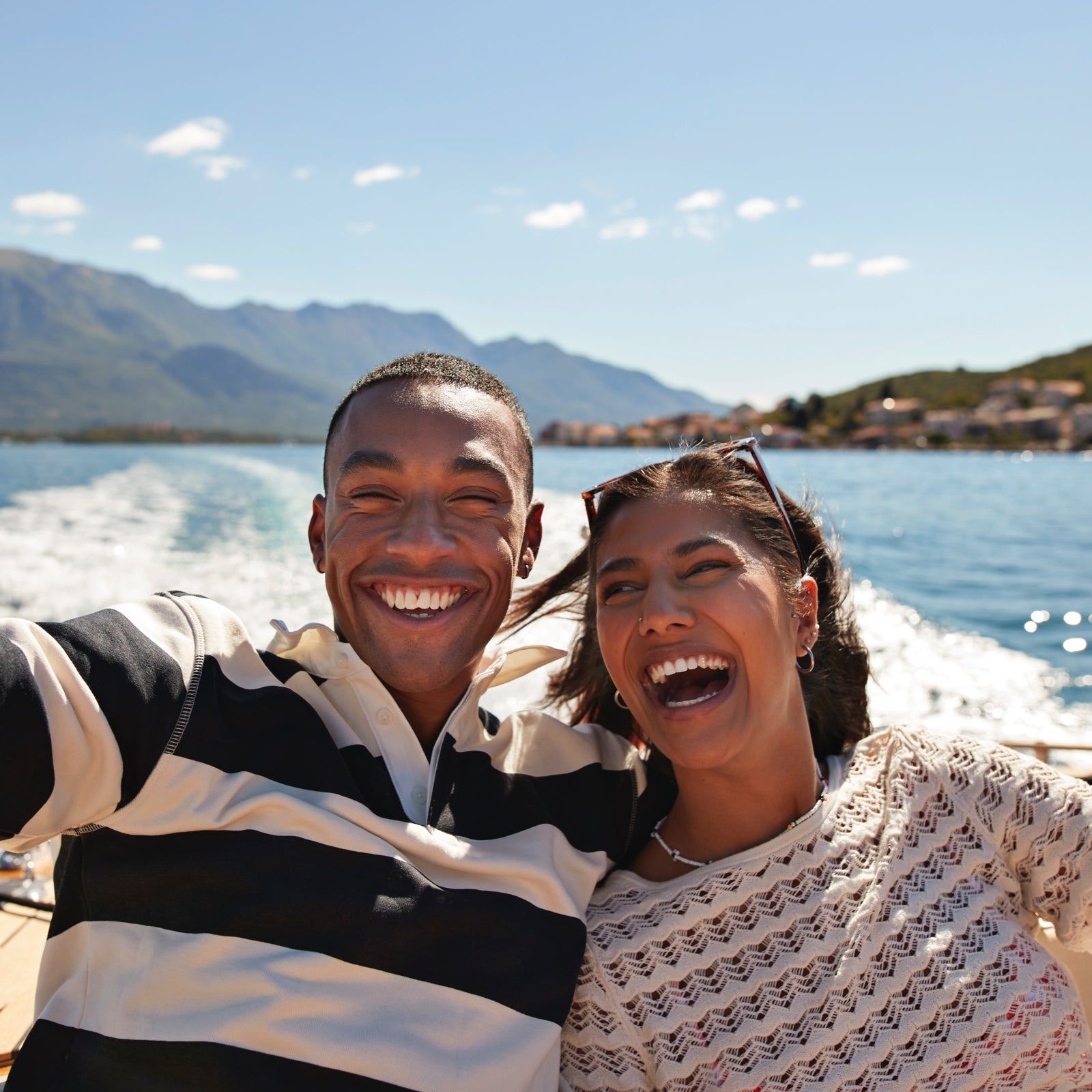 Getty Images/Klaus Vedfelt
Heading out the door? Read this article on the new Outside+ app available now on iOS devices for members! Download the app.
Any number of concerns are on our radar as we plan our next trip, from serious issues like how destinations are working to mitigate tourists' environmental impact to inconveniences like months-long passport wait times. In this column, our travel expert addresses your questions about how to navigate the world. 
My partner always wants to be super active on vacation—every day is filled with major hikes, surfing lessons, guided explorations of nearby archeological sites, zip lining. While that's fun, it's also exhausting, and I really want vacation to be a break from work to chill out. What kinds of trips can we take, and where could we go together, that would make both of us happy? —R&R Deprived
This is so relatable. My idea of a relaxing vacation involves waking up at dawn to surf, cycling to off-the-beaten-path taco shacks, and earning my sunset margarita with an epic hike. So when a recent boyfriend who described himself as adventurous surprised me with a long weekend in Mexico's Riviera Maya—our first ever-trip together—I envisioned action-packed days spent swimming in cenotes and exploring ancient ruins.
Our all-inclusive resort was my first clue that our ideas of the perfect getaway might be different. Also, he didn't book a rental car and only packed flip-flops. For three days, he blissfully worked on his tan poolside while pounding Coronas. I tried my best to chill in the lounger beside him, gently suggesting we paddle or snorkel. "We're on vacation, babe," he'd say. Venture out to dinner perhaps? "Why leave the resort when meals are free?" he'd argue. In short: his idea of paradise was my idea of prison.
Vacation compatibility can make or break a relationship, be it romantic or platonic. Clear communication about each other's expectations is key to avoiding frustrations and making sure both people have a great time. "Often one partner will end up acquiescing to appease the other and neglect their own needs or desires, which is unfortunate and unnecessary," says Sandra Possing, a San Francisco Bay Area life coach.
Possing suggests having a brainstorming session where each person throws out ideas for destinations and experiences. Exploring various options can help determine a trip that satisfies each person's needs. "Rather than prioritizing getting your own way, try to prioritize communication and connection," she says. "Maybe the outcome ends up favoring one person this time, but acknowledge that and agree that the next time it can lean the other way."
Vacation compatibility can make or break a relationship, be it romantic or platonic.
For years Katherine Cusack, who lives in Brooklyn, would try to keep up with her husband on vacation, only to end up stressed and exhausted. "He's a former Division III basketball player and needs to be constantly moving and seeking adventure," she says. "I need time to switch gears, smell the flowers, breathe the fresh air, listen to tropical birds and waves crash. This doesn't mean I don't seek adventure. I just also long for the art of doing nothing—to be present, thankful, and reconnect with nature and myself."
After lots of trial and error, the couple discovered that Hawaii offered enough of what they both love: beaches where she could go shelling while he bodysurfed, boat trips where he could snorkel while she sipped a mai tai. They always return to Maui first, where they feel they can relax into a routine, and then spend a few days exploring another island.
Setting up a trip you'll both love is not as hard as you think, but it will benefit from some forethought. The following tips will help put you on the path to vacation success.
Choose an Appropriate Destination
If your partner hates the cold, Antarctica or Greenland probably aren't the best picks. If you don't do well at altitude, the Rockies or the Alps might be problematic. But you've got to meet in the middle. How do you start narrowing things down?
Owen Gaddis, a former travel agent who now plans vacations to meet his adrenaline-fueled nature and his wife's more laid-back sensibilities, recommends seeking out a country or region that offers something for both parties.
"If you are a super active traveler, you might be bored to death in an overwater villa in Bora Bora," he says. "If you are super laid-back, you might be wasting an incredible opportunity to explore Patagonia."
Gaddis suggests looking for locales that offer enough activities to entice the laid-back traveler to get out of their comfort zone—because it's more fun to share an adventure—but also amenities and surroundings conducive to unplugging and recharging, so the active traveler is persuaded to slow down. It's also easier to relax if you're headed to a destination that one or both of you have been to before, he adds, as one of you will know what to expect.
Cari Gray, founder of the Toronto-based active-travel company Gray and Co., regularly works with clients who have an assortment of interests, a factor that comes into play when planning multigenerational trips with people of mixed ages and fitness levels. She says it's important to consider seasonality as well. The Mediterranean might sound relaxing in summer, but that's also the high period, which can mean vying for restaurant reservations and even a spot on the beach. Will you and your partner argue about that, the crowds, or possibly higher prices for visiting at that time? It's worth discussing.
Places That Cater to Active and Laid-Back Agendas
Travel experts Elizabeth Gordon of Extraordinary Journeys in Santa Fe, Brook Lavery of Local Foreigner, and Robyn Mark of Mayamaya Travel, both based in New York City, have weighed in with a few destinations that tend to check all the boxes.
California's Central Coast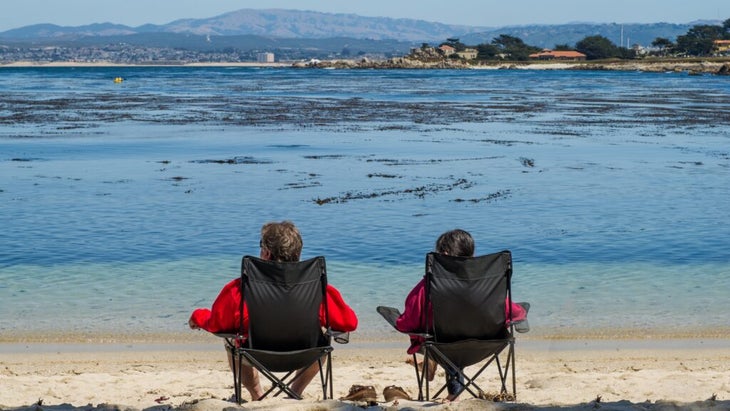 Amenity-rich hotels with great spas entice travelers to kick back after a day of cycling, hiking through the redwoods, surfing, or wine tasting. Base yourself at Granada Hotel and Bistro in San Luis Obispo; it puts travelers within easy reach of urban pleasures like great restaurants and shops, the waves of Pismo Beach, all levels of mountain-bike trails, and dozens of wineries.
Utah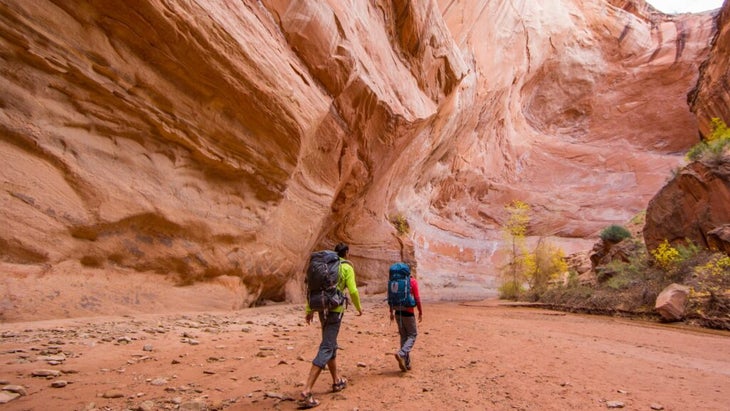 Nature lovers enjoy options aplenty in the Big Five national parks—Bryce Canyon, Zion, Arches, Capitol Reef, and Canyonlands. There's hiking and mountain biking for high-adrenaline agendas and photography and stargazing for those who want something mellow. Yonder Escalante, set within Grand Staircase–Escalante National Monument, offers all kinds of accommodation options, from fancy cabins and Airstreams to RV sites. Its clubhouse area is a great place for one person to chill and meet new friends while their partner heads out on the local trails.
Cape Town, South Africa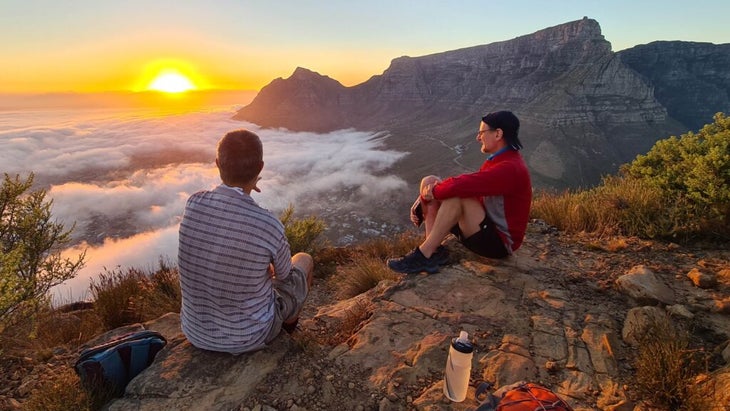 A culture-rich city full of art galleries and restaurants, and proximate to the nation's famed wine country, it has beaches for relaxing and thrilling adventures such as shark-cage diving and trail running or hiking Lion's Head. Beach lovers should head to the seaside town of Hout Bay and stay at the wellness-focused Future Found Sanctuary or the oceanfront Tinswalo Atlantic. Known as the Malibu of Cape Town, Hout Bay is less than 30 minutes from the city center, its protected harbor is perfect for kayaking and paddleboarding, and it's within easy reach of the trails of Table Mountain and the Constantia wine route. 
Costa Rica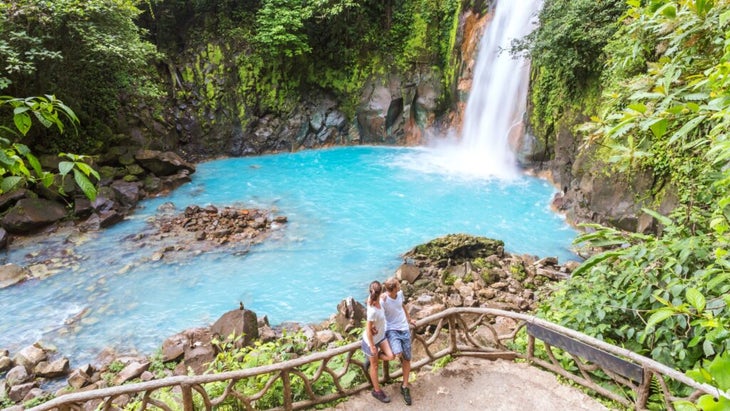 This country's natural abundance has long attracted adrenaline junkies and beach-goers alike. Post up on the beach with a michelada and then send your partner to kayak the coast, take surf lessons, or explore the jungle on an all-terrain vehicle. The Gilded Iguana surf hotel in Nosara is an ideal property, with all kinds amenities on-site and plenty of activities in the surrounding area.
If you can't decide on a single destination, Mark suggests pairing a city with a nearby beach or mountain town. She often recommends combining London with the British countryside, Barcelona with the Pyrenees, or Mexico City with Mérida. Lavery directs clients to Italy's Dolomites, a region known for its stunning limestone karst peaks and excellent hiking and biking, followed by a few days of R&R by the water in Lake Como.
Pick Accommodations with Activities Nearby
Travel is expensive, and your time is precious. Couples, families, or friends traveling together should do what they want when they want it: that may mean splitting up during the day, opting for activities of various durations, and then reconvening for meals or afternoons to share stories and experiences.
Nothing facilitates this better than the right hotel, hostel, or even campground.
Mark directs clients to properties that provide a wide range of activities and services, so you can spend a full week there without getting bored. This encourages travelers to avoid multiple plane rides, transfers, or a lot of moving around. "To me, the idea of relaxation is in not having to think," she says. "We are all so decision fatigued that sometimes just the thought of picking a restaurant feels exhausting."
Couples might opt for accommodations where nothing has to be preplanned, where staff help plan everything on arrival. Tried-and-true stays that please partners with adventure and relaxation include:
Gravity Haus in Breckenridge, Colorado
Tourists hotel and riverside retreat in North Adams, Massachusetts
Blackberry Mountain resort in the Great Smoky Mountains, Tennessee
Clayoquot Wilderness Lodge on Vancouver Island, Canada
Awasi Atacama in the Atacama Desert, Chile
Kokomo in Fiji
Islas Secas in Panama
Noah Surf House in Torres Vedras, Portugal
Furnas Lake Forest Living in the Azores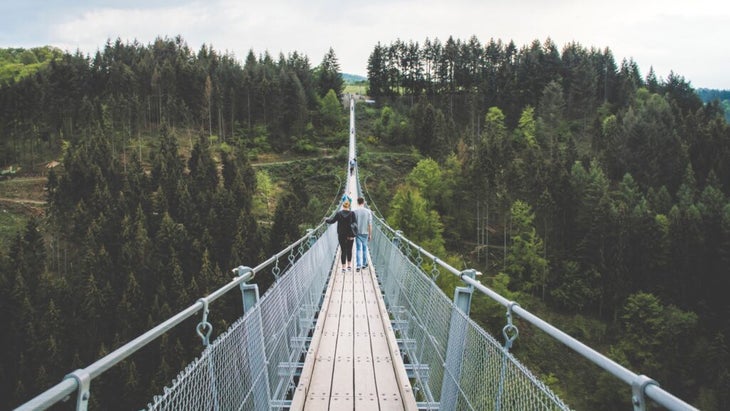 Book with a Flexible Tour Operator
Adventure-travel companies have started to roll out itineraries that cater to different fitness levels and interests. In 2020, Backroads launched Dolce Tempo e-biking and walking trips. Couples can hit the day's adventure at their own pace (made possible thanks to van support), with time to enjoy sightseeing and amazing hotels. Plus, e-bikes are the equalizer for partners who prefer a slower pace than their mate.
DuVine Cycling and Adventure Co. offers Cycle and Sail trips to destinations like Greece and Turkey. A traditional Turkish sailing vessel called a gullet serves as a home base. Travelers can spend a morning cycling together, and while one heads off to tackle challenging climbs in the afternoon, the other can explore coastal villages on foot or return to the ship to snorkel or sunbathe.
Fondo events hosted by Farm to Fork Fitness Adventures include four ride distances, ranging from 10 to 70 miles, so everyone can have a rewarding day on the bike. "We regularly see couples ride different distances from one another, enjoying the opening miles together before splitting off," says Andrew Herwig, the company's director of operations. "What's better than seeing your favorite person waving you in at the finish line with a cold beer?" The company also recently introduced Weekend Getaways that break up each ride with fun stops to engage with local farmers and allow the group to come back together.
Mountain Lodges of Peru designed its Sacred Valley and Lares experiences with travelers of different fitness levels in mind. Each day there are multiple options for activities, such as hikes, cultural excursions like visiting a weaving cooperative, or cooking classes. "You get to spend quality time with your partner, family, or friends for at least half a day, and every night at the lodges share stories over a pisco sour at dinner," says cofounder Enrique Umbert. "The cool thing about the storytelling dynamic is that, many times, the less active members get inspired to participate in something active during the trip, and active members may discover new experiences, like a ceramics workshop."
It's All About Compromise
I've yet to find my vacation soulmate, but I have figured out successful planning strategies to ensure I have a great trip with my partner or friends or my mom. I might still tack on a day or two pre or post trip to get my fix of adventure, and I'll probably get up early to run or surf while my travel buddy sleeps in. But talking through options and expectations has helped pave the way for any time spent together—and compromise helps overachievers like me realize that sometimes the art of doing nothing is exactly what I need to embrace on vacation.
Have a question of your own? Drop us a line at Traveladvice@outsideinc.com.  
Lead Photo: Getty Images/Klaus Vedfelt