How can I plan an eco-friendly wedding?
My fiancée and I are interested in a wedding that incorporates our love of the outdoors, preferably with an ecotourism spin. Do you know of any ecotourism companies that plan weddings? What would you recommend we do?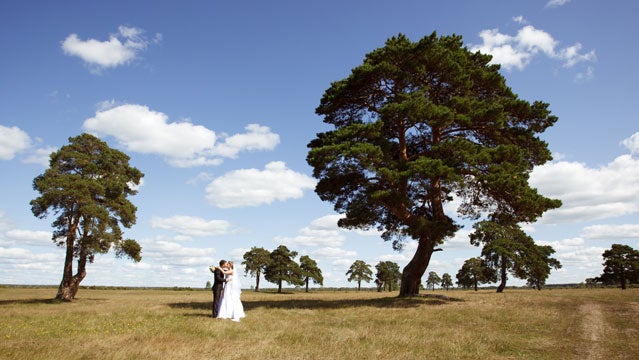 Heading out the door? Read this article on the new Outside+ app available now on iOS devices for members! Download the app.
Weddings offer a peek into the values that shape your life. Everything you decide from the seating cards to the cake can make a statement about who you are. Did the ceremony conclude with "husband and wife" or "partners in life"? Was that a gluten-free cake? And did you really expect extreme backcountry skier Andrew McLean to ride off in a limo when he got hitched? Nope, the New York Times ran a picture of the happy couple on skis. So your impulse to demonstrate your love of the outdoors while demonstrating your affection for each other is certainly understandable, and while our crack team of Adventure Adviser researchers couldn't find an agency that specifically arranged eco-weddings, we did manage to harvest a garden of environmentally friendly tidbits that anyone can incorporate into a wedding to make it more eco-friendly. And that doesn't mean having guests choke on spirulina smoothies or a bride wearing sweatshop-free Lycra. Planning an eco-wedding goes well beyond just picking an outdoorsy and pretty place, though we did find a few of those, too.
But first, the small stuff. One of the easiest things you can do to ensure an eco-angle to your ceremony is to pick a place that offers organic cuisine with vegetarian options. If you're using a caterer, try to find one that donates leftovers to homeless shelters or food banks. Decorate your tables with organic flowers and encourage guests to take them home, and put edible flowers like nasturtiums on the wedding cake. If you're serious about eco principals, instead of gifts you could ask your guests to purchase Green Tags (www.greentagsusa.org), a premium that helps cover the costs of pumping renewable energy into the country's power grid. Arrange for guest shuttles from the airport and area hotels or find a place that rents hybrid cars. Better yet, pick a place where you can have the ceremony and reception in the same place or within walking distance.
As for holding a ceremony that plays off your love for the outdoors, Carol Reed-Jones, author of Green Weddings That Don't Cost the Earth ($10.95, Paper Crane Press), says to pick a location that is already well trampled. "I'm really in favor of places like national parks," she said. "I've heard of horrible things like people getting dropped into pristine wilderness settings by helicopter. Pick a place where your impact won't be as great."
Your best bet for combining eco-principals with the outdoors without going insane during the planning phases might be to pick an eco-lodge that can help host weddings. A few come to mind. Here in the States, check out the Papoose Creek Lodge (888.674.3030; www.papoosecreek.com) near the Madison River in southwest Montana, about 40 minutes from Yellowstone National Park. It's a smaller venue, with five guestrooms and three pioneer-style cabins. But the Papoose Creek flows across the property and guests can cast for rainbows in the blue-ribbon waters of the Madison River.
If you're looking to go a little farther away, the Rio Grande Plantation (787.887.2779; www.riograndeplantation.com) in northeast Puerto Rico near the El Yunque jungle has a wedding coordinator who can help with the ceremony. The lodge was once a 200-acre sugarcane plantation in the late 1700s and now sits on 40 acres of fruit trees, tropical flowers, and rainforest with two trails. You're about five miles from the beach and can enjoy some 30,000 square feet of covered pavilion space. Guests can stay in one of eight suites, each about 1,200 square feet with room for up to ten people.
For the ultimate in eco-wedding fun, I'd highly recommend Maravu Plantation Resort (888.345.4669; www.maravu.net) on Taveuni, Fiji's "Garden Isle." This property sits on a rolling landscape peppered with about 20 elegant but rustic bures, or bungalows, and offers wedding packages from about $750. You're only a few miles from Bouma National Park, where you can hike to waterfalls and then jump off them, there's excellent diving practically out the front door, and only 2,000 people live on the entire island. For the ceremony, you can exchange vows on a hilltop overlooking islands along the Somosomo Strait or down on a beach lapped by the warm purple waves. The affable German owner even has a band on staff that will serenade you and your guests to the sweet sounds of South Pacific tunes. But the best part about having a wedding here? You're already well on your way to having an eco-honeymoon, too.
For more information and tips on green weddings, check out www.organicweddings.com.
For other ideas on out-of-this-world places to get married, read Kate Siber's article, "Get Some Wows with your Vows", including essential guidelines on executing the perfect destination wedding. PLUS: Pulling off a huge family wedding in a Telluride resort.
Trending on Outside Online