The Ultimate Road Trip
How to Pack Food for a Long Road Trip
With a little extra planning, it's easy to be self-sufficient and safe when it comes to packing food for a long road trip. Here's how we do it.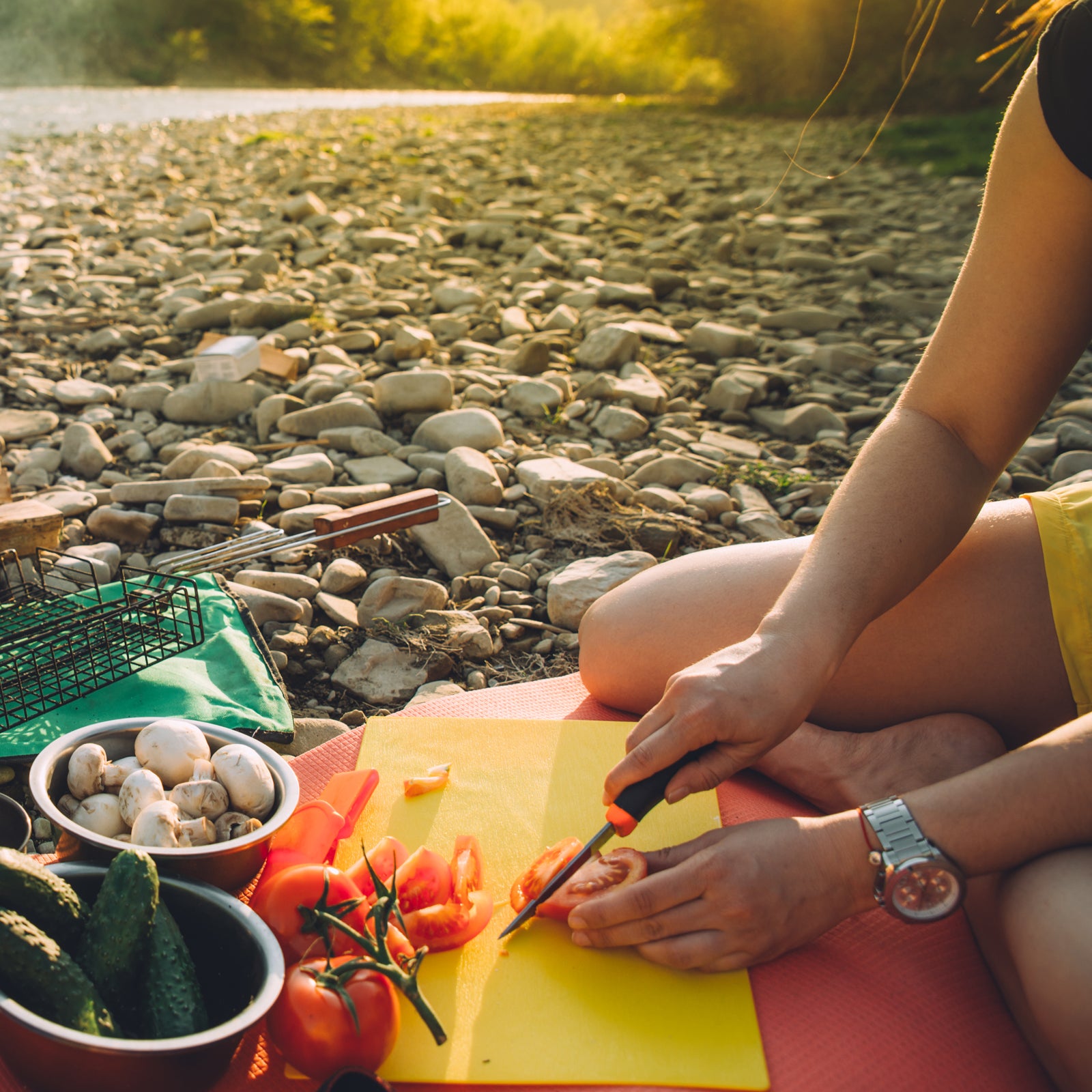 Vera_Petrunina/iStock(Photo)
Heading out the door? Read this article on the new Outside+ app available now on iOS devices for members! Download the app.
Like the rest of the country, I've swapped out more far-flung summer vacations for close-to-home road trips. My wife and I have camped quite a bit this summer, including a recent weeklong trip where we took some extra precautions to be as self-sufficient on the move as possible. Aside from stopping for gas, we didn't have contact with anyone. The key to making that happen was packing all our food. Here's how we did it—and how you can, too. 
Get the Right Gear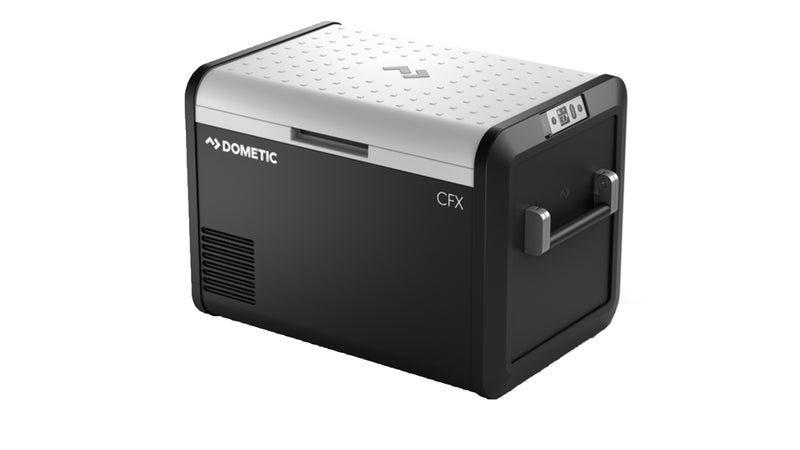 First and foremost, nothing prepares you to be self-sufficient food-wise on the road like a portable fridge. I think the phrase "game changer" is overused in gear reviews, but that's exactly what a fridge is for road trips and camping. Not having to fill a cooler with ice means you won't end up with soggy food or with a box full of nasty swamp water when the juice from those burger patties leaks out. 
It also means you won't need to restock on ice, no matter how long you stay out. I've used a Dometic Waeco CFX 50W (from $960) for a few years and highly recommend it. Since you don't need ice, there's more space than a similar-size cooler. If you pack well and frugally, the 50 liters can fit two to three meals a day for two people for up to a week (it did for us, at least). Dometic also makes units with a freezer, which means you can effectively stay on the road without going to the grocery store for even longer.
You'll need something to power the fridge, and while you can plug it into your vehicle's 12-volt outlet, a battery will be necessary to run it when you're not driving. I use Dometic's PLB40 battery (from $850), which is great because it powers the fridge for up to 40 hours on a single charge. The best part is that you can recharge it from your car's 12-volt plug as you drive, and it'll power the fridge at the same time—so you'd be hard-pressed to run out of juice during a road trip where you're driving every day. 
We also bring a small, soft-sided cooler, like the 30-liter Yeti Hopper (from $300), for all of the snacks and cans of LaCroix we want within reach while driving. Then you don't have to open the fridge as much, which in our case would mean stopping to access it from our teardrop trailer. 
If you're looking for a more affordable option than a portable fridge, go with a 45-to-50-liter cooler from a brand like Orca or Yeti. Yeti's Tundra line of coolers (from $250) has worked better for me and kept things cooler longer than any other cooler I've used over the years. If you pack it correctly with a ton of ice, it will keep your food cold for a day or two at a time. That said, for a longer trip, it's just not as good of a solution as a portable fridge for being totally self-sufficient. 
Pack Efficiently
With a portable fridge, you don't need to worry about about whether your food is sealed watertight or there's room for ice. If you go with a cooler, watch this video, and make sure to utilize the little basket that often comes with coolers for items like eggs and cheeses that you don't want jostled or crushed. 
My wife and I like to prepare and pack all of our food by meal. For example, we'll cut up veggies and put them in a Ziploc with a package of chicken and the accompanying sauce, and then we'll label the meal with the day we plan to cook it. This helps with food-safety issues, because we can keep track of the meal's expiration date.
Another trick is to pack your ingredients in a container (either using Tupperware or reusable Ziplocs) that you can then eat out of or store leftovers in. Doing so helps reduce the amount of packages and containers you'll need to bring. 
Bring the Right Kind of Food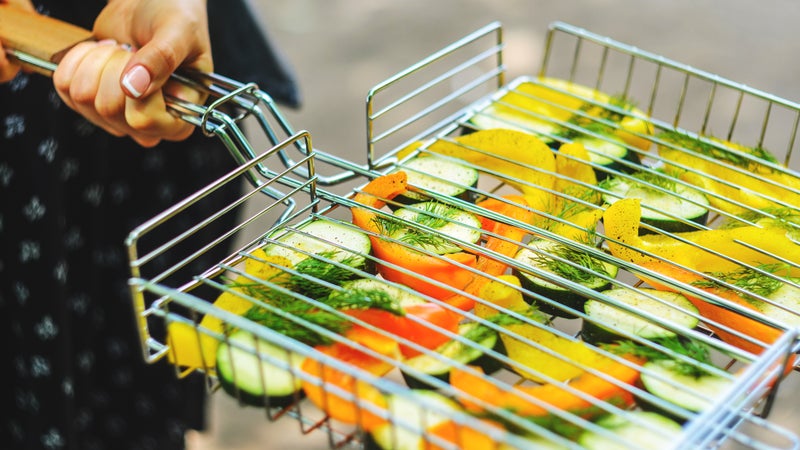 It doesn't matter how well you pack if you don't bring food that is conducive to a road trip. You'll want to shop for things that are relatively easy to cook, will last for the duration of your trip, and aren't going to require many extra ingredients. One of our go-to meals is stir-fry with a precooked steamed rice pouch. Here's what we put in it: dried, frozen, fresh, or canned vegetables (depending on how long we'll be on the road), a stir-fry sauce, and a protein, like chicken or eggs. To keep things easy, we often opt for canned chicken or those foil pouches you can find at some grocery stores. 
Pastas always store well, and premade burger patties, tacos, and fajitas are great options because they're easy to cook. We often slow-cook chicken breasts in salsa in advance of our trip so we have taco meat ready to reheat once we're on the road. Preparing certain ingredients ahead of time makes it easier—and often safer—than trying to cook a lot of raw meats without a full kitchen. My wife also likes to prepare side dishes like roasted potatoes, which are easy to heat up.
I've found that people's biggest complaint about road-trip and camping food is a lack of fresh fruit and vegetables, so it's important to think about incorporating more of each into your meals. A fridge makes that easier to do, as do bagged salads—the easier you can make it on yourself, the more veggies you'll eat. Having a regular supply of fruits and vegetables also helps avoid that gross feeling you get after three days of eating garbage, which is always a tempting excuse to go to the store and pick up some "real food." 
The most important part of being self-sufficient on the road is bringing enough snacks. We all love running into the gas station for a candy bar and drink, but having those items on hand in a separate, small cooler means you won't feel the need to. We like chips and salsa, hummus, cheese, salami, mini bell peppers, apples, and something sweet. We also bring a bag of clementines with us, since they're easy to peel and eat anywhere.
Embrace Delivery Options
Remember that you're trying to be self-sufficient on a road trip, not just to protect yourself but to make sure you don't infect anyone else or bring the virus into a small town that doesn't have the medical facilities to handle an outbreak.
To minimize your contact, consider the stops you're going to make ahead of time, and research what stores offer curbside grocery pickup so you don't have to go inside. Many grocery chains, including Sam's Club, Target, and Walmart, have this option, and some local stores have started offering this service as well. 
Takeout from a restaurant is an option if you run out of your own food. Just remember that delivery services like Fetch, Instacart, and Uber Eats aren't going to be able to provide you with as many choices in small mountain towns.
Outdoorsy Bonus Points: Catch or Forage Your Own Food
If your road trip will take you near any lakes or rivers, you can try catching fish for dinner. My wife and I love to fish, so we always have spices ready to fix a meal if we land something, as well as cooking essentials like olive oil, salt, pepper, and foil to wrap and cook the fish over coals.
Lead Photo: Vera_Petrunina/iStock
Trending on Outside Online