The Journeyman
Gap Adventures founder Bruce Poon Tip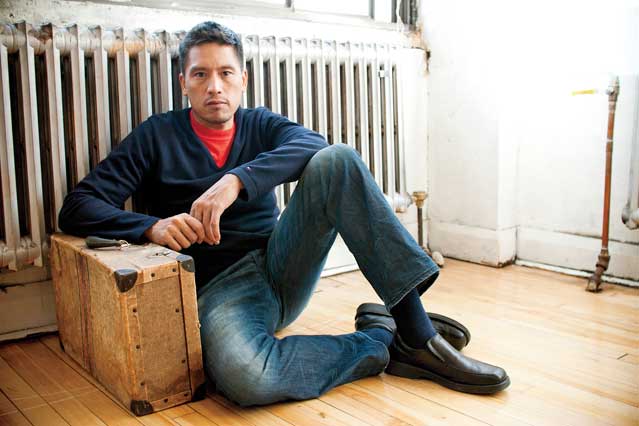 Attit Patel
Heading out the door? Read this article on the new Outside+ app available now on iOS devices for members! Download the app.
In 1990, Bruce Poon Tip founded Gap Adventures in Toronto with two credit cards and a dream to "bridge the gap between backpacking and mainstream travel." Twenty-one years later, with an annual $150 million in revenue, Gap is the largest adventure-travel company in the world, operating in more than 100 countries, taking 100,000 customers on the road each year, and boasting the highest repeat-customer rates in the business. During the recent recession, Poon Tip, 44, managed to grow his company 42 percent—a fact that has many struggling competitors scratching their heads.
KEYES: You're selling the idea of adventure, but isn't adventure the opposite of group travel?
POON TIP: There's an element of security that comes with traveling in a group, but I don't think adventure travel has anything to do with the number of people you're traveling with.
Even if the itinerary is planned out for you?
I guess it's how you define adventure. I think 90 percent of our trips are adventurous by destination, meaning that being in Mongolia is adventurous whether you're with a group, by yourself, or with a conference. Adventure is such a commodified word these days. I was out swimming the other day and there was an "adventure pool" for kids. I looked at it and thought, Well, how are they promoting it as adventure? It had special toys and things for children. For a kid, that was adventurous, because they're swimming in a different pool away from parents.
You built the brand on controlling the customer experience but now guide more than 100,000 travelers a year. How big is too big for you?
I think we're many years away from having that kind of problem. Right now we're still a niche company, we're still a niche market.
Still, 100,000 is a lot of people.
Seriously, think about this. A "sun travel" company here in Toronto that might take people down to Jamaica could carry 600,000 passengers in a year, and they wouldn't even be the largest in Canada. We still don't register in the mainstream tourism numbers of a tourist board when you look at China or Thailand or some of the other big destinations.
What do you think of the voluntourism trend? Those kinds of trips seem to be booming.
Voluntourism is a bit like a Wild West shoot-'em-up right now. There are a lot of bad companies doing a terrible job. It takes work to manage volunteers, and it has given a bad rep to the volun­tour concept. To coordi­nate a team of people who want to paint a school or build a well—the management involved in unskilled labor is massive. ­Everyone who arrives has a different idea of how much they want to do. They have good intentions when they sign up: "We're going to build stoves or wells in Cambodia." But when you get there, are you ­really prepared to get up at four in the morning and work ten-hour days? No, actually. With the change in the world right now, people have a need to give, and that's a great thing, but that doesn't necessarily mean they want to bust their asses for two weeks.
Yet you're known for your role as a pioneer in this trend.
We've stayed in our comfort zone, which is having short elements of volunteering within a holiday program. We were the first company that said, ultimately, the motivation of the customer is the holiday. With our trips now, we're planning a lot of our groups around what we call random acts of Gapness, where groups spontaneously do something. Just yesterday a group went out and bought rice for a village in Guatemala. But our groups decide and we facilitate. That's the element of giving that makes people feel good—they've actually had an impact, and it's not necessarily overengineered.
What other travel trends are you seeing?
People today are so connected—wired up with phones and laptops and social media—so they're more into remote spaces where they can be disconnected [while on vacation]. Five years ago, people liked the hustle and bustle of markets: they liked Egypt, Moroccan shopping markets. Now we're seeing people wanting to go to Tibet and more remote areas to disconnect.
Are you also seeing the opposite of that? Travelers constantly tweeting about their trips?
Oh yeah. People used to book a trip with us and they'd shut off and have a vacation, right? But there's a group of people now who come very wired up. When they arrive in any town, they whip out their GPS. We constantly hear from people who say, "We went here, but I read about this, and maybe this would have been better." You decide to go on a rickshaw trip in Hanoi, but someone says, "I heard you can do it by Segway. I just found an app for Hanoi Segway tours."
You were also an early adopter on Twitter. How has it changed your relationship with your customers?
Twitter for us is far more of an internal tool. We have more than 1,000 employees on Twitter around the world, and we all link to each other and communicate with each other through that. It's part of how we remain connected, because we want our people to feel that they're part of a community. I just got a live photo of one of my managers eating in Italy. He's in Sicily, he's having a typical Italian lunch. In response, someone e-mailed a shot of a greasy burger in New York.
Isn't it one of the unspoken rules of Twitter not to share what you had for lunch?
You'd better tell that to my people.