How to Save Money While You Travel
From baggage fees to rental cars, here are the common mistakes that will cost you when traveling—and how to avoid them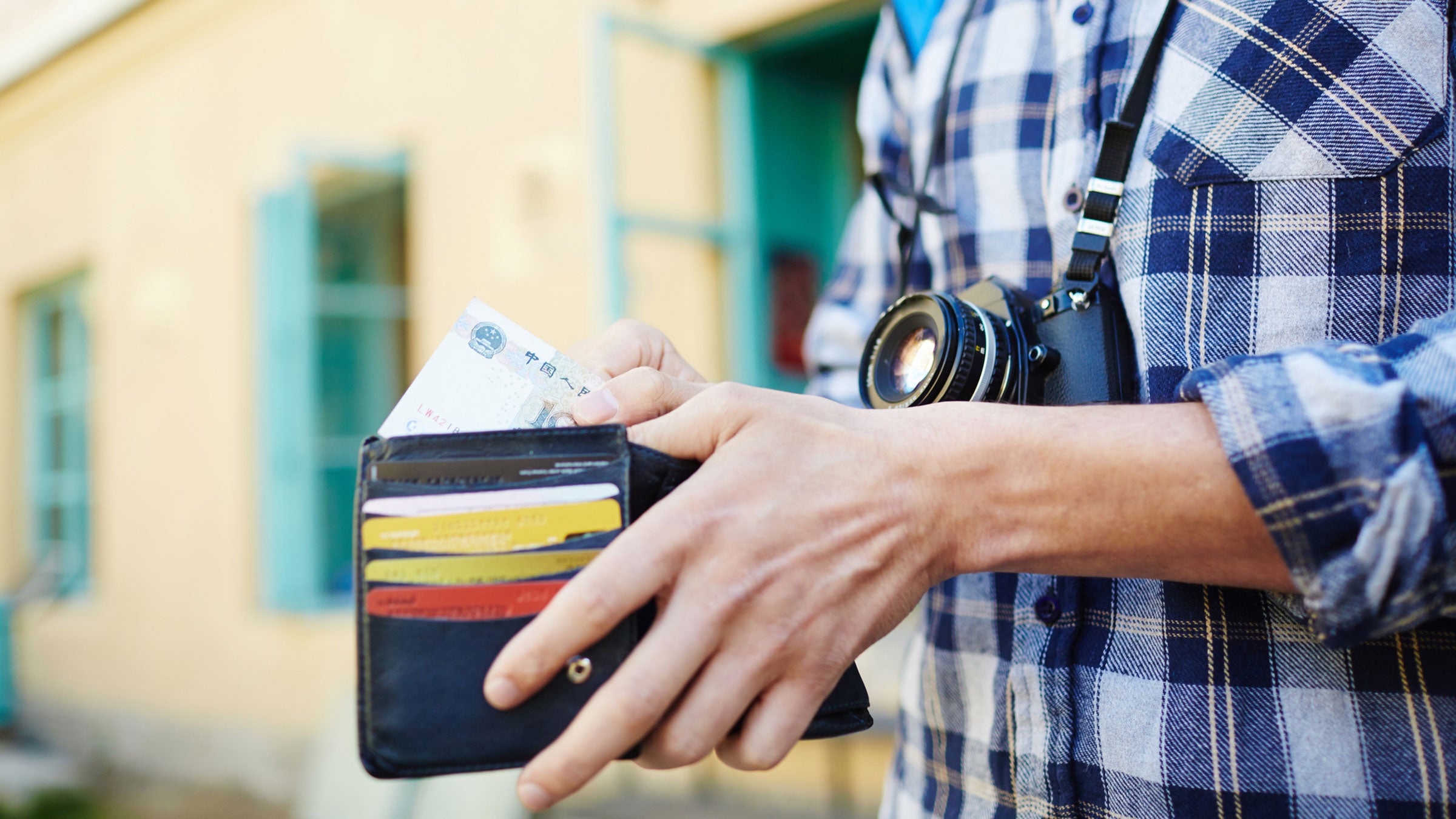 Heading out the door? Read this article on the new Outside+ app available now on iOS devices for members! Download the app.
When most people think of travel expenses, they imagine flights and hotels. But in reality, silly fees and extra charges on the ground can quickly add up to expenses in the triple digits. The good news is that most of these are avoidable with careful planning and a bit of bargaining, so instead of wasting money on parking or ATM transactions, you can use your cash for an epic day of SCUBA diving or a night of unlimited Mai Tais. 
Budgeting 
The easiest way to wreck your travel budget? Not having one in the first place. Besides paying taxes and taking out the trash, budgeting is easily one of the most despised parts of everyday life—hence why it's the last thing most people want to do when planning a vacation. For most people, a budget tells you what you can't spend, but I like to look at it as a roadmap for telling you all the fun things you can do with your cash. 
Setting a travel budget is the best way to avoid overspending and set priorities on your holiday. For example, it'll stop you from running up the bill at a fancy restaurant when that money is allocated for a day snorkeling instead. Plus, overspending typically leads to credit card debt, attached to interest, which ultimately means you end up spending even more. 
Remedy: As far ahead as you can, do some research into how much a day's worth of basic expenses (food, drinks, lodging, transportation) will be in your destination. Multiply that number by the number of days of your vacation, and add about 20 to 30 percent to pad for unexpected expenses, like tips or that souvenir you just can't pass up. Set the total (or as much of the total as you can, if you're saving up) aside in a separate high-yield savings account, such as Marcus, so you won't be tempted to blow in in the meantime. You can even pre-pay your credit card to set a firm amount and track how close you are to hitting your limit. Before you go, download an app like Trail Wallet, so you'll be able to monitor your spending in real-time and see how it's tracking against your daily budget goals. If you go over budget, rather than induce spending-stress, the app will suggest costs you can cut back on.
Parking
If you live in a city like Los Angeles, like I do, you only have a few ways to get to the airport: using a ride-share, an airport shuttle, or driving yourself. If your flight gets in at odd hours or you don't want to deal with an Uber driver, you'll probably choose the last option, which can end up eating up a sizable portion of your travel budget. Parking fees range anywhere from $9 to more than $25 per day at most major airports. Multiply that by a long weekend, and you're easily looking at $100. 
Remedy: One of my favorite sites is CheapAirportParking where you can find rates as low as $5.95 a day at a variety of airports. I always make a reservation at least a week prior to my departure date to score major deals. Also, if you belong to AAA or other membership organizations, such as your college alumni program, always check to see if they offer parking discounts—some can go as high as 30 percent, which quickly adds up if you're gone a week.
Baggage Fees
If there's one thing I hate to spend money on it, it's baggage fees. They are almost inescapable these days (unless you're traveling overseas, when airlines typically allow for one checked bag), and usually cost $25 or more per bag per person. If you're traveling with a family, that comes out to huge expense before you've even left the airport. 
Remedy: One of the easiest (and nowadays, only) ways to avoid baggage fees is to use an airline credit card when booking your plane ticket. I have the Citi AAdvantage, which partners with American Airlines and other associated carriers, and gets me up to four bags free with four passengers. My husband and I routinely save $100 roundtrip just from putting our flight on plastic. Most major airlines have this deal, and sites like Credicards.com sum them up nicely.
Foreign ATM and Transaction Fees
These charges are like gremlins that sneak up on you after your trip and haunt you long after you've returned. They can range from brand to brand, but most credit and debit card companies charge around three percent for every meal, drink, and trinket purchased abroad. 
Why not just use cash instead? Your bank will get you there, too. Domestically, the majority of banks will charge a withdrawal fee for ATMs from other companies. Internationally, they'll charge that (usually between $2.50 to $5), a foreign exchange fee, on top of an unfavorable exchange rate. Plus you'll probably get dinged by the ATM you're withdrawing from. Do that enough, and you'll wind up paying for your vacation weeks after you've returned. 
Remedy: There are plenty of credit cards that charge nothing for foreign transactions, so make sure you have one in your wallet before setting foot on international soil. A few good ones: Chase Sapphire Preferred, Capital One Venture, and Capital One Quicksilver. Always make sure you double check with your credit card company before you leave the country so you know what charges you're in for and can choose them wisely. Even so, it's always good to have some cash when you travel, so choose a bank like Varo Money or Charles Schwab which are truly free, with zero ATM or foreign transaction fees (Schwab will even reimburse you for withdrawal charges from other ATMs). If you're determined to use your regular bank, you can minimize costs by taking out a lot of cash at once—just be careful to stash it in different places in case of theft or loss. Or, if you're planning to bring money to exchange, opt to change enough to get you by at airport kiosks, which typically give a less favorable rate, and leave the rest for small, local banks. 
Rental Car 
Rental companies will charge a premium for the cars best suited for your destination. For example, driving a Jeep around Oahu could cost up to $90 per day. That's not including insurance pushed by rental agents that can run as high as $50 a day, a price they can get away with because most people don't know there are other insurance options available. 
Remedy: Despite companies' dire warnings of terrible crashes and freak hail storms, most experts recommend against their insurance. There are other options, like going through your own auto insurance and most major credit cards, or booking through an agency like Expedia, which usually offers coverage for as little as $10 a day. Also keep in mind that rental prices change frequently: On a recent trip to Maui, I saved over $150 by continuing to scan prices up to a week before the trip. 
Lodging
Comparing prices on third-party sites like Kayak, Priceline, and Expedia can sometimes be counterproductive—budget hotels that offer similar amenities in the same neighborhoods are often priced the same, despite having different standards. 
Remedy: Most people assume the price posted on a hotel's website is non-negotiable, but if you see a lower price on a third-party site like Expedia, call the front desk and ask for a discount if you book through them. Most hotels would rather have you book directly through them versus an online site, and will give you an even better rate.
Lead Photo: shironosov/iStock