What Are Some Tips to Survive Sleeping in an Airport?
Stuck in an airport during the wee hours? Author Bruce Northam, who's been traveling the globe for the last three decades, explains what to do when a terminal becomes your one-night stand.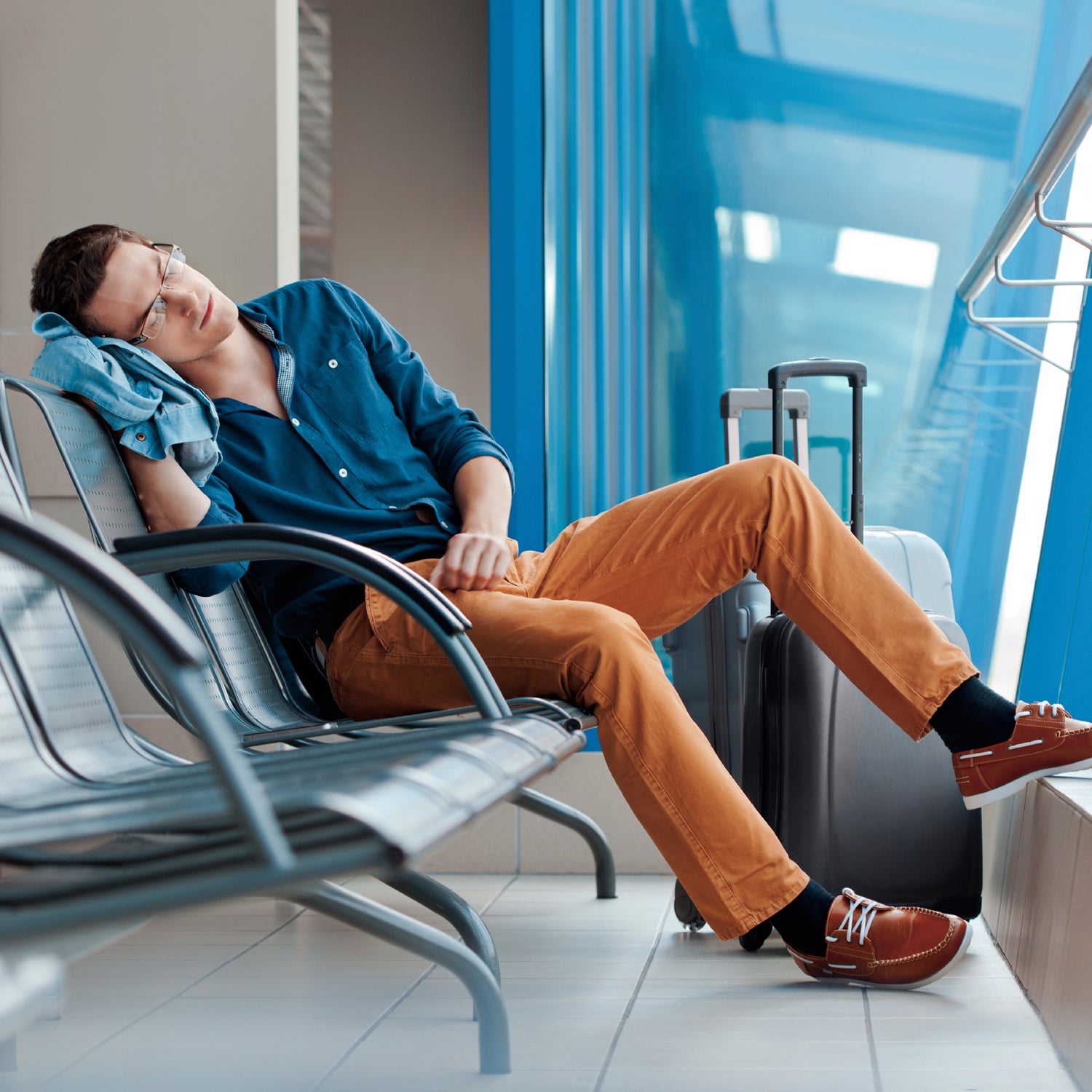 Heading out the door? Read this article on the new Outside+ app available now on iOS devices for members! Download the app.
Spending the night "camping" at an airport is one of those experiences many of us eventually have to endure. Why? Bad weather can't be controlled and delays can lead to missed connections, especially at the end of the day. And because airlines aren't required to do anything for passengers in these situations, they can leave travelers stuck in an airport with few options other than waiting. Having slept in countless airports over the past 25 years, I have a tried-and-true plan of attack. (And yes, sleeping overnight in airports is legal.)
Oh, Sh*t—You're Stuck. Now What?
Unless you missed your flight because of an ill-timed layover, you might be able to score food vouchers from airport employees. After trying that, check Airport Hotel Guide, a guide to hotels inside or close to airports. If there are no vacancies or leaving the airport isn't an option, ask for pillows and blankets—even a cot—from airline or airport staff. No one will offer any of this unless you ask. While that's all happening, eye over sleepinginairports.net, which has survival tips on how to pass the night in specific airports around the world. 
Gear Up
Stock up on enough food and drink to last the night as most airport concessions close before midnight. If you don't have a reusable water bottle, keep the plastic one you bought and fill'er up at the water fountain.
Rifle though your luggage for any extra layers—airports can be chilly and extra clothing will pad you against the floor, just in case that cot didn't work out. Use pants or jackets as bedding and pillows. 
Finally, wear sunglasses—they'll make your unconsciousness less obvious. Earplugs are a good idea, too, if you're with a group and not worried about theft.
Protect Your Bags
If you are worried about someone stealing your stuff, look into luggage storage. Ask your airline for the closest one, but know that there's hardly a standard for how they're run. For example, the one at LAX is open 24 hours, and located in a stand-alone building. (Staff will shuttle you to and from for free.) However, at JFK, storage units are located in terminals one and four, but are only open from 7 a.m. to 11 p.m. SFO, one of the most delayed airports in the U.S., has storage in the international terminal, also open from 7 a.m. to 11 p.m. Delay-prone LaGuardia and Chicago O'Hare have no storage options. 
Find Your Haven
Look for a safe, comfortable spot close to amenities. In general, look for benches & seating without arm rests, or carpeted areas that you know are monitored by camera, but aren't near heavy foot traffic. Look for other airport nappers and go bond with them: safety in numbers never goes out of style. 
Many U.S. airports now have yoga/meditation rooms (Chicago O'Hare & Midway, San Francisco, San Diego, Burlington, Dallas-Fort Worth, Albuquerque, Raleigh-Durham) that won't frown on your version of quiet reflection. They often have complimentary mats. And most international airports have prayer rooms that might also be napping options. Be polite though.
A company called Minute Suites may also be an option. They offer sleep chambers furnished with HDTV, desk, phone, daybed, and Wi-Fi that you can rent by the hour ($38), overnight ($130) or just for a 30-minute shower ($25). Started in 2009, Minute Suites now has accommodations at Hartsfield-Jackson Atlanta, Philadelphia, and Dallas Forth Worth. Chicago O'Hare is next on the list.
Flying internationally? Munich is home to "Napcabs", self-service sleep booths that come with Internet Access and a TV (10 Euro or $12-$13 per hour) and there are Yotel "pod" hotels in London Heathrow, London Gatwick, and Amsterdam Schiphol. They plan on openinig one in Paris Charles de Gaulle in 2016 and in Sinagpore Changi in 2018.
If hotels or pods aren't an option and you're averse to sleeping in public, Donna McSherry, owner of sleepinginairports.net recommends sleeping in a rental car. "Head over to the car rentals' hall to find out the cost of a car rental and—assuming you can keep the car in the lot at no cost, which you usually can at a regional airport—sleep in the car." 
Don't Become a Statistic
Stick cash and credit cards in your shoe or in the pocket of your pant-pillow. Acquaint yourself with a night-shift employee and ask them to recommend a safe napping location. Offer to pay them up to twenty bucks to keep an eye on you and your gear. 
My well-traveled friend Will McGough has mastered the art of sleeping while sitting. Not only will this make you look like a less obvious target, but it's an invaluable skill in-flight. 
The Morning After
Depending on how crusty you feel the next morning, travel expert John E. DiScala, who flies 150,000 miles a year, recommends paying for a day pass in an airline club. You can't sleep in them because lounges usually close over night. But, some have showers (check Loungebuddy)—a most welcome sight after a night on the floor.
And, You May Be Wondering: Is There Ever a Good Time to Sleep in an Airport?
Travelers who have very early morning flights might actually want to spend the night in an airport rather than shell out for a hotel room or chance missing an alarm. If that's you—arrive with a boarding pass (for airlines with electronic boarding passes) and early enough to go through security, which closes overnight, or you'll be stuck in the less comfortable ticketing area. Many airlines don't open their ticket counters until a few hours before departure, and even if they are open well before that, some won't issue tickets until a couple of hours before flight time (call ahead if you're not  sure). Also, beware of smaller airports, which tend to close down the gate section of the airport entirely during the midnight hours.
Lead Photo: izusek/iStock