What fun—but relaxing—things can I do in Boston, MA?
I just qualified to run in the Boston Marathon. What can I do after the race that'll be fun, but won't kill my already-battered legs? Sean M. Chicago, IL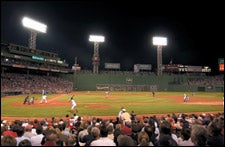 Heading out the door? Read this article on the new Outside+ app available now on iOS devices for members! Download the app.
First off, congrats. Qualifying for the Boston Marathon certainly ain't a walk in the park. Since 1897, Boston has played host to the finest distance runners in the world every April. The marathon's elite reputation is built upon the well-known fact that runners must qualify to enter. The youngest males and females (ages 18 to 34) must qualify in under three hours and ten minutes or three hours and forty minutes, respectively, with the field topping out at 25,000 athletes. It's a strict standard, but a worthy one.
Fenway Park

TAKE ME OUT TO THE BALL GAME: Boston's famed Fenway Park
Come April, you'll be passing more than 500,000 spectators as you huff it from the start at Hopkinton, through the half-way point at Wellesley, up Heartbreak Hill, and finally to the finish line. And despite having to run 26.2 miles, I hope that come Marathon Monday you'll be able to fully bask in the enthusiastic vibe surrounding the marathon.
If it's your first trip to Boston, definitely plan to stay a few extra days to get a taste of Beantown after you've crossed the finish line. And though walking the entire 2.5-mile Freedom Trail might be a bit much directly after the race, here are some ideas that'll be more forgiving on sore legs and tender feet.
Once the race is over, indulge a little. Make your way to Boston's North End neighborhood (northendboston.com), home to fabulous Italian restaurants, bakeries, architecture, and markets. The narrow streets are reminiscent of Old World Europe, and the aromatic garlic will take you straight into the heart of Tuscany. Piccola Venezia on Hanover Street offers casual Italian dining at a reasonable price—and could serve as both a pre-race carbo-load spot and a post-race feast. And be sure to visit Mike's Pastry after dinner for classic Italian sweets, like Mike's to-die-for cannolis or a foamy post-race latte.
Once you've had your caffeine fix, don't give into the lure of the mattress. Instead, take a (short) walking tour of Boston's famous Freedom Trail (thefreedomtrail.org) to help loosen those tight calves and hamstrings. First, make your way to Paul Revere's house just off Hanover Street at 19 North Square. Built in 1680, the home was purchased by Revere in 1770. Impressively, 90 percent of the structure is original and still retains its 17th-century appearance. While there are 16 historic sites along the Freedom Trail, the Revere Home and Old North Street Church (located on Hanover Street) are both well worth the short walk and won't demand much of your tired legs.
Next, head to Harvard Square, where you'll find lots of cool shops to browse. Walk along the Ivy League pathways and you'll discover scores of musicians, artists, skateboarders, and chess players co-mingling on shared benches and public courtyards. Harvard Square (harvardsquare.com) has become a common ground for anyone and everyone who enjoys absorbing the rich cultural atmosphere of a university. And with more bookstores per square mile than any other place in America, who can blame them? Rest your feet at SQWAK! Coffeehouse in the heart of the Square while watching juggling unicyclists and other street performers; take in the "Beauty of Function" at The Museum of Useful Things (MUT), which displays a vintage collection of useful items such as staplers, camping tools, and ballpoint pens (themut.com); or just stroll through campus to admire the 18th-century architecture.
And once you've spent the night in what's sure to be a coma-like sleep, plan on resting those tired legs by limping over to Fenway Park. First opened on April 20, 1912, Fenway has gained fame—and notoriety—as America's oldest baseball stadium. By the time you reach Boston, the Sox may have clinched their second World Series title within the last four years. Either way, joining the Red Sox Nation is a bona fide Boston experience.
You'll be pounding marathon pavement during the Patriots' Day game, which is traditionally played around 11 a.m. on the third Monday of April, but you should still be able catch another game during the home series. Pay as little as $12 for nosebleeds, $140 for seats above the "Green Monster," or—if you can get your hands on them and don't mind dishing out the cash—around $300 for dugout box seats. If you'd rather watch the game on-screen with hundreds of loyal Sox fans, you'll find plenty of watering holes next to Fenway on Lansdowne Street. Check out Cask 'N Flagon, the first bar on the first corner approaching the stadium. Or hit the Boston Beer Works, a well-established microbrewery that offers a clean, restaurant-style atmosphere located across Brookline Avenue, also next to the park. Prior to the game, be sure to hit Yawkey Way and pick up a hot dog, Italian sausage, Philly Cheese steak, or other grilled specialty outside Fenway. It's a family-friendly barbeque atmosphere and true Red Sox tradition. And don't worry about the excess calories—you've earned the right to indulge.
–Amy A. Clark