When Should I Worry About Altitude Sickness?
I just read about how two climbers died on Aconcagua from altitude sickness. I have plans to go to Everest Base Camp this year. Altitude sickness isn't a concern there, is it?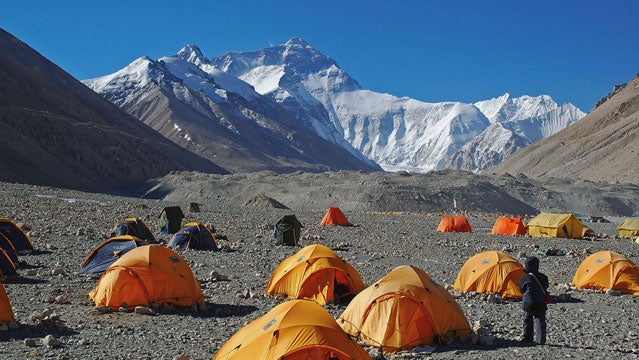 Heading out the door? Read this article on the new Outside+ app available now on iOS devices for members! Download the app.
Yes it is a concern, even though you'll likely be fine. Everest Base Camp sits at 17,600 feet, and that's high enough to create—on rare occasion—fatal conditions for people who don't take precautions or heed the warning signs of altitude sickness. Most guided expeditions to Base Camp are careful about ensuring that you acclimatize properly.
The problem that too many mountain climbers have—and I've been guilty of it—is that it's tough and maybe even embarrassing to give up on the trip you've been planning for so long and come all this way for. It's hard to look your friends in the eye and say, "I can't make it any further, you go on without me." Or even worse: "We've all got to stop and head back, I'm not feeling so well."
The first instinct is often to simply push onward and ignore the pain. But with altitude sickness, which is caused by the lack of oxygen in the air and can strike anyone regardless of his or her physical condition, it's a silent killer that needs to be confronted with an overabundance of caution. According to the Merck Manual, about 20 percent of people who ascend above 8,000 feet will suffer from some form of altitude sickness, and 40 percent of those who go to 10,000 feet will.
In the Himalaya, altitude sickness is the leading cause of death among climbers. Even sherpas fall victim to its fatal effects. While you can't eliminate altitude sickness above 8,000 feet, you can minimize its potency and know when to respond quickly to it. But let's start by defining it with the three types of altitude sickness.
ACUTE MOUNTAIN SICKNESS
You can feel the effects of this condition at elevations as low as 6,500 feet, the Merck Manual and other guides say. The symptoms are mostly headache, fatigue, lack of appetite, and restless sleep. You kind of feel hung over, but it subsides in a day or two, after acclimatization. I feel its effects when I ski out west after flying from the relatively low elevations in the east. The old remedy of drinking lots of water seems to help—and according to a recent study by Stanford University, ibuprofen can dramatically reduce symptoms.
HIGH-ALTITUDE CEREBRAL EDEMA (HACE)
Basically, it's a swelling of the brain from the effects of high altitude. Symptoms: dizziness, drowsiness, laziness, and stumbling. It can lead to a coma and death.  
HIGH-ALTITUDE PULMONARY EDEMA (HAPE)
The main killer from high altitude, it's essentially water in your lungs, usually caused by quick ascents above 8,000 feet. You'll develop a hacking cough, with pink or bloody phlegm. A low-grade fever is also common, and the symptoms can worsen quickly and dramatically.
PREVENTION
Drink lots of water and acclimatize yourself. The general rule is that you shouldn't climb more than 1,500 feet each day. The drug Diamox has been known to help people get used to high altitudes more quickly and to reduce the symptoms of Acute Mountain Sickness. It's definitely not a cure, and you shouldn't think that you can break the 1,500-foot rule because you're taking it. It's most effective if you're taking it as a preventative, before you get altitude sick—kind of like how Dramamine works better before you're motion sick.  
TREATMENT
If you feel symptoms of altitude sickness, you should assume you have it and then monitor your situation closely. The best idea is to stop climbing, and see if the symptoms subside. When you're above 8,000 feet, the threat of HAPE or HACE rises. If your symptoms worsen: descend, descend, descend—it's the only effective remedy.