We're Headed to These Adventure Destinations This Fall 
With sunny skies and cooler temperatures, fewer crowds, and off-season deals to be had, fall may be our favorite getaway season. Here where our editors are headed.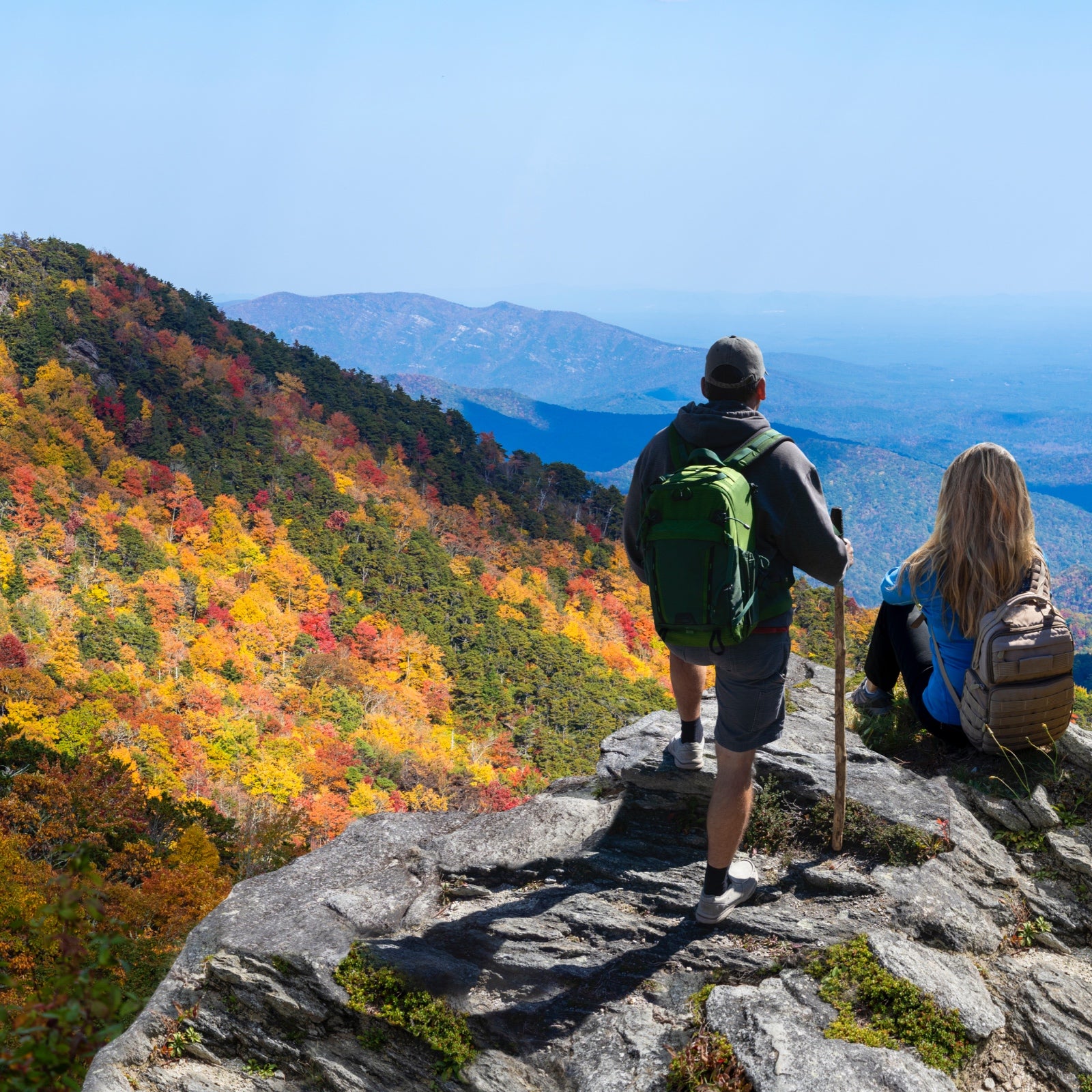 Getty Images/MargaretW
Heading out the door? Read this article on the new Outside+ app available now on iOS devices for members! Download the app.
Put off by summer's heat, crowds, and high prices, many of our editors pushed their big travel plans to fall this year. They're also not explicitly headed to do any leaf-peeping but rather are intent on bagging a peak or two in the Berkshires, surfing the swell in Maine, forest-bathing in Japan, and giving van life a go in New Zealand (where it will soon be spring), among other active pursuits. One editor was so excited about her upcoming trip, she guiltily confessed she'd been "trying not to wish away the summer." Here's what's in the works.
Keeping the Love Alive in Savannah and Surrounds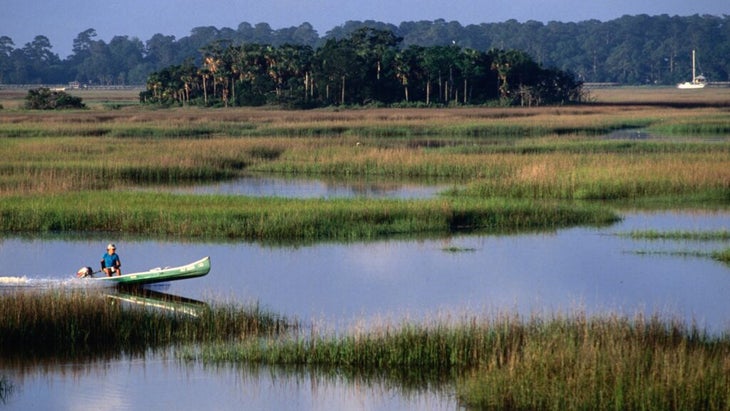 My husband and I will head to Savannah, Georgia, to celebrate our first anniversary. I was skeptical when he suggested it—Savannah is flat, and I imagined climbing a massive mountain near our home in Taos, New Mexico—but after Google revealed a shocking amount of wilderness nearby, I got on board. Here's why I'm stoked: We'll post up at the downtown Kimpton Brice Hotel (a sweet splurge for us, as we're chronic campers), where we can walk to several city parks and the Savannah River. The hotel offers free bikes, so we plan to cruise the cobblestone streets and then hit Truman Linear Park Trail and Lake Mayer Park, stopping for fresh seafood (a luxury we don't have in the high desert). On the day of our anniversary, we'll ferry to Tybee Island, a paddling mecca just 18 miles east. We'll rent kayaks from Tybee Fishing Co., scope out sheltered waters between the 1,200 or so surrounding barrier islands, and picnic from the boats before renewing our vows at the Tybee Island Lighthouse. Then it's back to town and the Savannah Smiles Dueling Pianos bar to wrap up the trip. One of the many reasons I married this wonderful man is because he plans unexpected adventures that wouldn't otherwise be on my radar. —Patty Hodapp, Outside Online interim digital director
Freewheeling on New Zealand's South Island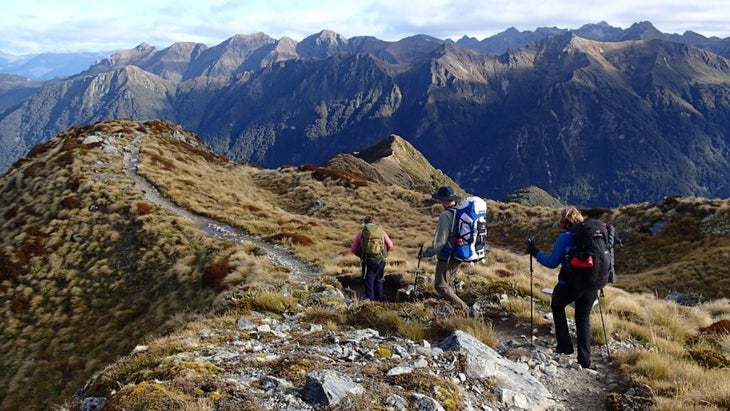 My son is studying in New Zealand, so I'm inspired to do something I've always dreamed of: live the van life, if only for a while. I'm headed to the South Island in mid-October and have reserved a sweet rig from Big Little Campers for about a month. Other than that, my plans are loosey-goosey. I'll road-trip around in search of the best "freedom-camping" spots: some 500 locations that are free but offer basic amenities. My friend Patrice La Vigne wrote a book about her exploration of the country, Between Each Step: A Married Couple's Thru Hike on New Zealand's Te Araroa, and I've already cherry-picked some of her favorite spots, including the Queen Charlotte Track and the Nelson Lakes and Aoraki/Mount Cook National Parks, to name a few. I'll hang in Wanaka for a few days—a supercool mountain town, kind of like the Chamonix of New Zealand—and I'll check out Queenstown and probably indulge in a Fergburger or two (according to Patrice, the city's iconic fast-food joint is not to be missed). When my son finishes up his semester in mid-November, I'll pick him up in Christchurch and we'll hit the Kepler Track, one of the country's ten Great Walks. —Kristin Hostetter, Outside Inc. head of sustainability and contributing editor
Getting Off the Tourist Track in Japan
Japan has long been on my bucket list, but I didn't want to take a group tour and was afraid the language barrier would prevent me from adequately planning a trip myself. How wrong I was—you don't, in fact, need a travel agent or tour operator to build your own trip to this country, but you will need time for research. In mid-October, my brother and I are flying into Osaka and will stay two nights at a ryokan in Kyoto, then fly south to the island of Yakushima, a Unesco World Heritage site whose ancient cedar forests set the scene for Studio Ghibli's film Princess Mononoke. (I highly recommend the outfitter Yes Yakushima, whose staff promptly emailed responses and booked our accommodations, a guided hike and stand-up-paddleboard river tour, and a rental car). After roaming around there, we'll hop an hourlong flight to the city of Fukuoka to pick up another rental car, and then off we'll drive to the onsen community of Kurokawa, two hours southeast, for forest bathing while we soak in various hot springs. I'm looking forward to wearing the yukata (a casual kimono) as we walk from bathhouse to bathhouse. We'll return to Fukuoka, board the bullet train to Osaka (a limited-service Hello Kitty–themed train that runs this route is just the cutest), and spend our last days hiking two sections of the Kumano Kodo pilgrimage trail. Props to the tourism bureau that maintains this incredible website for English speakers: it answered all of our questions, on baggage transfer, nightly stays, bus service, altitude gain and loss, and estimated hiking duration. Aside from feeling anxious about driving on the opposite side of the road, and possibly getting lost, I'm fully confident that this is going to be a bucket-list adventure for the books. —Tasha Zemke, Outside magazine associate managing editor
Running the Desert in Perfect Weather in Joshua Tree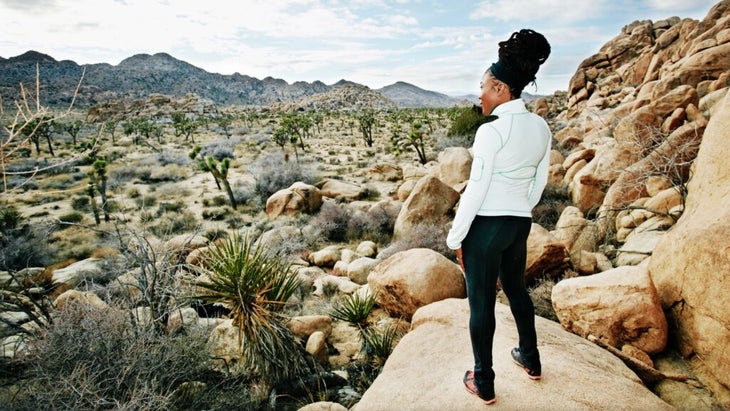 I'm heading to Joshua Tree National Park to race a half marathon with my mom in November. Fall is a great time to visit this national park in California, as the weather cools down from the scorching summer heat, so you can enjoy exploring without feeling like you're melting. And while the nights can get a little chilly, it's nothing a cozy jacket can't handle. We've chosen to stay at AutoCamp, a chic and modern cluster of spacious Airstream campers and cabins. A hike around the park is a must! You'll come across crazy Joshua trees that look like something out of a Dr. Seuss book, cool rock formations, and even hidden oases that you won't believe exist in the desert. (I like the Fortynine Palms Oasis Trail, a three-mile out-and-back.) Oh, and the sunsets here are mind-blowing. Joshua Tree is also a hub for bouldering, with loads of granite formations to climb, no matter your skill level. In town, don't miss the Joshua Tree Coffee Company, just a block from the park's visitor center. Its espresso con panna will wake you right up. —Sierra Shafer, Ski magazine editor in chief
Hiking the Hills over a Wedding Weekend in Williamstown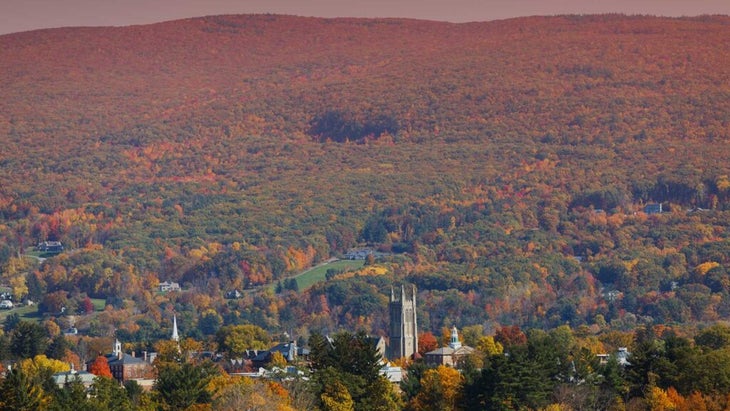 Over Labor Day, my husband, Mike, and I will travel to Williamstown, in northwestern Massachusetts, for the wedding of a dear former coworker. It will be a reunion, with others from the old crew at Big Stone Publishing coming in from London, Las Vegas, and Asheville, North Carolina. Mike and I will fly into Albany, New York, 40 miles west, on Friday. I always figure that you can hike—or walk, in a city or a park—in most places, even if a trip is not recreational. Of course, it helps that we're headed to a hiking haven like the Berkshires. For Saturday I've pegged Pine Cobble Trail, a three-to-four-mile out-and-back up 1,893-foot Pine Cobble Mountain, where we can look out over historic Williamstown (once Mohican hunting grounds, and settled by others in 1749) and the Hoosic River valley. I hope to rally friends! Before the ceremony, we have a window where we could walk around the Clark Art Institute, with its marble gallery, backdrop of rolling green hills, and 140 acres of wooded trails. Mike also wants to head up 3,491-foot Mount Greylock, the highest peak in the state, boasting a 90-mile view; for Greylock, we could fit in the 2.6-mile Vista Loop before flying home late Monday afternoon (the 5.5-mile Bellows Pipe Trail also looks great but would necessitate way too early a start). And we might as well pack climbing shoes in case of available bouldering. (I wonder if we could pass as students at the Williams College wall?) The town has a good farm-to-table scene, and my friend recommends Mezze, though pricey. Another option, the Barn looks casual, just right. —Alison Osius, Outside magazine senior editor
Celebrating the End of a National Adventure in Hawaii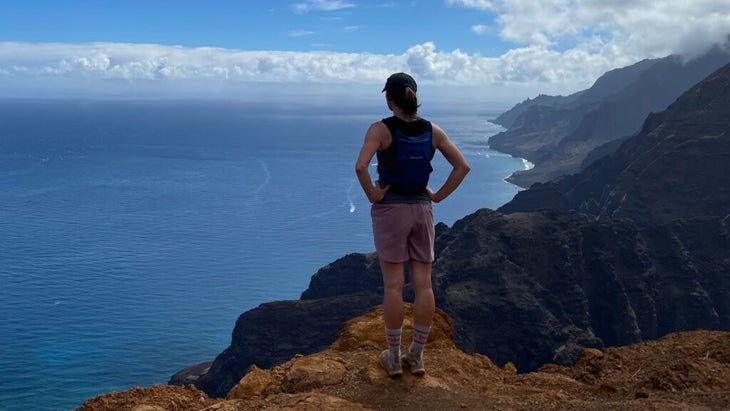 This fall I'm completing a challenge a quarter-century in the making. I grew up going on a bunch of road trips (the most notable being a 19-day, 5,000-mile adventure with my parents and brother in the family Prius), and before I was even able to drive, I'd already visited 30 states. So I turned my penchant for road trips into a project to visit all 50 states before my 25th birthday. The only criteria: I had to do something fun or memorable in each state, and layovers didn't count. Everyone always asks what my least favorite states have been; I don't have a least favorite, because there's something in every state for everyone. That said, I do have two favorites: Utah and Vermont. I love hiking through red rocks and dense hardwood forests, and I've gone back many times just to hit my favorite trails in both locales. As the clock ticks closer to my birthday in mid-November, there's only one state left to check off: Hawaii. I thought it fitting to visit the 50th state as my 50th and final one. I have big plans to fly to Kauai and hike the Kalalau Trail in Na Pali Coast State Wilderness Park. Because it won't be peak season, snagging a permit wasn't too hard. My dream is to cap off that day with a hefty scoop of Hanalei Sunrise ice cream at Pink's Creamery. Or maybe two scoops. It is my birthday, after all. —Emma Veidt, Backpacker assistant editor
Anticipating a Homecoming in Asheville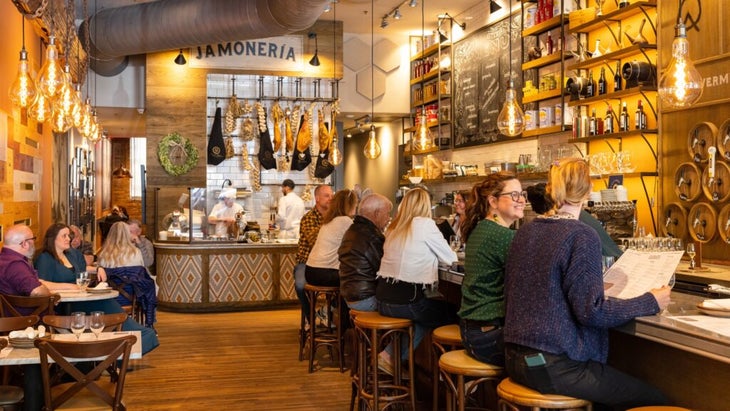 My mom grew up in Asheville, North Carolina, and has always wanted to show my brothers and me around her hometown. My boyfriend has ties there, too—his sister moved there from New Mexico several years ago. So I'm headed to this popular outdoor destination in October with both my parents, my siblings, and my partner for four days. We've rented a home on a nice plot of land just outside of town, where we'll be able to have campfires and soak in a hot tub under the stars. Hopefully our trip will happen right as the leaves are firing in all their fall colors. It's an active bunch, so we'll hike, maybe ride some singletrack, or fly-fish for trout in the streams of the Blue Ridge Mountains. Beyond that, we're excited to sample the highly touted food and drink scene. My boyfriend's sister runs The Garden, a food truck that often posts up at one of three Wedge brewery locations around town, so we'll definitely check that out. Outside has also run some great stories about Asheville recently, with recommendations from singer Angel Olsen on her favorite hangouts and tips from other locals, so we'll consult those when planning our day-to-day. –Abigail Barronian, Outside magazine senior editor
Larch-Peeping Beneath the Peaks of the Dolomites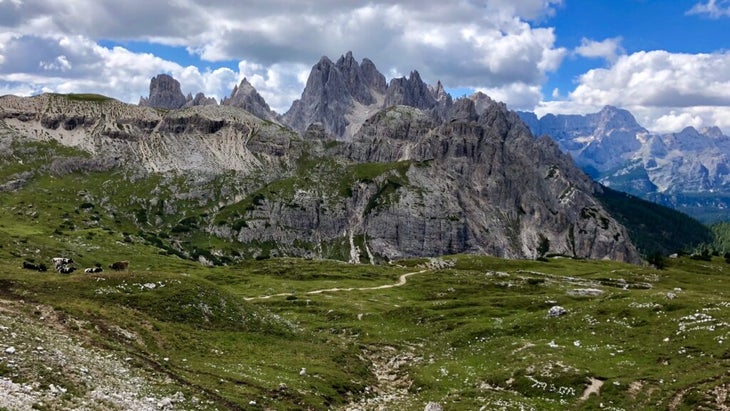 For part of a longer trip to Europe this fall, I've carved out a weekend in the Italian Dolomites when the larches change color. As deciduous conifers (which feels like an oxymoron but surprisingly isn't), larches have needles that turn yellow before dropping off each autumn. I've been obsessed with these weird and wonderful trees since I first saw a photo of them in Washington's Cascades, and was delighted to learn that they grow thickly near the Italian ski town of Cortina d'Ampezzo. My husband and I booked a bed-and-breakfast in town—the options are many, and quite affordable in the autumn off-season—and plan to spend a few days in late October hiking through the forests under the towering peaks. While I have more trails on my list than I know we'll be able to accomplish, I'm most excited for the 7.8-mile Croda da Lago circuit. The highlight of this moderate day hike is Lago Federa, a larch-ringed lake beneath the face of one of this area's most distinct peaks. Lunch at Rifugio Palmieri, one of the only mountain huts in the region that stays open through October, is a no-brainer. —Mikaela Ruland, National Park Trips associate content director
Surfing and Kayaking in Maine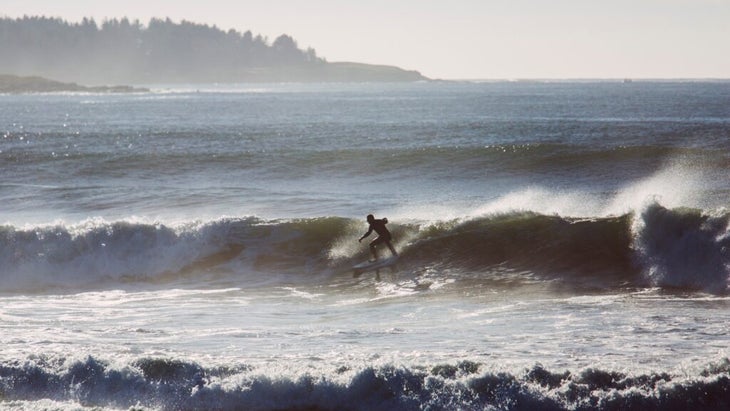 I grew up visiting Maine almost every summer, but next month I'll be traveling to Portland for the first time, for my older brother's wedding. Both my brother and his fiancée also went to school in Maine (she's a many-generation Mainer), so it feels bizarre that I haven't been to the state's largest city yet. We're staying in an Airbnb close to the wedding-party venue—Grace, an old church turned restaurant—in between the West End and Old Port districts. The neighborhood is a ten-minute walk from the harbor, where we plan to rent some sea kayaks and explore the plethora of islands that dot Casco Bay. So far my summer has mostly consisted of outings on rivers and lakes, so I can't wait to get some ocean time in. And if I can swing it, I'll go surfing at Higgins Beach, nine miles south of Portland. Fall is the best time to surf in New England, and by mid-September there should be some good swells. I also can't wait to check out Portland's burgeoning food scene. My friends tell me the Lobster Shack at Two Lights is a special low-key place to get a lobster roll overlooking the ocean. —Kelly Klein, Outside magazine associate editor
Lead Photo: Getty Images/MargaretW