Where's the best place to kayak and canoe in Brazil?
Where's best for kayaking or canoeing in Brazil? I like the idea of the Amazon but would also like some beach action. Any tips? -Dave London, England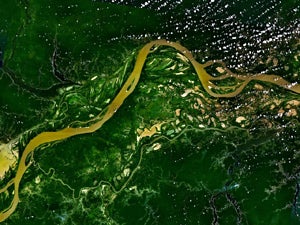 Heading out the door? Read this article on the new Outside+ app available now on iOS devices for members! Download the app.
A little reminder on Brazil's size: It's the biggest country in South America, and the fifth-biggest in the world—just behind the United States. (Brazil is 65 times the size of your home country of England, Dave.) Saying that you want some beach action, but also some kayaking adventure on the Amazon, is kind of like saying you want to whitewater raft through the Grand Canyon, but like the idea of climbing Mount Rainier while you're at it. They're noble goals, but on a normal trip, your options are limited to one or the other. Here they are:
The Amazon, as seen from space.

The Amazon, as seen from space.
One: Kayaking the Amazon
There are a small handful of guided kayaking trips on relatively placid tributaries of the Amazon. I'd recommend the deep, ebony-colored Urubu River, which flows 120 miles northeast of Manaus, the former rubber city and capital of the state of Amazonas in northern Brazil. Trips generally last five or six days through the heart of the Amazon jungle. Trip highlights: hidden waterfalls; jungle treks; spotting electric eels, tapirs, eagles, orchids, monkeys, snakes, and coatis; hunting for (and releasing) caimans; piranha fishing; and hiking into a bat cave. No self-powered adventure will put you closer to nature, and further from people, in the Amazon than this one. Amazon Mystery Tours leads trips. (Cost is roughly $250 a day)
The Other: Sea Kayaking the Brazilian Coast
Paddling the Costa Verde (Green Coast) of Brazil, about 120 miles south of Rio de Janeiro, is as exotic and trip-of-a-lifetime-worthy as an Amazon expedition—but with more sand and no piranhas. Along this vast, remote stretch of shoreline, tall jungle-draped mountains nearly topple into the crystal Atlantic, providing a striking backdrop for the five- or six-day expedition. The base of operations is the nearly five-century-old colonial town of Paraty in the island-jeweled Bay of Ilha Grande. Trips usually take you into the country's only tropical fjord, the Saco do Mamangua, along deserted white-sand beaches, on rainforest hikes, into remote fishing villages, and through mangrove forests. Nights are spent in lodges. Worldwide Paddling Adventures offers an 11-day trip, staring in Rio de Janeiro ($3840,), and Paratay Explorer runs four- and six-day trips ($680, $1,095 per person, respectively).