Will I Be Able to Buy Marijuana at Stores in Colorado After January 1, 2014?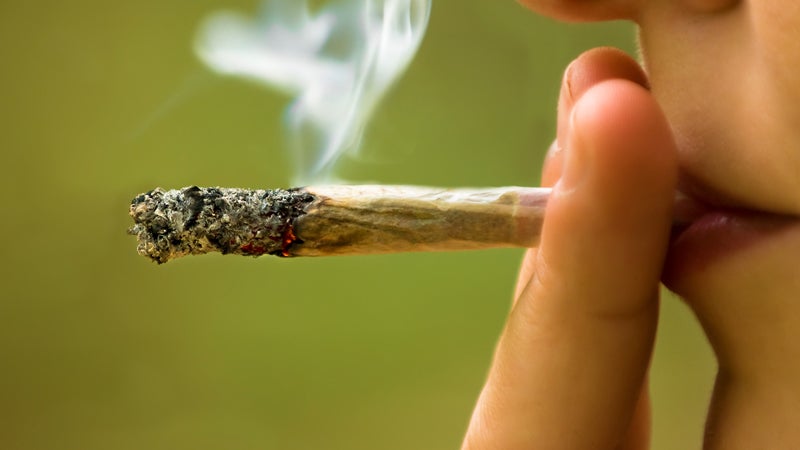 Heading out the door? Read this article on the new Outside+ app available now on iOS devices for members! Download the app.
The short answer is yes (or "YES!" depending on your point of view). Thanks to an ordinance adopted in September, retail marijuana sales become legal in Colorado on January 1. The ordinance piggybacks on Amendment 64, which passed in November 2012, allowing adults 21 and older to grow up to three immature and three mature cannabis plants and legally possess or gift up to one ounce of ye olde wacky tobacky.
And now for some buzz-killing small print. Although Coloradans with a state ID will be able to buy up to an ounce from licensed pot shops, non-residents will be limited to a quarter-ounce purchase and possession. That said, weederies won't exactly be opening en masse on New Year's Day. According to Denver Post reporter Jeremy Meyer, around 20 stores, including Annie's Central City Dispensary, will open in and around Denver come January 1. Sounds like a lot until you consider that as of mid December, more than 100 such establishments were awaiting city and state licensing approval.
Further complicating matters is the fact that each county and municipality in the state decides whether it wants to allow retail weed sales. Predictably, conservative cities such as Colorado Springs have chosen to ban the sale pot all together, while Denver and other liberal burgs have embraced the burgeoning business. And then there's the issue of supply and demand. A few cities, namely Aspen and Boulder, have announced that they won't be ready, infrastructure-wise, to sell legal weed next week. 
But let's say you navigate the above and obtain a legal bag of Denver nuggets in 2014. First of all, congratulations on your historical purchase. Now don't pull a Snoop Dogg and light up wherever you want. Similar to open container laws, Amendment 64 limits marijuana use to private property with permission from the owner. In other words, it's illegal to smoke pot in public, and for skiers and the like, this means no toking on the chairlift or in national parks, forests, and other government land. And remember, marijuana is still technically illegal at the federal level. Not that the DEA is going to kick down your door—save for a few raids of medical marijuana dispensaries with criminal ties, it's stayed out of the state's pot business—but you never know when big brother's watching.
Have fun? (Hey, don't shoot the messenger. Also, did we mention that weed is legal in Colorado?)
Trending on Outside Online