Border Shutdown
America's park rangers are outnumbered and outgunned. So why won't congress pay more to keep them safe?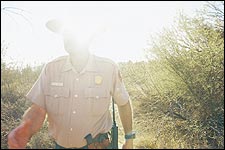 Jon Gipe
Heading out the door? Read this article on the new Outside+ app available now on iOS devices for members! Download the app.
TO GET AN IDEA OF HOW RISKY LIFE CAN BE for America's national park rangers, consider Organ Pipe Cactus National Monument, a 330,690-acre swath of beautiful, heat-blasted Sonoran Desert 100 miles south of Tucson, Arizona.

Desert detective: Dale Thompson makes the rounds in Organ Pipe.

There, every morning, six rangers are assigned to safeguard an area twice the size of greater New York, in a hopeless attempt to secure 30 miles of the Mexican border. Armed only with service revolvers when patrolling on foot, they face a yearly onslaught of 300,000 illegal immigrants and drug smugglers equipped with automatic weapons, night-vision goggles, and 4×4 SUVs. Last August, their worst nightmare came true when Kris Eggle, a 28-year-old ranger in pursuit of fugitives suspected of a drug-related quadruple murder in Mexico, was gunned down by a burst from an AK-47. The suspect, Panfilo Murillo Aguila, was shot and killed by Mexican police after the incident. For the past two years, Organ Pipe has topped the list of the ten most dangerous national parks, compiled by the U.S. Park Rangers Lodge of the Fraternal Order of Police. "That park is so badly understaffed, they have no hope of making a dent in any sort of crime," says Randall Kendrick, 59, executive director of the lodge. "They can't even catch plant poachers."


Organ Pipe is an extreme case, but the problem of understaffed law-enforcement units plagues many national parks. At the Grand Canyon, a ranger staff already overburdened by South Rim crowds and hiker carry-outs has actually shrunk in the past two years. And at Lake Mead, where gang activity spills over from Las Vegas, members of a ranger corps already half its recommended strength have been rotated out to guard nearby dams.


It took Eggle's death to throw a spotlight on a crisis that is currently raging inside the Department of the Interior, which houses most of the nation's public land agencies: the National Park Service, the Bureau of Land Management, and the U.S. Fish & Wildlife Service, among others, each with its own ranger corps. In January 2002, Interior Inspector General Earl Devaney released a report describing Interior's 4,400-person police force as operating in "a disquieting state of disorder." He singled out the Park Service as an agency that "suffers from extreme organizational dysfunction."


A few months later, a federal workers' advocacy group called Public Employees for Environmental Responsibility (PEER) found that attacks against National Park Service rangers had risen from ten incidents in 2000 to 104 in 2001. (Kris Eggle's was the only death.) It's hard to tell if there really is more crime or if the big jump comes from improved record keeping—and that's the point. "The Park Service keeps better track of popcorn sales from its concessionaires than it does of hazards to its own workforce," says Eric Wingerter, 29, PEER's national field director.


In July, a law-enforcement-reform task force assembled by Interior Secretary Gale Norton submitted its findings, confirming Devaney's conclusion that the agency is a mess. Norton appointed Larry Parkinson, a former senior FBI official, to the new post of deputy assistant secretary for law enforcement and security. So far, though, Norton and Parkinson's big idea has been to turn the jack-of-all-trades park ranger into more of a specialist. Under their blueprint, law-enforcement rangers would concentrate solely on crime, while resource-protection rangers would perform more traditional duties.


Critics argue that role shuffling is not the answer and say that increasing staff is the only solution. Just ask Organ Pipe superintendent William Wellman, 56. "Right now we're down to almost nothing in terms of manpower," he says. "Normally we'd have eight rangers in winter, but because of job transfers we're down to four, and two others that rotate in on temporary duty."


Of course, the larger question hovering over this issue is why the federal government has ignored the policing shortfall for so long, especially given the current climate of fear about domestic terrorism. In Organ Pipe, the tide of illegal immigration involves more than just Mexican nationals slipping across the border—rangers have also arrested Chinese, Russian, and Middle Eastern aliens attempting to cross. Meanwhile, President Bush's $4.9 billion National Parks Legacy Project, which debuted in 2001, focuses on maintenance and keeps funding for law enforcement at the 2001 level of $94 million. And there's no indication that Congress will give the problem a serious look when it convenes this month to pass the 2003 Park Service budget.


One person who hopes to get attention for the issue is Representative Tom Tancredo (R-Colorado), an immigration reformer who held a hearing on border security soon after Eggle's murder. "These rangers are placed in positions of great danger and are not given enough support to do their job safely," he says. But it's doubtful Tancredo can get much done without broader support. "It's hard to raise the visibility of the borderlands," says Phil Voorhees, vice-president for park funding at the Washington, D.C.-based National Parks Conservation Association. "It's a part of the country that gets little attention."


While politicians wrangle, rangers continue working in a dangerous climate, and the parks are getting trashed. Smugglers have left Organ Pipe—95 percent of which is officially designated wilderness—blemished with tons of garbage and dozens of junked vehicles. More than 100 miles of roads and trails have been carved into the backcountry.


"If they don't get the crime situation under control," says Bob Eggle, Kris Eggle's father, "they're not going to have any resources left to protect."