Coming into the Old Country
Living well is a European tradition, but playing hard is the continent's secret passion. We discover five towns where you'll be both challenged and charmed.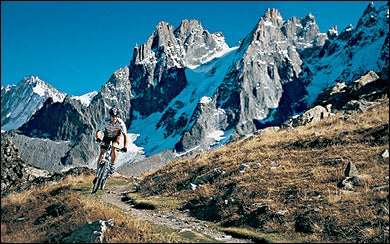 John-Norris.com
Heading out the door? Read this article on the new Outside+ app available now on iOS devices for members! Download the app.
Beyond the museums and Brie, Europe is a wild continent packed with adventure hot spots, where you can follow a day of hard play with a vintage Chateau Margaux. From Chamonix, France's alpine-sports hub, to Girona, Spain's cycling-mad town, we uncover five hamlets with unstoppable spirit and Old World Class.
Chamonix

High Times in the High Alps
Voss

Where the Nors Gods Play
Arco

Gnocchi by the Lake
Girona

Lance's Spanish Retreat
Mayrhofen

Austrian Allure
PLUS: Europbash!
The Best Summer Events and Secret Village Hideaways


The Mountain Magnet
Fast times in Chamonix, France, the once and future epicenter of high-alpine daredevilry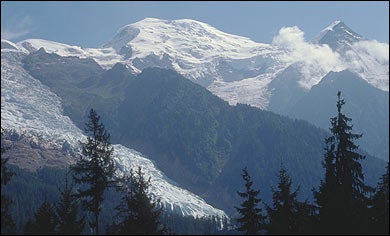 Europe's Best Summer Parties
06.12–19 > Giraglia Rolex Cup
St.-Tropez, France
A 243-mile sailing race from St.-Tropez to Genoa, Italy, around the island of Giraglia. The shoreside scene in St.-Tropez is peppered with the Bain de Soleil beautiful.

07.03–11 > Allianz Suisse Open
Gstaad, Switzerland
At 3,000 feet, tennis balls fly a lot faster. Between matches, nibble on chocolates at Charly's Tea Room with the likes of Elle Macpherson and Elton John.



SOME PRONOUNCE THE X. Others don't. But Chamonix was extreme long before there were X Games. The highest mountain in Western Europe, 15,771-foot Mont Blanc, sits like a brooding Buddha next to one of the deepest valleys in the Alps, creating an almost Himalayan altitude difference between village and summit. Jagged, needlelike peaks called aiguilles line the valley, shadowy and menacing in the morning but inviting when they glow in the afternoon sun. This irresistible dichotomy has drawn Europe's most serious mountaineers to the Haute-Savoie region since 1786, when Jacques Balmat and Dr. Michel-Gabriel Paccard became the first to summit Mont Blanc. But this burgeoning alpine town of 10,000 (which swells to upwards of 100,000 in the summer) is no mountaineering museum; it's still the jumping-off point for hardcore climbing in the Alps—if you can penetrate the inner circle of the Chamonix climbing elite, that is. But don't let the cliques intimidate you. At Chamonix, liberté remains the dominant spirit.
WHERE TO PLAY Unless you're comfortable with multipitch alpine routes, stay away from the Dru, perhaps the signature climbing peak in Chamonix. Instead, head north up the opposite side of the valley for the non-technical hike up to Le Lac Blanc, a high-alpine lake at 7,717 feet, halfway up the Aiguilles Rogues, and soak in the spectacular views of the Mont Blanc massif. The Chamonix tourist office (011-33-450-53-23-33, reservation.chamonix.com) can connect you with mountaineering schools. Coquoz Sports (011-33-450-53-15-12, www.cham3s.com) is a good place to rent or buy mountaineering equipment.

APRÉS–ADVENTURE For a fine French filet mignon, head to Le Panier des Quatre Saisons (011-33-450-53-98-77). Microbreweries have been slow in arriving, but the Micro Brasserie de Chamonix (011-33-450-53-61-59) sets a good precedent. The burgers are anything but micro, and if you're lucky, local band the Crevassholes will be playing.
WHERE TO STAY At the Hameau Albert Premier (doubles, $208 to $286 per night; 011-33-450-53-05-09, www.hameaualbert.fr), an 11-acre estate tucked away in the center of Chamonix, you can choose from one of 27 sleekly furnished hotel rooms, a chalet that sleeps six, or a restored farmhouse with 12 rooms, cavernous baths, and rustically elegant furnishings. There's also an indoor-outdoor pool and a climbing wall, and spa treatments can be arranged.
HOW TO GET THERE Chamonix is a little more than an hour's drive from the Geneva airport, which is served from the U.S. by Air France (800-237-2747, www.airfrance.us). Rent a car at the airport or catch an ATS shuttle (011-33-450-53-63-97, www.a-t-s.net), which runs vans to Chamonix for $50 one-way.

Go Berserker
Nothing is too wild for the adventure pilgrims who converge on Voss, Norway, for summer thrills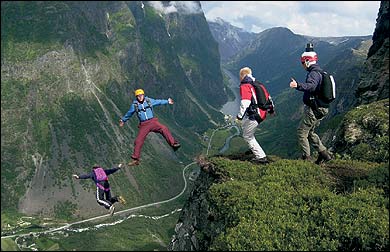 SIXTY MILES INLAND FROM BERGEN, in western Norway, the rustic ski village of Voss (pop. 14,000) sits quietly at the base of 3,825-foot Groseda Mountain on the shores of Lake Vangsvatnet. Until, that is, the annual Ekstremsportveko ("Extreme Sports Week") comes to town. From June 22 through 27, boaters and mountain bikers will swarm the festival tent to see if their killer moves made the daily highlight DVD, and Norway's best pop bands, like Surferosa, will take the stage. The annual expo features national competitions in downhill mountain biking and bouldering, but there are clinics for newbies, too. The truly intrepid should inquire about the local delicacy—smalahove, a sheep's head served eyes and all. Clearly, the berserker spirit is alive and well.
WHERE TO PLAY Voss offers up every variation of extreme you can imagine: Class III and IV rivers for rafting, Class IV and V rapids and waterfalls for steepcreeking, fjords for sea kayaking, scenic launchpads for sick air sports, and plenty of trails for trekking and mountain biking. Notch a first descent on a roadside creek, or huck off 30-foot Nosebreaker Falls. Kit up at the Voss Rafting Senter (011-47-56-51-05-25, www.vossrafting.no). For a full-day mountain-bike ride, jump the train to Finse, rent a rig at Finse 1222 (two-day rental, $56– $70; 011-47-56-52-71-00, www.finse1222.no), and pedal 55 miles home via the Rallarvegen, an abandoned dirt road with plenty of hills.

APRÉS–ADVENTURE The town's best nightclub is Pentagon, at the Park Hotel Vossevangen (011-47-56-51-13-22, www.parkvoss.no/english), but the best midsummer nights are reserved for a bonfire with friends on the beach, where you can watch the sun…stay up. Skinny-dipping is strongly advised.
WHERE TO STAY Fleischer's Hotel (011-47-56-52-05-00, www.fleischers.no) looks like it did when it opened in 1864, but its 90 rooms are bright with antique furniture and paintings by local artists. Better still, bring a small posse of two to four people and rent one of Fleischer's 30 kitchenette apartments right on Lake Vangsvatnet. Doubles run $217; apartments cost $145 to $235 per night.
HOW TO GET THERE To make the most of your stay in Voss, fly to Bergen on SAS (800-221-2350, www.scandinavian.net) or Iceland Air (800-223-5500, www.icelandair.com), then rent a car so you can launch your kayak into inviting whitewater or take classic walks—like one along the rim of Sognefjord, Norway's Grand Canyon. Visitnorway.com is an excellent site for planning your trip.

Espresso Yourself
Arco, an Italian lakeside paradise, has steady breezes, a clifftop castle, and classic climbing crags
arco italy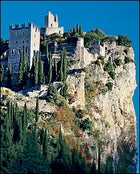 Kingdom come: The 12th-century Castello Di Arco
SINCE THE TOWERING LIMESTONE WALLS of north-central Italy's Basso Sarca valley were discovered by climbers in the early 1980s, the ancient Roman village of Arco, 50 miles north of Verona, has been a hot spot for European adventurers. Situated where the Dolomites meet the palm trees and oleander of northern Italy's lakes region, Arco and the 9,000-foot peaks of the Pre-Alpi not only offer some of the continent's best sport climbing, but the steady breezes on nearby Lago di Garda (Italy's largest) draw windsurfers from around the world. Trails like the 19-mile Tremalzo (etched into solid rock by Italian and Austrian soldiers during World War I) provide world-class mountain biking, while the valley's roads frequently host the Giro d'Italia cycling race. With a crenellated castle overlooking its cobblestone streets and ancient piazza, Arco looks downright medieval—until you discover its well-equipped outfitting shops, its outdoor cafés, and the 82-foot Rock Master wall, Europe's tallest artificial climbing structure and home to an international free-climbing competition that draws the likes of Lynn Hill and Japan's Yuji Hirayama each September.
WHERE TO PLAY Start by heading to the Climber's Lounge, two blocks north of the city center at the base of Monte Colodri, where you can visit the Friends of Arco Mountain Guide Service for beta on the best local climbing (011-39-333-1661401, www.friendsofarco.it/en). You'll find some 135 bolted routes at Massone, a 90-foot limestone crag two miles northeast of town; advanced rock rats can consider 5.10 to 5.14 multipitch routes up nearly-1,000-foot Monte Colodri. Rent a mountain bike at Bike Shop Giuliani (011-39-0464-518305, www.bikegiuliani.com) and pedal up to 5,463-foot Tremalzo Pass, which overlooks shimmering Lago di Garda. Or tackle the 25-mile Arco Bike Nature route, which winds above the olive orchards of Massone to 4,000-foot Monte Velo. For windsurfing gear and lake access, visit the Conca d'Oro Windsurfing Center, in nearby Torbole (011-39-0464-506251, www.concasurf.it).

APRÉS–ADVENTURE Enjoy strangolapreti, or spinach gnocchi, beneath the frescoes at Alla Lega (011-39-0464-516205, www.ristoranteallalega.com). Afterwards, hang out with the windsurfers in Torbole, where Discoteca Conca d'Oro (011-39-0464-505045) cranks Latin dance tunes till 4 a.m.
WHERE TO STAY If pitching a tent in one of Arco's campgrounds—Campground Citta di Arco has a pool—isn't your style, do what Lynn Hill does and rent a one- or two-bedroom apartment in the Arco Guesthouse ($119–$150; 011-39-3355-241312, www.guesthouse-arco.com). Each newly renovated suite has a kitchen, wood floors, and DSL access, and on the lower level there's a sauna and a bouldering wall.
HOW TO GET THERE Arco is an hour and a half's drive from Verona and a two-and-a-half-hour drive from Milan. Both cities are served by British Airways (800-247-9297, www.british-airways.com) from the U.S. Or take a bus from Verona's Porta Nuova train station to Riva (two and a half hours) and then on to Arco (20 minutes).

My Girona
Downshift into a Mediterranean pace and spin like Lance in Spain's Catalonian hideaway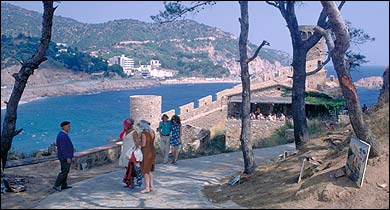 TEMPERATE, TRANQUIL, AND EQUIDISSTANT from mountains and sea, the Catalonian city of Girona (pop. 80,000) is the nesting ground of an elusive migratory species: the professional cyclist. Every winter, 10 to 15 of them—including five-time Tour de France winner Lance Armstrong—descend on Girona, establishing seasonal headquarters and stretching their shaved legs on forest roads in the Pyrenean foothills or along the sunny Mediterranean coast.
Girona proper is steeped in the history of its medieval old city, a cobbled labyrinth of narrow alleys and watchtowers separated from the city's modern business district by the smooth-flowing Onyar River. But that's not to say it's a backwater. Girona is to Barcelona what Boulder is to Denver: an adventure-sports utopia just an hour's drive from a major metropolis. Girona's foothills, like Boulder's, quickly ascend to high-altitude skiing and climbing. But what puts Girona in a league of its own is the Costa Brava, a white-sand stretch of Catalonian coast less than an hour's drive east, overcrowded by sun worshipers in summer but serrated by a procession of deep coves perfect for secluded diving, kayaking, or romancing.
WHERE TO PLAY Start with the Vías Verdes ("Green Paths"), part of a countrywide network of more than 500 miles of dirt and gravel railroad tracks turned biking trails. Sixty-five miles of Vías Verdes radiate from Girona, highlighted by the 50-mile out-and-back route to the coastal port of Sant Feliu de Guíxols. Refuel on tapas and then power the short climb to the hermitage of Sant Elm, a lookout point with a grand view of the Mediterranean. Bike rentals are available in Girona at the Centre BTT de Catalunya (011-34-972-468-242, www.gencat.net/turisme/btt). Visit www.costabrava.org/ang for Vías Verdes information. If lactic acid has your quads in knots, give your upper body a workout in the sea. Kayaking Costa Brava (011-34-972-773-806), headquartered in L'Escala, 25 miles northeast of Girona, rents gear and offers a full menu of guided trips, including a demanding six-hour tour of the Cap de Creus, a 54-square-mile reserve, the marine portion of which teems with fish ($60, including all gear and guide fees).

APRÉS–ADVENTURE In Girona, grab a beer in your bike shorts along the Rambla de la Libertat, a river walk lined with casual restaurants, bars, and cafés. For serious dining, change into your evening finery, then cross the pedestrian Sant Agusti bridge to the Plaza de la Independencia, where you'll find Boira, a river-view restaurant serving specialties like arroz de lobregant, spiced rice and seafood (about $63 per person for three courses; 011-34-972-203-096). Nights go off at nearby Platea (011-34-972-22-72-88, www.localplatea.com), a sprawling 1929 theater transformed into a thumping dance club.
WHERE TO STAY With medieval stone walls, antique wood furniture, and bougainvillea cascading from every balcony, Pension Bellmirall (doubles, $70, including breakfast; 011-34-972-20-40-09) is a seven-room boutique hotel glowing with old-city charm.
HOW TO GET THERE Girona is 60 miles northeast of Barcelona. Delta (800-221-1212, www.delta.com), among other airlines, offers direct flights. Frequent and speedy trains ($16 round-trip, as many as three per hour) make the Barcelona–Girona run in less than 90 minutes. Added bonus: You can haul your bike at no extra cost.
The Gemütlichkeit Glow
Pull on your lederhosen and go looking for kicks in Mayrhofen, Austria's Tyrolean treasure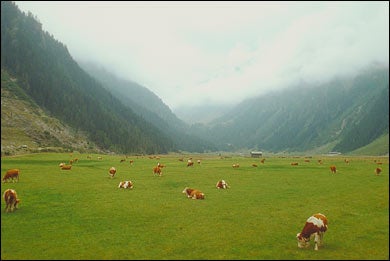 FORTY MILES SOUTHEAST OF INNSBRUCK, in southwestern Austria, Mayrhofen is what so many American mountain towns aspire to be. The authentic Tyrolean chalets (dating back 400 years), 3,600 year-round working-class residents (including cowherds in honest-to-god lederhosen), and absurdly picturesque location—in the nook of the spiny Ziller and Tuxer mountain ranges—exude what locals proudly call gemütlichkeit: a warm, friendly, welcoming vibe. But once you leave Mayrhofen's quaint cobblestone streets—and the German tourists drinking Zillertal Bier on sunny café patios—the atmosphere changes dramatically. Atop the 10,000-foot mountains, storms move in and out quickly, adding a touch of excitement even to hiking. In the Zimmer Valley, the buzz comes from outings on the wild, glacier-fed Ziller and Zemm rivers. What you find in Mayrhofen is every Euro traveler's dream: a charming Alpine village where gemütlichkeit meets adrenaline rush.
WHERE TO PLAY Mayrhofen's most popular activities are whitewater rafting and peak-to-peak hiking; local guides can also take you paragliding, horseback riding, mountain biking, climbing, and glacier skiing. Pick up a trekking map at Tourismusverband Mayrhofen (011-43-5285-67600, www.mayrhofen.com), the tourism office in the Europahaus on Dursterstrasse, then choose from hundreds of miles of trails, many of which eventually return to bus stops in the valley. For a warm-up outing (and awesome views of the glaciated spires in the heart of the Alps), hike the Steinerkogl trail, a steep two-mile climb gaining 3,500 feet from downtown to the shoulder of Brandberg Mountain. Serious thrill seekers can sign on for a guided canyoneering tour and spend an afternoon climbing waterfalls and rappelling into gorges. One-stop shopping for all activities starts with Action Club Zillertal (011-43-5285-62977, www.action-club-zillertal.com).

APRÉS–ADVENTURE You can always slug flaming schnapps with young Austrians, Swedes, Aussies, and the odd Canadian at the downtown Scotland Yard Pub (011-43-5285-62339, www.scotlandyard.at), but the best summer nightlife is found in restaurants, not bars. At Brugger Stube (011-43-5285-63793), you're likely to share chateaubriand and a beer with a 70-year-old farmer from nearby Hollenzen. Don't miss the Wirtshaus zum Griena (011-43-5285-62778, www.griena.at), a 440-year-old tavern with soot-stained timbers and fewer than 20 tables, where local specialties like wilderer sandel (braised venison served with bread dumplings) are perfect for end-of-the-day refueling.
WHERE TO STAY The English-speaking Hubers—third-generation residents of Mayrhofen who also lead tandem paragliding flights—built Apparthotel Veronika (doubles, $135; 011-43-5285-633470, www.apparthotel.com) as a traditional chalet in 1985, and they've recently added a lavish, modern spa. Of the ten apartments, all with kitchens, 700-square-foot Suite Zillertal has the best views, overlooking the Zillertal Valley.
HOW TO GET THERE Fly to Innsbruck on Austrian Airlines (800-843-0002, www.austrianair.com) or Lufthansa (800-645-3880, www.lufthansa.com), then catch one of the hourly trains east to Jenbach ($5, 30 minutes), where you'll transfer to a southbound Mayrhofen train ($6, one hour). Train seats can easily be booked at the station; contact Austrian Federal Railways (www.oebb.at) for more information.

Small Is Beautiful
Want remote, tiny, and far off the beaten track? Search out these cozy pockets of Old World tradition and scenic soul.
INVERIE, SCOTLAND This northwestern burg, on the edge of Loch Nevis, is so far off the road network that the only way to get here is by boat. If there's any action in town, you'll find it at the Old Forge, which The Guinness Book of World Records says is the most remote pub in mainland Britain. Surrounding Inverie is some of the most Wordsworth-worthy hiking in the world. The craggy 2,612-foot knoll Sgurr Coire Choinnichean overlooks the village; close by are the taller peaks of the Munro Range, including 3,412-foot Sgurr na Ciche. The Pier House (011-44-1687-462347, www.thepierhouseknoydart.co.uk), a 19th-century stone lodge—its motto is "We have no TV, no shops, and mobiles don't work here"—sleeps eight; doubles cost $170 and up per night, including breakfast and dinner.
CALA GONONE, ITALY As one of Italy's prime vacation spots, Sardinia is hopelessly overrun in the summer. But one quiet corner on the east side is Cala Gonone (cala means cove), which has some of the best beach-based climbing in the world. The limestone routes range from 5.8 to 5.13, and an hour's walk inland you'll find Tiscali, a mysterious 3,000-year-old Nuragic village, surrounded by more climbable cliffs. Cala Gonone's Hotel Nettuno (011-39-0784-93310, www.nettuno-hotel.it) rents doubles from $69.

STARY SMOKOVEC, SLOVAKIA The High Tatras boast some of the best hiking in Eastern Europe, and the diminutive ski town of Stary Smokovec is your gateway. In the summer, the hills offer a full range of mountain-biking opportunities, from serious alpine to cross-country routes. Tatrasport Adam and Andreas (011-421-52-442-52-41, www.tatry .net/tatrasport) is a gear shop right in town that rents skis and bikes. Kick back at the luxurious, Bavarian-style Grand Hotel (doubles, $64–$126; 011-421-52-44-22-15456, www.grandhotel.sk) with a little tokay wine while listening to Carpathian folk music.
ÅLAND, FINLAND Some 6,500 islands and rocks off the southwestern coast of Finland make up the semiautonomous Åland Islands. (Swedish, not Finnish, is spoken here.) Known as one of Northern Europe's most stunning rural retreats, the archipelago offers plenty of walking and canoeing. Anglers can make a pilgrimage to Kokar, a tiny islet about 50 miles off the mainland, hire a boat and guide, and pull a 25-pound Baltic pike from the shallows. Afterwards, retreat to the Brudhäll Hotell (doubles, $80–$108; 011-358-18-55955, www.turist.aland.fi) for a glass of mead and some Karelian hot pot, a pork-beef-and-lamb stew.
MONSTER, HOLLAND Who knew that windsurfing rocks in the Netherlands? The North Sea roils just off the former hippie village of Monster, 40 miles southwest of Amsterdam. You can find hotels up and down the coast, but the best place to stay is in very cool Rotterdam, 20 miles east. The Stammeshaus Bed and Breakfast (doubles, $57; 011-31-10-425-4500, www.stammeshaus.com) is a homey cottage with a garden in a quiet neighborhood, just a short walk from the Netherlands Architecture Institute.