Life After Everest
IMAX mogul David Breashears aims for another really-big-screen hit with Kilimanjaro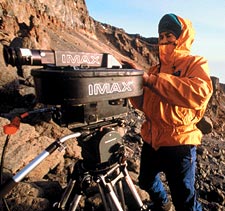 Heading out the door? Read this article on the new Outside+ app available now on iOS devices for members! Download the app.
Director David Breashears is the James Cameron of the IMAX set—no one will ever let him forget his first big disaster movie. And for good reason: Five years back, in a tragic twist of luck, Breashears, an accomplished mountaineer and Emmy-winning cinematographer, captured on large-format film the drama of the infamous deadly storm that killed eight climbers on the world's highest peak. The resulting feature, Everest, raked in more than $100 million worldwide, to become the fastest-grossing IMAX production of all time, and propelled Breashears into a kind of macabre celebrity that he's been trying to live down ever since.

Imax auteur David Breashears tackles Kilimanjaro.

"How do you top the disaster?" he asks, sounding a bit like Billy Ray Cyrus after "Achy Breaky Heart." "I could walk across the Sahara naked and no one would notice."
This March he hopes to answer his own question with the release of Kilimanjaro: To the Roof of Africa, his first new film since you-know-what. Though (thankfully) no one dies in the 40-minute production, Breashears tries his darndest to weave a compelling tale around a group of seven trekkers—including a 64-year-old historian and a Danish fashion model—all slogging up 19,340-foot Kilimanjaro, an "Everyman's Everest" known more for its quasi-colonial support system (climbers are required by law to hire a guide and porters to "assist" them up the mountain) than deadly ice falls and savage weather.


Breashears, 46, is hoping his new film, which demanded seven trips to Africa and $4 million to complete, will pack in the high-school science classes and armchair adventurers who make up the bulk of IMAX box-office receipts. But in a tacit admission of how tough it will be to top his earlier achievement, the director is already attempting to downplay the inevitable comparisons. "Climbing a mountain is an act of discovery, magic, wonder," he says. "It doesn't have to be Everest. It just doesn't."