Hot on the Trail
Australia's first great adventure was part Lewis and Clark, part Donner Party—searing proof that fame is a four-letter word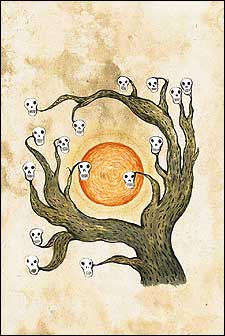 Heading out the door? Read this article on the new Outside+ app available now on iOS devices for members! Download the app.
A KANGAROO SQUATS IN THE MIDDLE of the red dirt road. Head drooped, front paws limp, it can barely hop out of the way. The scorching globe of the sun is literally cooking the meat inside the kangaroo's gray, tattered fur. I pull over, pour several quarts of my emergency water into a makeshift bowl, and set it beside the road along with some food. I know it's too late. This animal will die.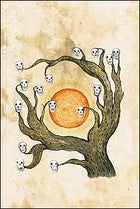 The drought is that bad. Kangaroo carcasses dot the desert like the skeletons of dead explorers, their hides stretched taut over rat-gnawed bones, sand drifting into their pecked-out eyes.


I stop for the night in Tibooburra (population 130), a ghostly, dirt-blown town 600 miles north of Melbourne, in the northwestern corner of New South Wales. The Tibooburra Hotel is a dilapidated two-story sandstone building with a peeling wood porch. Tiny rooms above the pub, bathroom down the hall. I am the only guest.


In the pub, a prosthetic leg and a dusty saddle hang from the ceiling, cowboy hats are nailed in rows along the walls, and the smell of cigarette smoke and abandonment is in the air. I order a mug of beer that immediately goes warm.


A crooked little man in a crushed cowboy hat bounds through the screen door, takes a stool at the bar, pours a mug of beer down his creased, gray-stubbled throat, and orders another.


"I'm the water hauler," he volunteers.
Turns out Tibooburra, an Aboriginal name meaning "heaps of rocks," went dry two years ago, and locals have had to truck drinking water in from an aquifer-fed reservoir.


"A third of an inch of rain in two years," adds the Pooh-bellied bartender.


"We got a 3,000-gallon tanker," says the water hauler, raising his mug to me. "Goin' tomorrow 3 a.m. for the fill-up, mate, if you care to come along."


"I'm heading to Innamincka," I say, "to see the Dig Tree."


The Dig Tree is a gnarled coolibah that stands in the burnt heart of the outback, beside the warm, green water of Cooper's Creek. It is the most famous tree in Australia, on account of the cryptic instructions carved into its trunk and the part it played in that country's most notorious expedition.


In 1860, Robert Burke and William Wills set out to become the first white men to cross Australia, a historic south-north traverse from Melbourne to the Gulf of Carpentaria. Their eight-month journey took them through the Tibooburra region in October of that year, en route to a base camp on Cooper's Creek, and then into vast, desperate stretches of the interior. Burke and Wills were like the Lewis and Clark of Australia, famed icons of early outback exploration—although, by the time it was all over, they'd be-come legends for very different reasons.


"Burke and Wills—now they were some bloody tough bastards!" says the bartender, suddenly animated. "I hope they're still teaching the schoolchildren about our heritage."


To get a taste of what they experienced, I've come to the desert in the dead of summer—January—after one of the driest years in Australian history.


"Tracin' their path, are ye?" says the water hauler. "Bugger, they was brave."



THE AUSTRALIA THAT Burke and Wills ventured into was an immense, uncharted continent. Roughly the size of the U.S., it had been the home of Aborigines for about 60,000 years when, in 1788, a British penal colony was established near present-day Sydney. By 1860 there were one million European immigrants living on the coastline; two-thirds of the continent, including the entire western half, remained unexplored by whites.


Discovering what lay inland had far-reaching implications for communication and commerce. It took two months for news to travel by ship from England to its Australian colonies, and yet a telegraph line already extended from Europe to India to Southeast Asia. What if a line could be strung from Melbourne, the major port on the southern coast, straight through to the northern coast, and linked by cable with Asia? News would take a mere two hours, a reply a day or two. Certainly, untold acres of prime grazing land would be discovered in the process, maybe gold as well.


Members of the Royal Society, a Melbourne gentlemen's club composed of scientists, businessmen, and armchair explorers, took it upon themselves to solve the mystery of Australia's frontier. In January 1860, they announced plans to fund the Victorian Exploring Expedition and placed an ad for a leader in the Melbourne papers. After much internal politicking, the Royal Society chose Robert O'Hara Burke, 39, a small-town Irish police superintendent, as the expedition's unlikely chief.


"The idea of Burke leading any expedition anywhere at all was ludicrous," writes former BBC correspondent Sarah Murgatroyd in The Dig Tree, her 2002 history of the epic journey. "He was neither a surveyor nor a scientist and had no exploration experience."


Australian historian Alan Moorehead cites references to Burke in his 1963 book Cooper's Creek as a "wild eccentric dare-devil" who was in "no sense a bushman" and whom "some thought not quite sane" because of his strange habit of lying for hours in a bathtub in his backyard—wearing only a pith helmet.
"Burke was popular, charming, and intelligent, but excitable, impulsive, and headstrong," writes Murgatroyd. By all accounts, Burke appears to have been guided not by an explorer's fundamental trait—curiosity—but by two esteemed Victorian values: fame and glory.


Good thing, then, that the expedition's 26-year-old surveyor, William John Wills, was a diligent student of natural history and the sciences. According to his father, he was "ever pining for the bush . . . his love fixed on animals, plants, and the starry firmament."


On August 20, 1860, the Victorian Exploring Expedition left Melbourne, bound for the Gulf of Carpentaria, 1,500 miles of Sahara-like desert to the north. It was a circus from the start: 19 men, 26 heavily laden camels imported from India, 23 horses, a train of six bizarrely overloaded wagons, and a semisubmersible dray. All told, they were hauling 20 tons of accoutrements, including 12 sets of dandruff brushes, four enema kits, an oak table with two oak stools, and a large bathtub.


Burke declared that he would cross Australia "or perish in the attempt."



THE CONSENSUS of the Tibooburra pub is that I should stick to the main dirt track to reach Innamincka, a day's drive through scrub plains and foot-deep bull dust. It's one of the few regions on earth where it's possible to die if your car breaks down. You hide out in the sweltering shade of your vehicle, drink emergency water, and wait for another car to pass by. If no one happens along in 48 hours, you're cooked. In 1963, a family of five perished this way.


Instead, I navigate an obscure sandy path to a watering hole called Olive Downs, where I count 27 kangaroo carcasses locked in the fractured mud. I bump along "jump-ups," hillocks of rock and sand, and, following a trail that's no wider than my truck, cross the breadth of Sturt National Park. Named for Charles Sturt, one of only a handful of explorers who preceded Burke and Wills, the desolate country seems little changed since the summer of 1844, when Sturt and several teammates rode horses north from Adelaide into the desert. Some 800 miles inland, they found a network of intermittent channels and permanent warm-water billabongs, which they christened Cooper's Creek, after a South Australian judge.


Between 1855 and 1858, surveyor Augustus Gregory had made several bold desert journeys, including an enormous boomerang-shaped trek that ran from Brisbane, on Australia's east coast, clear out to Cooper's Creek, then hooked south to Adelaide, leaving only a 700-mile section between Cooper's Creek and the Gulf of Carpentaria unexplored. Gregory and his men went on horseback, lived off the land, and set a precedent for traveling extraordinarily light.


Likewise, his fellow explorer John Stuart accomplished five successful journeys in the early 1860s, eventually crossing Australia east to west. Stuart also traveled light, with his horse, Polly, and a few saddlebags. In more than 12,000 miles of desert, he never lost a man.



THE BURKE AND WILLS expedition began falling apart even before making it out of Melbourne. The axles of several sagging wagons snapped, and three team members were sacked.


Four weeks later and 250 miles north, Burke realized he was dangerously overburdened. He dismissed seven more men and jettisoned gear willy-nilly—everything from a useless camel stretcher to a store of lime juice, an essential preventive of scurvy. Still, a week later the draft horses were so exhausted they were set free, the wagons left to rot in the bush. Even the camels began collapsing in the heat.


Burke's temperamental character wrought havoc. He fired and hired personnel at random. Two months into the journey, he dismissed Landells—who later wrote that Burke's conduct as a leader was horribly wanting in "judgement, candour, and decision"—and named young William Wills his second in command.
Burke did not keep a diary; instead he relied on Wills to do so. Wills took copious notes on the flora and fauna, and navigated and plotted the team's course through the desert.


After traveling 465 miles in 56 days—a distance a horseman like Stuart could have covered in ten days—Burke reorganized again, leaving five men, tons of gear, and dozens of horses beside the Darling River. The Victorian Exploring Expedition was disintegrating.


Temperatures rose to 140 degrees in the sun, yet Burke ignored the advice of Aborigines and often passed up shaded watering holes where "bush tucker"—game and desert vegetables—was plentiful. The expedition reached Cooper's Creek, the grand oasis of the Australian outback, on November 11, 1860.



INNAMINCKA (population 14) is a forlorn cluster of ramshackle buildings beside Cooper's Creek—a gas station in the sand, a pub hidden in the middle of millions of acres of nowhere, a dusty airstrip used to transport oil and gas crews and the occasional mail pouch. It's the kind of grit-chafed, end-of-the-earth outpost that's so existential, a director might choose it for a movie set.


I book into the Burke Lodge Cabins, a set of three trailers left over from the 1985 film Burke & Wills. As the only guest, I'm given the director's trailer, which contains four small beds and a shower where a snake keeps poking his head through the drain.


"Out here, it's either drought or deluge," explains Joan Osborne. She's a landscape painter; her husband, John, is a retired aluminum-plant foreman. Together they're Innamincka's longest-lasting residents and unofficial mayors.


"Some years, the flies are so bad, your food is black if you try to eat outside," says Joan. "For a few years, we had a rabbit infestation. We had a stretch where it rained so much, Cooper's Creek was constantly flooding."


"This year, it's snakes," John tells me, his face tan as sand. "Eight-foot king brown bit a mate. Came through the ductwork and dropped onto his bed. Bite nearly killed him."


So why do they live here?


Joan sighs, disappointed that I haven't already figured this out for myself.


"It's so beautiful." Her eyes almost water. "There is nothing like the desert. Nothing in the whole world."



BECAUSE COOPER'S CREEK had permanent water in the billabongs and ample shade under the coolibahs, it was a center of commerce for the Aborigines for a thousand generations. They would travel hundreds of miles to trade shields, wooden bowls, ax heads—or simply to socialize.


When Burke and Wills arrived at Cooper's Creek, they were welcomed by the Yandruwandha Aborigines with offerings of fish and invitations to ceremonies. Burke rebuffed them by blasting bullets into the air.


Summer and its mortal heat had descended. Although the Yandruwandha had warned Burke not to venture farther into the desert during the hottest months, he was insistent. He ordered four men to stay behind at the base camp at Cooper's Creek to guard a stock of provisions against a plague of rats. They were instructed to wait three months for Burke's return—until March 15, 1861—before forsaking the post.


On December 16, Burke, Wills, and two other men—ex-soldier John King and ex-sailor Charley Gray—strode defiantly into the unknown. They took six camels, one horse, and barely three months of food. The terrain varied from dismal rows of dunes to baked claypan, rock-tiled wasteland to savage, waterless mountains. On some days, Burke and his men managed a meager five miles; other days they slogged 35 or more across the punishing landscape.


Through inhuman persistence, Burke and Wills reached the Gulf of Carpentaria on February 9, 1861. But they never saw the ocean. They marched until they were knee-deep in a mangrove swamp, then simply turned around. The Victoria Exploring Expedition had triumphed—although what began as "the finest expedition ever assembled in Australia," according to the journalists of the time, was now down to four emaciated men in rags. And it was 900 miles back to their supply base at Cooper's Creek.



"YA SEE, MATE, they weren't Aussie bushmen, now were they?" Bomber Johnson chides, wiping his damp forehead with a neckerchief in the 110-degree shade.


Red-faced, yellow-haired, bushy brows drooping into his eyes, 69-year-old Bomber is the self-appointed historian and personal guide to the Dig Tree, a 44-mile drive north from Innamincka along a twisting sand track.


"They were arrogant. They didn't try to learn from the Aborigines," says Bomber. He's a jackaroo (Aussie for "cowboy") pilot who has spent 35 years mustering cattle in his Cessna 172. Bomber tells me tale after tale of Aborigines: the trackers who could follow outlaws across bare rock by finding the grains of sand that fell from beneath their toenails, the jackaroos who could survive on goanna lizard flesh for weeks. "They knew how to live in this nice big slice of hell," he says appreciatively.


Bomber directs me to an unassuming coolibah distinguished only by an encircling boardwalk. Carved into the twisting trunk are the letter B, for Burke, and the roman numerals LXV, for the expedition's 65th camp. Over the last century, Bomber explains, folds of bark have covered up the most famous inscription:


DIG
UNDER
3 FT NW
APRIL 26, 1861


On February 13, 1861, Burke, Wills, Gray, and King began dragging themselves southward from the gulf. With supplies almost gone, Burke cut rations in half. Although Wills was a good shot and King would later report that they were surrounded by "kangaroos, emus, and any quantity of ducks and pelicans," Wills was too debilitated to hunt.


Burke, by this point, had likely gone mad. Once, when a camel dropped and couldn't continue, he inexplicably abandoned the beast instead of eating it.
On March 15, 1861, the day they were due back at base camp, Burke and his men were still 680 miles to the north. Burke cut rations again. They were drinking three quarts of water a day, when their bodies needed ten, and burning twice the number of calories they were consuming.


Gray began lagging behind, his legs in excruciating pain. He became delirious and then unable to speak. He died at sunrise on April 17, 1861, less than 100 miles from Cooper's Creek.


Four days later, Burke, Wills, and King stumbled into Cooper's Creek and, upon seeing the inscription in the coolibah tree, collapsed. King felt the still-warm ashes of the campfire. The four men at base camp had waited an extra five weeks at their post but had left that very morning.


After eight months of unspeakable hardship, Burke, Wills, and King had missed salvation by eight hours—and now were too exhausted to catch up.


Buried beneath the Dig Tree in an old camel trunk were stores of flour, sugar, tea, and dried meat left behind by Burke's men, but it wasn't enough. Robert Burke and William Wills died of starvation and exhaustion beside Cooper's Creek. In September 1861, King was found living with Aborigines near Innamincka. Of the men left behind along the way, five perished, most of them from scurvy.



THEY ARE STILL teaching the Shakespearean tale of Burke and Wills to Australian children, whereas Sturt, Gregory, and Stuart—efficient and capable, paradigms of exploration—were consequently forgotten. Tragedy and irony always play better than common sense. We humans adore martyrs, as long as we don't have to be one.


The five rescue missions dispatched to find Burke, Wills, and the stragglers from their party further opened the interior. On August 22, 1872, the first telegram was sent from London to Adelaide, passing through an underwater cable from Java to present-day Darwin and then across the scorching expanse of outback.


A few miles northwest of Innamincka, on the banks of languorous Cooper's Creek, there is a concrete cairn marking Burke's grave. As I stand before it in the dizzying heat, swatting flies and staring at the simple plaque, it occurs to me that, in the end, Robert O'Hara Burke got exactly what he wanted.