Yo, Frank!
In the unlikeliest of places, in the waters off JFK airport in New York, IAN FRAZIER lands a few big fish with Captain Frank, a guide who matches his passion striper for striper and knows why fishing is connected to everything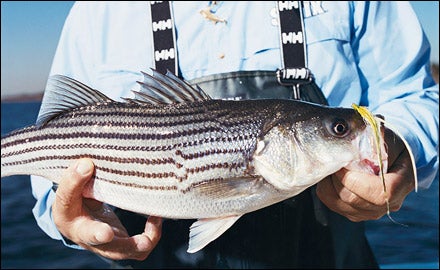 Heading out the door? Read this article on the new Outside+ app available now on iOS devices for members! Download the app.
Captain Frank Crescitelli, known as Captain Frank to his many clients, makes decent money as a saltwater-fly-fishing guide. For backup he owns a small insurance agency, which his wife mostly runs. In his 32-foot, center-console Fin Chaser, powered by two 250-horsepower four-stroke Yamaha outboards and fitted with $20,000 worth of electronics that include a Raymarine digital sonar fish finder, GPS, chart plotter, and mounted video cameras, or in one of his other boats, Captain Frank is on the water about 200 days a year. He puts a lot of fish in the boat—although, following current angling practice and common sense, he lets most of them go. Of all the guides I've fished with, none has had a better success percentage than Captain Frank. What adds an extra level of remarkability to all this is the fact that Captain Frank lives in and guides out of New York City.
New York Fishing

If you've fished around New York for 30 years, says Captain Frank, near the Verrazano bridge, "you've seen enormous change."
New York Fishing

Fishing lines on Frank's boat,
Fin Chaser
New York Fishing

Saltwater flies and city harbors are Frank's specialties.
He has a house in Staten Island, the city's most rural borough, and he docks at Great Kills Harbor, on the island's south shore. Great Kills Harbor attracts your serious saltwater anglers. Michael's Bait and Tackle, by the marina, sells every kind of saltwater gear, such as commercial fishermen's rain slickers and nautical charts and bags of ice and shark hooks and sand eels and so on. A sign in front of the store announces who is high hook for the past few days. (An angler named Luyen Ng had just caught a 38-pound striped bass off Staten Island's Gateway Park, I noticed recently.) A study of the economic benefits of striped bass sportfishing commissioned by a conservation group, a favored project of Frank's, found that area anglers spent $2.8 million on ice alone in 2003. Obviously, lots of anglers still keep the fish they catch. Every so often, when I get a taste for fresh striper or bluefish, I do too. But never again will I carry a small bluefish of perfectly respectable eating size down the Great Kills dock when the local semi-pro angling dudes are hanging around; last time, somebody yelled, "You gonna get that trophy mounted?" Then all the onlookers haw-hawed as the seagulls shrieked along.
When Captain Frank fishes in tournaments in other parts of the country, he is surprised that people so quickly identify him as being from New York. He thinks he looks like anybody, but he doesn't. His eyes are seawater green; many of his ancestors came from the Piedmont region of northern Italy. His hair, without much effort being expended on it, naturally assumes the shape of a Sopranos-style pompadour. His chest is full and ample, and his posture, in head-to-toe profile, resembles that of a confident Italian tenor. His smile is nearly rectangular and gated by strong white teeth. He laughs unreservedly, gigantically. In the early morning, feeling a bit hungover and fragile, I hesitate to provoke that laugh. But Frank truly and purely loves fishing and fish—all kinds. When you catch a good one, the vastness of Frank's pleasure amplifies your own.
Wherever Frank goes, he wears around his neck a gold chain with a two-and-a-half-inch-long gold charm in the shape of a marlin. He does this because in 2004 he and four friends took Fin Chaser down the Jersey Shore to compete in the annual white marlin tournament out of Beach Haven, New Jersey. Theirs was the only center-console in the competition; most of the other boats were big yachts, million-dollar-and-up extravaganzas. To fish for marlin, you have to go at least 75 miles offshore. Frank and friends got a good soaking from the spray and were tossed around considerably in the open ocean. As one of the competing yachts motored by, Frank heard its captain say over the radio, "Oh my God, these waves are big! I think I just knocked the owner off his bunk." He and his friends still laugh about that one.
Marlin travel in blue water—the warmer water coming up with the Gulf Stream. Frank has a gift for noticing distinctions in ocean water that are invisible to (for example) me. But in order to pin the Gulf Stream's location down even more closely, he subscribes to a satellite service that sends ocean-temperature data over the Internet and updates it regularly. A two-degree difference between one section of ocean and another strongly suggests the Gulf Stream's presence; baitfish tend to hang out along the seam on one side or the other of that temperature divide. Of course, the predator fish, including marlin, can be found there, too.
On the day before the tournament, the satellite could provide no data, because the sky was overcast. Frank thought the weather might clear up later in the night, and he knew the satellite was due to pass over again at about 2 a.m. He stayed up and, sure enough, early in the morning, new temperature data appeared. He downloaded it, studied it, and came up with a new set of numbers about 85 miles out, in an area called the Wilmington Canyon. He and his crew headed there before dawn, found the spot, put out their string of squid teasers. Almost the minute they did, a marlin surfaced, hitting at the squid with his bill. They couldn't get him to strike, however, and they caught no keepers that day. In the evening, back in port, Frank (never a tight-lipped fellow) cheerfully told some competitors that the Wilmington Canyon was the place. The following morning it was full of boats.
But then, in an unusual display of divine or higher-power justice, that afternoon something big took one of Fin Chaser's trailing baits. Frank saw the rod bend; he had forgotten to put on the clicker, and the line was reeling off silently. He quickly set the hook, everyone jumped to his station, and about 15 minutes later they had landed a 57-pound white marlin. When they brought it to the dock and weighed it, it was the biggest fish of the tournament so far.
The next day, word came by radio that another boat, also fishing the Wilmington Canyon, had caught a marlin many pounds bigger. Frank and company stood on the dock with about 100 other people waiting for this other boat to come in. It arrived just before the tournament deadline. The crew jumped ashore, and their marlin was produced and weighed. The needle of the scale bounced to 63 pounds and down to 61, and finally settled at about 54. Fin Chaser's was bigger by three and a half pounds. Captain Frank and his crew divided prize money of $35,000. Frank bought gold marlin necklaces for the crew and himself in celebration.
Considering the impending doom of the oceans—the bleaching and death of coral reefs, the wiping out of fish populations, the increasing acidity of seawater caused by the absorption of CO2, leading to the destruction of shelled organisms, the threatened shutdown of the warm-water-to-cold-water transoceanic conveyor that brought Frank's marlin north and keeps the North Atlantic temperate—you shouldn't really be able to have a great time fishing just for the heck of it. Somehow, though, I still do. I'd rather fish with Captain Frank than do just about anything. At 4:30 in the morning, I'm up and driving, on the way from where I live, in suburban New Jersey, to meet Frank at his boat. The New Jersey Turnpike runs between the Newark airport and the docks and warehouses of the waterfront, in the busiest transport hub in the country. At 4:45, I drive through it like a dream. Billowing steam or smoke emerges from some industrial stack and takes a sharp left, pointing offshore, white against the black sky and catching the lurid Jersey lights on its underside. The ocean will be windy today. It's November 14.
At Frank's marina, there are parking places set aside for overnight anglers; almost everything done especially for anglers makes the world better, I believe. Here the wind is milder. Lanyards ring against flagpoles and masts with an intermittent, longing sound. Streetlights throw shadows of the flags; the shadows flutter on the sides of immense shrink-wrapped yachts in dry dock. The sky to the east—seaward—is lightening. With the offshore breeze, the entire land seems to sort of lean that way. In the flat water of the marina, among the boats and pilings, baitfish pock the surface in occasional agitations. These are small minnows of a good-size baitfish called bunker, hence their nickname, peanut bunker. Because of the rings made on the surface when schools of minnows are agitated, Frank also calls them "rain bait." I have an auspicious feeling. I believe I am going to catch something good today.
Frank shows up. He is wearing a hooded rubber rain slicker made by Grundéns, a Swedish company, and rubber overalls on top of a fleece pullover and jeans. He brings rods and gear along the dock down to Fin Chaser in a little cart like a wheelbarrow. He loads the boat, makes sure the video camera is working, and casts off. Nothing has been happening recently, he says. He went out Friday, fished all day, and did not catch a single fish on a fly. That almost never happens. Today he has a hunch about the airport, he says. We idle out of the harbor and then he opens it up to top speed.
Imagine the following autobiographical fragments shouted by Frank in flying spray over the sound of the engines and the boat bumping on the waves: "Right there's the part of Staten Island I grew up in! Neighborhood called Ocean Breeze! Ocean Breeze! My mom moved us there when I was 12! Best thing ever happened to me! Walk out the front door and onto the beach! Perfect! That jetty there—not that one, the one farther to the north!—it's called the Naughton Avenue jetty! A storm sewer comes out there! I was on that jetty practically every day of my life! I must've spent 250, 300 days on that jetty every year! Twelve years old, I caught a summer flounder from that jetty—you couldn't believe how happy I was! I put that fish in a Tupperware container, showed it to everybody! It was a big event in the neighborhood! There were almost no fish back then! Catch a striped bass, you'd talk about it for a month! Guy had a bumper sticker—THE PRICE OF A STRIPED BASS IS ETERNAL VIGILANCE! We didn't know any better! Fished constantly anyway! Used to catch bluefish off the jetty! Really little bluefish, called snapper blues! About this long! Catch 'em on those little red-and-white Dardevle spoons, remember them? See who could be first to catch a hundred! Then take 'em around the neighborhood, give 'em away! One lady came out, held her apron out like this, we filled her apron with snappers!
"I wanted my own boat desperately! My mom was a waitress at the time! My dad's a strange guy! Left my mom when I was five! Owned a garage in St. George! Told me if I worked a summer for him in that garage, he'd buy me a boat! He worked me like a slave! But, at the end of summer, bought the boat! I sanded it, caulked it! Took it down to the marina to try it out and he sent an old pot smoker that worked for him to go with me! See, I was still too young to be by myself on the water! This pothead didn't know anything, I'm foolin' with the motor, guy lets the bow get away and I shoot straight across the mooring and punch a hole in a boat across the way! Guy says, 'I'm gettin' outta here!' We split. It was a mystery of the marina—who punched the hole in so-and-so's boat? Nobody suspected it was me!
"Then my mom's brother, Lou, moved a few houses away from us! I began fishin' with him! He's the guy I fished with more than anyone else! I loved him! Called him Uncle Lou! He had just got out of prison! He was in the mafia! He and two friends had hijacked a train in Elizabeth, New Jersey, and drove it to a siding behind a bar where they used to hang out! They opened the freight cars, and turned out they were all full of some kind of fabrics, completely useless! So they decided, what the hell, let's rip off the bar! So they did! 'Everybody lie on the floor!' They drove away, one guy got in a crash, killed some people, Lou and both the other guys went to jail! But my uncle had MS! Wore braces on his legs all his life, his hands were like this, sort of claws! My mom threw herself on the mercy of the court, got him released because of his illness! He got out, went back to his old ways! He and I'd be fishin' in my boat and we'd have to come in so he could take calls for his bookmaking business! He'd be at the phone, bookin' bets, and meanwhile I'm pourin' lead for fishin' sinkers at the kitchen table! Then Lou shot a guy! Walked into a bar, right up to him, bam bam bam bam, right in the chest, four times! And the guy lived! In court the judge said, 'Mr. so-and-so, do you see the man who shot you in this courtroom?' Guy looked around, looked at everybody, looked at my uncle, said, 'No, I do not, your honor!' Uncle Lou was great to me! He had a really obsessive personality, got even more carried away with fishing than I do! He'd go anywhere, stay out all night if he felt like it, all the next day! And he'd talk to me while we were out, and philosophize! Lou was a very deep guy! Wrote a lot of poetry! I made myself into a fisherman, but if anybody helped me, it was Lou! Fishing saved my life! My friends and I, we mostly stayed out of trouble! Other guys in the neighborhood wound up drug addicts, drunks, criminals! Guys that didn't, guys that made it out, it was mostly because of organized sports or fishing!"
Meanwhile (to shift tenses), Frank and I were leaving New York City landmarks in our wake. The distant Empire State Building, which had been off the port bow, now had moved toward the stern. On the Verrazano Narrows Bridge, traffic seemed to be barely moving as we sped by. Past the T-shaped scaffold of the old Parachute Jump ride at Coney Island, past the high-rises of Brighton Beach, under the Marine Parkway Bridge, and into Jamaica Bay. This is the body of water that bulges into Brooklyn and Queens. Much of the bay's shoreline in Queens has been made straight by the landfill's edge at John F. Kennedy International Airport—the possible good fishing place Frank had in mind.
Well into the bay, Frank stopped the engines and glassed up ahead. Sometimes striped bass chase baitfish up the bay and then trap them against the riprap rocks that line the airport shore. One look and he shouted exultantly: birds, by the dozens, flying above and diving into the water just where he'd guessed the fish might be. What happens is, the fish drive the bait to the surface, the birds see the commotion and gather above, and the bait gets it from both sides. As we came closer, I could see the birds, too. Black-backed gulls, laughing gulls, terns, and common seagulls were hovering and diving like flies and bees on a dropped scoop of ice cream.
And behind the birds, so close you could see the pilots at the windows, 747's from many lands waited in the takeoff line, making a ubiquitous, all-encompassing jet whine to go with the wind and the waves. "Man, smell the jet fuel," said Frank. Our problem was, Homeland Security buoys along the airport shore don't allow boats within a few hundred yards of it, and the fish, as fish will do, were staying on the forbidden side. Frank held the boat as close to the line as possible, starting and stopping the engine as we drifted in and sidled back out again. I tripped and fumbled, bent out of shape with excitement, trying to make a good cast. Fish were busting the surface just out of my casting range. Somehow I got off one of those long, lucky casts that unrolls like Perfa-Tape on Sheetrock, and the line lay out straight on the waves, and Frank was yelling at me to strip it in. I did and—excellent! excellent!—came up joltingly tight to a fish.
I tried to reel up the loose line on the deck, it tangled, the fish ran, the boat drifted in, the gulls cried. Frank worked on the tangle, started the engine, backed us out of the zone, came back to the tangle. I was holding the fish hard, with the line clasped to the rod with my casting hand. The fish pulled line through my fingers anyway; if he'd run far enough, he would have drawn the snarl into a line guide and broken free. For a moment the fish came to the surface and sported back and forth there like a person. I saw the impressive distance between his dorsal and his tail, and had to tamp down my big-fish anxiety.
I started to get some line back. The fish dove, saw the boat, flared. Frank leaned over the side with the net until it seemed only his toes were holding the gunwale. More anxiety on my part, and mental preparation for disappointment and sorrow. Suddenly Frank was up again, with the dripping net, and in it a 31-inch, 11-pound striped bass. The biggest striper ever caught on a fly on Frank's boat was 24 and a half pounds, so 11 is no news to him. He cheered madly all the same. I was really happy—the fish was a record for me. Our period of standing there and looking at it lasted awhile. The striper was healthy, thick through the shoulders, and just arrived from the sea, as evidenced by its brightness and the small sea lice on its sides. I wouldn't eat a fish from the East or Hudson rivers, because of the health advisories, but ocean fish I'm not so worried about. This one went into the live well to be my family's dinner, or dinners. The pilots of the Saudi Arabian 747 cargo jet waiting in line nearby, if they happened to be watching, saw the whole thing.
Frank graduated from New Dorp High School in 1981 and opened his own auto-repair shop. He also began selling used cars. He got married in 1985; he and his wife have two daughters, 11 and 13. No matter his life circumstances, Frank kept fishing, expanding his methods from bait and spin casting to fishing with flies. (Saltwater fly-fishing has nothing to do with insects, by the way; most of the flies involved are actually a kind of lure, made of deer hair and other fibers, intended to look like baitfish swimming.) And during the late eighties, coincidentally, the fishing in and around New York City began to improve.
In November 1997, Frank's wife gave him a birthday present of a four-day session at a motivational seminar in a hotel in Somerset, New Jersey. The session's leader was Tony Robbins, whose motivational tapes Frank watched all the time. Seminar events started with the several thousand participants in the grand ballroom giving backrubs to one another, turning to the person on the right and then on the left. This seemed ridiculous to Frank, and he made a mental note to take off after dinner that evening. But as it turned out, he didn't, and he ended up loving the seminar, and he came home from it as fired up as any motivator's dream. The next day he called his best fishing buddy, Dino Torino, and said, "Let's do it!" By "it" he meant become professional fishing guides. Dino was up for trying. They got their captain's licenses, took out loans, bought a guide boat, and put out ads in fishing publications.
A conjunction of the stars was working in their favor. First, the striped bass had returned. A five-year moratorium on all striper fishing in New York waters, including the species's key spawning grounds, had brought the stripers back abundantly. Guys who in the past had gone months without seeing one began to catch five and ten fish a day, and not all of them small. And second, with the boom years of the nineties ongoing, Wall Street was flush with profits, and spewing expense-account dollars. From a short startup list of clients, Frank and Dino soon found many others. "It became a hip thing for Wall Street guys to say at cocktail parties—that they'd caught such-and-such number of stripers fly-fishing in the harbor under the Manhattan Bridge or off Roosevelt Island or wherever," Frank explains. With the rise in striper numbers, fishing pressure on the bluefish went down, and that species also began to increase in numbers and size.
The appeal of what Frank had to offer seems obvious now, but took vision to realize. Basically, someone could leave an office in Midtown and be casting a fly in the great outdoors (city style) within the half-hour. (For that, of course, Frank would have to pick the client up at a pier in Manhattan, a service that costs more.) Even today I don't think the average person grasps how many fish there are in and around New York Harbor. Recently, an accused striped bass poacher was arrested with 900 pounds of illegally caught stripers he was about to sell, probably in Chinatown; Frank says that's just a small single day's haul for this particular guy. I have watched miles of fish-filled pictures on the screen of Frank's fish finder, whose digital images make it easy to distinguish between schools of baitfish and the larger stripers and blues. Sometimes you can even tell which way a big fish is facing. On a good day, you'll pass above schools of predator fish stacked eight and ten deep in likely intersections of current and tide.
Plus, here you're fishing in one of the all-around liveliest spots on the planet. New York Harbor and its environs feature almost as many relics and historic sites as you'd find nearby on land. A favorite tactic of Frank's is to drift along the edge of Hoffman Island, near the entrance to the upper harbor, and cast toward the racks and concrete that reinforce the island's shore. On certain tides, the stripers wait to ambush baitfish here. Toward the end of the drift he'll say, "Cast right at the big chain." From a bulwark of concrete, a half-dozen rusted links as big around as clasped arms extend down toward the waves. They are what remains of the great chain that once stretched clear across the harbor entrance to the Brooklyn side; its purpose was to hold the anti-submarine net that blocked the harbor during the Second World War. On the bottom farther out, off New Jersey, lies one of the submarines it deterred—a German U-boat sunk by the Coast Guard in 1945. (Frank is not exactly sure about the location of that submarine.)
Near the harbor entrance, an old wreck registers on the sonar—the curving ribs of a wooden sailing vessel lying on her side. Frank checked this wreck out with a submersible camera not long ago, when he was making a video about how stripers take a lure. He put the camera down, scouted around in the remains of the hull, and found that the wreck's cargo had comprised those hexagonal paving stones, familiar to every New Yorker, that line the sidewalks in and around Central Park and other public places in the city. In deeper water offshore, Frank sometimes fishes over a reef made of old subway cars. The city dumped them there some years ago both to get rid of them and to provide fish habitat. And along the Brooklyn beachfront, he may come in close to Coney Island if he sees bird activity; those many acres of Coney Island sand, usually empty during the late fall, when the stripers are around, used to be so jammed with bathers during the summers in the 1940s and '50s that you could hardly find a few unoccupied square feet to lay your towel on. So many visitors to Coney Island lost jewelry on that beach over the years that it's now considered one of the prime treasure-hunting spots in America; bent-over people with metal detectors work their way along it daily, leaving trails of little holes.
Moving on, following the birds, sometimes we parallel the ocean shoreline in Queens. Frank points out the shallows where the Golden Venture went aground in 1993. She was a cargo ship attempting to smuggle Chinese people into America. The Golden Venture's captain became confused heading for the harbor and just ran her in as close to the beach as he could get. The illegal cargo jumped down and swam for it. Ten of them drowned. Others made land, kept going, and disappeared into the American dream. At the Queens border, we generally try some casts by the Breezy Point jetty, a long and dangerous rock structure extending a few hundred yards into the surf. Frank knows tales of people who've been washed off that jetty, or who've had to climb up on the light tower at the far end during an unexpected high tide and wait for helicopters to pluck them away.
"A buddy of mine, sometimes takes videos for me," Frank says, "his name is W____, he was fishing off the Breezy Point jetty last week and a huge wave came and knocked him off. He loses all his stuff, his waders fill up, he's in the water, barely swims back, climbs back up, another wave washes him off. Swims back, climbs up—another wave. Same thing happens a fourth time. By now he's about out of strength, he's getting hypothermia, he swims to the rocks but can't climb out, he's going under. That's it, he's gone. And he said he reached up—it must be some kind of reflex all drowning people do—and he feels a hand grab his arm! These people in a boat had seen what was happening, they brought their boat in close, grabbed him, and saved his life.
"So all his stuff's gone, but he'd been having a really good day, and he decides he's not gonna quit now. So he drives into Manhattan, goes to the Urban Angler, buys himself a whole new outfit, and heads back to the jetty. On the way he stops at a pay phone to call his wife. Tells her everything that happened, the whole story; says he's got a new outfit, is going back, and so on. Wife listens to him. Then she says, 'I want a separation.' He's tellin' me this the other day, and at the end he goes, 'So, Frank, now I'm separated.' He's still fishin', though."
Fishing is connected to everything. The Homeland Security helicopter that hovers over Frank's boat far offshore one morning and checks us out bow and stern through its blind windows ofone-way glass leads us to a conversation about September 11, which Frank witnessed live, from close by in the Hudson River, where he happened to be guiding that day. He saw the sunlight glint on the wings of the second airplane as it banked slightly just before impact, saw the figures jumping from the buildings and mistook them at first for falling shingles. His imitation of the sound of the buildings coming down rocks your spine. Nowadays people have forgotten why we are at war, Frank believes.
And as striped bass fishing segues to September 11, that event links back to the fish, which have become harder to catch around Manhattan because of all the restricted areas where boats can't go, such as U Thant Island, just off the United Nations Building (U Thant, the rock's namesake, served as UN secretary-general for years), a fishing spot Frank considers the best in the whole East River because of the many 20-pounders he has caught there on a fly. Getting boarded by the Coast Guard is such a nuisance, though, that he seldom fishes the Manhattan waterfront anymore.
So now he does less inshore fishing, so he goes farther out, so he burns more gas. His boat uses a gallon of gas every mile and a half. Eighty miles is not an uncommon distance for him to travel on the water on an average day. And apropos of that, as we cruise by, he points to the oil tankers full of Mideast crude that are waiting to dock at refineries in Bayonne. Sometimes our pursuit of birds pursuing bait pursued by stripers leads us among ships of a tanker fleet, or next to container ships with their dull profiles of boxes stacked to the sky. Then we get to talking about the huge number of people in greater New York, and about the so-called reduction boats, also quite close by, that suck up hundreds of millions of pounds of baitfish into onboard converters, and render out their oil to use in lubricants and omega-3 vitamins; and about the inevitable effect of this loss of forage on striper numbers, and the ditto effect of unstoppable urban sprawl and runoff on the places where stripers spawn…
One could give up, one could despair. Or one could fish ironically, like an inmate shooting flies in his cell with rubber bands. A main reason I like to fish with Frank is that he's neither a despairing nor an ironical guy. There's a larger method to what he's doing, a principle involved. I think it has to do with the essential environmental friendliness of following an occupation one loves. "Growing up, I never thought for one minute about conservation, and I didn't know anybody who did," Frank says. "And, honestly, back then there wasn't that much to conserve. But we've seen the resource recover, we've seen how strong it is, and how we can affect it. Look at all the technology we take advantage of, the fish finders and weather data and satellite information; if I want to know what's happening right now, I can pull out my cell phone and make five calls and in ten minutes I'll have a pretty good idea of where the fish are and what they're taking. When we have this power, obviously it increases our responsibility to the resource. I'm thinking about the resource all the time."
Which leads him, naturally, into civic life. In the cause of fisheries conservation, Frank organizes, sends out mailings, confabs with like-minded people, keeps up to date on developments in environmental politics. For years he and other local anglers were members of the Coastal Conservation Association, an organization out of Texas that promotes saltwater sportfishing. More recently, a number of New York–area anglers split from the CCA and founded the Fishermen's Conservation Association, to focus more on the fisheries of the Northeast. The FCA arranges beach cleanups, take-a-kid-fishing days, tournaments, and fundraisers. Selling donated items at fundraisers, Frank has developed impressive skills as an auctioneer. A related style of talking, motivational in its own right, animates him when he praises the virtues of his essential fish.
"The striped bass is the great success story," Frank says. "It's the fish of the masses. Stripers are predictable and highly migratory, so every year everybody gets a shot at 'em. You can be a kid on a dock or a pier, a surf fisherman on a beach, a guy in a boat out in the ocean. You can fish for them in freshwater or salt. They'll eat anything from a live eel to a gob of clams to a light little streamer fly. One hundred and seventy-four thousand anglers fished for stripers in 2003, according to the study we had done at the FCA. And that was just in New York State! Those anglers generated $365 million in economic activity. That's why we think—the FCA thinks—the striper should be a game fish only, and never fished commercially. In 2006, the legislature made it the state saltwater fish, like the brook trout is the state freshwater fish.
"If you've fished around New York for 30 years like I have, you've seen enormous change. Beachfront real estate that was nothing when I was a kid now goes for millions of dollars. Development is everywhere. It's harder and harder to just walk down to the water and fish the way I used to, and I see fewer and fewer kids doing it. They're playing video games, watching television. What we're really trying to do is involve people in the local fishery in a lifelong way. That's why the FCA is constantly talking about access. Because if people have no connection to the fishery, they're not going to care if it's destroyed. You can talk about the environment all you want, but if it's completely abstract, people are like 'So what?' A guy who's spent some time on a beach around here or out on the ocean, and who's caught one fish he'll never forget—well, now he's become a person with a connection to the resource. That guy hears about an oil spill, it has a real meaning to him. We've tied a string inside him that will tug on him when the ocean is in trouble."
Some of the best times I've had fishing with Captain Frank have been with my friend Jack Handey. In fact, it was Jack who introduced me to him. One evening after a successful day, Jack and I were heading back to Manhattan by boat—not Frank's boat, for complicated reasons, though he was aboard—and the boat came under the Verrazano Narrows Bridge and into New York Harbor on the New Jersey side, and the setting sun was laying out lines of orange-tinted windows on the westward-facing buildings, and the tugboats were coming and going, and the ferryboats were gliding along, and the patrol boats hurrying, and here and there a sailboat was out on a sunset sail; and up above, helicopters dispersed pigeon-like in various directions from the building tops, and planes settled groundward to Newark Airport or took off from it; and even higher, jet trails ribbed like snake skeletons spread and faded across the sky's darkening blue. We passed the Statue of Liberty, now reduced to souvenir-shop size by the new high-rises behind it on the Jersey shore, and then on our right gaped the immense hole—permanently unfillable, probably, like a grief—in the part of the downtown sky where the World Trade Center towers used to be. Really, I hope that space is reoccupied by something, and soon, even if the hole can never be truly repaired, because right now when you come into the harbor the skyline looks undefined, like nothing; it looks weird.
Jack and I were drinking beer, sitting in the bow, observing the sights. We had caught some big bluefish on bunker flies, the action had been fast, with bait everywhere and whole flocks of birds chasing them. Coming home after such a day, the feeling is one of complete happiness, a state of mind I used to disdain but don't anymore. This story has no lesson but simple happiness, motoring into the harbor at sundown.
I think about all those hours Frank spent as a boy catching nothing on the Naughton Avenue jetty. What was the point in doing that? None at all, most people would say. When I was a kid in Ohio, I used to fish under an abandoned railroad bridge in a scrub forest by my house. I don't believe I ever caught a fish in that fishing hole. I remember the dark water under the bridge's low stone arch, and my red-and-white bobber floating back in there, always expectant and always undisturbed. A deep passion running through a person's life is itself a part of nature. Sitting under the forgotten bridge, waiting fruitlessly on the Naughton Avenue jetty, neither Frank nor I could have guessed how we'd be fishing today. The miracle is that in any and all circumstances, at least so far, the passion has stayed the same.