Is California Dreamin'?
The Golden State gets set to host America's richest bike race ever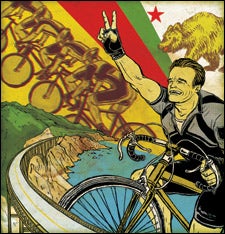 Illustration by Yuko Shimizu
Heading out the door? Read this article on the new Outside+ app available now on iOS devices for members! Download the app.
IT WAS HARD TO SAY WHAT WAS MORE SHOCKING—the Tour of California official's bravado or the money behind it. "It's going to rival the Tour de France," vowed Tim Leiweke, CEO of Anschutz Events Group (AEG), the race orga-nizer, at a press conference last November. "And we're going to put up $35 million to do it."
Blood Money
When the Tour
of California's organizers announced that the race's title sponsor would be Amgen—the company that invented synthetic EPO, the blood-boosting drug at the heart of cycling's never-ending doping scandals—observers found themselves rereading the press release to make sure they hadn't missed something. "What kind of message does this send to the athletes?" clucked officials at the World Anti-Doping Agency. London's Sunday Times declared the partnership a "Top 10 Crazy Sporting Idea." But for Thousand Oaks, California–based Amgen, which created EPO to help dialysis patients battling anemia, the three-year sponsorship (for an undisclosed sum) was a chance to clean up its image in the sport. "We want to educate not just athletes but the community at large ab…

While no one really expects a California upstart to rival cycling's century-old marquee event, that kind of cash—$7 million a year for five years—is unheard of in American bike racing. The world has taken notice. By the time of Leiweke's announcement, eight top-tier pro teams, including Discovery Channel, T-Mobile, and Phonak, had already committed to the 750-mile race from San Francisco to L.A., slated for February 19–26. And with more Americans in the European peloton than ever before, and California home to the most cyclists in the country, this would seem the best chance yet for establishing a permanent U.S. fixture on the international calendar. "The general interest is so much greater than it was ten years ago," says USA Cycling athletic director Steve Johnson. "This is different."
It won't be easy, though. World-class stage racing in the U.S. has a checkered history. The Colorado-based Coors Classic (1979–88) and the East Coast's Tour DuPont (1989–96) attracted elite fields in their day before eventually collapsing for lack of funding. The Tour de Georgia, built largely on the participation of Lance Armstrong over the past two years, lost its title sponsor, Dodge, after Armstrong retired. And while all eyes were on California last fall, Georgia officials were scrambling to find a replacement.
But the Tour of California will be immune to sponsorship concerns. While most race organizers have to secure outside funding, AEG, owned by telecom billionaire Phil Anshutz, will operate and finance the race. Sponsors will still be welcome (see "Blood Money," right), but AEG's $35 million secures the race with or without them.
The only wild card might be California's notorious winter storms. "Weather will be a factor," admits race director Jim Birrell. "But it'll be better than what's served up in Belgium or France that time of year."
Trending on Outside Online