In the Field with Paolo Marchesi
For the Italian-born photographer, a trip to the Caribbean to shoot W. Hodding Carter for August's "The 40-Year-Old Virgin Swimmer" was more than an assignment, it was a rum-soaked adventure.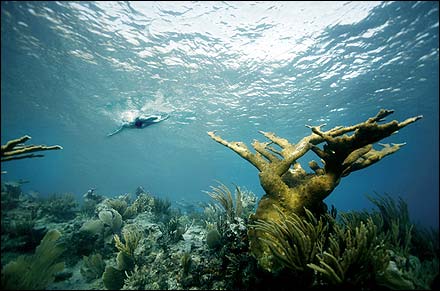 Heading out the door? Read this article on the new Outside+ app available now on iOS devices for members! Download the app.
Outside has been putting Paolo Marchesi through the spin cycle lately. For our July and August issues, we sent Marchesi, a Montana-based freelance photographer, on location for two salt-laden features, Tim Zimmerman's "It's Hard Out Here for a Shrimp" about the lethal world of the Humboldt squid, and W. Hodding Carter's "The 40-Year-Old Virgin Swimmer" devoted to the author's bid to swim the British Virgin Islands.
Swim the Caribbean
Click here
to see more of Paolo Marchesi's photos of W. Hodding Carter's epic Caribbean swim.
Paolo Marchesi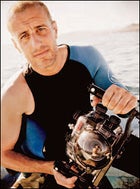 Paolo Marchesi
For "Shrimp," Marchesi came face to face with man-eating Humboldts in Mexico's Sea of Cortez while shooting diver Scott Cassell, but his most recent assignment to follow Outside Correspondent Carter for "Virgin" in the BVIs was decidedly more laid back.
"I can't deny any lack of alcohol on the trip," said Marchesi, naming the infamous Willy T, (or William Thornton) a moored boat bar in the Bight Bay on Norman Island as the site of many a cocktail. Over the course of the week, says Marchesi, he downed enough Caribbean rum and Painkillers (a concoction of rum, orange juice and cream of coconut) to last a lifetime.
Italian-born Marchesi had more than his share of Gilligan-esque adventures in the BVIs. Case in point: Seeing their dilapidated charter boat, the photographer muttered to his assistant "I hope it floats." It sank a couple days later with Marchesi and his assistant scrambling to save the gear. "After it went down and we were rescued, the police took me in for interrogation," recalled Marchesi. "I was thrown in a room with a guy who had just been arrested. He was thrashing around with a killer look. I tried to disappear. I was in there a long, long time."
There was also the challenge of shooting Carter and his swim partner Hooper (a.k.a. George McDonough) as they swam from island to island. Their surfboard laden with gear, the pair was slowed enough for Marchesi to swim within range. For Carter and Hopper, a little extra security of having another person on the open-water crossings was comforting—that, "and, of course, the feeling that a shark would take the one lagging behind," says Marchesi.
But Marchesi's favorite shots took place on Salt Island where he met the solitary keeper of the island, Henry Leonard. Leonard lives alone on the tiny island, of which his family has been keepers for generations. They all remain buried in a makeshift cemetery next to his hut. "There was no light, no water, not a real house, just him and the island," Marchesi recalled, "I felt lonely and sad for him but he didn't seem bothered, from his little island watching the boats go by day after day."
Marchesi, whose clients include Simms, Patagonia, Climbing, and American Angler, came upon his love of photography almost reluctantly. At the age of 17, he journeyed from his home in Italy to become an art director in Paris, eventually moving back to Italy to find employment as a designer. But his fascination with photography led Marchesi to the camera and to experimenting with a 35mm Minox camera that became his modus operandi in capturing his idiosyncratic images.
After attending the Brooks Institute of Photography in Santa Barbara, California, and building up a portfolio in San Francisco, Marchesi moved to Bozeman, Montana, in 1999 to pursue his other love: fly fishing. "It's a true art and it takes a lifetime to master it," says Marchesi. "I am at peace when I am on the river. I'm not religious and that's my religion."
Marchesi's globe-trotting travel philosophy also translates to his photography as he continues to develop what he labels a "styleless" method, attempting to be unencumbered by any set direction or method. In his soft, almost dreamlike pictures and his crisp, contrasting shots, Marchesi switches mediums constantly, from digital to film, from black and white to color. But one thing is certain, his darkroom days are over-"I didn't like working in the dark."
For more on Marchesi, including his portfolio go to www.marchesiphoto.com.