Island Action
Nine Caribbean playgrounds heavy on the sports—and dead serious about kicking back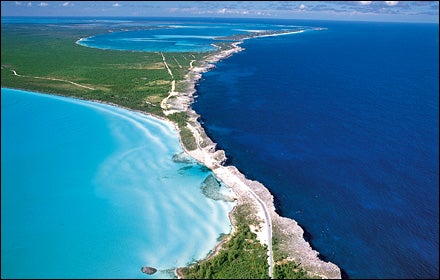 Heading out the door? Read this article on the new Outside+ app available now on iOS devices for members! Download the app.
Bahamas
Fly-Fishing

"PUT THE FLY RIGHT ON HIS HEAD" is the common refrain of sight-fishing guides to their clients standing knee-deep in the crystalline Atlantic waters off Long Island, a four-mile sand strip 165 miles south of Nassau. In some cases, the head belongs to a six-pound bonefish; in others it's a tailing, manhole-cover-size permit. And when the fly drops, more often than not the fish devours it. So goes pretty much every experience with the crew from Bonafide Bonefishing. With everything from flats casting off white-sand beaches to raiding a secret permit stronghold accessible by a 45-minute boat ride from Stella Maris Resort, the 80-mile-long isle makes it tough to say they weren't biting. Be sure to request either Docky or Alvin Smith, longtime guides who are often booked six months to a year in advance.
PLAYTIME: Bonafide offers day trips from Stella Maris for bonefishing, permit fishing, and reef fishing. Rental rods and gear are available, but they suggest that you bring your own. From $450 a day for two; bonafidebonefishing.com
ISLAND LIVING: Relax in the newly developed Stella Maris's Love Beach Bungalows. Set on five acres, each of the three cottages offers two-bedroom, two-bath accommodations, all facing a swimming lagoon and beaches. An SUV is available for unencumbered on-island excursions. From $1,365; stellamarisresort.com
Antigua
Sailing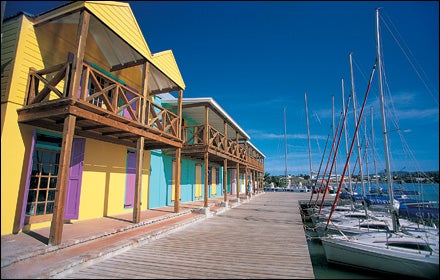 Antigua

SAILING IN THE CARIBBEAN? It's tough to narrow down to just one island, we know, but if there's a single place that balances both the sport and its well-lubricated after-hours lifestyle, it's 108-square-mile Antigua. The island has become the quintessential yachtie hot spot and, from late April to early May, hosts more than 1,500 sailors during Stanford Antigua Sailing Week, the Caribbean's second-largest regatta. More than 200 boats race in eight different classes, with participants ranging from landlubbers on chartered sloops to America's Cup winners crewing billion-dollar boats. And when the sails drop, the long pours begin. The island's own Antigua Distillery churns out award-winning rums (pick up a bottle of the English Harbour five-year-old). In Falmouth Harbour, where many of Sailing Week's festivities take place, work your way from the Last Lemming to the Mad Mongoose and then on to Skullduggery, where it's required that you have at least one espresso martini before hitting up the bars in English Harbour.
PLAYTIME: A slew of private charter companies like Horizon Yacht Charters, whose founder, Andrew Thompson, often races in Sailing Week, operate out of Antigua (a full list is available at sailingweek.com/imc/charters). Qualified captains can take off on their own, or you can always hire a skipper.
ISLAND LIVING: If you don't feel like sleeping where you sail, grab a room at the newly opened—and swanky—Antigua Yacht Club Marina and Resort, in Falmouth Harbour. They'll even dock your boat for a daily rate. Doubles from $277; aycmarina.com
Bonaire
Diving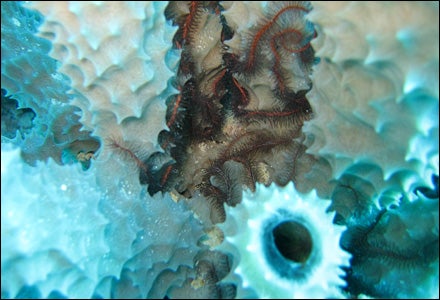 Bonaire

THE AQUATIC BOUNTY and 80-plus-foot visibility in the waters off this arid, mostly flat isle 50 miles north of Venezuela inspire a kind of reef madness among scuba divers. "Bonaire has some of the nicest diving in the world," says Bruce Bowker, who came to the island in 1973 as its first full-time dive instructor. "It's like jumping into an aquarium." Just a flutter-kick away from the island's leeward shore, you'll find seahorses, soft corals swaying like hula girls, and swirls of sergeant majors and blue tang. Eighty-nine buoy-marked dive sites, all within the Bonaire National Marine Park, shelter almost 500 species of fish—more than can be found anywhere else in the Caribbean.
PLAYTIME: Bari Reef, on the island's western shore, is said to be the best fish-spotting location in the Caribbean. Hook up with Bonaire Dive & Adventure's Jerry Ligon, a naturalist who can help you on your way to identifying more than 100 different species of fish. From $40; bonairediveandadventure.com
ISLAND LIVING: Opened in September 2007 on a hillside overlooking the sea, La Pura Vista is a five-room guesthouse with a mosaic-tiled pool. Doubles from $125; lapuravista.nl
Puerto Rico
Surfing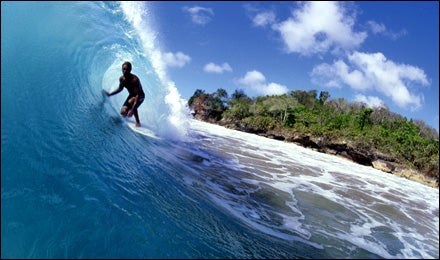 Puerto Rico

A MULTISPORT DRAW, Puerto Rico offers enough mountain biking, hiking, snorkeling, and diving to keep an energetic visitor occupied for months. But it's the surfing—centered around the town of Rincón, on the western shore— that you'll come back for. Tied with Huntington Beach, California, for hosting the most ISA surfing events, Puerto Rico reigns as the surf mecca of the Caribbean, with 310 miles of coastline. "All the other islands have open windows, but they're small," says Rip Curl team rider and Puerto Rico native Brian Toth. "PR has huge open windows for swells to come through." The 2007 World Masters had surfers barreling off Rincón's point break, Maria's, which produces waves up to 14 feet. Toth's favorite break? Jobos, near the town of Isabela, 45 minutes from Rincón, which pumps perfect rights most days.
PLAYTIME: Waves break consistently from October through April—pass up the standard foam board for a lesson on a classic fiberglass longboard with Playa Brava Surf Underground. Surf-school owner Tupi Cabrera takes pride in his island because it has the widest variety of waves and, in his words, "it's freakin' cool!" Ninety-minute lessons from $40; playabravasurf.com
ISLAND LIVING: Rincón's luxurious Horned Dorset Primavera Hotel has 22 private, plunge-pool-adorned villas on four hillside oceanfront acres. Doubles from $610; horneddorset.com
British Virgin Islands
Sea Kayaking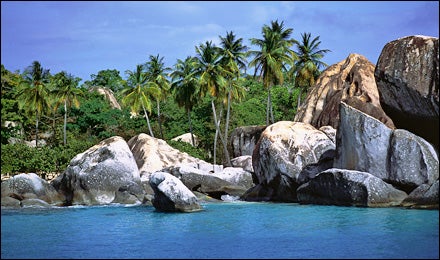 British Virgin Islands

WITH ABOUT 35 ISLANDS situated miles apart, consistent trade winds, and strong currents, the BVIs inspire connect-the-dots sea kayaking. But one route stands out: a 14-mile open-water crossing from Virgin Gorda to Anegada, a flat, coral-limestone island that was once a pirate haven with blissful beaches, low-slung brush, and almost as many iguanas and flamingos as locals. Horse Shoe Reef envelops the land in thick and treacherous coral growth, meaning boats need to steer clear or join the 200 or so offshore shipwrecks. But the inner-reef waters are ultra-calm, and your kayak will allow you to snug along the shoreline and squeeze through the narrow inlets to salt ponds, where you'll find some of the Caribbean's most diverse and abundant wildlife. Look for brown boobies, pelicans, herons, egrets, and ospreys flitting among the piles of conch shells. Then kayak to the north shore, where you can snorkel for treasure or paddle south to fish the flats.
PLAYTIME: Arawak Expeditions offers custom trips to Anegada and throughout the islands, as well as multi-day camping trips. arawakexp.com
ISLAND LIVING: Virgin Gorda's Biras Creek Resort is a luxurious, eco-friendly resort with 33 suites. Last year's face-lift added two new plunge pools, a brand-new fleet of kayaks, and a bicycle for every guest. Doubles, $615; biras.com
St. Bart's
Lazing & Eating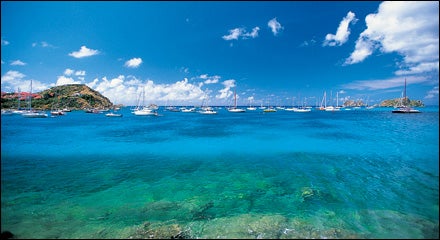 St. Bart's

FROM PASTRY TO PARADISE is how your day on St. Bart's will most likely start. You just need to make a couple of decisions: almond, chocolate, or butter croissant, monsieur? And then: quiet with great sunning or happening with great barefoot dining? Located about 15 miles east of St. Martin, where the Antilles chain bends to the south, tiny St. Barthélemy (just eight square miles) is the Frenchiest of the French West Indies. The mostly European visitors—some 230,000 a year—come to eat, drink, and lounge. It's leisure as extreme sport. And it's easy to spend $150 on lunch—but worth it. For the tuna tartare at La Plage (tombeach.com), on St. Jean Beach. For the tiger prawns at Le Bartoloméo, at the Hotel Guanahani (leguanahani.com). For anything on the menu at the St. Barth's Isle de France (isle-de-france.com).
PLAYTIME: Digest in peace on a secluded beach, like Governeur or Saline. You can also windsurf at St. Jean, surf at Lorient, and scuba-dive in offshore reserves.
ISLAND LIVING: Do like those in the know and rent a private villa from an agency such as St. Barth Properties (stbarth.com).
Islas Los Roques
Snorkeling & Exploring
Islas Los Roques

EACH MORNING, while the sun warms the sea and the pelicans bomb sardines, the small harbor in Los Roques, Venezuela, slowly comes alive. Here, about 100 miles north of Caracas, sits arguably the largest concentration of beautiful beaches in the hemisphere—some 42 islands of white sand, with turquoise lagoons and only one town among all of them. Gran Roque (pop. 1,600) has breezy inns, an espresso bar, and sandy streets plied only by flip-flops. But wander down to the harbor and you'll find the fishermen. They're the ones with literally a menu of deserted islands nearby, and for $15 or less they'll take you and your snorkeling gear there. "Francisqui? Crasqui?" they say. "Which island you like today?" The decision isn't easy. There's premium snorkeling among hundreds of thousands of tiny silversides off Crasqui, a 30-minute boat ride away, and great diving in the coral pinnacles of La Guaza, which teems with jacks and grouper. But of all the islands and all the beaches and all the things to do—Francisqui for kiteboarding, Cayo de Agua for lagoons, and so on—Cayo Muerto, just a 20-minute ride away, is particularly special. A sandbar 500 paces long surrounded by a sea so clear you could mistake it for air, "Death Key" is the classic deserted island of castaway fantasies.
PLAYTIME: If riding a fishing boat isn't for you, Ecobuzos Dive Adventures runs boats out of Gran Roque to various destinations off Los Roques. $35; ecobuzos.com
ISLAND LIVING: Gran Roque's newest inn, Posada Natura Viva, features a quiet courtyard and a predominantly Italian clientele and can help arrange everything from flights to renting snorkeling gear. $247; naturavivalosroques.com
St. Lucia
Mountain Biking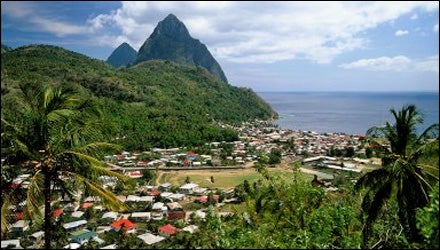 St. Lucia

FORGET THE BEACHES. The mountain biking on St. Lucia has visitors looking inland, where riders can rip past waterfalls and saman trees on dozens of singletrack trails and fire roads throughout the 238-square-mile island. The best riding is in the 400-acre Anse Mamin Plantation's 12-mile network of jungle-lined track, dedicated solely to knobby tires. Suitable for a range of abilities, the trails wind through the old sugarcane fields and offer opportunities for freeriders to drop some of the plantation's original stone walls and stairways. The biggest challenge? The two-mile Tinker Juarez Trail, designed by the endurance mountain biker and two-time Olympian. This climb to the top of a 900-foot peak has been completed only once sans hiking, by Tinker himself.
PLAYTIME: Bike St. Lucia provides Cannondale F800 mountain bikes for day use. $89 per day; bikestlucia.com
ISLAND LIVING: The new Jade Mountain Resort, which is connected to the Anse Mamin Plantation, features private "sanctuaries" that have infinity pools with views of the Piton Mountains. Doubles from $1,020; jademountainstlucia.com
Turks and Caicos Islands
Kiteboarding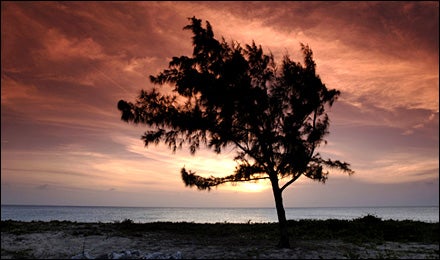 Turks and Caicos Islands

UNTIL RECENTLY, IT WAS SCUBA DIVERS who salivated over the turquoise waters and Technicolor reefs. But recently, kiteboarders have discovered the Turks and Caicos—a 166-square-mile archipelago in the eastern Caribbean—and it's fast becoming a hallowed destination for world-class riding. During the winter, cold fronts rolling across the lower 48 arm-wrestle with the prevailing trades blowing from the east. A deadlock ensues, and that puts the squeeze on, blasting the Turks and Caicos from January to May with buttery-smooth winds. Bathwater-warm seas let you leave the wetsuit at home, and its proximity to the North Atlantic ensures there's always a swell if you have an appetite for big surf.
PLAYTIME: The Kitehouse is a full-service international kiteboarding outfitter run by pro Paul Menta. Full-day lessons from $300; thekitehouse.com
ISLAND LIVING: Menta loves houseguests. An upscale suite at his new villa runs from $150 a day, including gear.