The Cult of Belize
Prepare to be converted by this tiny Central American nation of raw, dark jungle, teeming reefs, and a very original cast of locals. (They all speak English!)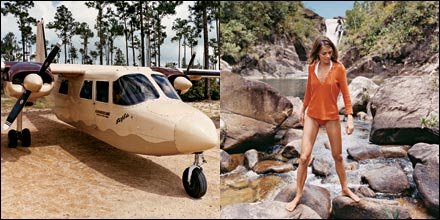 Heading out the door? Read this article on the new Outside+ app available now on iOS devices for members! Download the app.
OF ALL the odd and magical places in the world, Belize is surely one of the magically oddest.
Access and Resources
Getting There:
Continental (800-231-0856,
www.continental.com
) flies nonstop to Belize City from Houston for 5 round-trip; American (800-433-7300,
www.aa.com
) flies direct from Dallas for around 0 and from Miami for 0.
Getting Around:
Single-engine airplanes are an easy way to hop around a country with an underdeveloped road system. Tropic Air (800-422-3435,
www.tropicair.com
) and Maya Island Air (800-225-6732,
www.mayaairways.com
) run scheduled flights throughout Belize from Belize City. A one-way flight to Ambergris Caye on Tropi…
Belize

Tucked between Guatemala, Mexico, and the Caribbean Sea, this tiny country lives a charmed life. In 24 years of independence, Belize (formerly British Honduras) has established itself as one of the world's great hybrid nations, combining elements of the Caribbean, Central America, and southern Mexico in a cultural mash-up that plays out against one of the wildest swaths of jungle left in the Western Hemisphere.
Among travelers, Belize is best known as a world-class diving destination. The country's palm-fringed cayes (pronounced keys) offer easy access to the planet's second-longest barrier reef. Spectacular dive spots like the Blue Hole, a circular sinkhole choked with stalactites, angelfish, and blacktip sharks, draw some 10,000 snorkelers and divers annually.
Less well known is Belize's inland territory, but its allure is spreading via the kind of passionate word of mouth inspired by a cult film. Rent some wheels in Belize City and point the car west: What you'll find is a raw, dark, and mysterious jungle inhabited by jaguars, tapirs, toucans, and black howler monkeys—and some of the most audacious humans alive.
I first went to Belize a few years ago on assignment for Outside. I've been back nearly a dozen times, and the place never fails to leave me dazzled, baffled, exhausted, and utterly charmed. Every time I turn around, I startle an iguana, a Morelet's crocodile, or some winged Dr. Seuss creation that sends me scrambling for my copy of Birds of Belize. I've made the acquaintance of a straw-hatted Mennonite who practiced excellent cabinetry and poor self-dentistry, a shady businessman setting up offshore accounts in a hotel bar, a Maya woodsman who wielded his machete like an Olympic fencer, a former lion tamer who ran her own zoo, and a half-naked dude wearing a boa constrictor as a scarf. Belize is the least populated and yet most ethnically diverse nation in Central America. On a bus ride from San Ignacio, near the Guatemalan border, to Belize City, on the Caribbean coast, the coach will be jammed elbow to rib with indigenous Maya families, Creole businessmen, Garifuna artists, Chinese shopkeepers, Mennonite farmers, mestizo (Spanish/Maya) bureaucrats, white American entrepreneurs, and a few immigrant Guatemalans and El Salvadorans.
Belizeans love the tropical forest and are experts at getting visitors into and out of the wild thicket. A 20-minute drive south of Belmopan, the capital, you'll find caving fanatic Ian Anderson and his Caves Branch Jungle Lodge. Anderson specializes in guiding rugged forays into the pristine hills, including a 300-foot rappel through the forest canopy into the country's "mother of all caves," Actun Loch Tunich. Drive farther south and you'll reach Maya Center, gateway to the world's only jaguar reserve, the Cockscomb Basin Wildlife Sanctuary, where you can take on the multi-day climb to the misty 3,675-foot summit of Victoria Peak, in the heart of the Maya Mountains. Don't go without a local Maya guide like Greg Sho, Belize's great woodsman, who trains elite British forces in jungle survival when he's not pouring cold Belikin beers for patrons of Greg's Bar, in Maya Center.
Roaming around Belize is like traveling in a time capsule. The tallest building in the country is over a thousand years old: the 143-foot high Caana pyramid, at Caracol. More than 65 percent of the country remains covered by native forest. By contrast, Costa Rica, Central America's ecotourism hub, retains only about 39 percent of its natural forest. "Belize got a lotta bush, man," says local tour guide and naturalist Kimo Jolly.
That unspoiled rawness wasn't preserved by chance. Though Great Britain logged Belize for centuries, the lumberjacks went after the mighty mahogany and logwood trees with near-surgical precision, leaving the rest of the forest, with some 200 species of trees, relatively intact. Logging was so dominant economically that settlers never cleared much of the land for agriculture. And few roads or railways were needed, because logs were floated down the rivers to take-out points, including Belize City.
Today Belize survives on a mix of agriculture (bananas, sugar, and citrus) and tourism, advertising itself as "Mother Nature's Best-Kept Secret." The country has been one of the great success stories of the ecotourism era. Quotas require foreign tour groups to hire rigorously certified local guides. That setup has nurtured a guiding-and-small-scale-lodging industry strong enough to offer living wages to a lot of Belizeans, while at the same time spreading a message of conservation and eco-appreciation among both locals and visitors.
Belize may be at a crossroads, however. Three years ago it was inundated by the cruise-ship industry. Passenger arrivals in Belize City have gone from 48,000 in 2001 to 850,000 in 2004.
"The country has never seen this volume of people," says Kurt Clare. Clare is the marketing officer for the Belize Tourism Industry Association, a trade group whose members, mostly overnight-stay resorts, worry that Mother Nature's Best-Kept Secret may be trampled by the cruising hordes.
It's not merely a conflict between two different species of traveler. In some cases, the country's cultural resources may be at risk. In 2001, fewer than 27,000 visitors climbed the limestone ruins at Altun Ha, an ancient Maya ruin north of Belize City. Last year that figure swelled to more than 112,000.
The recent upswing in cruise-ship visitation could be a harbinger of things to come. Carnival Corporation has signed an agreement with Belize Ports Ltd. to build a new $50 million Belize City terminal, which has induced a new wave of anxiety among ecotourism types who fear the glitzy Cancúnization of their quiet country. Carnival officials believe the new terminal will actually help the overcrowding problem, because it will allow ships to get passengers to a centrally located spot faster and thus disseminate visitors to many more inland sites. "This fear is understandable, but there are a lot of innovative tour operators in Belize developing new trips that benefit both locals and our passengers," says Giora Israel, the vice president of strategic planning at Carnival Corporation. "We already have 33 different tours in Belize, and most of them didn't exist two years ago."
Nevertheless, locals worry that the loss of Belize's unspoiled intimacy may be an inevitable result of cruise-ship tourism, no matter how widely dispersed the tourists become. "When they come here, people are blown away by the opportunity to commune so closely with nature," says Judy duPlooy, owner of duPlooy's Jungle Lodge, on the Macal River, and one of the local industry leaders fighting to keep Belizean tourism sustainable. "Amazing things happen when travelers spend time in Belize. Their lives change. We don't want to lose that."