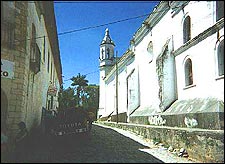 Heading out the door? Read this article on the new Outside+ app available now on iOS devices for members! Download the app.

A cobblestone sidestreet in Santa Rosa
Q: My wife and I are interested in heading to Honduras, especially Santa Rosa, but I can't seem to find any ideas on a place to stay there. I know there's a big budget travel scene down there, but our days of traveling like students are over. Any help?
— Kirk Blackwood, Rome, Georgia
Adventure Advisor:
A: You're right about the scores of budget travelers flocking to Honduras and who can blame them? With superb diving, hiking, and beaches, not to mention dirt-cheap hostels bursting with character, Honduras is a well-worn stop on the gringo trail. But that doesn't mean you have to live out of two pairs of skivvies and sleep next to some snoring boofhead on a crappy foam mattress to enjoy the country's bounty. You're spot-on to consider Santa Rosa as your base of operations. It's a little farther off in western Honduras, and the cool mountain climate, cobblestone streets and surrounding trails for hiking and horseback riding could make it more appealing to your play hard, rest easy nature.
As far as places to stay are concerned, adventure travel confreres report that the Hotel Elvir about two blocks from the city's Central Park in Santa Rosa de Copán could fit your style. It's gone through a recent overhaul to get it back to its colonial architectural roots and is certainly several steps above what your typical Let's Go reader would frequent. The hotel has 41 rooms and two suites, a swimming pool, and restaurant. The rooms aren't anything spectacular, but they are comfortable, looking more like a Comfort Inn room than Honduran thatch. ($42 for a double; 011-504-662-0103; interguia.hn/directorio/hoteles/elvir/).
Once you've checked in, be sure to stop by Lenca Land Trails, which is based in the hotel and owned by one of the Elvir clan. The company arranges day tours out to places like Balneario Ecoturistico las tres Jotas, about 15 miles away. There you'll find some thermal pools and tours of the ubiquitous coffee plantations. You should also try to visit the Celaque National Park near Gracias and the Reserva del Huisayote, a rainforest about 40 miles from Santa Rose, where you'll be sure to spot tropical birds—perhaps even the quetzal.
Planning a trip of your own? [ask the AA]