Friday Fantasy
These Are the Most Stunning Coastal Cabins in Norway
At Manshausen, on Norway's Arctic coast, adventurer Børge Ousland makes sure nature is part of every experience. Fish for fresh cod, fall asleep beneath the northern lights, and discover why hygge is key to happiness.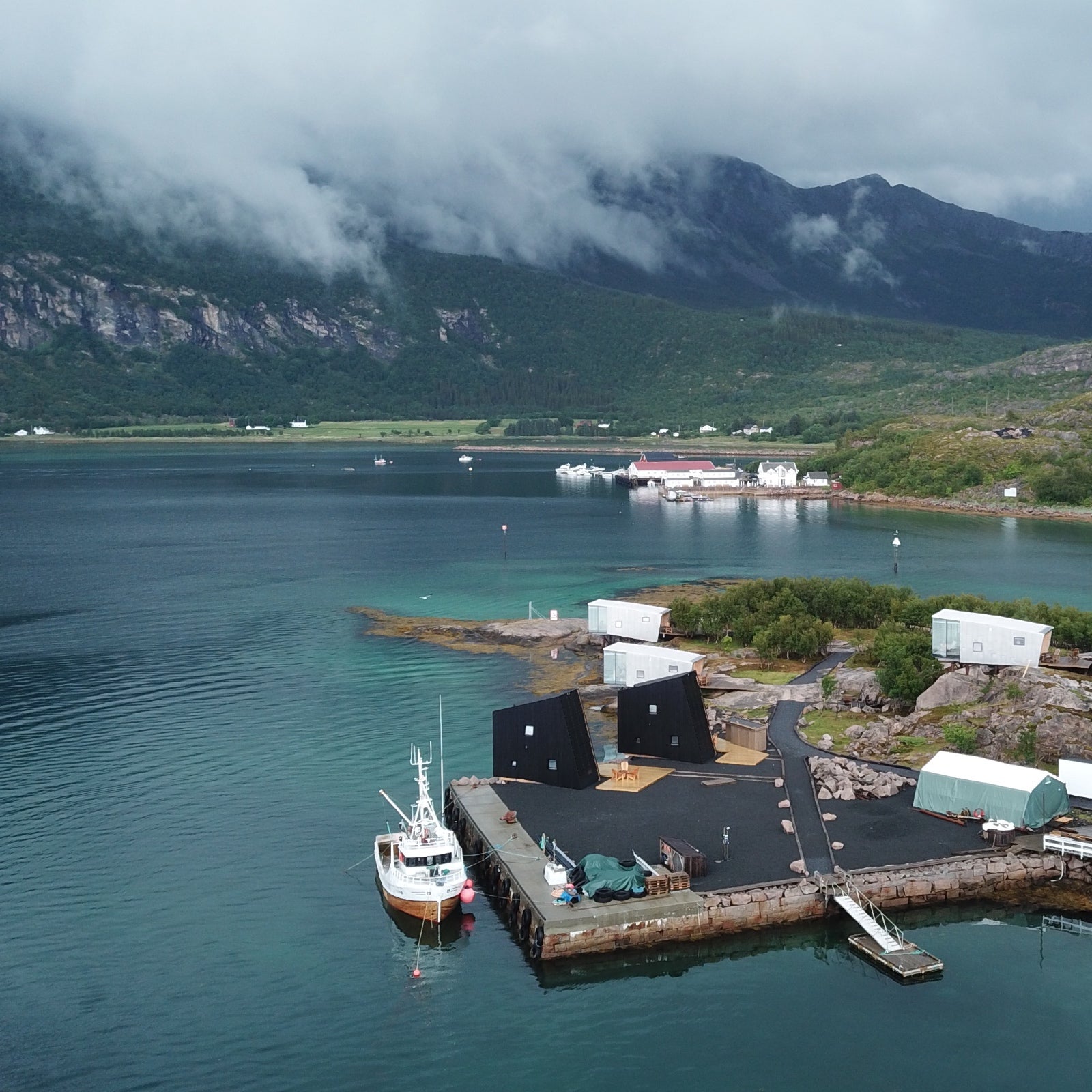 Courtesy Adrien Giret
Heading out the door? Read this article on the new Outside+ app available now on iOS devices for members! Download the app.
Ever come across an incredible hotel that stops you mid-scroll and makes you think, Wow, wouldn't it be something to stay there?We do, too—all the time. Welcome to Friday Fantasy, where we highlight amazing hotels, lodges, cabins, tents, campsites, and other places perched in perfect outdoor settings. Read on for the intel you need to book an upcoming adventure here. Or at least dream about it.
Why We Love Manshausen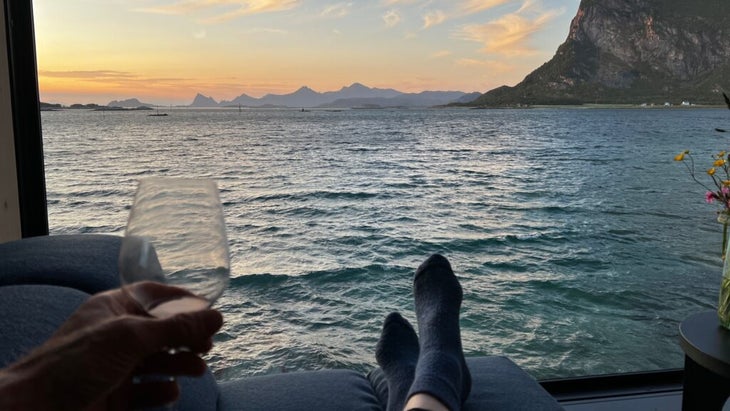 Børge Ousland was the first person to cross Antarctica solo and part of the first duo to reach the North Pole during the darkness of winter. Which means he's spent a lot of time shivering in a tent, envisioning a cozier place to sleep. In 2010 the legendary explorer turned his dreams into a reality, buying a nearly 14-acre island above the Arctic Circle in the Norwegian Sea's Grøtøya Strait and setting to work creating Manshausen, a chic, modern, sustainable adventure oasis.
A haven for anglers since the 1600s, Manshausen Island had one salvageable building, a farmhouse from the 1800s that Ousland renovated into the main lodge. He then built seven austere glass-sided cubes cantilevered over the water. In June he finished two more "towers"—two-story structures, each with a glass-roofed bedroom that provides jaw-dropping views to the sea, 392-foot Skotstindan mountain to the east, and the heavens, often lit with the aurora borealis.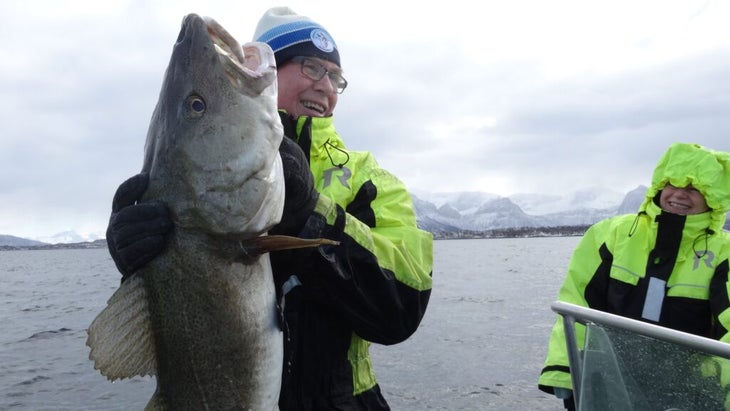 Ousland's ultimate goal is to make Manshausen 100 percent carbon-neutral. It's tough to charge solar panels in winter when there are only a few hours of daylight, but he plans to supplement the sun's energy with a windmill that delivers power back to the grid. His small staff also maintains a garden, fishes for cod and halibut, raises sheep to cut the grass (there are currently 11 lambs on island), and barters with locals for what the property can't produce.
Considering that Manshausen (a name derived from mannshaue, or "man's head," after a rock resembling a human head that was quarried there) was the dream of a world-renowned explorer, it's no surprise that the place offers all manner of rugged day trips (for an extra fee), from expedition-style hiking to sea kayaking, led by experienced staff guides. But Ousland mostly built Manshausen as a place for visitors to enjoy the scenery. "Many people just need to fill up their batteries, relax, and connect with nature," he says.
Adventure Intel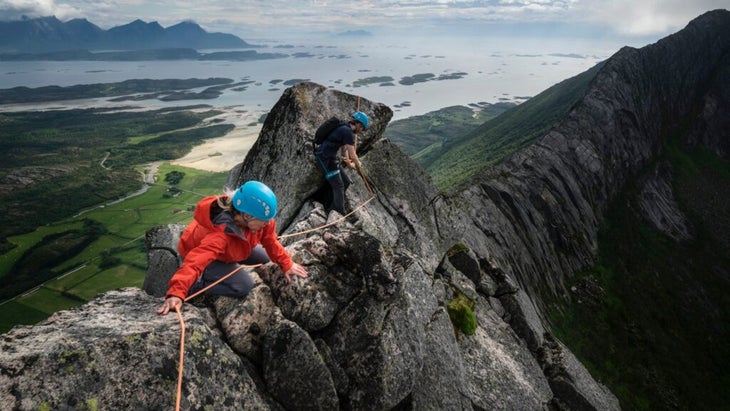 You, too, can fish. The lodge provides gear and shares beta on where cod, pollack, and halibut are biting. I would opt for a short ride on one of Manshausen's private power boats to the mainland to attempt the Nordskot Traverse, a technical climb of 1,998-foot Sørskottinden peak, followed by a 15-foot rappel to a nearly mile-long traverse of an exposed ridge that ranges in width from 15 to 45 feet. The views to the surrounding mountainous Arctic islands are uninterrupted. I'd also love to paddle a sea kayak with a guide to their secret coves for a swim. And this being Scandinavia, I'd spend quality time in the stoked and ready wood-fired sauna to steam away my aches at the end of each day.
Choice Accommodations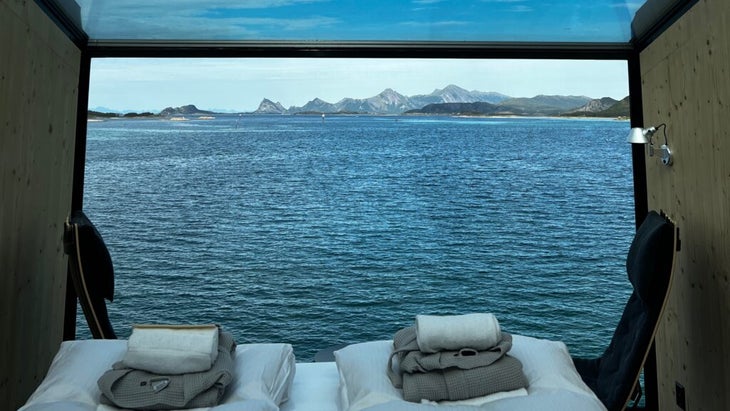 Book one of the two new and identical solar-powered twin towers, named after Norway's two greatest polar explorers, Fridtjof Nansen and Roald Amundsen. Built on a pier, the towers appear to be floating on water. In each, the primary bedroom on the second floor is covered by a full glass roof, perfect for viewing the midnight sun during the summer and the stars and northern lights in the fall, winter, and spring. Downstairs is a twin bed, a full bath, and a sitting room with a floor-to-ceiling glass wall facing the sea. The cozy feeling of hygge here is one of the draws. Or opt for the single-story glass cabins, whose views are also incredible:
Eat and Drink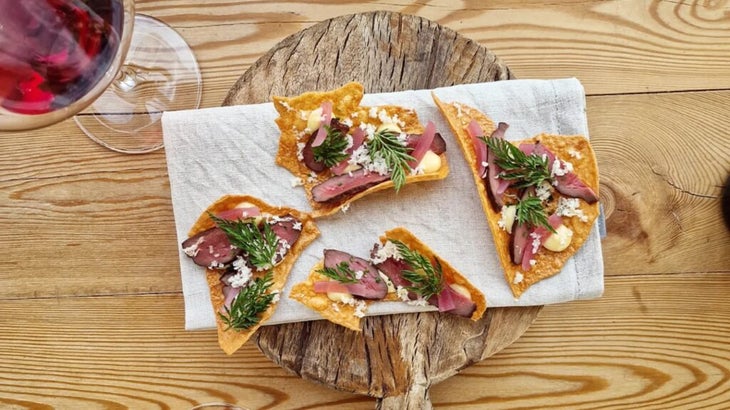 Hyperlocal cuisine is on full display at the Manshausen Restaurant, housed in the main lodge, where a simple yet sophisticated menu includes sea urchins, sandwort, pine shoots, wood sorrel, fish, moose, and elk, most of which is grown, foraged, caught, or harvested on or within close proximity of the island. I've been told that the head chef, Ondrej Taldik, has more range with a beet than perhaps anyone on the planet, serving them fried, baked, rehydrated, crisped, pickled, and fermented.
When to Go
Ousland prefers spring, when the light returns, the weather is calm, and the fishing for halibut is fantastic. But I might prefer fall, with its cooler days and cold nights. The aurora borealis is best viewed September through March, but the resort is closed November to January.
How to Get There
There are direct flights to Oslo from New York, Miami, and Los Angeles. Once there, you'll hop a 90-minute flight north to the town of Bodø, on Norwegian or SAS airlines. Head to the ferry terminal (a 15-minute walk or short taxi ride from the airport) and board the boat to Nordskot; the passage takes 1 hour 20 minutes and leaves daily at 6 P.M. year-round, and twice daily in the summer months. The lodge will pick you up by shuttle boat at Nordskot if they know when you're arriving.
Don't Miss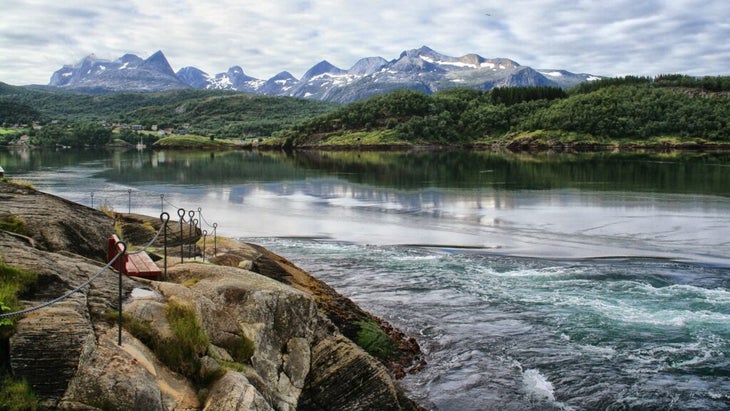 If you have time to spend in Bodø before heading toward Manshausen, visit Saltstraumen, the most powerful tidal stream in the world. A 33-mile drive north of Nordskot will get you to Batterie Dietl, one of Europe's largest coastal fortifications from World War II. It guarded the entrance to Vestfjorden, a 96-mile-long fjord to Narvik, an important route used to ship iron ore from Sweden to Germany. The Knut Hamsun Centre, 75 miles north of the island in the municipality of Hamarøy, is a museum dedicated to the life and work of the Nobel Prize–winning author.
Details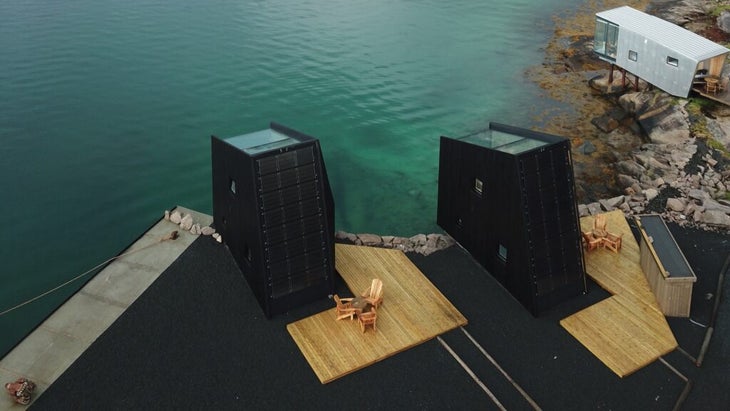 To Book: Manshausen.no
Price: Glass sea cabins are 5,600 Norwegian kroner ($523 as of press time) per night for two people, including breakfast. The new towers are 8,900 kroner ($830) per night for two people, including breakfast, lunch, and dinner.
Address: Mannshausen 3
8283 Leinesfjord, Norway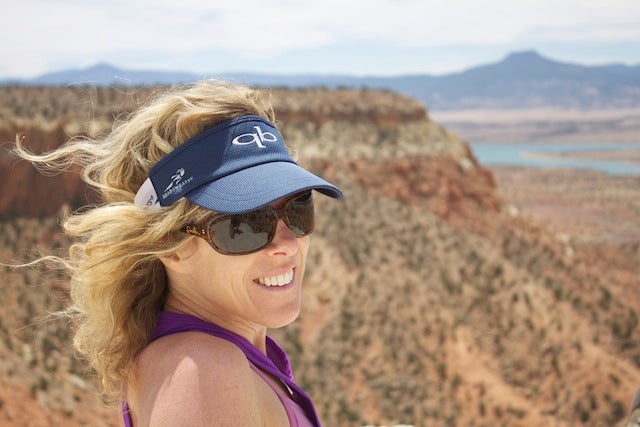 Stephanie Pearson's maternal and paternal great-grandparents emigrated from Sweden, but she loves Norway almost as much, especially the cool air, cool people, healthy living, and long coffee breaks. She's been there twice, most recently to dog-mush above the Arctic Circle from Tromsø back to Jukkasjärvi, Sweden. 
Lead Photo: Courtesy Adrien Giret