How Many Near-Deaths Does It Take to Row From London to Istanbul?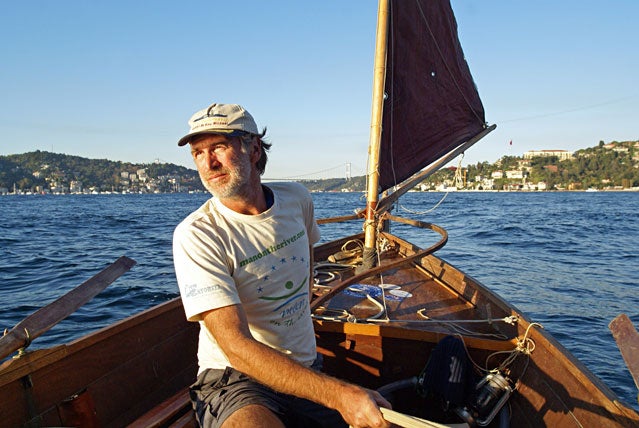 Bruno Cianci/Man on the River Pr(Photo)
Heading out the door? Read this article on the new Outside+ app available now on iOS devices for members! Download the app.
Giacomo loves the water. In fact, he's been, as he puts it, "making love to the water" for 10-12 hours each day for nearly two years, through 15 countries with only the force of the wind, water, and his muscles to power him along.
Forty-six-year-old Giacomo De Stefano is now standing at the bow, his tattered straw hat at a rakish tilt and faded t-shirt fluttering in the salty breeze. He's singing "That's Amore" to no one in particular. We're gliding along the silken waters of the Bosphorus in what is the last leg of a 3,356-mile voyage that has taken him from one end of Europe to the other.
But let's pause that for a second and rewind the world back a decade, away from this seemingly idyllic spot. Now we see a flashy Italian filmmaker who lived in London, New York, and Rome and regularly traveled to Spain, San Francisco, Paris, Beijing, and Shanghai, leaving a large carbon footprint in his wake.
"I spent 20 years of my life in cities before realizing I needed a change," De Stefano says. A change that came in 2002 when he traded his multi-urban life, three houses, Volvo SW (he never liked cars), and 43-foot wooden Ketch for a slower, simpler life unencumbered by stuff.
According to the World Travel and Tourism Council (WTTC), tourism is one of the most important and largest industries in the world, which might be good news if all tourism was sustainable, but you've been on a plane and you know that's not true. With that in mind, the one-time-triple-house-owner now wants to build a healthier relationship between people and water.
Enter "Man on the River," De Stefano's 3,200-plus-mile trip from London to Istanbul—in a row boat—to promote slow travel and a greater awareness of the world's rivers. His plan: Row and/or sail for no more than six months, stopping along the way to share his story with those on the river banks while living on his boat with a zero-Euro budget. In other words, eating fruit, fish, or anything complete strangers would kindly toss his way.
HE PUSHED OFF LONDON'S shore on April 30, 2010, but the combination of strenuous exercise, poor nutrition, and stress from trying to balance press events with rowing across the continent nearly proved too much for the then-44-year-old. Less than a month in, his voyage came to a halt, indefinitely, as a severe case of bacterial pneumonia grounded him in the hospital.
After a month in the hospital, the doctor told Giacomo he could resume the trip. But with the Italian's immune system dilapidated, the doctor warned, it would still be dangerous—especially if he didn't fully recover. Bad news: full recovery would take an adventure-halting year.
Giacomo returned in June to Ramsgate, England, where he had left his boat, to set sail. "I didn't accept that I was sick." But he didn't get far—he ended up waiting in his boat for nearly two months for the right time to cross the English Channel, which may have accidentally saved his life.
The doctor who warned Giacomo was wrong—except, so was Giacomo. It turns out he was misdiagnosed and was suffering from viral pneumonia (which can't be fixed with a quick month of antibiotics). And on July 29, 2010, a woman found him near collapse in Ramsgate—in his boat, in the rain, starving, still waiting to enter the Channel—and put him on a plane back to Venice. He had lost 60 pounds and could barely breathe.
"I looked like a skeleton. And I felt like one."
Still, his personal health was almost an afterthought. His bigger concern: all the preparation, a year-and-a-half's worth, could end up being for nothing. Depressed and unable to walk without wheezing, he spent the next two months in the terminal wing of the hospital and the rest of the summer bed-ridden at home.
"I wanted to die."
Come March 2011, he wanted to get back on the water. An idea to which his doctor responded: "You will die."
Doctors? Death? Whatever. He pushed off again for Istanbul in May 2011 from where he left off in Ramsgate. He did, however, invite a friend aboard until he regained his strength. Two months later, he was rowing solo. "I was determined to do something beautiful with my life," he says, crediting his recovery to his many supporters and what he considers a real, deep-rooted determination to make a change.
AFTER HITTING THE RESET button on his trip, Giacomo was at sea for a total of nine months, including stops for bad weather and interviews. That's three-fourths of a year, sleeping and peeing on a boat. He relied on strangers he passed for food and provisions—like flour he'd bake into bread with his on-board stove fashioned from a mini-keg.
After delaying his arrival another 20 days while waiting out storms in the Black Sea, Giacomo finally reached Istanbul on September 27.
"You can't understand where I've been," he says, "until you feel it yourself."
And he's right. I've never jet-set through the world's most expensive cities. I haven't been on my deathbed twice. And I haven't paddled a boat from London to Turkey. But I'm on that boat now—"Clodia," as De Stefano calls it, a hand-built Ness Yawl, 19 feet of hundreds-year-old oak with Italian leather accents, now being housed in the Koç Museum—and I'm lying on the same mattress the man currently steering us slept on for more than 300 nights.
As I stretch out my legs and shut my eyes, I try to imagine myself—or any average, healthy person—doing what Giacomo did. While the training would be grueling—I have pitiful upper body strength—I could do it, the 3,000-mile row from England to Turkey. That would be the easy part: the ridiculously long days of rowing through rough and cold water.
Giving up the homes, the cars, the money, the jetting-around-the-world, and everything else? Replacing it with 12-hour days of physical labor, no possessions, and the dependency on strangers to give me food, drink, and just generally sustain my existence? Oh, and coming back from the brink of death twice? That, I'm not so sure about.
I open my eyes and look up at Giacomo. He's made it. He's here now, his boat memorialized in a museum. His immune system also no longer exists, and he still struggles to breathe. Side effects of something that superseded his own well-being, which, well, seems to be the point.
"The doctor told me a cold could kill me. But hell, I made it here. Didn't I?"
Alyson Neel is a freelance journalist and women's rights activist in Istanbul, Turkey, with many passions, including gender, politics, running, good government, and farming. Her next goal is to run a marathon.
Lead Photo: Bruno Cianci/Man on the River Pr
Trending on Outside Online