Ferry Land
A magical history tour through the San Juan Islands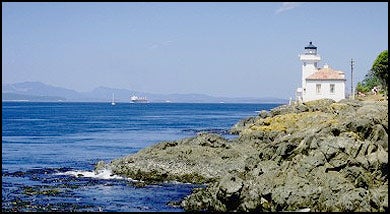 Corel
Heading out the door? Read this article on the new Outside+ app available now on iOS devices for members! Download the app.
When we planned a trip to Washington State last summer, my son immediately produced a passport book that he uses to log his visits to national parks. Stamps for Olympic National Park and Seattle's Klondike Gold Rush National Historical Park were a lock. But what about another blip nearby on the map, San Juan Island National Historical Park?
Access + Resources
For Washington State Ferries schedules, call 206-464-6400 or check www.wsdot.wa.gov/ferries. Admission to San Juan Island National Historical Park (360-378-2240,
www.nps.gov/sajh
) is free. Campsites at Moran State Park (360-376-2326,
www.parks.wa.gov
) cost per night, plus a reservation fee. For reservations, call 888-226-7688.

I knew that the San Juan Islands, a hundred miles northwest of the Space Needle, had been the setting for Snow Falling on Cedars and—more important for my son—Free Willy. But neither of us knew anything about the Pig War, a 19th-century showdown with Britain commemorated by the National Park Service at this 1,752-acre, two-part park on San Juan Island.

We settled on visiting San Juan and Orcas, two large islands with the widest range of services. To get there, we took a morning car ferry from Port Angeles to Victoria, British Columbia, and then made another international crossing from nearby Sidney, B.C., to Friday Harbor on San Juan Island.

Our first stop was American Camp, the larger section of the historical park, situated on the southeastern tip of the island. After a park ranger stamped my son's passport, we walked oceanside trails and the earthen redoubt that the U.S. soldiers had built into their windswept cape. The long-ago imbroglio sounded like the plot of a quirky Miramax film. The Oregon Treaty of 1846 had set the northwest U.S.-Canadian border at the 49th parallel, but was vague about dividing the smaller islands north of Puget Sound, which both nations claimed. The flash point came in 1859, when an American farmer shot a loose pig belonging to the Hudson's Bay Company that he found rototilling his garden.

Soon, nearly 500 Americans were facing off against five British warships. Then, a reality check. Instead of going to war over a boar, the two sides agreed to a joint occupation. The Yanks hunkered down at American Camp; the Brits dug in at English Camp. Thirteen years later, an arbitrator, Kaiser Wilhelm I of Germany, ruled in America's favor, with that wayward pig the only casualty.

We then headed west through rolling hills. The weather, sunny and temperate in the rain shadow cast by the Olympics, was perfect. After stopping to gorge on roadside thickets of blackberries, we hiked a short coastal trail into Lime Kiln Point State Park and watched harbor seals cruise the rocky shoreline.

The next morning we ferried to rugged Orcas Island to camp at Moran State Park. Donated in part by shipping baron and Seattle mayor Robert Moran, the 5,252-acre park is fourth-largest of Washington's 120-odd state parks. Our campsite overlooked Cascade Lake.

On our last day we sea-kayaked on East Sound, spotting ospreys and a pair of river otters, then drove up 2,409-foot Mount Constitution, the islands' highest point. At the summit, we climbed the stone staircase of a watchtower built by the Civilian Conservation Corps. The panorama was stunning: the archipelago spread upon slate-blue seas, backed to the east by Mount Baker and to the south by the snow-capped Olympic range. It was a view to die for. Better the pig than me.