Have Injury, Will Travel
With medical costs exploding, young adventurers are opting to go under the knife overseas. Is the risk worth it?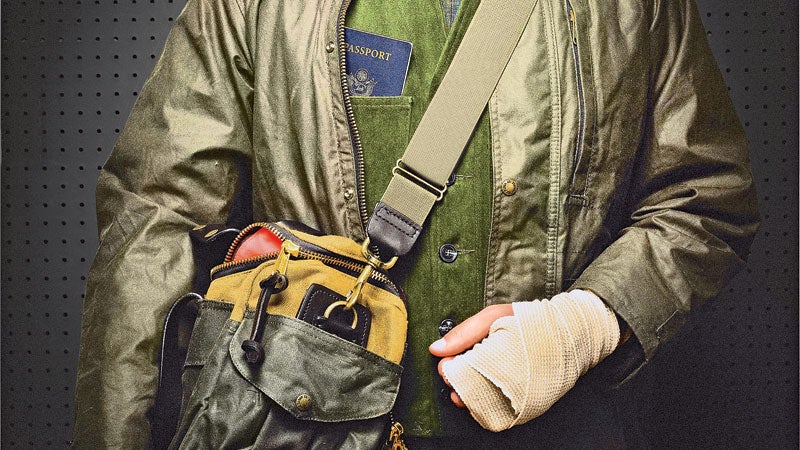 Heading out the door? Read this article on the new Outside+ app available now on iOS devices for members! Download the app.
AFTER DECADES of skiing and hiking, Anne Bujakowski's knee was toast, and she needed surgery—badly. So the 45-year-old Californian made a surprising decision: she flew halfway across the world for the operation.
"It was the best thing that ever happened to me," Bujakowski says of her 2010 knee replacement in Singapore.
Bujakowski had health insurance, but her employer, Snow Summit Mountain Resort, in California's San Bernardino Mountains, had just launched a program offering employees significant savings on copays and other costs by going abroad for surgery. Insurance paid for the Singapore trip, including airfare, meals, and ten nights in a luxury hotel while she completed her physical therapy. Her out-of-pocket costs? Nothing. In the U.S., they could have been as high as $20,000.
Traveling abroad for surgery is now a $40 billion industry, and it's growing by 15 to 25 percent annually. In 2013, some 900,000 Americans are expected to seek treatment overseas. The reason is obvious: skyrocketing medical costs at home. In the U.S., knee replacement surgery runs an average of $48,000. In Thailand, it's $10,000. A bilateral hip replacement in the U.S.: $100,000. In India: $14,000. Generally speaking, surgeries are about 80 percent cheaper abroad, and if your insurance has international coverage, out-of-pocket expenses are usually minimal and sometimes waived entirely.
Most people who travel abroad for medical care are uninsured or underinsured, with high-copay or high-deductible insurance, says Glenn Cohen, a professor at Harvard Law School who studies medical tourism. And a large number of them are younger, more adventurous patients, often because they have less-comprehensive insurance plans that don't fully cover the cost of, say, a blown ACL from skiing or a torn rotator cuff from kayaking, and also because they're more open to the idea of undergoing a medical procedure in a foreign country. According to a recent poll, 51 percent of millennials would consider going overseas for surgery, compared with only 29 percent of seniors.
Of course, the first question everyone asks is: Is it safe?
"Most overseas doctors are just as qualified or more qualified than the doctors in the United States," says Geoff Moss, vice president at Planet Hospital, a California company that brokers medical-tourism trips. "And the nurse-to-patient ratio is better. You get round-the-clock attention."
Over the past dozen years, companies like Planet Hospital have sprung up to help clients navigate the sometimes daunting experience of choosing a foreign hospital. The companies provide dossiers on surgeons and independent reports on facilities, send you patient reviews, and arrange follow-up appointments with a stateside doctor when you return home. Many take care of travel plans, from buying plane tickets to booking presurgery adventures. Most of the doctors they endorse studied in the United States or the United Kingdom and are fluent in English, and their hospitals are just as proficient in patient care.
Patrick Follett, 59, used Planet Hospital to arrange a hip replacement in 2012. For years, Follett raced mountain bikes, skied, and competed in triathlons. But his hip was so beat up that it eventually became difficult to climb stairs. After consulting with Planet Hospital, he drove from his California home to the Mexican border town of Mexicali and got a new one, selecting a hospital and a surgeon from a list provided to him.
Despite his trepidation—"It's a Third World country down there," he says—the Mexican hospital was "immaculate." Plus, unlike in the U.S., he didn't feel any pressure to speed through his recovery so he could be discharged. Most important, his new hip is working perfectly.
"I've been riding my bike like a madman," he says.
Stories like Follett's have some countries seeing dollar signs and beefing up their medical systems to meet demand, building shiny new hospitals and launching multimillion-dollar global ad campaigns. Inbound passengers at Seoul's Incheon International Airport are now greeted with a fully staffed information booth. The Czech Republic has its own medical-tourism website.
Meanwhile, various nations have earned a reputation for mastering certain procedures. Want a face-lift or cosmetic dentistry? Look to Mexico or Brazil, which have long catered to quick nips and tucks. Heart surgery? Think India or Japan, which have invested millions in cardiac hospitals. For those seeking orthopedic surgery for sports injuries, Southeast Asia and Eastern Europe are top picks.
Moss says that most of Planet Hospital's clients choose their country and hospital based on quality of care, but that doesn't stop them from viewing the experience as the trip of a lifetime, especially if they have a lot of sick days saved up. "I always hear, 'Before I have my joint replace-ment or spinal surgery, I want to see the palace, I want to see Phuket,'" he says.
There are risks—in particular, what to do if something goes wrong with the procedure. Rates of medical complications are difficult to pin down, but experts say that surgery at an accredited hospital can be as safe as surgery in the U.S. Still, they recommend that you bring a friend on the off chance that things take a bad turn (see "Tips for Overseas Surgery," below).
Demand for these trips should keep rising, even under the Affordable Care Act, which went into effect in October. According to the most optimistic forecasts, there will still be some 23 million uninsured Americans. And those who are newly insured may only be able to afford inexpensive plans with scant surgical benefits. Additionally, Cohen says the number of companies that, like Snow Summit, offer employees the option of undergoing surgery abroad should increase in the next few years.
So if you have a busted knee, a stiff hip, or a torn rotator cuff, take heart: you'll always have Bangkok.