Italy's Grand Finale
If it's Riviera glitter you're after, head to Monaco. But for endless climbing, epic singletrack, and wild seacoast adventure, set a course for Finale Ligure.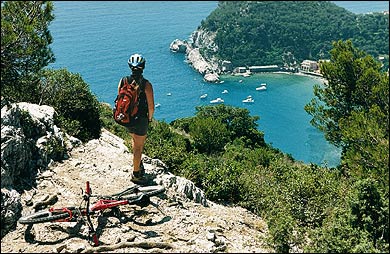 Heading out the door? Read this article on the new Outside+ app available now on iOS devices for members! Download the app.
HAVING CYCLED FOR A MONTH through Rome, Venice, Florence, and Tuscany—all the requisite stops on the Italian cultural tour—I'm ready to trade espresso for a Gatorade and art for adventure. Hiking the five villages of Cinque Terre crosses my mind, but I want something with more options. On a tip from a telemark skier I met in the Italian Alps, I pedal 40 miles from Genoa into one of the hippest multisport destinations east of Chamonix: Liguria's Finale Ligure, a string of four villages on the mountainous Mediterranean coast midway between Genoa and Nice. This is where Italians ditch their handcrafted heels for sportier shoes. It's the Italian Riviera with attitude, a Cinque Terre for trail-hungry jocks.
Bell'Italia
The towns of Finale Ligure form a belt of pink-tiled rooftops between the putty-colored beaches and the lush hillsides of the Maritime Alps. Three of the four—Finalmarina, Finalpia, and Varigotti—feel like charming mountain towns dropped onto some of the Riviera's most pristine, beautiful beaches. Less than a mile inland is the elegant walled village of Finalborgo. Bikinis and boardsports run rampant, but unlike many other resort villages in coastal Italy, the action also goes inland—from epic mountain biking to world-class climbing. And because the Maritime Alps insulate Finale from cold weather, adrenaline addicts flock here year-round.


Finale Ligure has the local climbing community to thank for its makeover from a retro vacation spot to a sporting hub. In the late 1960s, locals started tagging the surrounding 200-foot cliffs with bolted routes, attracting climbers from all over Europe. By the 1980s, the business community had gotten wind and soon began transforming the run-of-the-mill resort into a hotbed for adventure sports, retrofitting old hotels into cycle-friendly carbo stops. The area garnered attention in the late eighties with a Blue Flag rating, the European eco-label awarded to beaches with excellent environmental management.
Sitting at a cafe in the middle of Finalborgo's pastel piazza, I order an espresso and a slice of farinata—an oily local flatbread made from chickpea flour and rosemary—and watch an Italian anomaly unfold: grandmas on rusty single-speeds with bread-filled baskets sharing cobblestone alleyways with 'biner-toting out-of-towners on dual-suspension mountain bikes. This is the Italy I've been looking for. The only question running through my mind: Which sport to try first?

Climbing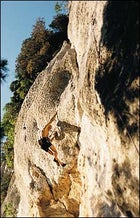 ON THE ROCKS: One of Finale Ligure's 2,000 bolted routes
Climbing
WITHIN A 12-MILE RADIUS of Finalborgo, rock walls and outcroppings offer 36 linear miles of sport climbing. With 20 main crags, the area has 2,000 bolted routes ranging in difficulty from 5.5 to 5.14b (4 to 8c according to the French system climbers use in northern Italy). The majority of routes fall between 5.9 and 5.11, but there are also a number of beginner climbs. With only four days to play, I barely have time to scratch the surface.
At eight sharp on my first morning, a tatty VW bus pulls up to the door of Hotel Florenz, near Finalborgo. It's inhumanely early, considering last night's midnight pasta-and-valpolicella binge. The door slides open and I squeeze into the middle bench seat between a bag of gear and Lorenzo Cavanna, a mountaineering guide with BluMountain, Finale's sole climbing and canyoneering outfitter. The scene reminds me of trips to Joshua Tree—the van, the gear, the token dog, climbers packed in like sardines. The notable difference is that we're passing neolithic cave dwellings on our drive to the routes.

We arrive at a crag called Monte Sordo, a local favorite, with 79 bolted routes. The rock is pietra del Finale, a soft, whitish limestone that changes color with the position of the sun. After a 20-minute hike through an olive grove, I'm nose to nose with a fish fossil embedded in the calcareous base of Introspezione Elettrostatica ("Electrostatic Introspection"), a tricky 5.10c face climb. Because of the pores in the rock, everything looks like a hold. But most of the plentiful features prove worthless and I'm forced into a creative scramble. Dangling 100 feet above the ground, I sit back in my harness and soak up the bird's-eye view of the Ligurian Sea. Other standout crags include Capo Noli, a seaside site east of the beach at Varigotti, where climbers can traverse a 1,300-foot horizontal route 20 feet above the sea spray. There's also a worthwhile series of inverted strength climbs at Grotta dell'Edera, an impressive cave that's within walking distance of Monte Sordo.
For local info, pop into Rockstore (011-39-019-6902-08, www.rockstore.it), in Finalborgo's piazza, where you can hook up with a guide from BluMountain (www.blumountain.it) or check the message board to find climbing partners. Full-day guided excursions are $184 to $205 per person.

Biking
24 Hours of Finale
Mountain bikers from all over the world will descend on Finale Ligure October 17 through 19 for the fifth annual 24h of Finale (
www.24hfinale.com
), the Italian version of Moab's grueling competition. This race, however, is less screaming pain and more party, drawing some 1,500 riders and 6,000 spectators. Under large tents at the race's start, which overlooks the Ligurian Sea, locals cook thousands of pounds of pasta with pesto (invented in Genoa), showcase the best of Ligurian wines (such as vermentino), and play 24 hours of music, some from Ligurian bands like Buio Pesto. Put together a team of six to 12 riders or race solo. The short six-mile loop offers stretches of dirt road for passing and technical singletrack that runs along…
Biking
DITCH ANY NOTION that biking in Italy requires shaved legs. In a country where road bikers often enjoy more celebrity than movie stars, Finale is a refreshing change—fat-tire riders flood the backcountry. The area's five bike shops carry an array of full-suspension mountain bikes, body armor, and loose-fitting, modish clothing made for playing in the dirt. And because this is Liguria, a region rife with wild herbs, crashing in the bushes is like diving into a spice rack.
From Finalborgo, a short off-road jaunt plugs serious mountain bikers into a trail system that extends for more than 300 miles. From the singletrack, bikers can enjoy views of the rugged Maritime Alps, to the north, and the colorful beach umbrellas speckling the shoreline below.
After fueling up on half a roll of Ringos (Italy's answer to the Oreo), I ride three miles northwest of Finalpia to a trailhead at Altipiano delle Manie. A 16-mile loop provides a dramatic change of topography (seaside to alpine) in the first mile, then delivers fast singletrack through peach and lemon orchards, dense forest, alpine meadows, and palm-lined beaches.
To add dimension to the trails, Mauro Bertolotto, the president of the local bike club, commissioned Erik Burgon, the 21-year-old former prodigy of Canada's Flow Riders freestyle team, to build Europe's first North Shore-style bike park, on a main thoroughfare just outside Finalborgo's wall. The grand-opening celebration, on May 11, drew freestyle devotees from all over Italy. Burgon's obstacles include a raised wooden roller coaster 787 feet long, teeter-totters, and ladder bridges.
A mandatory pit stop between rides is the Outdoor Cafe (011-39-019-68-0564), on the piazza in Finalborgo, where you can rent full-suspension Kona bikes for about $24 a day. The cafe doubles as Italy's headquarters of the International Mountain Bicycling Association (www.imba.com). Outside the cafe, you'll find a mechanic for on-the-go tune-ups. Local bikers who gather here are more than willing to help with derailleur problems or point riders in the right direction. IMBA provides free maps of the trails around Finale. Guides are available for $16 per person per full day with a group of six or more.

Windsurfing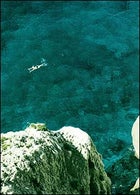 DEEP BLUE: Carbo unloading off the shore of Finalpia
Windsurfing
Windsurfers may be a dying breed in the United States, but the sport is alive and kicking on the Italian Riviera. Throughout the year, sailboard enthusiasts enjoy the three-mile stretch of beach between Varigotti and the village of Noli, 2.2 miles northeast, that curves into the cornflower-blue Mediterranean, creating a playground of smooth, flat water. In the summer, the steady 13-mile-per-hour breezes provide ideal conditions for beginners and experts alike (one of Italy's best competitive windsurfers, Fabrizio Amarotto, lives here), and sea temperatures rarely drop below 60 degrees. The pace picks up in October with the arrival of Tramontana, a heavy wind from the north that can produce gusts up to 30 miles per hour, especially at sunrise and sunset. Even when this phenomenon occurs, the sea remains subdued and boards slice the waves like hot knives through butter—perfect conditions for doing tricks. The Varigotti Windsurfing School (011-39-019-69-87-60, www.bagnimariella.it), open June through September, offers seven-hour group lessons for about $125 and private lessons for $26 an hour, including rental. Beginners can rent a board and sail for $9 to $12 an hour.


ACCESS + RESOURCES
GETTING THERE: From the States, fly via Milan or Rome to Genoa, 40 miles northeast of Finale Ligure. Most domestic and international airlines don't require a fee to transport your bike unless it's your third checked bag. By car, take the A10 from Genoa, drive 40 miles toward Ventimiglia, and exit at Finale Ligure (check out www.airport.genova.it/collegamenti/autonoleggio.htm for local car-rental companies). By train, take the direct line to Ventimiglia and get off at the Finale Ligure stop (not all trains allow bikes; check schedules at the station). By bike, take state road 1 (Via Aurelia) and pedal 40 miles from Genoa to Finale Ligure; if there's heavy traffic, this route will usually get you to Finale in less time than traveling by car.
LODGING: The HOTEL FLORENZ (doubles, $79-$93 per night; 011-39-019-69-56-67, www.florenzhotel.com), a 40-room renovated 18th-century convent just outside of Finalborgo, has a restaurant specializing in Ligurian food, an outdoor pool, mountain-bike rentals, and an on-site guide. The owners, Lorenzo and Sara Carlini, are well versed in the area's history, trail system, climbing sites, wines, and olive oils. ** CASTELLO VUILLERMIN (011-39-019-69-05-15, www.hostelfinaleligure.com) lets you live a fairy tale on the cheap. The castle turned youth hostel, dating from the early 20th century, sits on a hillside in Finalmarina, overlooking the Mediterranean. Choose between dorm-style bunks and four-bed family rooms ($11 to $12 per person per night). ** The SAN MARTINO (011-39-019-69-82-50) and LA FORESTA (O11-39-019-69-81-03) campgrounds, less than four miles east of Finalmarina, have campsites that go for $9 to $11 per night. Surrounded by pine and oak forests, the campgrounds are located on bus routes (buses run twice a day from the Finale Ligure train station).