Sponsor Content: Arkansas State Parks
Arkansas Has a State Park for Everyone
An effort to protect special places in Arkansas has flourished into over 55,000 acres of public land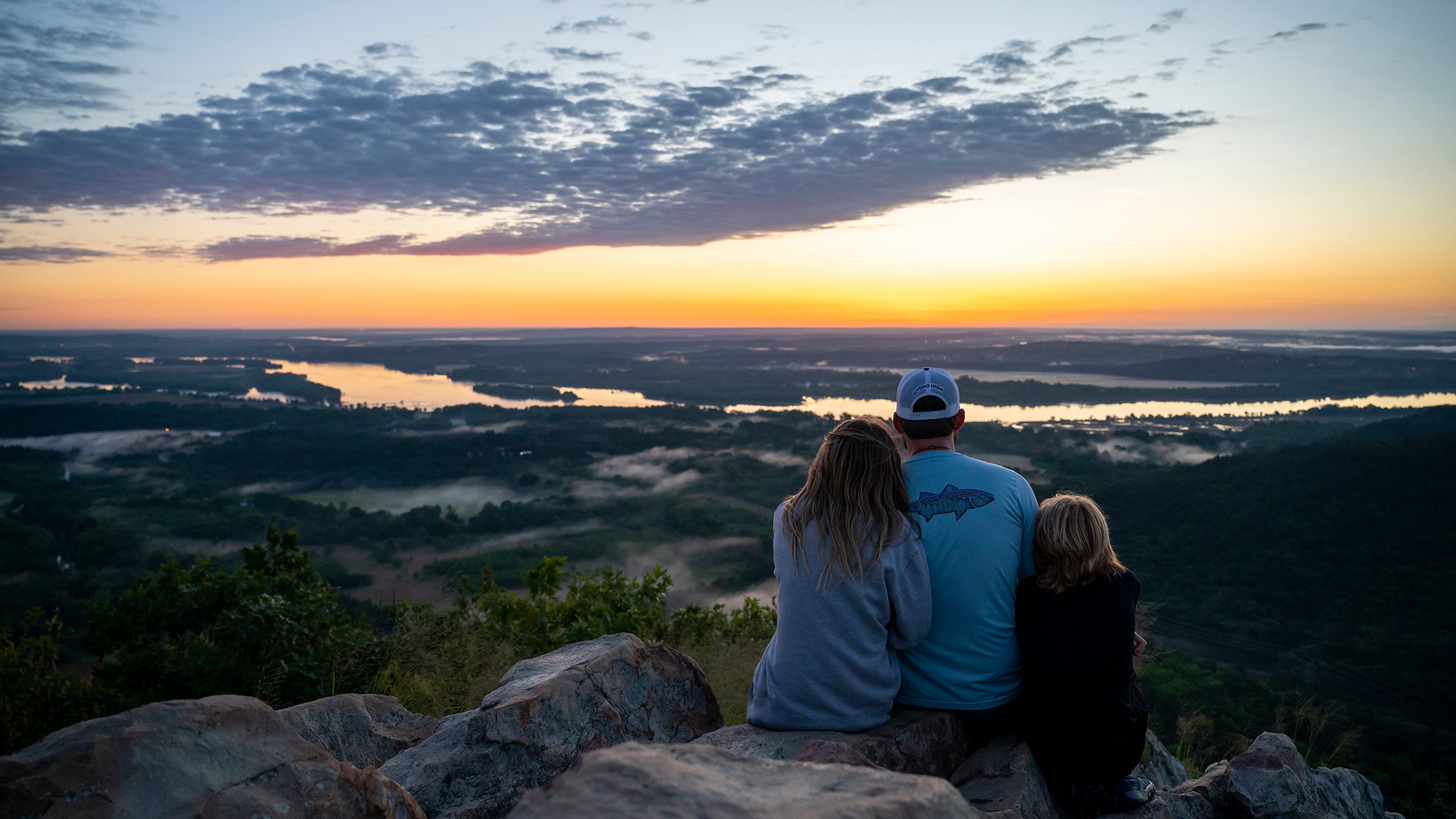 Will Newton/ADPHT
From scenic kayaking and fishing waters to thrilling hiking and mountain biking trails, Arkansas State Parks offer a diverse selection of activities to satisfy any appetite for outdoor adventure. We tapped Mike Mills, secretary of the Arkansas Department of Parks, Heritage, and Tourism, to learn more about what makes the collection of Arkansas State Parks so special. 
Outside: What makes Arkansas State Parks unique?
Mike Mills: We welcome visitors from across the country—and around the world—to experience the beauty, history, and legacy of Arkansas State Parks. In 1923, legislation was passed to accept land donations for state parks and reservations in Arkansas, which makes 2023 the centennial. Among the 52 state parks across Arkansas, you can witness the state's most prominent mountains, largest man-made and natural lakes, and historic Civil War battle sites. Arkansas also preserves and interprets several American Indian sites. Plum Bayou Mounds Archeological State Park is the most complex American Indian mound site in Arkansas. Parkin Archeological State Park preserves a 17-acre site, and Hampson Archeological Museum State Park exhibits a nationally renowned collection from the Nodena site. Five state parks are certified as National Park Service Trail of Tears National Historic Sites.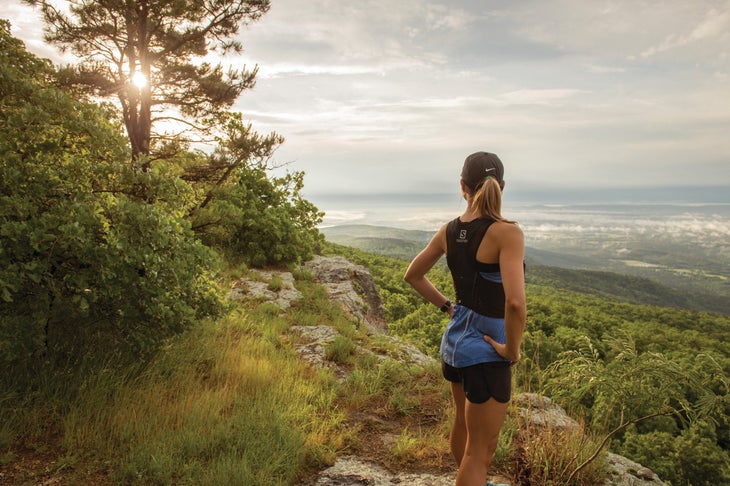 While preserving the state's natural resources and historical heritage and offering a variety of recreational opportunities for visitors, the parks have become a legacy passed from generation to generation. Plus, Arkansas State Parks are all free to enter and total about 55,000 acres—including 471 miles of trails and 25 lakes. Additionally, the parks have affordable, beautiful overnight facilities, including grand lodges, cozy cabins, and many types of campsites, plus historic battlefields, museums, and visitor centers with interpretive displays. 
Who should visit Arkansas State Parks?
Everyone is welcome and invited to visit Arkansas State Parks. With 52 free state parks and museums set in scenic, diverse landscapes, visitors can choose from a vast range of adventures to fuel their interests. Each state park is within an hour's drive of a local community, so it's easy to refuel or stock up on supplies. They were created with this in mind to ensure all communities have a state park nearby and access to outdoor recreation. Several state parks are close together, so visitors can pick a park as a base camp and explore other unique parks nearby.
What events should visitors be on the lookout for, and where can they find more information?
Arkansas State Parks offer more than 10,000 educational programs, tours, and ranger-led activities annually. In 2023, there will be centennial celebrations at state parks throughout the year, centennial merchandise in state park gift shops, a 100-hour volunteer service program where participants can earn rewards, and a photo and video gallery where visitors can share their favorite state park memories. 
Where can visitors go to find world-class mountain biking trails?
The Monument Trails are a collection of world-class mountain biking trails within Arkansas State Parks. These multiuse trails are professionally crafted by some of the world's best trail builders to showcase natural, iconic beauty through innovative and sustainable design and build processes. Monument Trails are seamlessly woven into the beautiful landscape of Arkansas State Parks to highlight unique terrain, historic landmarks, and scenic vistas. The Monument Trail network offers users of all skill levels meaningful and enduring experiences in nature. Ride under a waterfall, get a quick thrill on some one-way bike-only downhills with switchback turns, or go with the flow on scenic bluff lines.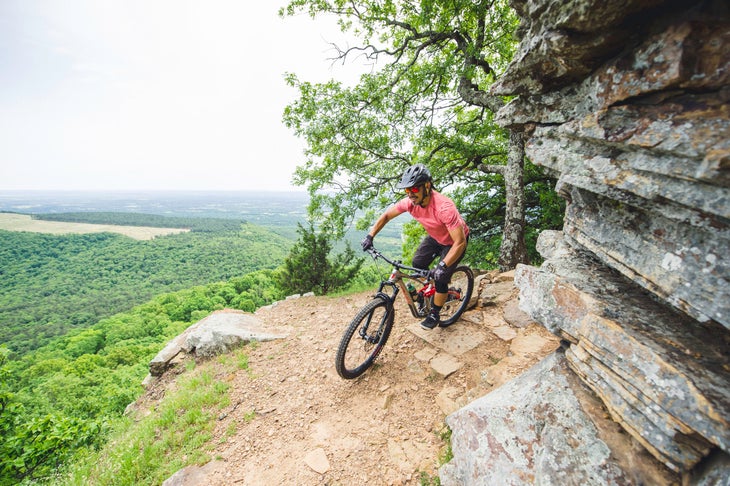 What is the best way for visitors to track their Arkansas State Parks experiences?
The best way to document state park experiences is to pick up a free state parks passport at a visitor center. Club 52 is fun, full of adventure, and open to anyone, but you have to "get out to get in." Have your passport stamped at each state park, and earn rewards as you collect lifetime memories and incredible experiences in some of the most beautiful settings. Looking for those Instagrammable moments? Arkansas State Parks have you covered. Check out these hot spots:
Mount Magazine State Park:

Arkansas's highest peak offers up breathtaking views. Stay in the lodge, featuring balcony views of the valley to savor with your morning coffee, or in a full-service cabin on the bluff and stargaze from your hot tub on the deck. 

Petit Jean State Park:

Arkansas's first state park with first-class views of the Arkansas River Valley. Hike to the spectacular 95-foot Cedar Falls after a good rain. If you'd prefer the view without the work, take the barrier-free walkway with wayside exhibits that leads down to the Cedar Falls Overlook.
Mike Mills is the secretary of the Arkansas Department of Parks, Heritage and Tourism. He is the founder and owner of the Buffalo Outdoor Center in Ponca and served as Arkansas's director of tourism from 1982 to 1986. Mills was inducted into the Arkansas Tourism Hall of Fame in 2018. He spent 18 years on the Arkansas State Parks, Recreation and Travel Commission.
---
Arkansas State Parks is a division of the Arkansas Department of Parks, Heritage, and Tourism. Arkansas state parks and museums cover 55,006 acres of forest, wetlands, fish and wildlife habitat, outdoor recreation facilities, and unique historic and cultural resources. Established in 1923, Arkansas State Parks preserve special places for future generations, provide quality recreation and education opportunities, enhance the state's economy through tourism, and provide leadership in resource conservation. Connect with Arkansas State Parks on Facebook, Instagram, and Twitter, and visit ArkansasStateParks.com to learn more.
Lead Photo: Will Newton/ADPHT