Back in the Crosshairs
The gray wolf may lose federal protection. Will killing it become the law of the land?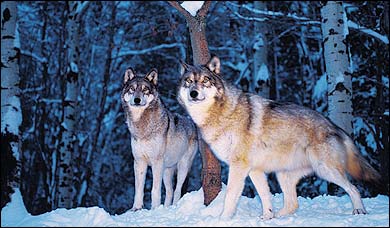 Heading out the door? Read this article on the new Outside+ app available now on iOS devices for members! Download the app.
HANCE CLAYTON has his wolf traps ready. "Snares work best, but you can use spring traps, too," says Clayton, a 60-year-old fur trapper who has taken wolves in Alaska and catches bobcats, coyotes, and foxes in the sagebrush hills outside Idaho Falls, Idaho. "I don't want to wipe out the species," Clayton insists, "but we need to be able to keep the wolves in check."
Strength in Numbers
Should gray wolves be removed from the U.S. endangered species list, or do they need continued federal protection? Share your opinions on this controversial issue in our
online forum
. PLUS: an exclusive
online interview
with Gary Ferguson, a naturalist with the 1995 Yellowstone reintroduction effort and author of
The Yellowstone Wolves
.

Clayton is one of hundreds of trappers, ranchers, and hunters anticipating the pending removal of the gray wolf from the endangered species list maintained by the U.S. Fish and Wildlife Service. Last April, thanks to recovering wolf populations in the upper Midwest (where there are about 3,500 wolves) and the northern Rocky Mountains (where there are some 700), the agency downlisted the species' status in these regions from endangered to threatened, allowing the public to kill wolves under certain circumstances. Later this year, regional coordinators are expected to propose delisting Canis lupus entirely.


If delisting happens—the process should take at least a year, and it will likely be slowed further by lawsuits from environmentalists—management of the wolves would shift to the states, a prospect that has wolf advocates growling. The problem? A number of states are drafting plans that would permit wolf hunting and trapping, while one, Wyoming, is flatly calling for open season on the animals.


It's not surprising that Wyoming would lead a backlash against the wolf. Ranchers there fought tenaciously against programs that returned wolves to Yellowstone National Park in 1995, claiming the animals would expand their range beyond park boundaries and decimate livestock. Wolves have killed Wyoming farm animals—including 89 sheep and 54 cattle between 1999 and 2002—but environmentalists argue that these casualties are minuscule compared with the more than 14,000 sheep lost yearly to dogs, eagles, and weather. They also note that Defenders of Wildlife, a Washington, D.C.–based conservation group, pays market value to ranchers for livestock taken by wolves.


Wyoming's draft management plan permits wolf culling to a degree not allowed even in Alaska, where a healthy population of some 9,000 wolves is subjected to hunting and trapping with few restrictions. Wyoming wants to classify wolves as predators on all lands outside of national parks and specified wilderness areas, which means that they could be shot on sight—anytime, anywhere. This has conservationists like 44-year-old René;e Askins, the Wilson, Wyoming–based wildlife biologist who led the Yellowstone reintroduction effort, on edge: "I'm worried that this entire state could become a free-fire zone." Other state plans are more hospitable, but almost all will put the wolf at increased risk. Idaho and Montana would treat wolves like bears and mountain lions, permitting some hunting as populations grow. Minnesota, home to 2,500 wolves, would ban hunting for five years after delisting but has set a minimum population goal of only 1,600. One of the only models that conservationists like is Wisconsin's, which is funding programs that keep wolves from killing livestock, to avoid shooting them after the fact. The developments are typical of the gray wolf's drastically changing fortunes in North America. In pre-Columbian times, as many as 400,000 gray and red wolves roamed every part of the lower 48. By the early 1970s, gray wolves had almost been driven to extinction, with only a handful of animals remaining. With a population now up to nearly 4,000 across six states, the gray wolf is clearly an endangered species success story. But is its next chapter being written too soon?


"This job isn't finished," says Nina Fascione, 41, vice-president for species conservation at Defenders of Wildlife. Her group has filed a notice of intent to sue Fish and Wildlife over the April downlisting, claiming that it absurdly declared the wolf recovered even though the species inhabits just five percent of its historic range, with nary a wolf in the far West or Northeast. Delisting opponents argue that wolves should be removed from the list only after they return to all the habitats that can sustain them and state management plans ensure their continued survival.


"The Endangered Species Act clearly gives the government a mandate to recover the species, not just patch them up and send them into battle again," says Brock Evans, 66, director of the D.C.-based Endangered Species Coalition. "The numbers aren't there yet. We don't want wolves taken off the list just so people can exterminate them."


Ed Bangs, 52, northwest region wolf recovery coordinator for Fish and Wildlife, disagrees. "Only the species in really bad shape get into federal hands," he says. "It is emergency-room care. You do everything you can to get them stabilized and then you move them back out into routine management." Bangs points out that the wolf clearly met its recovery targets for the spring downlisting, and that if delisting happens, the states will be required to maintain a minimum of ten breeding pairs. "The numbers might decline a little bit," he says, "but there's no way the wolves are going extinct."


Chances are, the delisting process will get under way soon, and the Defenders lawsuit will only buy the wolves more time under federal protection and cause adjustments in state policies. Meanwhile, in Wyoming, ranchers have no doubt that the wolf will survive. "Once we start shooting at them, they'll adapt and turn elusive," argues Budd Betts, a horseman in Wyoming's Du Noir Valley, southeast of Yellowstone, who says he's lost three dogs to wolves since 1995. "It took five decades of trapping, bounties, and posse hunts to exterminate the wolf here. These are clever animals. I don't think they'll be in jeopardy."