Outside Magazine's Award Winning Travel Journalism
Hiking the Appalachian Trail: A Beginner's Guide
More than 3,000 people attempt to walk the entire Appalachian Trail every year. Only about a quarter of them succeed. This intel from an AT thru-hiker provides key information to help you tackle and complete the 2,193-mile trek from Georgia to Maine.
Heading out the door? Read this article on the new Outside+ app available now on iOS devices for members! Download the app.
The Appalachian Trail is neither the longest nor the most scenic of the world's great hiking trails. But in terms of influence and inspiration, it is the grandfather of them all. The AT exerts an almost magnetic attraction on the hearts of outdoorspeople from around the globe.
I first felt the AT's pull at the age of nine while on a vacation in New Hampshire. My family and I took the Cog Railway up 6,288-foot Mount Washington, in the Presidential Range. We started hiking in the deciduous hardwood forests at the base, then climbed through the conifers and the krummholz to finally arrive at the fog-shrouded, wind-battered, arctic-alpine zone of the summit.
The tour guide recited the weather stats: Washington boasted the highest (at the time) land wind speed ever recorded—231 miles per hour, set in 1934—and its summit is buffeted by hurricane-speed gusts 110 days a year. I also took note of the fatalities: inside the summit building, a list named all of the people who had died in the Presidential Range, mostly from hypothermia and falls; back in 1968, there were over 60. Today that list has more than doubled.
But what really captured my imagination was outside the summit hut, where enormous cairns stood like sentinels, some topped with bright white quartz rocks that made them more visible to hikers struggling through the fog. Our guide pointed to the white blazes painted on the cairns: if we followed them, he said, we could walk all the way to Georgia on the 2,193-mile Appalachian Trail. As if on cue, a pair of hikers carrying backpacks emerged through the mist. They looked like superheroes. I imagined them continuing, heading down the other side of the peak, up the next one, up and down again and again. Just like that I became what in AT lingo is called a dreamer—a thru-hiker in waiting.
Over the past 30 years, I've thru-hiked all three of the triple-crown trails—the AT, the Pacific Crest Trail, and the Continental Divide Trail—some sections of them multiple times. In the course of trekking some 18,000 miles on long-distance trails in numerous countries and writing 14 books about hiking, including Great Hiking Trails of the World, I have frequently been asked which is my favorite, which is like asking a mother to pick her favorite child. What I can tell you is what is unique about each one. For the Appalachian Trail, my touchstone is its seminal idea—or ideal—which was first published 100 years ago in an article that appeared in the Journal of the American Institute of Architects. Conservationist Benton MacKaye proposed a trail that would link the peaks of the Appalachians and serve as an antidote to the unceasing pace and stresses of the industrialized East Coast.
The Appalachian Trail has done that and more. Its combination of wilderness, history, community, and legend have given it an iconic status and have inspired the creation of long-distance trails in places as far away as Israel and Australia. To help others experience it, here's my key advice on how to get started and give yourself the best shot at success.
Define the Challenge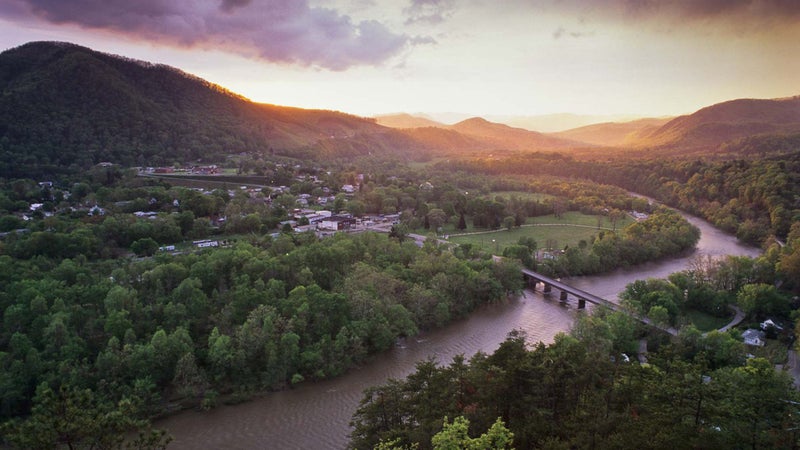 According to Laurie Potteiger, information specialist at the Appalachian Trail Conservancy, the ATC defines thru-hikers as people who walk every one of the trail's 2,193 miles within one calendar year. Note, however, that your actual mileage will vary. First of all, you may walk more miles to get to shelters and towns for resupply. Second, the trail distance changes slightly from year to year if there is a relocation (or "relo" in hiker lingo) due to land purchases, development, or environmental reasons.
Although 2,193 miles is a long way to walk, the AT is actually the shortest of the triple-crown trails—on the PCT you'll cover 2,650 miles, on the CDT, 3,059. Nor can the AT compete in the jaw-dropping mountain-scenery department. With a high point of a mere (by western standards) 6,643 feet, it rarely tops the tree line; indeed, the trail is sometimes called the "long green tunnel."
But that doesn't mean the AT is easy, as a Colorado friend learned when she joined me for a stretch in Virginia, where elevations rise to around 4,000 feet. "I'd have to dig a well to get to that elevation!" she initially scoffed when I advised her to get in shape. Later, nursing sore muscles, she admitted, "I just couldn't imagine that mountains that small could be that tough."
The AT's difficulty comes from an especially ornery combination of terrain, trail routing, and obstacles, all of which are exacerbated by heat, humidity, rain, ice, and snow. While many western trails are graded and switchbacked for horses, the AT often takes a straight-up-and-down path—rocks, steepness, and mud be damned. PUDs (hiker talk for pointless ups and downs) often add up to thousands of feet of elevation gain and loss, while hand-over-hand boulder mazes can reduce progress to a mile an hour in places like western Maine, home to infamous Mahoosuc Notch, the hardest mile on the entire trail.
Most hikers complete the AT in five to seven months, although those gunning for fastest-known-time records (FKTs), have covered the distance at a mind-boggling speed. The current record holder is Karel Sabbe, a Belgian dentist and long-distance runner, who completed the trail in just 41 days, 7 hours, and 39 minutes in 2018. These athletes don't indulge in rest days. For mere mortals, it's typical to take zeroes (a day when you do no hiking) or neroes (days when you do nearly no hiking) about once a week to shower in town, resupply, and rest. What all this works out to is an average pace of maybe 15 to 18 miles a day.
Another way to tackle the AT is to section-hike, which means covering the distance in a series of hikes spread out over more than a year. In hiker lingo, Lashes—long-ass section hikers—take on several hundred miles at a time, while Sashes—short-ass section hikers—chip away at it in shorter segments. Either way, section hikers can plan to trek different trail segments during their peak seasons. Some of my favorites are rhododendron season in late spring in the southern Appalachians, especially around Roan Mountain, Tennessee; fall with its radiant foliage in Vermont on Glastonbury Mountain; and summer in New Hampshire and Maine, when temperatures are just about perfect. But section hiking has its own challenges: transportation logistics and expenses, as well as having to deal with the aches and pains of the first few days on the trail more often. (Thru-hikers, by contrast, only have to break themselves in once and then can enjoy being trail-hardened and able to do longer, faster miles.)
Which Way to Go and When to Start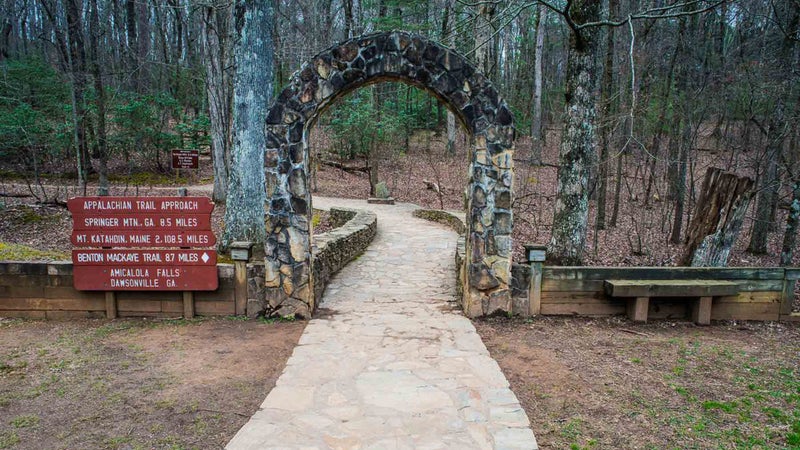 On the AT, you can go northbound or southbound. The very first thru-hiker went northbound, which became the norm for the majority of hikers to follow. Earl Shaffer, a World War II veteran, left Georgia's Springer Mountain in April 1948 and arrived at Maine's Mount Katahdin in August.
Shaffer titled his book about the journey Walking with Spring, but northbound hikers (nobos, in thru-hiker lingo) often encounter surprisingly winter-like conditions in March and early April. Because of their elevation, the mountains of northern Georgia can have approximately the same climate as coastal Maine. Another surprise for nobos are the crowds: with more than 3,000 aspiring thru-hikers, the southern Appalachian Trail in April can resemble a frat party during spring break. For some, this is the antithesis of a wilderness experience.
Sobos (southbound hikers) have a very different experience. Sobos usually start in Maine in late May after Memorial Day, the exact date depending on the season's snowpack and when Baxter State Park opens Katahdin trails. A sobo itinerary attracts far fewer hikers but presents some tough challenges. The first miles—up and down 5,269-foot Katahdin—are among the most difficult of the entire trail, filled with rock scrambles and cable-assisted bouldering. Up next is the AT's longest roadless stretch, the so-called 100-Mile Wilderness, a couple hundred miles of the trail's most unforgiving terrain, all during northern New England's infamous blackfly season.
To spread out impact, the Appalachian Trail Conservancy has established a voluntary online registration system so hikers can check to see how many others have registered for their intended start date. In recent years, some thru-hikers have been beginning earlier—in February or even January—to have a more isolated experience. I started my nobo thru-hike at the end of January, and I've also backpacked all of the AT in New Jersey, the northern 200 miles of Virginia, and parts of New York, Connecticut, and Massachusetts in the dead of winter. On most of these hikes, I rarely saw other people. If you and your gear are winter-ready and able to handle ice, cold, and snow, much of the trail south of Vermont is usually hikeable through most of the winter.
Another strategy that the ATC has been promoting in recent years is the flip-flop—a noncontinuous thru-hike. The hiker starts wherever they like, treks in whichever direction they want, then gets a ride to another point on the trail and continues hiking in a different direction. It doesn't matter where you start, which direction you go in, or how many times you flip, as long as you hike the miles.
Find Your Way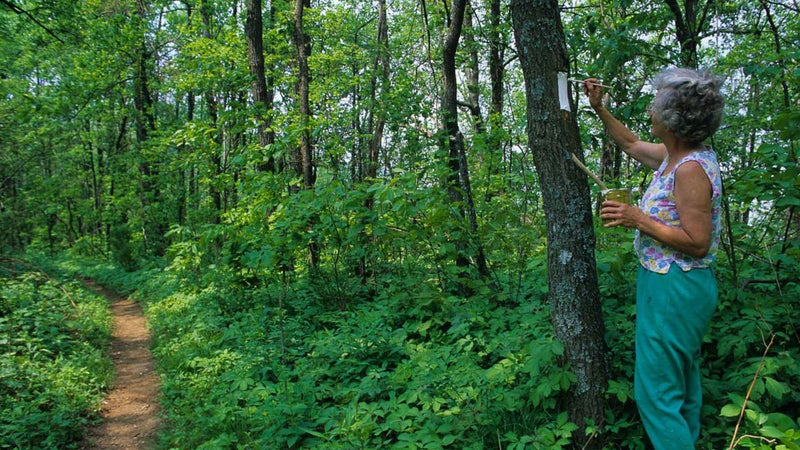 The AT is one of the best and most consistently marked trails in the world. White blazes are precisely two inches wide and six inches tall; maintainers even use a stencil to be sure the blazes all look the same. Blazes are found on trees and also on rocks, cairns, fence posts, telephone poles, fence stiles, and in one case, on the bottom of a canoe that ferries hikers across the Kennebec River in Maine. Double blazes indicate a change of direction. In addition to the white blazes, blue-blazed alternate routes lead to shelters, lookouts, or side trails.
Embrace the Community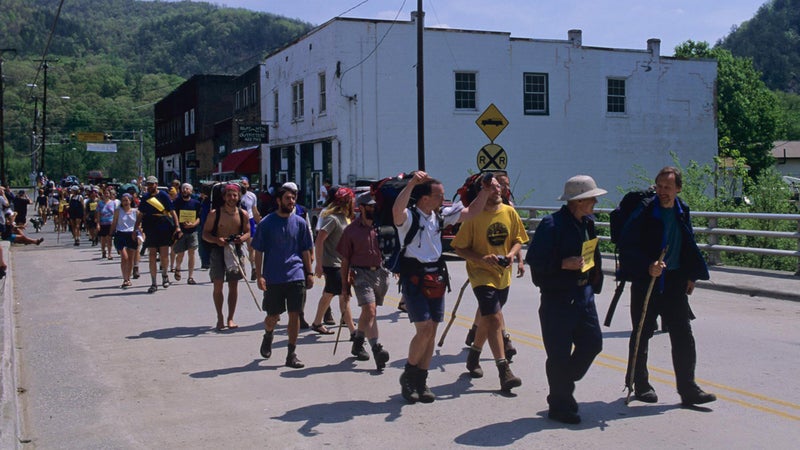 The Appalachian Trail is often called "a community in the wilderness," and as with any community, it has its traditions, leaders, heroes, celebrities, and renegades.
Beyond thru-hikers, section hikers, and flip-floppers, you'll also hear about white blazers and blue blazers. White blazers are purists who walk every mile, never deviating from the official white-blazed route, no shortcuts allowed. Blue blazers might skip some white blazes by taking side trails into and out of shelters, or by taking shortcuts on alternate blue-blazed routes. Before you criticize someone in the opposite camp, remember the unofficial AT motto: hike your own hike.
You'll also find pink blazers (someone who changes their schedule to hike with a crush), yellow blazers (hikers who hitchhike and therefore skip a section of trail), and green blazers (hikers surrounded with a haze of marijuana).
Hikers also take on trail names, like trucker CB handles, which are either names they choose or names that are given to them on the trail. They might be named for speed (Jackrabbit versus Turtle), their favorite foods (Chile versus Veggie), their habits (Bookworm or Macho), their appearance (Red Fox or Golden Girl), or a host of other traits. Cell phones and online journals are a way for hikers to communicate, but old-fashioned notebook communal-trail registers found in shelters remain an important part of the hiker grapevine.
The trail community also extends beyond those hiking. Maintainers, who are usually volunteers, do everything from cleaning out privies to building rock steps. Ridge runners are seasonal AT employees found along some sections of the trail, responsible for hiker education and assistance in emergencies. Trail angels are people who show up and do nice things for thru-hikers, like putting on an impromptu barbecue or making a point to pick up hikers who need a ride to town to resupply.
For a full-on immersion into the heart of AT community and culture, don't miss the Trail Days Festival in Damascus, Virginia, which attracts thousands of hikers past, present, and future to what has become known as "the friendliest town on the trail."
Get in Shape
I've arrived at long-distance trailheads in I've-just-run-a-marathon shape, and I've arrived in couch-potato shape. Here's what I know firsthand: while it is certainly possible to haul an unfit body up a mountain with a heavy pack, it's also a recipe for frustration and injury. Anything you can do before your hike to strengthen your aerobic fitness and your leg muscles will help. This is especially important if your body doesn't have a history of endurance sports. When planning the initial part of your hike, factor in the uphills and downhills, and give yourself at least a few days of easy mileage.
What to Pack
Layering is especially important on the Appalachian Trail. On my own thru-hike, temperatures ranged from the twenties to nearly 100, not to mention rain, snow, and soul-sucking humidity. Avoid cotton, and use the lightest, most breathable fabrics you can find. Merino wool is especially versatile: it works as an active layer in both hot and cold weather, and it can be used as a sleeping layer.
A lightweight puffy jacket for warmth is a good choice for early spring, and also for northern New England, where you'll want a full range of alpine gear, including a hat, gloves, rain pants, and a rain jacket. In between—for example in the mid-Atlantic through the summer—you can mail some of those layers home.
Above all, make sure your footwear works for you. This includes not only your boots, but your socks, sock liners, and your preferred blister treatment. Today's thru-hikers opt for lighter-weight footwear than the heavy waffle stompers of yesteryear. But even lightweight boots and shoes can cause blisters if they don't fit well.
Also: you probably won't make it on one pair. Figure about 1,000 miles for lightweight boots and about 500 for trekking shoes. Some hikers find that their feet get bigger from swelling during a thru-hike. Nothing can help a too small boot, so if you are buying replacement footwear in advance, consider sizing up a little: lacing tricks, insoles, and thicker socks can adjust the fit of a slightly roomy boot.
A few other items I always bring:
A trowel for burying toilet waste
A way to carry water (bags or bottles) and a way to purify it (a filter, pills, or drops)
A stove, pot, pot grabber, cup, utensil, and multitool
A first aid kit
Trekking poles: in addition to saving your knees and helping you balance on tricky rock sections, trekking poles can ward off unfriendly, unleashed dogs and hold up lightweight tents and tarps
Where to Sleep
The AT has the most extensive system of backcountry shelters in the U.S. There are more than 250 primitive shelters usually no more than a day's walk (5 to 15 miles) apart. Most are three-sided huts accommodating between 5 and 20 people. Amenities often include picnic tables, fire pits, nearby tent areas, and a proximate water source.
Shelter space is first-come, first-served, and it quickly fills up, especially early in the thru-hiking season when 60 to 70 people might be starting on any given day. Thru-hikers should carry some sort of tarp or tent. Full-size one- or two-person tents, small bivy tents, tarps, tarp tents, and hammock systems all have their advocates, depending on how they prioritize comfort, weight, and protection from weather and bugs. Personally, I prefer a tent: the snoring and noise of a crowded shelter often precludes a good night's sleep, which makes it well worth the hassle of pitching your own camp. You'll also, of course, need a sleeping bag and a sleeping pad. A 20-degree bag is not overkill for early spring.
Camping regulations vary. In some areas, unregulated, so-called stealth camping is permitted, but on many stretches, hikers must camp in designated sites; occasionally, small fees are charged. The ATC camping chart summarizes the current regulations pertaining to camping near shelters, within sight of the trail, and above the tree line, as well as proper distance from water sources, and above tree line, and it provides information about national parks, Baxter State Park, and the Appalachian Mountain Club huts in the White Mountains, which have more restrictive regulations owing to such issues as bear activity, crowds, and environmental impact above the tree line.
What to Eat
Vegan, organic, junk food, ketogenic: no matter how you eat at home, someone has figured out how to do it on the trail. You'll see macaroni and cheese, oatmeal, instant mashed potatoes, cans of tuna, cheese, peanut butter, tortillas, freeze-dried meals, home-dehydrated meals, and lots and lots of Snickers and ramen. The one thing hiker meals have in common? Significant calories. Calorie requirements vary by gender, body size, and daily effort (mileage and elevation gain), but the general consensus is that 4,000 calories a day is a good starting rule of thumb.
Most AT thru-hikers carry three to seven days' worth of food: less than three days' worth, and you waste too much time shopping in towns; more than a week's worth, and pack weight becomes oppressive. With plenty of road crossings, hikers have relatively easy and frequent access to towns along the AT for shopping and resupply.
Most hikers send at least some food drops—prepacked boxes of supplies—to themselves via the general delivery at trail-town post offices. You can find a list of popular trail towns (as well as their mileage marker and the zip codes for sending mail to them) at The Trek, a website dedicated to providing information to long-distance hikers. Hikers carefully calculate the mileage between one town and the next, figure out how many days it will take to arrive, count up the breakfasts, lunches, dinners, snacks, and drinks they will need during that time, pack a box for each trail segment, and cajole a friend or family member to mail the boxes at designated times. It's a lot of work, but the reward is the right amount of the right foods. On the downside, postage is expensive and packages sometimes get lost.
More casual hikers might only send a few food drops, to smaller towns where resupply options are limited. In bigger towns, they shop as they go. My own system is to prepack and send most (but not all) of my food. So at each stop, I'll pick up some supplies and can take advantage of a bit of variety and the idiosyncrasies of local offerings, including foods that can't be sent in the mail, like cheese.
AT hikers can also make use of so-called hiker boxes. Found in hostels, shops, post offices, laundromats, and other businesses along the trail, hiker boxes contain anything the last hikers to come through had too much of—from socks to stove fuel to sunscreen to food. Etiquette note: it's considered bad form to clear out all the good stuff!
Trail Safety
Since 1974, there have been 13 murders on the AT. Weighing those numbers against the three million people a year who use the trail—more than the entire population of Chicago—most hikers conclude that it's a reasonably safe place to be.
Other causes of death on the AT have included drowning, heart attacks, hypothermia, lightning strikes, falling trees, and getting lost.
Hiking with a partner is safer than hiking solo, but what if you don't have a hiking buddy? No worries: there's a big bubble—trail lingo for the bulge of hikers who start at about the same time in the spring and head up the trail more or less at the same pace. Solo hikers starting their thru-hikes at this time can easily join a tramily—thru-hiker talk for a trail family—that moves at about the same pace, camps together, and takes zeros and neros together.
Wildlife sightings—moose, bears, deer, foxes, coyotes, and a host of other animals—are a magical part of the trail experience, but encounters with animals trying to raid your food stash can be an annoyance and a safety hazard. The ATC's Laurie Potteiger points out that bears are becoming more prevalent along more parts of the trail. The ATC recommends using bear canisters, which also protect supplies from mice, porcupines, raccoons, skunks, and other nocturnal visitors.
Less dramatic but equally bothersome trail threats are ticks (parts of the AT in Massachusetts and Connecticut are ground zero for Lyme disease), poison ivy (pretty much everywhere except the higher elevations in New England), rattlesnakes (everywhere except northern New England), and giardia (an illness caused by drinking contaminated, untreated water).
Thru-Hiker Etiquette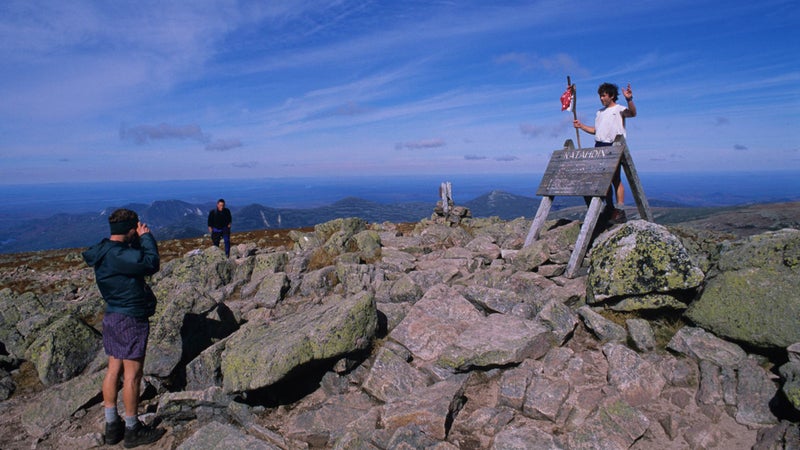 Basic kindergarten be-nice-to-others behavior and an understanding of Leave No Trace principles will go a long way in making sure you're not "that guy." These tips will keep you in good stead with your fellow hikers:
Leave no trace. The ATC has an entire section of its website devoted to these principles, including pack it in, pack it out, and correctly dispose of all waste.
Stay on the trail to help prevent erosion. Don't cut the switchbacks, and whenever possible, walk in the middle of the trail, even if it's muddy, rather than on the edges.
Shelters are first-come, first-served, and hiker midnight is around 9 P.M. If you arrive later, when everyone is asleep, either pitch a tent outside the shelter or try to be quiet.
Cell-phone etiquette is a potential point of conflict in shelters. This applies to both lights and noise. At the very least, keep the volume down and go outside to make calls. (Also note that cell-phone reception is only sporadically available and not something to count on.)
Carry your own weight! Sure, hiking light is the goal, but it's not cool to carry so little that you end up asking other hikers to borrow the things you didn't want to haul.
COVID-19 Protocols
In 2020, the ATC asked all thru-hikers to leave the trail, due to concerns about community spread of COVID-19 in shelters, as well as from hikers to residents of small rural communities. To encourage compliance, the ATC decided not to recognize any thru-hikes or mileage toward thru-hikes completed during this period. This restriction has since been lifted, and the ATC will resume recognizing thru-hiking mileage completed after May 11, 2021.
Hikers should be aware that the trail is managed by a variety of federal, state, and local agencies, and that rules and closures can change with jurisdiction as well as news of pandemic. Not all shelters and campsites are open, and local regulations are shifting on a weekly basis. Check locally for current details; the ATC website has state-by-state details that are updated regularly.
The ATC continues to encourage all hikers to follow CDC guidelines. Even if shelters are not officially closed, hikers are advised to avoid sleeping in them during the pandemic, because limited space and close quarters make social distancing impossible. Hikers should carry personal shelters (tarps or tents), avoid sharing food with others, and wash their hands frequently. Hostels with group sleeping accommodations also pose a risk for unvaccinated hikers. The ATC recommends that hikers get vaccinated if possible, and that all hikers carry masks to wear when and if required by private businesses or other regulations.
Resources
The ATC has online resources covering everything from COVID protocols to bears to a library of planning and reading material, as well as printed maps and guidebooks. The Appalachian Long Distance Hikers Association (ALDAH) sponsors an annual gathering in Virginia in October, with workshops for prospective thru-hikers and slide-show lectures on topics ranging from international hikes to gear.
The AT Data Book, by Daniel Chazin, offers mile-by-mile notes of important points on the trail, including shelters, water sources, road crossings, and other essentials. Compiled by ALDAH members, the Appalachian Trail Thru-Hiker's Companion contains everything you need to know about on- and off-trail services, including post offices, hostels, businesses, inns, laundromats, shuttle services, outfitters, and more. David "AWOL" Miller's The AT Guide combines the data points, maps, town information, GPS coordinates, and URLs. Guthook's Appalachian Trail Guide is the most popular long-distance hiking app and contains maps and trail notes updated in real time.
Informative and helpful websites include WhiteBlaze for forums, journals, data, and more; SectionHiker for long-distance how-to information, especially about gear and lightweight strategies; and Backpacking Light, which tackles how to get your gear weight down to its minimum practical amount, something that may well make the difference between success and failure.
Essential Further Reading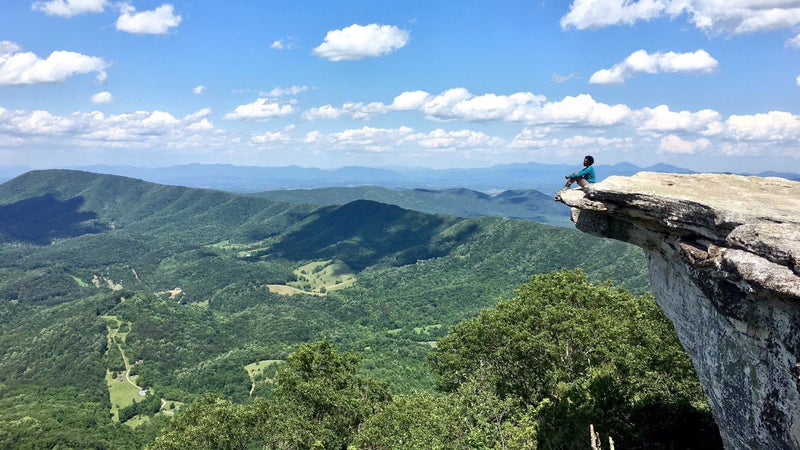 Here are a few of Outside's most compelling stories about the AT.
"The Legend of Baltimore Jack," by Dan Koeppel
When Baltimore Jack died, the news shook the Appalachian Trail community. Jack had left behind the real world to live on the AT, thru-hiking it seven times and helping countless others to reach their goals.
"Going It Alone," by Rahawa Haile
What happens when an African American woman decides to solo-hike the Appalachian Trail from Georgia to Maine during a summer of bitter political upheaval? Everything you can imagine, from scary moments of racism to new friendships to soaring epiphanies about the timeless value of America's most storied trekking route.
"The Thru-Hikers Who Finished the AT During the Pandemic," by Grayson Haver Currin
After months of trespassing and hiding from rangers, two hikers completed the Appalachian Trail in June 2020. Their sagas raised questions about what it meant to be outdoors during the pandemic.
"Did Thru-Hiking the Appalachian Trail Ruin My Body?," by Grayson Haver Currin
Many hikers hope their treks will make them better at other sports. Instead, mine kept me from distance running for a year—a common side effect we don't discuss enough.
"An Appalachian Trail Horror Story"
Sometimes the biggest threat in the wilderness is another human. In this gripping story from our friends at Backpacker's Out Alive podcast, we hear the tragic tale of a group of hikers who found themselves out in the woods in the worst kind of trouble.
Lead Photo: Bart Smith